Summary
Virginia onAir is focused on Virginia federal, state, and local elections and governance providing online and in person places where Virginia residents can learn about and interact with their elected officials and candidates for office and get engaged in supporting a more civil and vibrant democracy in Virginia.
This Virginia onAir Hub website enables learning, discussion, and engagement via all kinds of Internet-connected devices including laptop and desktop PCs, tablets, and smartphones. This Hub also streams and archives videos of in person events organized by onAir Chapters, governing bodies, and political organizations.
Virginia onAir chapters based  in state universities and community colleges coordinate undergrad students and other chapter members who curate profile posts on elected officials and candidates for office and posts on issues. Virginia onAir chapters also organize local events such as town halls, debates, forums, and candidate days.
For Virginia Residents
The Virginia onAir Hub and on Chapters are provided for Virginia voters including their representatives, candidates running for office, and students at Virginia colleges and universities. The graphic below summarizes many of the outcomes that Virginia onAir and its supporters are seeking to achieve.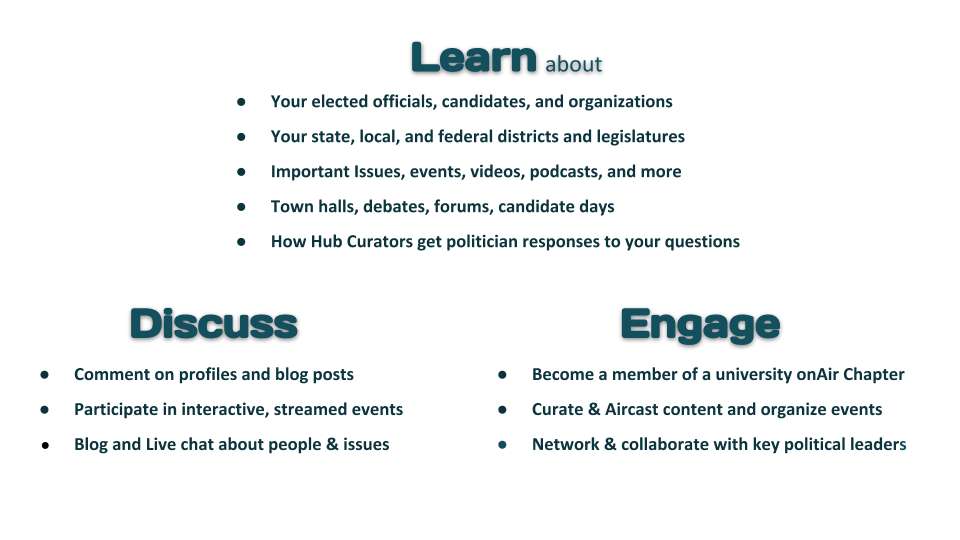 About Hub Content
All onAir Hub content is under a Creative Commons Non-Commerical (CC-BY-NC) license (unless otherwise specified) and is available for re-use by nonprofit websites and blogs . This post will explain further the terms and conditions for re-use of CC-BY-NC content. You can also access this post from the footer on each screen.
Terms of Service
See Terms of Service for more information on how you can re-use Hub content, participate in forums, and view Hub disclaimers.
Privacy Policy
See Privacy Policy to learn about how we don't use cookies, track your usage, or sell your email address.
About Aircasting
One approach we use to inform and engage Virginians is via our Aircasts. Aircasts are live streamed and recorded videos that include viewer input and are archived in their related posts. We believe that Aircasting is a key component of any elections Hub. Hub visitors can view all the scheduled and archived Aircasts under the "onAir" tab. If an Aircast is streaming at the time that a Hub visitor lands on the home page, then it's widget will appear and be playing on the home page.
About Democracy onAir
Democracy onAir is a nonprofit, nonpartisan social enterprise that supports the development and hosting of open access and curated networks of elections and governance Hubs… including this Virginia onAir Hub.
Virginia onAir Members
Virginia onAir membership is free for all Virginia residents
Your real name and any other profile information will not be displayed unless you choose to do so. Your personal information is NOT shared with any other website or organization.
Premium memberships cost  $8 per month and enable one to:
Have a full member profile post
Have the ability to author new posts on issues and co-author existing posts
Get preferential treatment at Chapter events
Virginia onAir Supporters
Other ways to support the Virginia onAir Hub and chapter events becoming a Donor, Sponsor, or Advertiser.
For Representatives and Candidates
Representatives and candidates running for office can participate in this Hub in a number of ways including: They can participate in this Hub in a number of ways including:
Answering questions from Hub members about their experience, districts, and relevant issues (answers will appear in the appropriate post(s)
Answering questions from Hub members about their experience, districts, and relevant issues (answers will appear in the appropriate post(s)
Provide new content and feedback to curators of their profile and other related posts
Inform potential voters of upcoming events
Contribute videos to the Hub's YouTube channel and pictures to the Hub's Instagram account
Promote the Hub and specific posts to constituents
If representatives and candidates choose to be an advertiser of their District's posts, they will receive a post to promote their candidacy and the issues that are important to them.
We reserve the right not to include candidates in this Hub if they espouse positions that the Elections onAir Directors and Advisory Board consider beyond democratic norms… such as promoting violence against any person or group.