Summary
Current Position: US Representative for US House District 10 since 2019
Affiliation: Democrat
Mission Statement: N/A
About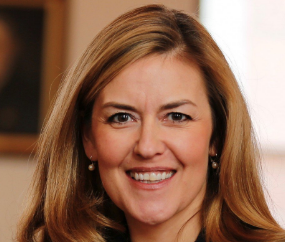 Source: Government page
Congresswoman Jennifer Wexton has been serving the people of Northern Virginia and Shenandoah Valley for nearly two decades as a prosecutor, advocate for abused children, state Senator, and now a member of the U.S. House of Representatives from Virginia's 10th District.
A native of the Washington area, Jennifer graduated with honors from the University of Maryland in College Park, and earned her law degree in 1995 from the College of William and Mary in Williamsburg, Virginia. She lives in Leesburg with her husband, two sons, and two rescued labrador retrievers.
From 2001 to 2005, Jennifer served as an Assistant Commonwealth's Attorney for Loudoun County, prosecuting felony and misdemeanor criminal and traffic cases in all of the Loudoun Courts. She successfully prosecuted hundreds of trials, including those of criminals who committed domestic violence, sexual offenses, and murder.
After leaving the prosecutor's office, Jennifer went into private law practice, but remained committed to public service. She served as a court-appointed guardian ad litem, representing children who had been abused or neglected. She also served as a special justice in mental commitment hearings, and a substitute judge in proceedings in Loudoun County's district courts.
Jennifer took her passion for protecting others to the state Senate, winning a special election in January 2014. In her five years in Richmond, Jennifer passed more than 40 bills while serving in the minority party. She found bipartisan support for legislation that makes our children safer, combats the heroin and opioid epidemic, increases access to affordable healthcare, prepares our children for jobs of the future, eases traffic congestion, and brings more businesses to Northern Virginia.
Jennifer comes to Congress with experience in legislating and a deep understanding of Virginia's 10th district and the issues that matter most to our region's families. Rep. Wexton looks forward to working across the aisle in Congress to deliver positive results for the people of Northern Virginia and the United States.
Work Experience
Assistant Commonwealth's Attorney
Loudoun County
Lawyer
Laurel Brigade Law Group
Education
JD
College of William and Mary
1995
Honors graduate
University of Maryland
Political Career
Source: Wikipedia
Early career
Wexton was a partner in the Laurel Brigade Law Group. She has served as a substitute judge in Loudoun County, Virginia, and, from 2001 to 2005 as an Assistant Commonwealth's Attorney. She successfully prosecuted Clara Jane Schwartz for the murder of Schwartz's father, Robert Schwartz. Wexton ran for Loudoun County Commonwealth's Attorney in 2011, losing to incumbent Jim Plowman. She was elected to the Virginia State Senate in 2014.
Virginia Senate
After Mark Herring, who represented the 33rd district in the Virginia Senate, won the 2013 election to serve as the Attorney General of Virginia, Wexton declared her candidacy in the special election to fill the seat. The district included northeastern Loudoun County and northwestern Fairfax County. In the Democratic primary, Wexton defeated Herndon Town Councilor Sheila Olem. In a campaign ad, Wexton spoke of her experience defending victims of rape and assault, and said she would "fight just as hard against tea party Republicans who would take away a woman's health care and her right to choose, even in cases of rape and incest". The Republican Party of Virginia criticized the ad, saying it compared Tea Party activists to rapists; Wexton's campaign denied the comparison. She faced Republican John Whitbeck and Republican-turned-Independent Joe T. May in the January 2014 special election, and won 53%–38%–10%. She assumed office on January 24, 2014, and was reelected in the November 2015 general election. After being elected to the U.S. House of Representatives, Wexton resigned her seat in the Virginia Senate on January 3, 2019 to be sworn in as a U.S. Representative.
U.S. House of Representatives
In April 2017, Wexton announced that she would run in the Democratic primary for the 10th District. Her state senate district included much of the eastern portion of the congressional district, wrapping around Leesburg and Sterling. In June 2018, she won a six-way primary to become the Democratic nominee for the November 2018 general election, in which she defeated Republican incumbent Barbara Comstock, taking 56 percent of the vote to Comstock's 44 percent. When she took office in January 2019, she will be only the fifth person to represent the district since its creation in 1953, and the second Democrat. The first was Joe Fisher, who held it from 1975 to 1981.
Shortly after defeating Comstock, Wexton declared her support for DC Statehood. Wexton said "the fact that D.C. residents pay taxes and don't get any representation is absurd, and I think that we should make sure they get voting representation." DC's non-voting Congressional Delegate, Eleanor Holmes Norton, thanked Wexton for her comments.
In January 2019, Wexton hung a transgender pride flag outside her office to show her support for the transgender community, saying, "The trans community has been under attack. I wanted to show my solidarity because we are talking about my friends and family".
Recent Election Results
2018 US Representative for District 10
| | | |
| --- | --- | --- |
| Jennifer Wexton (D) | 206,356 | 43.73% |
| Barbara J. Comstock (R) | 160,841 | 43.73% |
| Write In | 598 | 0.16% |
| TOTAL | 367,795 | |
2015 State Senator for District 33
| | | |
| --- | --- | --- |
| Jennifer Wexton (D) | 18,577 | 56.6% |
| Stephen Bartholomew Hollingshead (R) | 14,190 | 43.2% |
| Write in | 59 | 0.2% |
| TOTAL | 32,826 | |
2013 State Senator for District 33
Jennifer Wexton (D)
11,431
52.7%
John Carroll Leon Whitbeck, Jr. (R)
8,133
37.5%
oe Turner May
2,117
9.8%
Write in
4
TOTAL
21,685
Source: Virginia Legislative Information System
Campaign Finance
WEXTON, JENNIFER has run in 3 races for public office, winning 3 of them. The candidate has raised a total of$7,578,171.
Source: Follow the Money
Committees & Appointments
Committees
Committee on Financial Services
Committee on Space, Science and Technology
Subcommittees
Subcommittee on Consumer Protection and Financial Institutions
Subcommittee on National Security, International Development and Monetary Policy.
Subcommittee on Space and Aeronautics
Subcommittee on Oversight
Voting Record
See: Vote Smart
New Legislation
Source: Government website
Policy Positions
Civil Rights
Criminal Justice Reform
The criminal justice system does not always work in ways that are fair or just. As a former prosecutor, substitute judge, legal advocate for children, and as a legislator, Jennifer has seen this all too clearly. One example: Virginia leads the nation in prosecuting kids criminally for even minor incidents that take place in our schools. That's why she passed legislation to promote alternatives to suspension, including positive behavior incentives, mediation, peer-to-peer counseling, community service, and other intervention alternatives so that we're sending fewer of our children into the school-to-prison pipeline.
During her time as a prosecutor, Jennifer locked up criminals, providing justice for victims and their families. Jennifer believes our nation should be able to provide justice while also correcting injustices that plague our criminal justice system and lead to mass incarceration. Congress should make our system more effective, efficient, and equitable for all. Jennifer supports reforming mandatory minimums, ending use of for-profit private prisons, working with localities and states to promote community policing, supporting reentry programs and voting rights restoration, supporting drug and veterans courts, and decriminalizing simple possession of small amounts of marijuana.
Disability Rights
In the State Senate, Jennifer has been a staunch advocate for people with disabilities. She passed legislation that closed a loophole and extended parental support for severely disabled and special-needs children over age eighteen, giving relief to single parents. She also created a law that stems the school-to-prison pipeline, which disproportionately impacts children with disabilities, by implementing alternatives to suspension. She has fought for increased funding for Intellectual Disabilities (ID)/Developmental Disability (DD) Waiver slots to shrink waiting lists, the implementation of a more inclusive environment for students with disabilities, expanded state and local employment opportunities for those with disabilities, a focus on patient-centered, community-based centers and housing options, and Medicaid expansion to cover our most vulnerable Virginians.
In Congress, Jennifer will continue to be an advocate for a more inclusive America for people with disabilities. She will defend the Americans with Disabilities Act and the Social Security Disability Insurance Program, expand educational and employment opportunities for people with disabilities, and protect funding for Medicaid and other affordable healthcare programs.
LGBTQ Rights
In the General Assembly, Jennifer has worked hard to promote fairness and equal opportunity for all Virginians, including our lesbian, gay, bisexual, and transgender community. She has repeatedly championed legislation to ban discrimination based on sexual orientation and gender identity in housing, and cosponsored legislation that would prohibit discrimination in public employment. She has also supported bills that would remove the same-sex marriage ban in the Virginia Constitution, expand Virginia's hate crimes statute to include the LGBTQ community, end conversion therapy, and allow localities and school boards to establish their own non-discrimination policies.
She has opposed harmful Republican legislation that would have allowed government officials to refuse to marry same-sex couples, establish a Virginia version of the "bathroom bill," and numerous other attempts to treat the LGBTQ community as second-class citizens.
In Congress, Jennifer will continue to be a strong advocate for LGBTQ community. She will support legislation to expand anti-discrimination statutes, fight against bullying of LGBTQ youth, and other initiatives to make our country more inclusive and equal for everyone.
Voting Rights
The right to vote is one of the most basic tenets of our democracy, and Jennifer believes that we need to make it easier, not harder, for people to vote. In the State Senate, she sponsored and voted for legislation to end gerrymandering, allow easier access to the polls, expand absentee voting options, and add more options for the acceptable forms of voter identification. She has consistently opposed voter suppression tactics by Republicans and she has consistently spoken out against the Republican myth of extensive voter fraud.
In Congress, Jennifer will fight against attempts to suppress access to the ballot box. She will vote to end racial and partisan gerrymandering, expand early voting, make Election Day a federal holiday, and reform our broken campaign finance system that benefits only special interests at the expense of normal citizens. Jennifer also supports sanctioning Russia for its interference in our 2016 elections, and taking active measures to dissuade future attempts to tamper with our electoral process.
Women's Rights
Jennifer is a strong advocate for women's rights. She believes women's healthcare decisions should be made between a woman and her doctor, and has continuously fought to keep government out of those decisions. In the State Senate, Jennifer has fought against the Republicans' undue restrictions on abortion, championing legislation that would remove unconstitutional barriers to access like unnecessary waiting periods and TRAP laws targeted at women's health clinics.
Jennifer has created several new laws that have expanded women's rights in Virginia. She wrote and passed a law that finally gave mothers the right to breastfeed in public in Virginia. She created a landmark law that allows victims of revenge porn and surreptitious photos to sue their perpetrator for damages, and sponsored a bill to ensure women must not only receive equal pay but also equal benefits without being fired for asking about salaries.
In Congress, Jennifer will continue to be a true advocate for women. She will support legislation that expands women's access to quality, affordable healthcare, family planning services, and contraception, establishes paid family and medical leave programs, ends violence against women, promotes women's involvement in STEM and political fields, and ratifies the Equal Rights Amendment in the U.S. Constitution.
Education
Jennifer is a product of public education from elementary through law school, and both her children attend Loudoun County Public Schools. She believes strongly that every Virginian deserves a high-quality public education from their first day of pre-k to their college graduation. In the State Senate, she has advocated to eliminate unnecessary standardized tests and modernize the manner in which our kids learn and are taught. She passed legislation that will stem the school-to-prison pipeline by establishing alternatives to long-term and short-term suspensions which disproportionately affect minorities and students with disabilities. Jennifer also opposed reckless efforts by Republicans to take away local control of schools. Her strong support for education earned her the "Solid as a Rock" award from Virginia Education Association and the endorsements of the Loudoun and Fairfax Education Association PACs in her State Senate campaigns.
Jennifer is proud of the quality and standing of Virginia's public colleges and universities, but she knows college tuition is too high, and often a college degree is out of reach or leaves students with crippling debt. In the State Senate, Jennifer has sponsored bills that would create a Student Loan Refinancing Program, which will give students opportunities to refinance their loans, and the Office of Qualified Education Loan Ombudsman, which will create a resource for borrowers and oversight of loan services in Virginia. She has also supported bills that give victims of on-campus sexual violence more resources and give colleges and universities tools to prevent more assaults.
In Congress she will fight against Betsy DeVos' attempts to strip funding from public schools and hand it over to private schools. She will remain a dedicated advocate for improving educational access and resources for low-income students and children with disabilities. Jennifer will also support policies that raise teachers' pay and benefits, promote STEM courses and careers, and incentivize career and technical training.
Energy & Environment
Jennifer believes we need to be good stewards of the environment and that we must protect our land, air, and water for our children and future generations. Climate change and sea level rise are real threats to Virginia and our nation, and Jennifer knows we must take active steps to address them. In the State Senate, she has been a strong advocate for renewable energy and our environment. Jennifer sponsored legislation that would expand consumers' access to community solar energy, mandate quicker reporting on hazardous spills in Virginia waterways, and broaden the powers of the Department of Environmental Quality to go after polluters and stop construction of natural gas pipelines when they are adversely affecting our environment.
Jennifer has been a staunch defender of the environment during her time in the General Assembly, that is why she has received 100% ratings and numerous awards from major environmental groups, including the "Environmental Freedom" Award from Sierra Club Virginia and the "Legislative Hero" Award from the Virginia League of Conservation Voters.
In Congress, she will continue the fight to combat climate change, oppose drilling off Virginia's coast, adhere to the goals outlined in the Paris Climate Accord, and protect our natural resources, public lands, and waters.
Health Care
Jennifer believes that access to affordable healthcare is a right for all Americans. In the State Senate, she has fought alongside her fellow Democrats to expand Medicaid to 300,000 hardworking Virginians and bring over $10 billion back to Virginia's economy. She has fought for a woman's right to make her own healthcare decisions and to more easily access reproductive, family planning, and contraception services. She has also been a champion for mental health reform and combating the heroin and opioid crisis in Virginia.
Jennifer believes that Congress needs to stop playing politics with Americans' healthcare and find a bipartisan solution to problems within our current healthcare system. In Congress, Jennifer will fight to protect coverage for those with preexisting conditions, eliminate lifetime caps, fund the Children's Health Insurance Program, and keep Medicare and Medicaid strong and accessible. She supports allowing the Federal government to negotiate prescription drug prices to help keep healthcare prices under control. Jennifer also believes Congress should devote greater funding resources to expanding access to affordable healthcare, improving our mental health system, expanding innovative medical research, and helping to combat addiction.
Heroin and Opioid Crisis
The heroin and opioid epidemic has ravaged Virginia and our nation, as the number of deaths caused by drug overdoses now far exceeds deaths caused by motor vehicle accidents and by firearms each year. As a State Senator, Jennifer served on the Governor's Task Force on Prescription Drug and Heroin Abuse, and she has been working to change how doctors prescribe opioids, as well as to improve access to treatment for addiction and overdoses. She has patroned and passed bills to improve Virginia's prescription monitoring program, help get the lifesaving overdose reversal drug Narcan into the hands of more people, and allow Child Protective Services to help substance-exposed newborns and their mothers gain access to more resources to get and stay clean. She has also supported and advocated for Drug Courts, Virginia's Good Samaritan law, and laws that allow police and prosecutors to pursue charges against predatory drug dealers.
In Congress, she will continue to work to secure funding for substance use prevention and treatment, to stem the overprescribing of dangerous opioids, and to ensure that all Americans have access to affordable healthcare, including treatment services.
Supporting our Veterans
As a member of the State Senate and the Board of Veterans Services, Jennifer has fought for Virginia's veterans and their families. She has supported measures that increase resources for mental health services for active duty and retired military, expanded veteran entrepreneurship programs, eradicated veteran homelessness in Virginia, made it easier for service members to vote overseas and lowered tuition and fees while expanding veterans' resources on community college campuses.
Jennifer believes we should never send our men and women into war without ensuring the care and resources they and their families need is in place when they return home. In Congress, Jennifer will continue to be an advocate for our active duty military, veterans, and their families. She will support establishing veterans courts across the country, expanding access to healthcare and mental health services, fully funding and reforming the VA, and providing college, training, and workforce development programs so our veterans and their spouses can obtain good paying jobs.
Immigration
America is a nation of immigrants and my family is among those who came here seeking freedom, safety, and opportunity. Rather than working together to find bipartisan policies that will improve our immigration system, the President and Congressional Republicans are promoting fear-mongering tactics, like raids and roundups, against immigrants. As State Senator, I have consistently voted against and spoken out against Republican attempts to stigmatize immigrants, including their anti-Sharia legislation, the so-called "sanctuary cities" bills, and legislation that would have required Virginia to track and report on the location of refugees who resettle here.
Jennifer believes Congress needs to pass comprehensive immigration reform that includes a pathway to citizenship for immigrant families, protects DREAMers and their futures, prioritizes the deportation of violent criminals over status offenders, shuts down inhumane private detention centers, and ensures money that this administration would spend on building a wall instead be spent on securing and modernizing our borders and defending national security.
Infrastructure
Jennifer knows traffic and transportation are major concerns across Northern Virginia. She has focused on transportation solutions as a member of the Northern Virginia Transportation Commission, and has worked to bring resources to her district to relieve congestion, fix problems with Metro, and advocate for smart growth in Loudoun and Fairfax counties. She has introduced legislation that would give localities more control over, and funding for transportation projects in their jurisdictions. Jennifer opposed tolls on I-66 and repeatedly carried legislation to reduce the tolls on the Dulles Greenway.
Jennifer knows that America needs to rebuild our crumbling infrastructure. She supports a full-scale investment in new green infrastructure that will create millions of good paying jobs. She believes this investment should include updating and expanding our roads, bridges, public transit, airports, and rail lines. She believes Congress should also invest in infrastructure that will help build a clean energy future, expand the availability of high-speed broadband, and fix and modernize our electric grid and water systems.
Jobs & Economy
Jennifer believes we need to create an economy that works for everyone, not just those at the top. Wages and benefits are not keeping pace with costs. In the State Senate, she voted in favor of several measures that would raise the minimum wage, and has introduced legislation that would ensure women doing the same job as men receive equal pay and employment benefits. She also introduced legislation that would have established Paid Medical Leave in Virginia.
Jennifer believes that making investments in our workforce is a key to growing our economy. As our state and our nation evolve from an industrial to a technology-based economy, our workers must be prepared for the jobs of the future, not those of the past. Jennifer supports increased investments in career and vocational training, and retraining for those who have been displaced from the workforce.
Too often, wages have not kept pace with costs and the increased use of low-bid or unrealistic contracts has resulted in an American workforce doing more work for less pay. In Congress, Jennifer will support increasing wages and salaries, establishing paid family and medical leave programs nationwide, revitalizing America's middle-class, protecting and expanding workers' rights, making affordable housing more accessible to Americans, reining in Wall Street, and supporting America's small businesses and entrepreneurs.
News & Events
Source: Government
Social Media
Twitter
Facebook
Videos
Speeches
Rep. Wexton Tells Stories of #VA10 Federal Workers on the House Floor (1.11.19)
January 11, 2019
Rep. Wexton shared the story of an air traffic controller who received a paycheck for $0 despite working two weeks during the shutdown.
Rep. Wexton Delivers Her First Floor Speech on the Shutdown
January 11, 2019
Congresswoman Jennifer Wexton (D-VA) delivered her first floor speech as a new Member of Congress, telling the story of a VA-10 constituent who has been impacted by the ongoing shutdown. Rep. Wexton's district is home to tens of thousands of federal employees and even more government contractors.
Rep. Wexton told the story of a young couple who had to return their family's Christmas presents just to put food on the table. Their situation is all too common in Northern Virginia right now, as this shutdown approaches the longest in America's history.
Feedback
Questions & Answers
If you have any questions for Jennifer Wexton, send them to Virginia onAir at virginia@onair.cc. Virginia will first see if Jennifer Wexton has answered your question somewhere else. If they haven't, Virginia will pass on your question to Jennifer Wexton and post their answer, if they have one.
Suggestions
If you have any suggestions for Jennifer Wexton, especially if you are a current or former constituent, send them to Virginia onAir at virginia@onair.cc. Virginia will record your suggestions here.
Recommendations
If you have something positive to say about Jennifer Wexton and you are a Virginia onAir Hub member, send your recommendations to Virginia onAir at virginia@onair.cc.