Summary
Current Position: GMU Distinguished Visiting Professor since 2018
Affiliation: Democrat
Candidate: 2021 Governor
Former Position(s): Governor from 2014 – 2018; Chair, Democratic National Committee from 2001 – 2005; Chair, Hillary Clinton presidential campaign since 2008
Terry McAuliffe is a lifelong entrepreneur and proud Democrat who served as the 72nd Governor of the Commonwealth of Virginia from 2014-2018. As governor, Terry focused on making the Commonwealth welcoming and inclusive and building a 21st Century economy that created good jobs and expanded economic opportunity for all Virginians.
About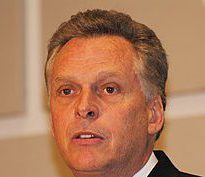 Source: Wikipedia
Terry McAuliffe (born February 9, 1957) is an American politician and former entrepreneur who served as the 72nd Governor of Virginia from 2014 to 2018. He was chairman of the Democratic National Committee from 2001 to 2005, was co-chairman of President Bill Clinton's 1996 re-election campaign, and was chairman of Hillary Clinton's 2008 presidential campaign.
McAuliffe was previously an unsuccessful candidate for the Democratic nomination in the 2009 gubernatorial election. In the 2013 gubernatorial election, he ran unopposed in the Democratic primary. He defeated Republican Ken Cuccinelli and Libertarian Robert Sarvis in the general election, collecting 47.8% of the vote; Cuccinelli garnered 45.2% and Sarvis received 6.5%. McAuliffe assumed office on January 11, 2014, and his term ended on January 13, 2018.
Family and education
McAuliffe was born and raised in Syracuse, New York, the son of Mildred Katherine Lonergan and Jack McAuliffe. His father was a real estate agent and local Democratic politician. The family is of Irish descent.
He graduated from Bishop Ludden Junior/Senior High School in 1975. In 1979, he earned a bachelor's degree from The Catholic University of America, where he served as a resident adviser.After graduating, McAuliffe worked for President Jimmy Carter's reelection campaign, becoming the national finance director at twenty-two. Following the campaign, McAuliffe attended theGeorgetown University Law Center, where he obtained his Juris Doctor degree in 1984.
Business career
At age of 14, McAuliffe started his first business,McAuliffe Driveway Maintenance, sealing driveways and parking lots. According toThe Washington Post, McAuliffe has "earned millions as a banker, real estate developer, home builder, hotel owner, and internet venture capitalist."
In 1985, McAuliffe helped found the Federal City National Bank, a Washington, D.C.-based local bank. In January 1988, when McAuliffe was thirty years old, the bank's board elected McAuliffe as chairman, making him the youngest chairman in the United States Federal Reserve Bank's charter association. In 1991, McAuliffe negotiated a merger with Credit International Bank, which he called his "greatest business experience."  McAuliffe became the vice-chairman of the newly merged bank. Shareholders questioned whether he was given special treatment; Chairman Richard V. Allen denied the allegation.
In 1979, McAuliffe had met Richard Swann, a lawyer who was in charge of fundraising for Jimmy Carter's presidential campaign inFlorida. In 1988, McAuliffe married Swann's daughter, Dorothy. McAuliffe invested $800,000 in Swann's American Pioneer Savings Bank, which was taken over In 1990 by federal regulators, causing Swann to file for bankruptcy. The Resolution Trust Corporation, a federal agency, took over American Pioneer's assets and liabilities.[13] Under Swann's guidance, McAuliffe purchased some of American Pioneer's real estate from the Resolution Trust Corporation. McAuliffe's equal partner in the deal was a pension fund controlled by the International Brotherhood of Electrical Workers (IBEW) and the National Electrical Contractors Association (NECA). They purchased real estate valued at $50 million for $38.7 million; McAuliffe received a 50% equity stake.  The deal was arranged by Jack Moore, a NECA trustee and acquaintance of McAuliffe.[13][15] Next, McAuliffe acquired a distressed house-building company, American Heritage Homes, which had been buying real estate formerly owned by American Pioneer.[13] McAuliffe served as chairman of American Heritage along with CEO Carl H. Linder. The Florida-based company came out of distress under a plan in which it built 800 homes a year.
In 1997, McAuliffe invested $100,000 in Global Crossing, a Bermuda-registered telecommunications company. Global Crossing went public in 1998. In 1999, McAuliffe sold the majority of his holding for $8.1 million.
In 2009, McAuliffe founded GreenTech Automotive, a holding company, which purchased Chinese electric car company EU Auto MyCar for $20 million in May 2010. Later that year, McAuliffe relocated GreenTech's headquarters to McLean, Virginia. GreenTech subsequently announced plans to manufacture vehicles in Mississippi. In December 2012, McAuliffe was questioned about the factory's location in Mississippi instead of Virginia. McAuliffe said he wanted to bring the factory to Virginia, but the Virginia Economic Development Partnership (VEDP), the commonwealth's recruitment agency, chose not to bid on it. Documents showed the VEDP was awaiting more information at the time it was announced the factory was being built in Mississippi. In April 2013, McAuliffe announced his resignation from GreenTech to focus on his run for governor of Virginia. He no longer holds an ownership stake in the company.
Fundraising career and relationship with the Clintons
McAuliffe had a prolific fundraising career within the Democratic Party and a personal and political relationship with Bill and Hillary Clinton. McAuliffe and his staff raised $275 million, then an unprecedented sum, for Clinton's causes while president. After Bill Clinton's tenure ended, McAuliffe guaranteed the Clintons' $1.35 million mortgage for their home in Chappaqua, New York. The deal raised ethical questions. In 2000, McAuliffe chaired a fundraiser with the Clintons, setting a fundraising record of $26.3 million.
McAuliffe told The New York Times in 1999, "I've met all of my business contacts through politics. It's all interrelated." When he meets a new business contact, he continued, "Then I raise money from them." He acknowledged that success of his business dealings stemmed partly from his relationship with Bill Clinton, saying, "No question, that's a piece of it." He also credited his ties to former congressmen Dick Gephardt and Tony Coelho, his Rolodex of 5,000-plus names, and his ability to personally relate to people. In 2004, he was one of the five-member board of directors of the Clinton Foundation. He told New York Times reporter Mark Leibovich in 2012 that his Rolodex held 18,632 names.
Chairman of the Democratic National Committee
In June 2000, as organizers of the 2000 Democratic National Convention were scrambling to raise $7 million, convention chairmanRoy Romer resigned to become superintendent of the Los Angeles Unified School District. McAuliffe immediately accepted appointment as Romer's replacement when asked on a phone call by presumptive presidential nominee Al Gore. Already in the news for a record $26 million fundraiser with Bill Clinton the month prior, McAuliffe promised that money would be a "non-issue" for the convention, and that the outstanding $7 million would be raised "very quickly". The selection of McAuliffe was praised by many in the party, and was widely seen to represent the growth in his influence, with James Carville telling the New York Times that "his stock is trading at an all-time high".
In February 2001, McAuliffe was elected chairman of the Democratic National Committee (DNC) and served until February 2005.McAuliffe tried and failed to persuade his top rival, Maynard Jackson, to drop out of the race for chairman but was still the heavy favorite. During his tenure, the DNC raised $578 million and emerged from debt for the first time in its history.
In the period between the 2002 elections and the 2004 Democratic convention, the DNC rebuilt operations and intra-party alliances. McAuliffe worked to restructure the Democratic primary schedule, allowing Arizona, New Mexico, North Carolina and South Carolinato vote earlier; the move provided African-American and Hispanic communities greater power in presidential primaries. According toThe Washington Post, the move bolstered United States Senator John Kerry's fundraising efforts. The DNC rebuilt its headquarters and created a computer database of more than 170 million potential voters known as "Demzilla." Five-time presidential candidateRalph Nader alleged that during the 2004 presidential election McAuliffe offered him cash to withdraw from certain pivotal states.McAuliffe's staff admitted to conversations with Nader about his campaign but denied offering him money.
In January 2005, a few weeks before his term ended, McAuliffe earmarked $5 million of the party's cash to assist Tim Kaine and other Virginia Democrats in their upcoming elections. This donation was the largest nonpresidential disbursement in DNC history, and was part of McAuliffe's attempt to prove Democratic viability in Southern states in the wake of the 2004 presidential election. Kaine was successful in his bid, and served as the Governor of Virginia from 2006 to 2010.
Post-DNC chairmanship
McAuliffe was co-chairman of Hillary Clinton's 2008 presidential campaign and one of her superdelegates at the 2008 Democratic National Convention.
In 2012, he was a visiting fellow at Harvard University's John F. Kennedy School of Government. In addition to several faculty and student lectures, McAuliffe hosted a segment entitled "The Making of a Candidate: From Running Campaigns to Running on my Own."
McAuliffe was an adviser at ZeniMax Media.
Web
Government Page, Facebook, Government Page, Government Page
Issues
Abortion
In 2013, McAuliffe said he supports "keeping existing Virginia laws on when abortions are legal." He opposes new state health and safety regulations on abortion clinics
Impeachment
In August 2018, McAuliffe stated "that's something we ought to look at", referring to the impeachment of president Trump. He argued that if "President Obama had gone to Helsinki and done what President Trump had done, you would already have impeachment hearings going on".