Summary
Current Position: State Delegate of VA House District 88 since 2022
Affiliation: Republican
First and foremost, I am a Christian, a husband, a father, and a business owner. I am not just any dad; I am a dad to all girls, and this is an extra special blessing. I love spending time with them.
I am a devoted husband to my beautiful wife, Elisabeth. She is my support and reason. Elisabeth gives me the encouragement I need to keep pushing forward and wisdom when facing challenging decisions. I am a Virginian at heart, our great commonwealth will always be my home.
I am running for delegate because our government has gotten away from the fundamentals and has had misguided priorities in recent years. We have a constitutionally mandated responsibility to provide a high-quality public education to our children here in Virginia.
Source: Campaign page
Twitter
About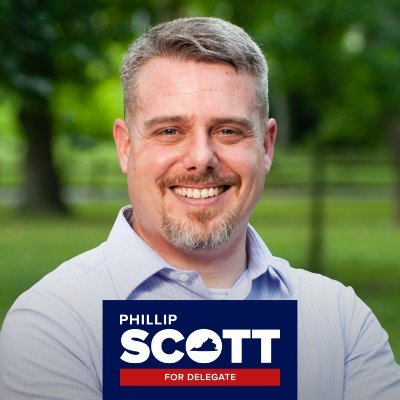 Source: Campaign page
Phillip was born in New Jersey, and is one of 5 siblings. He also lived for a few years in Maine, but his family moved to Virginia while he was in high school and it has remained his home for nearly 25 years. He has primarily lived in the Stafford, Spotsylvania, and Fredericksburg area.
Growing up in a Christian household, with a single mom who was intentional about keeping her kids in church, Phillip became involved in ministry and developed a passion for learning and serving. He has volunteered as a youth leader, an assistant church planter, small group teacher, and nursery worker.
Contact
Legislative Assistant: Craig Francis
Administrative Assistant During Session: Karen Aho
Email:
Offices
Capitol Office
900 E Main Street,
Richmond, Virginia 23218
Phone: (804) 698-1088
District Office
2215 Plank Road, #287
Fredericksburg, VA 22401
Phone: (540) 360-3789
Web
Government Page, Campaign Site, Twitter
Politics
Source: Government
Committee Membership
Counties Cities and Towns
Health, Welfare and Institutions
Privileges and Elections
Subcommittee Membership
Counties Cities and Towns – Subcommittee #1
Health, Welfare and Institutions – Subcommittee #2
Privileges and Elections – Subcommittee #1
Issues
Source: Campaign page
Protect Our Conservative Values
My conservative values are the foundation upon which I plan to legislate; strong First and Second Amendment rights, a tireless devotion to protecting the unborn, and an essential belief in a limited government. I'm proud to be a conservative and look forward to standing up for your liberties in the House of Delegates.
Healthcare
I know the importance of an effective and reasonably priced healthcare system. Just two years ago, my wife and I welcomed our daughter Brianna to the world. Brianna faces severe health challenges that require consistent doctor visits at a children's hospital. Without great healthcare coverage, my family would be in a difficult situation. This is why I will fight for a healthcare system with high quality, affordable services and more transparency.
Education
Every child deserves a high quality education, as the Virginia Constitution mandates. The past two years have shown us the many flaws in our current system. We need more choice for our families. We need to be able to guarantee that the public education we provide is apolitical. Fixing our broken education system will be one of my top priorities as a delegate.
Transportation
It's not a surprise that our transportation system is ineffective to many who live in the 88th District. We have all sat on I95 on a Saturday, just trying to run errands. It diminishes our quality of life because this is time wasted away from our family and friends. The General Assembly needs to lean more into public private partnership opportunities because let's face it, government alone isn't a cost-effective way at improving our transportation system. When I go to Richmond, I will also fight against burdensome regulations and qualifications that hampers our ability to find the best contractors at the best price.
Criminal Justice
Just in the past year, Democrats have radically changed our criminal justice system for the worse. They have created policies that support violent offenders and hamper our law enforcement officers. In an attempt to appease their base, Democrats have released violent offenders from prison, including one who even killed a police officer in the past. Enough is enough. The actions of a few bad police officers don't represent them as a whole. I promise to fight for our law enforcement officers in Richmond. It's critical Republicans take back control of the House to restore some faith for the men and women in blue.
Veterans
The 88 th District is densely populated with veterans, those who have served our country by
putting their lives on the line to defend our freedoms and way of life here at home. I will always
put veterans first as a Delegate. From examining structural issues related to veterans' healthcare
to reducing the tax burden on veterans' retirement income, there is plenty of pro-veteran reform
that we need to get done in Richmond.
Election Integrity
Voting security should not be a partisan issue. Requiring a photo ID to vote, regularly purging and cleaning our voter rolls, and bringing common sense reforms like signature confirmation technology are all reforms I pledge to fight for in Richmond. These are commonsense steps to make sure people have faith in our elections.
Taxes and Budget
Liberal majorities in the House of Delegates and State Senate have led to astronomical increases in wasteful government spending and our tax burden. I will be a brick wall against proposed tax increases and will fight to get more of your hard-earned dollars back in your pockets.
Agriculture
Virginia has a time-honored tradition of a thriving agricultural industry, driven by the family farm. As a Delegate, I will protect the good folks who farm here in the Commonwealth.
The average farm in Virginia is only 181 acres. This is not an industrial super-farm taking in profit hand over fist; it is the prized possession of a Virginia family and embodies their emotional and financial livelihood. Perhaps the family is financially stable, but more than likely they cannot say much more than that.
We need to strike the proper balance of ensuring a safe and secure food supply and thriving agricultural industry while not unnecessarily overregulating which would destroy many farmers, their families, and their farmhands' livelihoods.