Summary
District Description: Cities of Chesapeake (part) and Suffolk (part)
Current Delegate: Chris Jones since 1998 (R)
According to Ned Oliver of Virginia Mercury:
"Once basically invincible, Jones, the Republican chair of the House money committee, was hardest hit by a court ordered-redistricting plan, which turned his reliable red district distinctly blue. Democrats there now hold a theoretical 15-point advantage, a figure calculated as part of the redistricting process based on 2012 presidential election results. Democrats are already spending money there on digital ads to boost Jenkins, a real estate agent. Neither Jones nor his party, however, are writing off the district. Republicans say their candidate is well known and well liked in the area, the result of years of hard campaigning."
VA House District 76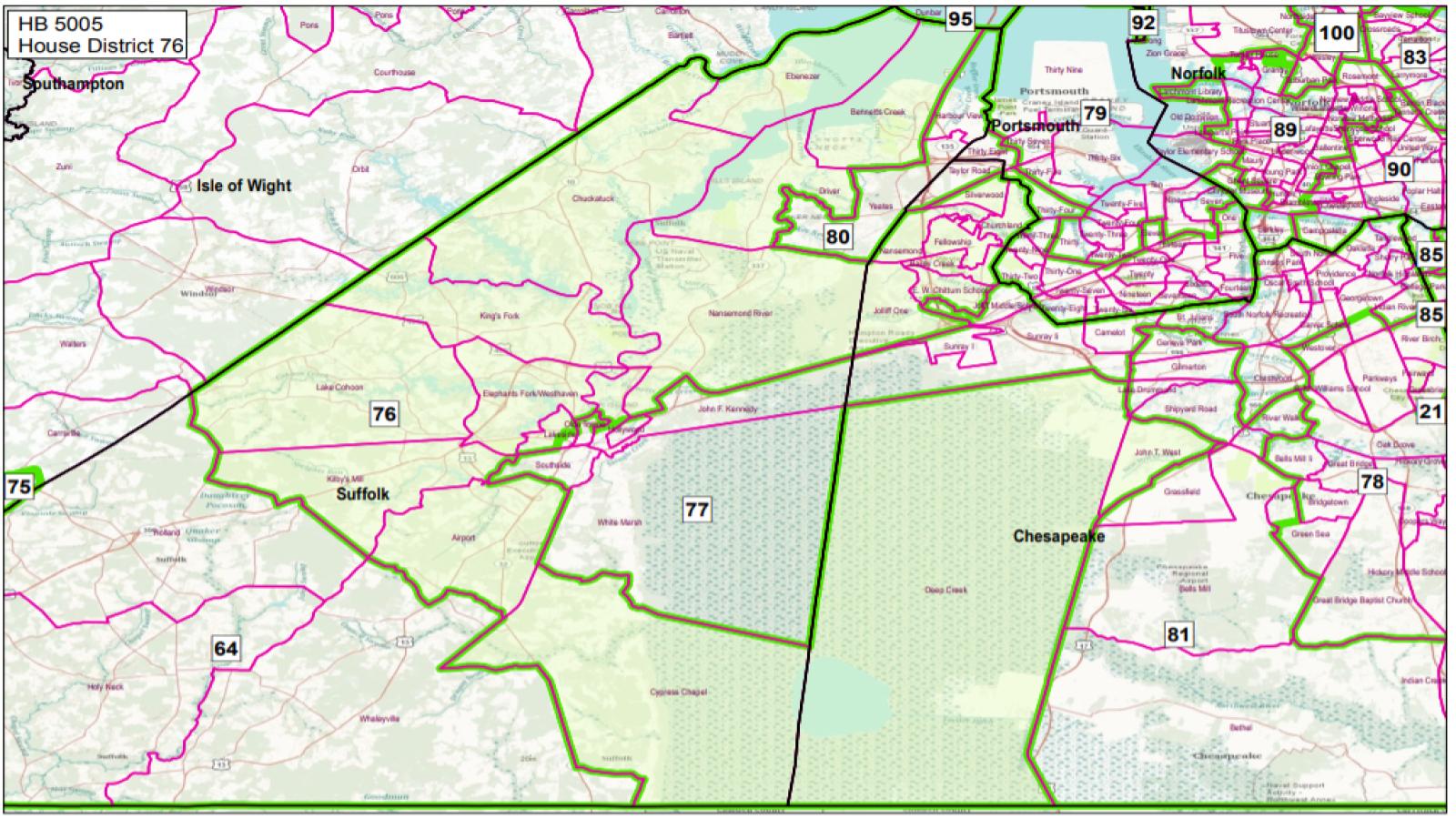 Chris Jones
Current Position: State Delegate for VA House District 76 since 1998
Former: Suffolk City Council (1986-98; Vice Mayor 1986-90; Mayor 1992-96)
Affiliation: Republican
Candidate: 2019 State Delegate VA House District 76
For more information, see Chris Jones's post.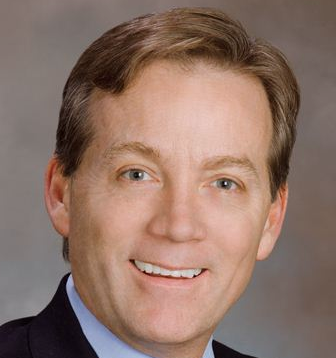 Chris Jones was born and raised here in the 76th District. Born in 1958, he grew up in a family of three children with parents Bobby and Barbara Jones, who were active in their community.  Growing up in Chuckatuck, Chris was involved with Little League Baseball, a member of the Chuckatuck Volunteer Fire Department and spent time working for his father, a pharmacist who owned Village Drugs in Chuckatuck. Chris graduated from John Yeates High school in 1976 and attended Randolph-Macon College where he was a member of the Ashland Volunteer Fire Department and the Ashland Volunteer Rescue Squad. Following in his dad's footsteps, Chris attended the Medical College of Virginia to become a pharmacist graduating in 1982. In 1985, Chris opened Bennett's Creek Pharmacy. In 1986, Chris began his first term on the Suffolk City Council where he represented the Chuckatuck Borough until 1998. While on council he served two terms as Vice Mayor, from 1986-1990 and served two terms as mayor from 1992-1996. In 1997, he was elected to the Virginia House of Delegates by the residents of the 76th District. In Richmond, Chris serves on three Standing Committees in the House of Delegates, Privileges and Elections (since 1998), Appropriations (since 2002), and Rules (since 2012).  In 2014, Chris was tapped as Chairman of the House Appropriations committee, where he provides a strong, common-sense voice for the hard-working citizens of the Commonwealth. Chris and his wife Karen have one daughter, Kaitlin, who is a graduate of the College of William and Mary.
Clinton Jenkins
Current Position: Manager real estate company
Affiliation: Democrat
Candidate: 2019 State Delegate VA House District 76
For more information, see Clinton Jenkins's post.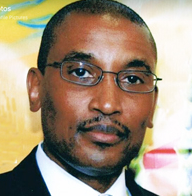 Clint was raised in the heart of the 76th district and graduated from John F. Kennedy High School.  After graduating, Clint enlisted in the US Army and proudly served his country. Upon returning to Suffolk, he earned his B.A. at Saint Leo University and continued his graduate studies at Southeastern Baptist Theology Seminary.
He and his future wife, Karen Hopson, met at the Oak Grove Baptist Church in Suffolk. The proud parents of three daughters, he and Karen will be celebrating their 32nd wedding anniversary this year.
After working for a time as a Subcontracts Administrator for BAE Systems Shipyard, Clint later became the Ethics Officer for the shipyard. While employed in the ship repair industries, Clint began to work part-time as a real estate agent. Today, he manages a local real estate company with his daughter, Ashlin.
Clint has been serving his community his entire adult life, staying active in local Civic Leagues, churches, and various other community organizations. He has also been a leader in the local Democratic Party, serving as the Suffolk coordinator for the 77th district House of Delegates and the DPVA's Chair of the 3rd Congressional District.
A strong commitment to service has defined Clint's involvement in his community. He knows the needs and concerns of the people of the 76th District because he has seen and heard them firsthand. He is committed to representing his constituents with honesty, integrity, and transparency.
Issues
Better Government
Chris Jones
Chris knows that you want the most for your hard earned tax dollars and expect the government to use your money wisely. This is why he has fought to cut out wasteful spending so that your tax dollars can be put to better use such as funding for new roads and bridges and better technology in our public schools.
Civil Rights
Chris Jones
Chris understands that gun ownership is a fundamental right of all American's and has been a champion of protecting the Second Amendment. He believes in the value of owning firearms for home defense and sport. He rejects bills that infringe on the fundamental rights of Virginians to own and carry firearms.
Clinton Jenkins
Support the passage of the Equal Rights Amendment in Virginia
Fight for equal pay for equal work legislation
Protect a woman's constitutionally-protected right to make her own healthcare decisions, and roll back existing barriers to access
Education
Chris Jones
Del. Jones has championed Education reform bills that will make standardized testing more applicable to real world situations and critical thinking skills. This will ensure that the children of Virginia are prepared and competitive in a global workforce. He understands that the children are the future of the commonwealth and deserve the very best from the public school system so that they have a fair shot at success.
Clinton Jenkins
Infrastructure
Chris Jones
Chris understands the congestion issues that a growing state faces and knows that the less time you spend sitting in traffic means more time at home with your family. He serves on the Hampton Roads Transportation Accountability Commission that decides how the money appropriated to Hampton Roads for new roads and bridges gets spent. He has been a champion of sweeping transportation reform that will improve the infrastructure of the entire state of Virginia and shorten your commute to and from work every day.
Clinton Jenkins
Safety
Chris Jones
Del. Jones was named the 2013 Delegate of the Year by the Virginia State Police Association as well as receiving numerous other awards from law enforcement agencies. He is not only committed to supporting our brave men and women in law enforcement but also supporting policy that help keep our neighborhoods safe.
Clinton Jenkins
Economy
Chris Jones
Del. Jones has a proven record of supporting legislation that makes it easier for Virginia businesses to operate and thrive. He stands behind policies that help create jobs for the Commonwealth by cutting back on government red tape that gets in the way of running a business. As a small business owner himself, Chris knows what it takes to create good-paying jobs that help Virginia's families. He supports Virginia's Right to Work laws that protect workers from being forced into paying union dues and helps businesses continue to run efficiently and continue to grow and hire.
Clinton Jenkins
Economy/Jobs
Attract better-paying jobs so no one who works full-time struggles to make ends meet
Invest in critical infrastructure that companies need to do business more efficiently
Expand job training programs to help get people back to work
Workers' Rights
Increase the minimum wage
Repeal Virginia's Right to Work law
Crack down on employers who engage in wage theft and employee misclassification
Protect employees' rights to organize and collectively bargain
Voting Rights
Clinton Jenkins
Repeal Virginia's Voter ID law
Institute universal voter registration and no-excuse absentee voting
Expand early voting periods to give people greater flexibility in casting their ballots