Summary
The GMU Democracy onAir chapter is the first and model chapter for Virginia onAir and the lead university chapter for Virginia.
Undergrad student members are affiliated with a number of GMU schools, departments, and programs including: Schar School of Policy and Government, the Department of Communication, and the Film and Video Studies program. A undergrad student club/student organization is also being formed to work in tandem with the GMU onAir Chapter.
GMU grad students, faculty, staff, alumni, and friends of Mason participate as chapter members. Virginia onAir Hub coordinators also started onAir chapters at VCU and Virginia Tech.
About
Contact
Email: Democracy OnAir
Locations
Fairfax Campus
4400 University Drive
Fairfax, VA 22030
Web
Videos
David Bulova Town Hall
Virginia onAir
Published on March 3, 2019
By: Virginia onAir
When: Saturday February 2nd at 9:00 to 11:00 am
Where: Fairfax City Hall Council Chambers at 10455 Armstrong Street (parking in rear of City Hall offices)
Web: Recorded by Nic Barta for Virginia onAir edited by Ny-jhee Jones.
Summary of the event – Go to this post.
News Posts
Debate Dives Into the Issues
By: Abigail Adcox
Fourth Estate – November 5, 2018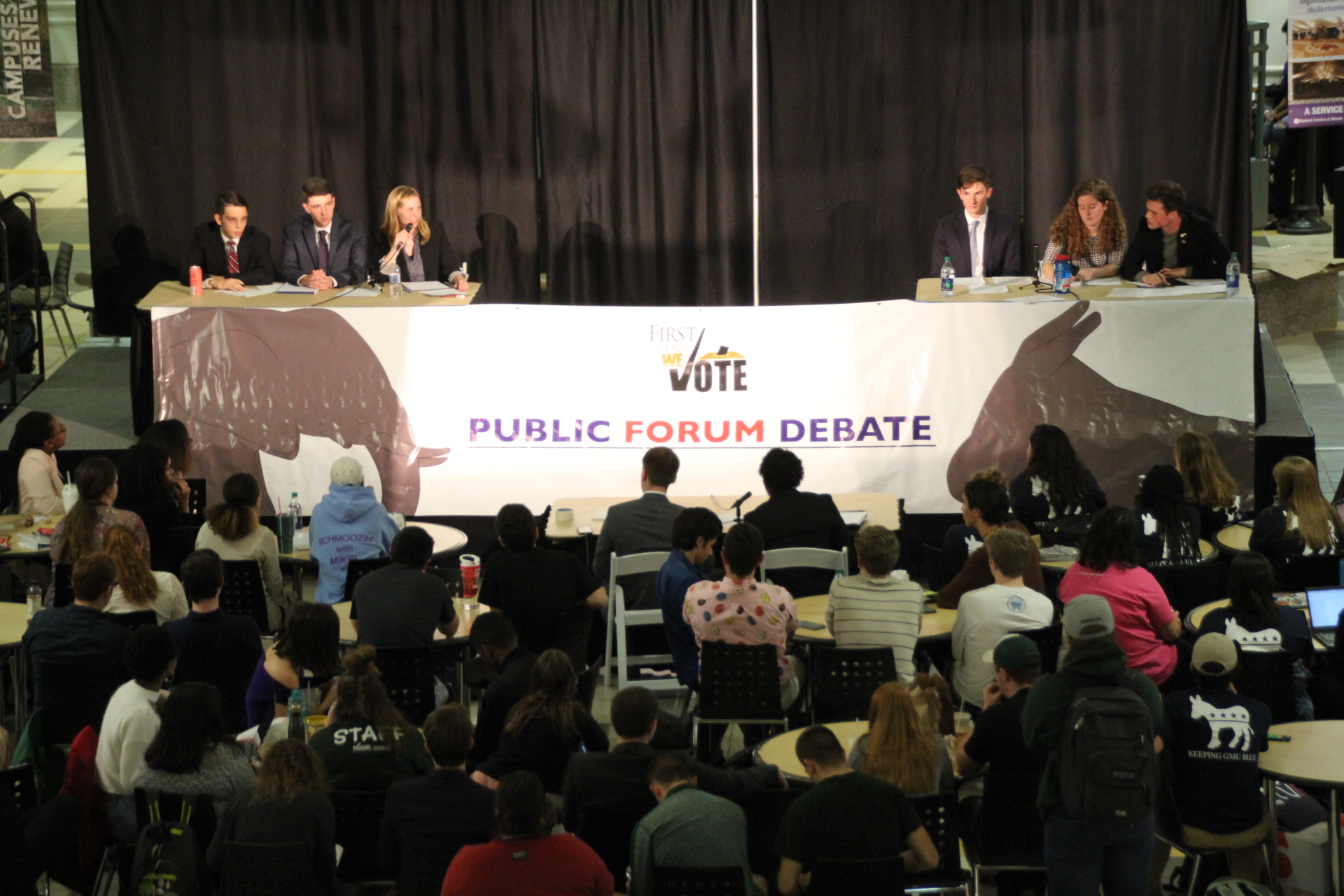 George Mason College Republicans (CRs) and George Mason Democrats (GMU Dems) went head-to-head in a civilized debate on Nov. 1 to discuss prominent issues ahead of the midterm elections.

The event, "First of All We Vote," was hosted by Student Government, Alpha Phi Alpha Fraternity, Inc. and Mason Votes as a way for students to hear about issues affecting the midterm in a bipartisan manner.

"In this election, all 435 seats in the House of Representatives are up for grabs and a third of the senate is on the ballot," said Erica Kelly, an intern for GMU Dems, during opening statements.
Activities
Chapter members commit to curating at least one politician's profile post – an elected official or candidate. Curating these posts include:
Communicating with a politician or their staff to insure profile content is accurate, current, and comprehensive
Adding news and events
Receiving emailed questions from post viewers and recording the politician's answers in their profiles
Moderating post comments and suggestions
Assisting politicians with streaming their video updates then archiving them in the posts they are curating
Producing video interviews of politicians and voters in the district they are curating
Chapter members also can assist with organizing, streaming, and editing chapter events such as town halls, debates, forums, and candidate days.
Benefits
Beyond helping to reinvigorate a more civil and vibrant democracy in their state, chapter members will:
Have the same benefits as people and organizations that purchase premium memberships including a full member profile post and the ability to author or co-author issue related posts
Be able to network Virginia elected officials and political organizations
Acquire and develop their political communication and media skills
Gain experience and credibility to pursue job opportunities including with Democracy onAir and other democracy promoting organizations