Summary
Why I Disrupted Trump's Speech at Jamestown
'Unjustified and unreasonable': Navy, Walmart, attorney general and legal aid workers oppose Dominion's profit push
Virginian-Pilot alums launch statewide investigative reporting center
Virginia's Board of Education is considering recommendations to 'force the hand of the General Assembly'
Blue Ridge Caucus: Local GOP committee passes motion of no confidence in Riggleman
Black and Latino students may struggle with 'unsustainable' student debt, report says
Varshini Prakash and the Sunrise Movement's plan for the Green New Deal
Trump shows he can take the high road. He just usually chooses not to.
Trump interrupted by state delegate's protest at Jamestown as black lawmakers boycott president's appearance
Hemp is legal. Marijuana isn't. State forensic scientists say soon they'll have tests to tell the two apart
Fort Monroe is better protected in the state's hands, for now
Finding peace on Virginia's Eastern Shore
Federal
Trump interrupted by state delegate's protest at Jamestown as black lawmakers boycott president's appearance
By Mechelle Hankerson| Ned Oliver
Virginia Mercury – July 30, 2019
For once, President Donald Trump avoided courting controversy, sticking to history and the blessings of representative democracy during his remarks Tuesday in Jamestown.
But new Virginia state Del. Ibraheem Samirah, D-Fairfax, refused to let the president's presence, which had already resulted in a boycott by the Legislative Black Caucus and other Democrats, go unchallenged.
Trump shows he can take the high road. He just usually chooses not to.
By Robert Zullo, commentary
Virginia Mercury – July 30, 2019
The speakers who delivered remarks before President Donald Trump at the 400th anniversary events in Jamestown Tuesday appeared to be making strenuous exercises in preemption.
Then, something unexpected happened.
US House
Blue Ridge Caucus: Local GOP committee passes motion of no confidence in Riggleman
By Amy Friedenberger
Roanoke Times, July 30, 2019
The Cumberland County Republican Committee was chaired by Diana Shores, who was involved in a failed effort on Saturday to have Riggleman, R-Nelson, censured for similar reasons.
"I make this motion of no confidence in Congressman Denver Riggleman for his recent act in officiating a homosexual marriage and his lack of support for stronger border security and immigration policies," the motion read.
State Executive
State Corporation Commission
'Unjustified and unreasonable': Navy, Walmart, attorney general and legal aid workers oppose Dominion's profit push
By Sarah Vogelsong
Virginia Mercury – July 28, 2019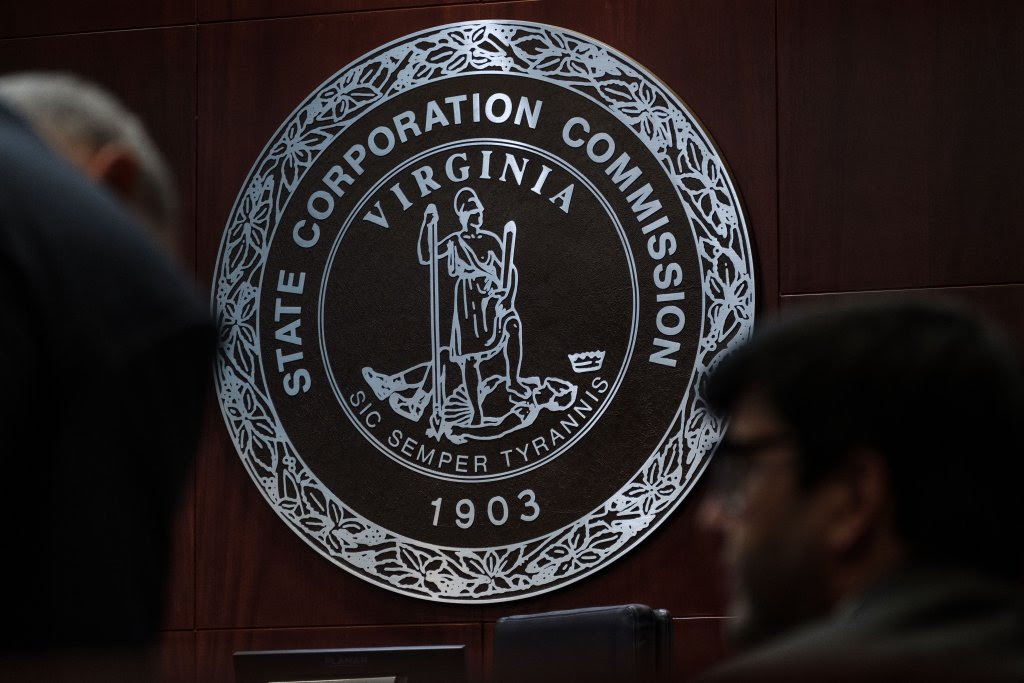 Federal and state agencies, Walmart and a group advocating on behalf of low-income Virginians have emerged as unlikely bedfellows in an effort to push back against a proposal by Dominion Energy Virginia to increase the profits that its shareholders can reap.
The proposal in question was put forward by Dominion this spring, when the investor-owned utility asked the State Corporation Commission to increase its allowable return on equity from 9.2 percent to 10.75 percent.
Board of Education
Virginia's Board of Education is considering recommendations to 'force the hand of the General Assembly'
By Mechelle Hankerson
Virginia Mercury – July 29, 2019
The Virginia Board of Education is considering a recommendation that would lay out minimum funding requirements for a state budget item used to help at-risk students, a move intended to put pressure on the General Assembly to increase education spending.
State Legislature
VA House of Delegates
Why I Disrupted Trump's Speech at Jamestown
By Ibraheem S. Samirah
The Atlantic – August 2, 2019
On Tuesday, Virginia's general assembly celebrated 400 years since a legislative body was formed by the colonists of old Jamestown. As a member of the House of Delegates, I was given a front-row seat at the festivities. Unfortunately, the celebration, which was intended to be a nonpartisan reflection on our commonwealth's complicated history, was tarnished by the presence of President Donald Trump, a man whose views are antithetical to the values that the event sought to celebrate: democracy, representation, and the ability of immigrants to seek refuge and self-governance in a new land.
All the Democratic lawmakers found their own way to show their displeasure with the president's presence. I chose what, for me, was the only sufficient option: I waited for the president's speech, stood in front of his podium, and told him to his face that he can't send us back, because Virginia is our home.
Issues
Democracy
Virginian-Pilot alums launch statewide investigative reporting center
By Ned Oliver
Virginia Mercury – July 26, 2019
Two former staffers at The Virginian-Pilot have teamed up to launch a nonprofit investigative newsroom that plans to partner with media outlets and universities around the state to produce in-depth local reporting.
The Virginia Center for Investigative Journalism aims to post its first story within the next month and hopes to begin publishing on a routine basis by the end of September, said Chris Tyree, the fledgling organization's executive editor and cofounder.
Education
Black and Latino students may struggle with 'unsustainable' student debt, report says
By Mechelle Hankerson
Virginia Mercury – July 29, 2019
A new report from the Center for Responsible Lending and the NAACPsaid black and Latino college graduates may struggle with higher and more difficult-to-manage student loan debt than their white counterparts.
"Historically, access to higher education has been dramatically unequal," the report stated. "This pattern persists today as African-American and Latino students struggle to fund their college experiences due to broad societal discrimination … As a result, students of color accumulate high levels of unsustainable debt."
Environment
Varshini Prakash and the Sunrise Movement's plan for the Green New Deal
By Ezra Klein
Vox Media – Jul 31, 2019
A year ago, environmentalists were still struggling to get the political system to even mention climate change. Today, climate strikes are being held across the world, 82 percent of Democratic voters are listing climate change as a top priority, and the Green New Deal has become a progressive litmus test for 2020 Democratic presidential candidates.
So — what the hell happened?
The Sunrise Movement happened. Sunrise is part of a new generation of youth-led climate change movements that emerged out of the failure of the global political system to address the climate crisis. They're the ones who made the Green New Deal a household term. They're the reason CNN and MSNBC are hosting the 2020 Democrats for forums all about climate change. And they're just getting started.
Fort Monroe is better protected in the state's hands, for now
By Daily Press Editorial Board
August 3, 2019
The National Park Service is no longer the best steward for protecting Fort Monroe
Last week, Virginia's U.S. senators introduced legislation to expand the Fort Monroe National Monument by 44 acres, uniting the two disjointed pieces of the property under National Park Service ownership.
Finding peace on Virginia's Eastern Shore
By Linda J. White
Free Lance Star – August 4, 2019
The 20-mile trip across the Chesapeake Bay Bridge–Tunnel from Norfolk to the Eastern Shore of Virginia signals me to decompress, shed the pressures and challenges of daily life and focus ahead, to the place where sun and sand, sky and sea promise respite.
Beneath the bridge, the gray–green waters of the Atlantic and the Chesapeake Bay embrace, fall apart, and embrace again. Above, sea gulls perch on light posts, keeping an eye on the bobbing boats of fishermen below.
I look ahead, to where the flat expanse of Fisherman Island, edged in bright sand, acts as my welcome mat.
Marijuana
Hemp is legal. Marijuana isn't. State forensic scientists say soon they'll have tests to tell the two apart
By Ned Oliver
Virginia Mercury – July 31, 2019
Hemp test: The state forensic science lab plans to distribute 15,000 field tests to police departments around Virginia that will help officers distinguish between hemp and marijuana plants, which can appear identical but carry very different legal implications.
Law enforcement agencies have had no way to tell the difference since the state legalized industrial hemp production earlier this year — a nationwide problem that has seen tractor tailors seized and, in Fredericksburg, a CBD vendor charged with felony distribution of marijuana.
Feedback
<!- end of .post-entry -->