Summary
This va.onair.cc hub supports Virginians to become more informed about and engaged in federal and state politics while facilitating more civil and positive discussions with their representatives, candidates, and fellow Virginians … Learn. Discuss. Engage.
Virginia is located in the Southern region of the USA with Richmond as its capital. Ralph Northam (D) is Governor and  Mark Warner (D) and Tim Kaine (D) are its US senators.  Virginia's 11 US House members are displayed in the US House Members "Top Posts" slider. The Virginia General Assembly has 40 Senate members and 100 House of Delegate members.
To view this and other posts with a table of contents, select the feature image or the post title above. To view this post in "Quick View" mode, select the three dots in the post's title.  
Virginia onAir is one of 50 state governance and elections hubs that the US onAir Network is providing to reinvigorate our imperiled democracy. Virginia onAir is also US onAir's model, curated state Hub. Below is our two minute vision video.
About
The US onAir curators aggregate and organize the best publicly available information on governance and elections, interface with politicians and their staffs, moderate discussions, conduct online interviews, and coordinate and record online events such as debates, town halls, and forums.
Each state's residents can:
LEARN more about their government, representatives, candidates, and  the state and federal issues important to them;
DISCUSS their concerns and ideas with their representatives, candidates, and each other  in civil and dynamic forums; and
ENGAGE with Democracy onAir and the democratic process through curating posts, forums, online interviews and events as well as donating to and sponsoring the US onAir network of state Hubs.
To learn about US onAir features, View the Tour the US onAir Network video below.  To see "How to use US onAir",  go to this post.
The Virginia onAir Hub has been the pilot and model for how to curate a state Hub. The George Mason University onAir Chapter has lead this effort. In collaboration with DC area university faculty and students, we will be focusing in the next two months on the US Senate races. The GMU onAir chapter will also be focusing on Virginia's US House races.
All Hub content is under the Creative Commons Attribution-NonCommercial license which permits content sharing and adaptation by nonprofit organizations as long as proper attribution is given to its author(s) and is used for non-commercial purposes. Content and moderation guidelines reinforce our commitment to fact-based, comprehensive content and civil and honest discourse.  See Terms of Service for more information.
Simply visiting a Hub does not expose your identity publicly. When you submit your email address to become a Hub member, it is your option to have your address displayed.  All post curators are encouraged to use a free @onair.cc email address. The US onAir coalition will not sell your information. See our Privacy Policy for more information.
Learn
All US onAir Hubs US have posts on each state's Governor, US Senators, and US House members as well as posts on how to register and vote in the upcoming elections. Curated stated Hubs like Virginia onAir also have posts on US House races, other state executives, state senators, and state House members and posts on issues. As a state enlists more curators, posts on city and county representatives and elections will also be started. Some special features of the US onAir network to assist the public in learning more about their representatives, candidates, and the issues are described below.
Open to all Residents
Any resident of a state can participate in a US onAir Hub. We are particularly interested n educating and engaging college and high school students as well as disenfranchised and non-participating citizens.
Each state Hub's governance and elections content will be curated by university students, members of democracy supporting organizations, and concerned citizens affiliated with an onAir Chapter.  The US onAir coalition with the support of Democracy onAir will be establishing onAir chapters at public colleges and universities in each state. Any state resident can participate in a university onAir chapter. Students can be majoring in any academic discipline although government, political science, communication, and multi-media/broadcasting are the most relevant areas of study. Students can participate via internships, experiential courses, research projects, student clubs, and their student governments. US onAir is committed to ensuring that all interested students and residents have the opportunity to engage in politics regardless of their time constraints or location.
Benefits for Curators
Young people will represent one of the major group of curators that help the US onAir coalition develop and enhance each state Hub. Curators will have the opportunity to update information about the politicians who represent them as well as other politicians they are interested in learning about and networking with. One key benefit is having the opportunity to conduct online and in person video interviews with these politicians.
While moderating discussions, curators will be able to learn about issues and communicate with the leading advocates of issues they are interested in.  US onAir interns will receive a Hub post where they can include their resume, projects, video interviews, and other information about their interests, skills, and experience helpful to gaining employment and networking opportunities.
Benefits to Politicians
Twitter, Facebook, and other social media and online platforms provide an interface between candidates/representatives and voters/residents, though often those interactions are polarized and do little to promote quality communication. Voters and residents are not interest groups, are rarely concerned only about a single issue, and are not well represented by the brief and often detached interactions of social media. Politicians rarely have an opportunity to fully engage outside of in person events that tend to draw only the most engaged individuals.
USA onAir hubs will encourage and enable a wider range of participation and offer politicians an opportunity to listen to those constituents and talk about how their proposals and votes relate to their principles and needs of constituents. These interactions are mediated by curated forums and moderated live Q&A sessions.
This will clearly benefit politicians with limited resources and/or limited knowledge regarding social media, but it also benefits politicians and constituents who already have social media presence but are looking for a higher quality of discourse and engagement to understand their constituents and express their positions.
Benefits for Organizations
US onAir is a network for all US-based organizations who are nonpartisan nonprofits promoting democracy. These organizations will also have the opportunity to share their missions and activities with each other and the public as well as be sponsors of the posts they are most committed to advancing.
Qualifying organizations will be able to provide their members with the opportunity to be curators of posts at a federal, state, and/or local level.
Benefits for Advocates
Advocates can sign up through an existing organization or individually.  Advocate membership will be available by the end of this year.
OnAir Media
What kind of livestreamed and recorded videos are on curated Hubs?
Each Hub has a special emphasis on "OnAir" media which can be livestreamed  and recorded with members having an opportunity to ask questions and comment. Each Hub supports the same conferencing and streaming technology with up to 250 participants and 100,000 viewers.
OnAir livestreamed & recorded media are of three main types::
1) Presentations– could be an update, speech, slide presentation
2) Interviews – organized by curators or a politician's staff  can include press, experts, students, and other Hub members.
3) Events such as
Debates between two or more politicians with 1 tor more moderators
Forums – with up to 9 people with 1 tor more moderators
Town Halls– with up to 250 members participating using conferencing technology
Become a Curator
How can students curate posts?
GMU was the first university onAir chapter established in the fall of 2018. The GMU onAir chapter is the lead chapter for the state of Virginia and a model of how students in onAir chapters at universities in other states can manage and curate their states Hub.
To oversee the interviewing of US Senate and House members as well as organizing debates, town halls, and debates, US onAir will be organizing a teams of students from universities in and near the District of Columbia.DC onAir university chapters.
Go to this post, to learn about how to become a curator of Hub posts.
Discuss
Every post has a feedback section where registered Hub members can, depending on the type of post:
Ask a post's Curator questions about the post
Recommend edits and new content
Ask questions and make suggestions to politicians communicated by the post's curator
Give endorsements for their favorite politician
Participate in forum discussions
See Terms of  Service for more information about our discussion guidelines.
Become a Member
All that is required to be a US onAir member is your first and last name, an email address, and your zip code.
Your real name and any other profile information will NOT be displayed unless you choose to do so. Your personal information is NOT shared with any other website or organization.
Hub membership will enable you to:
Ask questions, make suggestions, and give endorsements to your representatives and other politicians;
Interact directly with Post Authors and Curators giving them feedback, content suggestions, and asking questions,
Participate in online forums, research studies, and surveys,
Be able to ask questions during onAir livestreaming broadcasts via chat
Engage
There are five primary ways of engaging with a US onAir Hub:
Hub members can join for free and participate in live and asynchronous forum discussions and assemble their  personalized own My onAir;
Students and members of democracy promoting organizations can become curators of information, moderators of discussions; and producers of video interviews and live shows;
Organizations can become sponsors of this Hub and individual posts on this Hub;
Individuals and organizations can donate to Democracy onAir and to specific state Hubs.
 Individuals can become an advocate member and author new posts on issues
Become an Intern
Democracy onAir welcomes any US citizen to apply for an internship. We require a minimum commitment of 6 hours per week.
We have a special interest in working with undergraduate students majoring in government, communications, media, or a related field with a passion to improve democracy in the US.  Students (and other US citizens) who want to intern with Democracy onAir this fall can submit their resume with an introductory email articulating why you are interested in being a Democracy onAir intern and include a link, if appropriate, to your relevant academic program (internship, capstone project, research project etc.) to: internships@onair.cc. 
WHY BECOME AN INTERN?
The primary internship benefits beyond helping to reinvigorate democracy are intended to be career-enhancing:
Visibility in your field; potential contact with thought leaders, organizations, and potential employers
Skill development in political communication, media, and other position-specific opportunities such as grant-writing, video editing, and team management
Interaction and networking with politicians and other nonprofit organizations
Career opportunities with Democracy onAir and US onAir coalition organizations
Potential for individualized projects and skill development
Internships are mostly self-directed with weekly online meetings. Since much of the internship work is done remotely, students are on an honor system as to the hours they report to us. Part-time interns do not receive any monetary compensation.
OPPORTUNITIES
OnAir Content Curators
Key Responsibilities:
Content Curators are tasked with helping turn the Hub into a centralized source of information on local, state, and federal politics. Tasks could include one or more of the following:
Coordinating the curation of politician profiles, including their background, policy positions, and campaign finances
Moderate and contribute to online discussions regarding campaigns and politicians
Interview, video, and post interviews with candidates and politicians
Supporting the development of Democracy Squads in colleges and universities throughout Virginia
OnAir Media Producers & Moderators
Key Responsibilities:
Media interns are tasked with helping each Hub to become a rich source of video interviews, and livestreamed and recorded town halls, debates, and forums. Tasks could include one or more of the following:
Recording video interviews with politicians and other relevant events
Editing all video content and posting to our Vimeo channel and relevant posts on the hub.
Assist in creating and managing the OnAir streaming service
Assist in recruiting media interns
Make sure all team members have high quality featured images
Outreach Internship
None at the present time.
Business Internship
None at the present time.
Become a Donor
How can individuals and  help defray the costs of the US onAir network?
Donations can made by any individual or foundation that wishes to support the mission of US onAir. Donors can choose to support the entire organization or state Hub, as well as specific operations, such as a District and all the posts within it, an individual politician Post, or a specific Issue Post. Donations, at the donor's request, can be displayed on a Hub with links to social networks and/or websites.. Anonymous donations are accepted as long as they are verified as US residents or US-based foundations with no foreign affiliations.
Go to this post, to learn about how to become a US onAir donor of the US onAir network and/or a specific state Hub.
Become a Sponsor
What are the ways your group can sponsor the US onAir network?
Any organization or business can become a sponsor of this Hub and/or any state Hub. Each Hub's administrator has the option to deny and cancel any sponsor especially if they are not related in any way to a Hub's focus. Sponsors can choose to support the entire organization or state Hub, as well as specific operations, such as a District and all the posts within it, an individual politician Post, or a specific Issue Post. We are particularly interested in sponsoring organizations that seek to support civic engagement, democratic and civil discourse, and the intersection of technology and government. Foreign owned or affiliated organizations are not permitted to be sponsors of any US onAir Hub.
Go to this post to learn more about becoming a sponsor.
Become an Advocate
How can US citizens advocate for issues on a Hub?
Advocates of various issues important to US residents will have an opportunity to contribute position papers, reviews, videos, and other types of content related to an issue. As premium members, they will be able to author new posts on issues and co-author existing posts on issues.
Advocates can sign up through an existing organization or individually. Advocate memberships will be available after the November elections.
VA onAir Team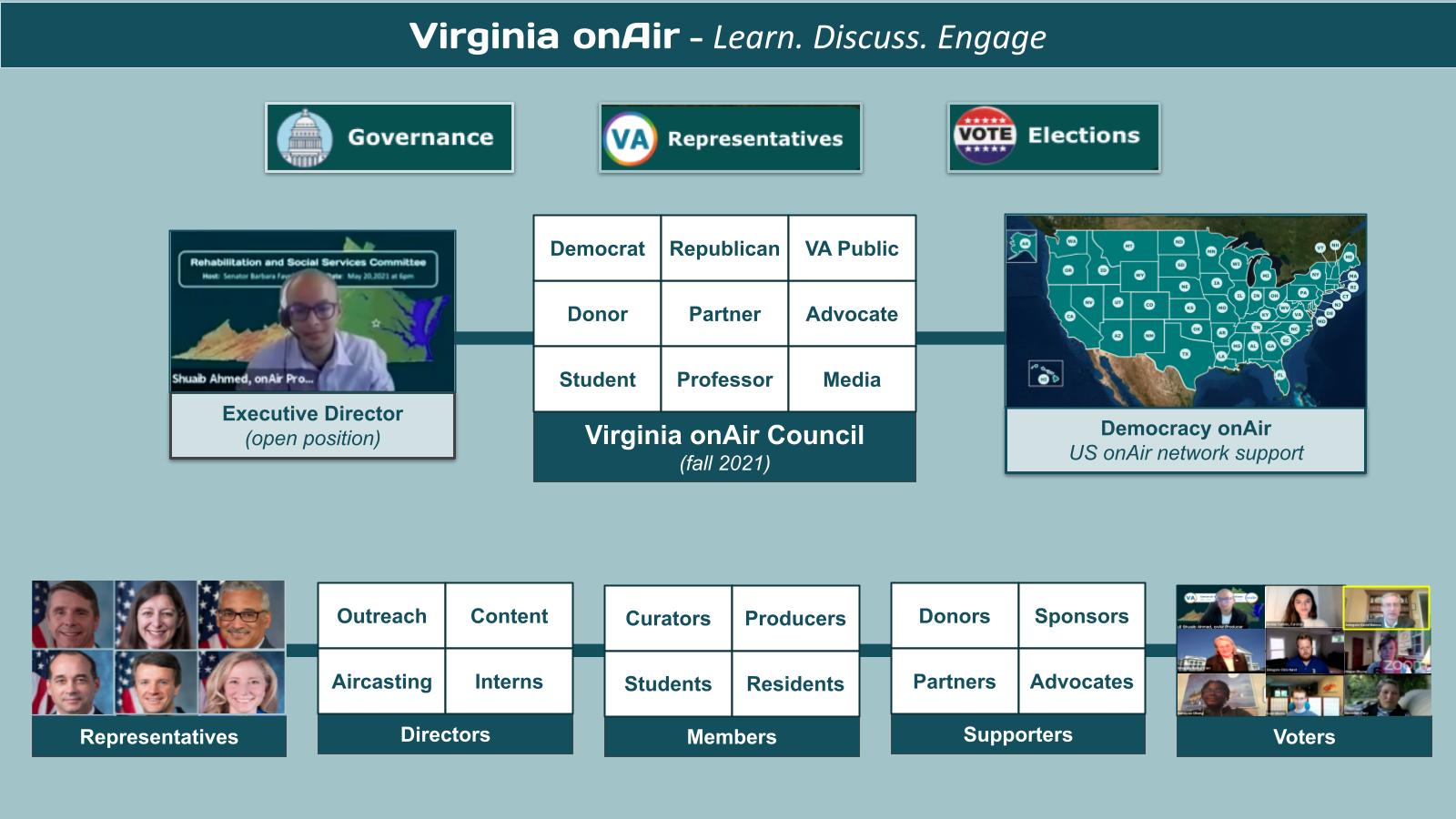 The US onAir Network is a growing coalition of individuals and organizations creating a new kind of digital democracy network. Participation in US onAir is open to all US citizens and qualifying organizations. Democracy onAir, a nonpartisan 501c3 nonprofit, is providing the technology, curation, and organizational support needed to establish a dynamic, evolving network.
Virginia onAir organizes students and members of affiliated nonpartisan organizations to become engaged in and impact state and federal Virginia politics facilitating a more civil, collaborative, and vibrant democracy in the state.
Virginia onAir Hub members/curators aggregate information and media-rich content on elections and governance so Virginia residents can learn more about and interact with their representatives and each other on the issues important to them.
Directors
Seeking: Executive Director
We are also looking for someone to assume the Virginia onAir Executive Director position. We would consider a graduate student who wants to incorporate his or her efforts into their thesis, dissertation, or academic project.
Contact: Todd.Gillette@onair.cc
University onAir Chapters
One model for an onAir chapter is the Democracy Squad at GMU led by Dr. Jennifer Victor.
We are currently looking for student curators who are attending any Virginia college or university. To learn more about becoming an Virginia onAir curator as well as interning with, donating to, and sponsoring Virginia  go to this post on the US onAir central Hub.
Virginia onAir Council
The Virginia onAir Council, a nonprofit nonpartisan board of advisors, will oversee Hub curation guidelines and promote the Virginia onAir Hub to interested people & organizations.
The Virginia onAir Executive Director will assemble the council members to include: a current Democrat and Republican state representative, a representative from a major partner, the student Chapter president and faculty advisor from the lead university onAir chapter, online media executive, and an interested Virginia voters.
Democracy onAir
Democracy onAir, a nonpartisan nonprofit organization provides the web technology and support to create, host, and sustain the state elections and governance hubs.  Democracy onAir also supports the Executive Director and Maryland onAir Council and manages the finances for each state hub.
We aim to address the current climate of divisiveness, tribalism, fact-free dialogue, and ad hominem attacks. We also see an opportunity to bring attention to the underserved area of state political issues and governance.
For more information, see this About Democracy onAir post.