Summary
Current Position: U.S. House of Representatives (2008- 2018), Virginia 1st District
Republican Candidate: US House - Virginia 1st District
Information
Web:  wittman.house.gov  robwittman.com
Social Media:  Facebook  Twitter  Instagram
Web: Wikipedia   Ballotpedia  VPAP   Open Secrets  GovTrackUs
Email:  Contact Form  Email Updates  TownHall Signup  Meeting Request
Washington DC Address:  2055 Rayburn Bldg
Washington, DC 20515
Phone:  (202) 225-4261
Hanover Office: 6501 Mechanicsville Turnpike #102
Mechanicsville, VA 23111
Phone: 804-730-6595
Stafford Office:
Tappahannock Office:
Former positions:
Montross Town Council from 1986 to 1996
Mayor of the Town of Montross from 1992 to 1996.
Westmoreland County Board of Supervisors, from 1996 to 2005, the last two years as chairman.
About
From Government Site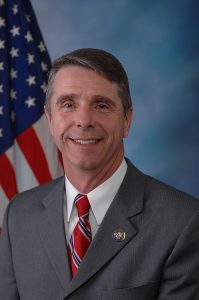 Rob Wittman was first elected to serve the First Congressional District of Virginia – America's First District – in December of 2007. He was re-elected for his fifth full term in the House of Representatives in November 2016. For more than 20 years, Rob has served in several levels of government, from Montross Town Council to United States Congress. Rob won his first campaign for public office in 1986 when he was elected to the Montross Town Council, where he served for 10 years, four of them as Mayor. In 1995, Rob was elected to the Westmoreland County Board of Supervisors and was elected its Chairman in 2003. In 2005, voters in the 99th Legislative District elected Rob to the Virginia House of Delegates, where he served until he was elected to the United States House of Representatives in 2007.
In the U.S. Congress, Rob serves on the House Armed Services Committee and the Committee on Natural Resources, where he is well-positioned to represent the needs of Virginia's First District.  He has quickly earned a reputation for being an advocate for our men and women in uniform and for being a champion of the Chesapeake Bay.
On the Armed Services Committee, Rob serves as the Chairman of the Seapower and Projection Forces Subcommittee.  In addition, as Co-Chair of the Congressional Shipbuilding Caucus, he is a staunch advocate for a robust Naval fleet and a healthy domestic shipbuilding industry. Rob has served as Chairman of the U.S. Naval Academy's Board of Visitors since 2010.
As a member of the House Committee on Natural Resources, Rob brings his professional expertise in water quality, fisheries, and other natural resource issues. He is a champion of the Chesapeake Bay — for its environmental and economic attributes — and has introduced legislation that will increase the accountability and effectiveness of cleaning up the Bay. He serves as co-chair of the Chesapeake Bay Watershed Caucus, which brings Bay issues into focus for Members of Congress.
Prior to his election to Congress, Rob spent 26 years working in state government, most recently as Field Director for the Virginia Health Department's Division of Shellfish Sanitation. Earlier, he worked for many years as an environmental health specialist for local health departments in Virginia's Northern Neck and Middle Peninsula regions.
He holds a Ph.D. in Public Policy and Administration from Virginia Commonwealth University, a Master of Public Health degree in Health Policy and Administration from the University of North Carolina, and a Bachelor of Science degree in Biology from Virginia Tech.
Rob's wife, Kathryn, a teacher at Cople Elementary School in Hague, Virginia, is a Westmoreland County native whom he met when he spent high school and college summer recesses working in a Leedstown tomato cannery and on a Reedville fishing boat in the Northern Neck. They live in Montross and have two children: daughter Devon, son-in-law Daniel Gooch, son Josh, and daughter-in-law Tiffany. They also have four grandchildren.
Rob is an avid hunter and fisherman, and when possible, he enjoys spending time with his yellow Labrador Retrievers.
Committee Assignments
Campaign Finance
Recent Election Results
 

| Year | | Republican | Votes | Pct | | Democrat | Votes | Pct | | 3rd Party | | | | |
| --- | --- | --- | --- | --- | --- | --- | --- | --- | --- | --- | --- | --- | --- | --- |
| 2007 | | Rob Wittman | 42,772 | 61% | | Philip Forgit | 26,282 | 37% | | Lucky Narain | | | | |
| 2008 | | Rob Wittman | 203,839 | 57% | | Bill Day | 150,432 | 42% | | Nathan Larson | | | | |
| 2010 | | Rob Wittman | 135,564 | 64% | | Krystal Ball | 73,824 | 35% | | Gail Parker | | | | |
| 2012 | | Rob Wittman | 200,845 | 56% | | Adam M. Cook | 147,036 | 41% | | Gail Parker | | | | |
| 2014 | | Rob Wittman | 131,861 | 62.9% | | Norm Mosher | 72,059 | 34.4% | | Gail Parker | | | | |
| 2016 | | Rob Wittman | 230,213 | 59.8% | | Matt Rowe | 140,785 | 36.6% | | Gail Parker | | | | |
Political Positions
From Candidate's website
Civil Rights
Family Values
As a member of the Values Action Team and the Pro-Life Caucus in the House of Representatives I am committed to working hard for families in the First District by upholding family values.
I feel that the right to religious freedom and free speech is a moral necessity that is the very basis of any free society. Freedom of religion and the freedom of speech are inalienable rights. I believe it is essential we must work to preserve the right for individuals to practice any religion of one's choice, and to do this without government control.
Further, as a child of adoption, I will continue to support pro-life, pro-family legislation, and adoption programs. I believe our nation's laws must protect the vulnerable and the weak, whether they are elderly, disabled, or unborn.
If there is one thing I know, it's that adoption isn't a partisan issue. We can all agree that the most vulnerable members of our community deserve a place to call home and a place to find and reach their full potential. That is why I introduced the Adoption Information Act.This bill would require family planning services to provide pamphlets containing contact information of adoption centers to a person receiving family planning services at the time the person inquires about abortion services. A family planning services project's eligibility to receive federal grants or contracts through the Department of Health and Human Services (HHS) would be contingent upon the execution of this requirement.
Defense & Security
Our military leaders and national defense experts agree: the world is an increasingly dangerous place. We face threats at home and abroad not only from terror groups, but from state actors like Russia, North Korea, and Iran. My objective is to ensure we bring the full capabilities of our armed forces to bear in meeting the reality of the threats facing the United States and to project power around the globe to deter our adversaries.
Highlights from This Congress
Provided the largest pay raise for our military in nearly a decade.
Met Defense Secretary Mattis' request to end the defense sequester and begin restoring readiness by fully funding our military.
Authorized the Navy to buy another Ford-class aircraft carrier, which will further call on the strong industrial base we have in Virginia and save money for taxpayers.
Authored legislation, now signed into law, that aids community colleges and technical institutions in helping the federal government recruit, train, and develop America's maritime workforce. It is critical to our both our national security and economy to secure the talent pipeline for domestic maritime industry jobs.
The President signed my bill, the SHIPS Act, into law. This legislation makes is it the policy of the United States to achieve the Navy's requirement of 355 ships.
The most recent National Defense Authorization Act includes a number of Virginia-specific priorities and provides the authorities and resources for our men and women of the Armed Forces to do the job we've asked them to do.
Defense Budget
I believe it is our primary constitutional responsibility to provide for the common defense.  The first element necessary to ensuring our nation's security is a defense budget adequate to meet the threats we face. Second, to address our military readiness crisis it is absolutely critical to provide both predictable and reliable funding.
The sequester-indiscriminate cuts to defense spending and harmful stop-gap spending bills (continuing resolutions) have done grave damage to our military readiness and greatly reduced training and funding for equipment and maintenance.  During the last decade, our Armed Forces have been operating continuing resolutions for over 1000 days. In the past year, we have had 80 military casualties during peacetime training and operations. This is, in part, a direct result of the lack of resources available for training, maintenance, modernization, and other essential readiness programs. We must reverse that damage by provide adequate, reliable funding.
I support a base defense budget that at the very minimum matches 4 percent of gross domestic product. We owe our active duty, reserve, and National Guard service men and women no less than our full support for their sacrifice on behalf of our country.
Seapower and Projection Forces
I am honored to serve as Chairman of the Seapower and Projection Forces Subcommittee of the House Armed Services Committee. Given the global security environment, this new assignment comes at a critical time.
As Seapower and Projection Forces Chairman I have  the opportunity to serve both our Nation and the Commonwealth of Virginia as I oversee the Navy's plans to rebuild its fleet to 355 ships. I also look forward to supporting the development of our Columbia Class Submarines and B-21 Long Range Strike- Bombers.
I am committed to ensuring that our military remains the greatest fighting force the world has ever known.
Shipbuilding
I, along with Congressman Joe Courtney (D-CT), serve as a Co-Chairman of the Congressional Shipbuilding Caucus.
We began the Caucus with three main objectives:
* to build a venue for Members to discuss shipbuilding issues that impact their districts,
* to work together to support increased shipbuilding efforts for the United States Navy that will enhance our national security, and
* to improve awareness regarding shipbuilding matters across Capitol Hill.
Our Caucus provides a forum for Members of Congress, Navy, Marine Corps, and Coast Guard officers, and industry leaders to exchange views on the current and future states of domestic shipbuilding.
This Congress I authored legislation, now signed into law, that aids community colleges and technical institutions in helping the federal government recruit, train, and develop America's maritime workforce. It is critical to our both our national security and economy to secure the talent pipeline for domestic maritime industry jobs.
Foreign Affairs
The safety and security of Virginians is my greatest concern and top priority. We must never forget that there are individuals, groups, and indeed, entire countries that seek to do harm to our citizens and destroy our way of life. In every corner of the globe events are unfolding that will have a profound impact on the security of our nation and our allies. So we must be ever vigilant in protecting our homeland to ensure all of our citizens can live in peace and security.
I believe America, and the world, will be a safer place if the United States takes a leadership role in addressing these global challenges. Diplomacy will always be the best and preferred method for resolving difficult international issues. But if diplomacy fails, and when American interests are at stake, we must be prepared to act.
Veterans
Our Veterans made great sacrifices for us on the battlefield and we owe them a debt of gratitude for that service. I am committed to ensuring our veterans can access the benefits they've earned through their service to a grateful nation. Whether it is accessing health care, employment and educational opportunities, or just support within our communities, our veterans deserve our  unequivocal commitment to ensuring their successful transition to civilian life.
Highlights From This Congress
Legislation Signed into law:
The Department of Veterans Affairs Accountability and Whistleblower Protection Act of 2017: Creates a streamlined and efficient process to remove, demote or suspend any VA employee for poor performance or misconduct.

The VA MISSION Act: Consolidates the VA's multiple community care programs and authorities and provides further funding to sustain the Choice Program so veterans can get the care they earned and deserve.

The Forever GI Bill: Harry W. Colmery Veterans Educational Assistance Act:  Allows veterans to use the GI Bill throughout their lives instead of within 15 years of service and establishes a pilot program that allows veterans to attend non-traditional technology programs that will help them get jobs right after completion.

Blue Water Navy Vietnam Veterans Act: Expands VA benefits to approximately 90,000 sailors who served off the coast during the Vietnam War.
Democracy
Reforming Congress
When I speak with Virginians, one thing I consistently hear is, "we need to change how Congress operates." People are rightly frustrated by what they see happening in Washington: budget by crisis, missing important legislative deadlines, and partisan bickering, just to name a few. I am frustrated, too. That is why I have made reforming how Congress works one of my top priorities as your representative.
Reforming how Congress works starts with passing budgets and spending bills on time. Your elected leaders must set an example by completing these most basic of tasks. But in the past, there have not been accountability measures in place to ensure the job gets done.
Responsible Budgeting
I introduced the No Budget, No Pay Act, which states that members of Congress are prohibited from receiving paychecks if their respective chamber does not pass a budget by mid-April. If the House does not pass a budget members of Congress should not be paid. Your family would not operate without a budget. Why should the federal government be any different? Clearly, it should not.
Passing Spending Bills
I also introduced what is called the Stay on Schedule Resolution. This resolution would amend House rules to prevent members of the House from taking the traditional August recess when critical spending bills remain to be passed. Failure to pass the 12 annual spending bills prevents federal agencies like the Department of Defense, Veterans Affairs, and Transportation from meeting current demands and planning for the future. Given the importance of the spending bills, members of the House should stay in Washington until they are all passed.
Pay and Benefits for Members of Congress
Congress is required by Article I, Section 6, of the Constitution to determine its own pay. Under the terms of a 1989 law, Members of Congress automatically receive an annual cost-of-living pay increase unless they act to stop it.  The annual increases are based on a formula calculated by the Bureau of Labor Statistics, which takes into consideration changes in private industry wages and salaries. I strongly oppose automatic pay increases for Members of Congress and have supported legislation to block pay raises.
Social Security and Retirement Benefits for Members of Congress
All Members of Congress have been required to pay into the Social Security System since January 1, 1984, regardless of when they first entered Congress. Under current congressional retirement plans, Members of Congress are required to contribute 6.2% of their salaries to Social Security, as well as 1.3% of their full salary into the Civil Service Retirement and Disability Fund. Members of Congress are eligible for a pension at age 62 if they have completed at least five years of service. Members are eligible for a pension at age 50 if they have completed 20 years of service, or at any age after completing 25 years of service. The amount of the pension depends on years of service and the average of the highest three years of salary. By law, the starting amount of a Member's retirement annuity may not exceed 80% of his or her final salary.
Health Benefits for Members of Congress
Members of Congress and retired Members are entitled to participate in the Federal Employees Health Benefits Program (FEHBP) under the same rules as other federal employees. Members meeting minimum enrollment period requirements who are also eligible for an immediate annuity may continue to participate in the health benefit program when they retire. For an additional fee, incumbent Members can receive health care services from the Office of the Attending Physician in the U.S. Capitol; in addition, Members may purchase care from military hospitals using their FEHBP benefit. Members must also pay the same payroll taxes as all other workers for Medicare Part A coverage.
Economy & Jobs
I proudly supported H.R. 1, the Tax Cuts and Jobs Act. Because of this landmark legislation, millions of Americans are seeing our economy make a roaring comeback. After tax reform, unemployment is at historic lows, job openings are at record highs, paychecks are growing, and wages are rising.
This new tax plan incorporated many of my principles when it comes to tax reform:
Pro-growth

Pro-small business

Pro-family
Virginians in every community are keeping more of their hard-earned money to save or spend as they see fit. The new code will increases the standard deduction to protects more of every paycheck from taxes and make tax filing easier.
The new code will also help Virginian families. The doubled Child Tax Credit will be available to more families across the country as they deal with the increasing costs of raising a family. The new tax law also improves saving options for education by allowing families to use 529 accounts to save for elementary, secondary, and higher education – whether it's college or a vocational school.
Thanks to the Tax Cuts and Jobs Act, nearly 9 out of 10 Americans will be able to file their taxes in a simple, straightforward way.
Relief helps the family of four who makes less than $60,000 a year – a situation a lot of Virginians are in. With a lower rate, a significantly higher standard deduction, an enhanced Child Tax Credit, and the new Family Credit, this family will reduce their total tax bill by almost $1200.
With the Tax Cuts and Jobs Act, small businesses have record levels of optimism. We are seeing the savings from this law reinvested back in businesses, employees, communities, and our economy
Federal Employees
Supported the Bipartisan Budget Act of 2018 which ensured no changes to current federal employee benefits

Secured back pay for federal employees during the government shutdown

Urged Speaker Ryan to opposed OPM's proposed cuts to federal employee benefits

Sponsored legislation honoring Public Service Recognition Week

Introduced my bill called the Federal Employee Combat Zone Tax Parity Act to provide equality by extending the tax credit currently received by military personnel to the civilian federal employees working alongside them in combat zones

Expressed  my opposition to the President's budget proposal that unfairly targets our federal workforce
Education
Highlights from this Congress
Congress passed, and the President signed, a bi-partisan bill to modernize and authorize the Carl D. Perkins Career and Technical Education Act cleared both chambers of Congress. The Perkins CTE program controls over $1 billion in grants for federal, state, and local CTE programs.

This Congress, I've led the effort to strengthen our nation's maritime workforce through STEM and CTE programs. Now signed into law is the Domestic Maritime Centers of Excellence Act, which I authored to direct resources for workforce training to our community and technical colleges.

Now signed into law, STOP School Violence Act (H.R. 4909)  creates a grant program for schools all across the country to empower students, teachers, school officials, and law enforcement to identify early signs of violence and intervene before shootings occur on campuses.
As the husband of an elementary school teacher, I realize the important role teachers play in educating children. I strongly believe our education system is the most effective, and serves our children best, when the federal footprint in education is reduced and strict standards and penalties are eliminated. One of the most important things our government can do for local school districts is to help, not hinder, local school boards, parents, teachers, and administrators as they make decisions about educating our children.
I am a strong supporter of public education. However, I am also in favor of an all the above approach to education. School choice options such as vouchers, education savings accounts, and charter schools can and should be options for states and localities to pursue. They can provide an alternative avenue for students in underperforming schools. Just because a child resides within a certain zip code, does not mean they should be subjected to an education system that is not meeting high standards. Choice in education should not be limited to where one lives, but where one wants to go in life.
Strengthening America's education system is important to promoting our economic security and ensuring our democracy. I believe preparing young people with the skills and knowledge to compete in a global economy requires an increased focus on science, technology, engineering and math. As just part of my work on this issue, I visited every CTE/ STEM center in VA-01 and have spoken with countless businesses about how our education system can better prepare our students to excel in the 21st century job market.
Energy & Environment
Energy
Energy fuels our cars, powers our homes and sustains America's high standard of living.  I believe that Congress must formulate a comprehensive U.S. energy policy that promotes affordable, safe, clean and dependable sources of energy.  A responsible energy policy must include increased domestic energy production to reduce our dependence on politically unstable nations and instead promote high paying energy industry jobs in this country.
As a member of the Renewable Energy and Energy Efficiency Caucus, I am also committed to promoting wind, solar, tidal/ocean, and geothermal energy.  Clean, renewable energy will play an increasingly important role in our overall portfolio, and Congress should incentivize research and development in these areas.
Environment
Highlights This Congress
I supported government funding legislation that restored funding for the Chesapeake Bay Program. The full $73 million will go towards protecting, restoring, and managing the watershed.
Congress passed my bill, the Keep America's Refugees Operational Act, to reauthorize the volunteer programs that keep our wildlife refuges up and running.
I led legislation, now signed into law, that grants federal recognition to six Virginia Indian tribes.
Prior to my election to Congress, I spent more than two decades as a shellfish specialist monitoring water quality and environmental health issues in the Chesapeake Bay watershed. I am committed to the principle that our country's environment should be safeguarded for future generations.  As a member of the House Committee on Natural Resources and the Chesapeake Bay Watershed Task Force, I am working to preserve and protect the environment in a wise and effective manner.
Prior to my election to Congress, I spent more than two decades as a shellfish specialist monitoring water quality and environmental health issues in the Chesapeake Bay watershed. I am committed to the principle that our country's environment should be safeguarded for future generations.  As a member of the House Committee on Natural Resources and the Chesapeake Bay Watershed Task Force, I am working to preserve and protect the environment in a wise and effective manner.
Protecting the Chesapeake Bay
Since being elected to Congress, I have worked tirelessly to enact legislation to provide efficiency and accountability in Chesapeake Bay restoration efforts. My Chesapeake Bay Accountability and Recovery Act was signed into law in December of 2014, and I am continuing to work to ensure the bill is implemented effectively. This law will increase coordination and transparency within Chesapeake Bay restoration efforts, in addition to reducing duplication of federal and state efforts.
I am also fighting for continued funding and support for the Chesapeake Bay Clean-Up Effort during the current FY18 budget and appropriations cycle.
Wetlands Conservation
I support reauthorizing funding for the popular North American Wetlands Conservation Act (NAWCA) for five years until 2022. NAWCA is a unique, voluntary-based competitive matching grant program that leverages non-federal to federal funds in excess of a 2:1 ratio, to protect, restore, and manage wet-lands and associated habitats for migratory birds and other wildlife. NAWCA has con-served over 33.4 million acres and creates an average of 7,500 new jobs annually.
Water Quality and Water Supply Research
As a member of the House Committee on Natural Resources, I work closely with my col-leagues across the nation to address water quality and scarcity issues.
I am a strong supporter of the Water Resources Research Amendments Act, H.R. 1663, which extends a federal-state partnership aimed at addressing state and regional water problems, promoting distribution and application of research results, and providing train-ing and practical experience for water-related scientists and engineers. This grant match-ing program has been instrumental in efforts across the Mid-Atlantic states and in the Commonwealth to keep the Chesapeake Bay and our other water resources clean. Its localized approach has resulted in the development of urban storm water treatment and improved roadway design to address specific water quality and scarcity issues in the Bay and across the United States.
Health
Highlights This Congress
The House has passed several pieces of legislation that will lower your health care costs – specifically the cost of medication and premiums.

H.R. 184: Repeals the medical device tax, this will increase money for R&D and industry jobs.

H.R. 6311: Expands access and use of Health Savings Accounts and lower premiums on care. H.R. 6311 Increases consumer choice by allowing the premium tax credit to be used for qualified plans offered outside the government exchanges and healthcare.gov and delays the ACA tax on health insurers for an additional two years, providing relief from the premium increase caused by this tax.

H.R. 6199:  Provides relief from the ACA tax on over-the-counter medications and would modernize health savings accounts.

Signed Into Law

H.R. 1: The Tax Cuts and Jobs Act eliminates the ObamaCare individual mandate penalty for not purchasing government-approved health insurance.

H.R. 1892: The Bipartisan Budget Act of 2018 provides funding for NIH research, funds program to combat the opioid crisis, repeals the Independent Payment Advisory Board, Funds the Children's Health Insurance Program (CHIP), community health centers, and other public health programs.
There is no doubt that the Nation's health care system is in need of reform. As health insurers have struggled to offset new costs of compliance, constituents of the First District have been bogged down with drastic premium hikes and deductibles they can no longer afford.
I initiated a First District Healthcare Listening Tour, meeting with individual constituents, constituent groups, health care providers and other stakeholders in the district to understand what changes they want to see to our healthcare system. Those conversations made clear to me that the American people deserve a patient-centered system that favors quality and choice, not more government bureaucracy.
Health Care Reform Legislation
I believe the goal of health care reform must be to drive costs down so that quality health care coverage is affordable and accessible to every American. In addition to accessibility and affordability, reforms must ensure that doctors and patients, not insurance companies or government bureaucrats, are the ones making important health care decisions. We must enact meaningful health care reforms that put the patient and health care provider back at the center of our health care system. I fully support the full repeal and replacement of the Affordable Care Act and I stand ready and willing to work with my colleagues on legislation that expands choices, increases access, and reduces costs. Below are my five principles for a replacement plan:
All Virginians should be able to purchase health insurance coverage.
Choice and access must be prioritized and maintained.
We need to get serious about reducing health care costs.
Medicare and Medicaid must be protected and preserved.
We need to create a system that empowers individuals and the private sector, not one that grows government.

Public Health Caucus
I am a Co-Chair of the Public Health Caucus and I am committed to protecting Virginians and raising awareness about how public health issues impact lives and communities. I have visited healthcare facilities across the First District, learning the problems they face every day and sharing them with my colleagues in the caucus. We will, through an open dialogue, create meaningful solutions to the complaints of our patients and providers. Check out the caucus website here to see what the caucus has been doing and to find out about future events.
Immigration
Provided $1.6 billion for critical border security measures necessary for enforcing our existing immigration laws.

Now signed into law, The Project Safe Neighborhoods Grant Program Authorization Act, strengthens our border security, better enforces immigration laws, and targets dangerous gangs like MS-13.
When it comes to immigration, securing our borders and protecting American families comes first. Any legislation to fix our clearly broken immigration system must prioritize those two things.
Essentially, the challenge of immigration reform today is balancing the needs of employers to increase the supply of foreign workers who come to this country legally, the interest of families to live together, the desire of some unauthorized aliens to gain a legal status, and the demand that all migrants comply with the rule of law. I certainly understand people want to come to this country to provide a better future for their families, but I strongly believe that those immigrants who do come must arrive legally. We should do all we can to prevent unlawful entry into our country and fraudulent use of our taxpayer-funded government programs.
It is imperative that immigration reform is a legislative priority in the 115th Congress and I will do all I can to address this difficult problem facing our nation. Current rules incentivize illegal behavior and don't prioritize the needs of America's economy.  Proposed elements of immigration reform I support have included ending chain migration, implementing e-verify, eliminating the visa-lottery system, funding a southern border wall, increased border security and immigration enforcement,  and revision of legal immigration.
We have laws on the books—we must enforce them. Rewarding those who have broken our laws and cut in line is not the answer. However, it's important we find a solution for DACA recipients who were brought here through no fault of their own.
Infrastructure
Transportation is an issue that affects all of us. I commute back and forth from Montross to Washington when Congress is in session, and I am very aware of the transportation problems in every area of the First District.  I believe it's time we work to rebuild America's infrastructure.
I support the increased use of commuter rail to get more cars off the road. I also support public-private partnerships to invest in transportation infrastructure. I believe federal, state and local transportation efforts need to be coordinated, and that federal funds need to be directed at projects supported by the Community Transportation Boards. I look forward to working to secure additional federal funding for projects in the Commonwealth and ensuring that Virginia receives a higher rate-of-return on the money it puts into the Highway Trust Fund. I am also concerned about the long-term solvency of the Highway Trust Fund and believe we need to look at ways to restructure it. Additionally, I will work to leverage federal dollars under the Defense Access Road Program for road improvements around military installations that are slated for expansion. I've also been working with Transportation Secretary Chao and Virginia Transportation Secretary Valentine to find innovative financing solutions to replace the Norris Bridge.
I also believe a that as Congress considers infrastructure legislation, we must address broadband infrastructure for rural Virginia. Since I came to Congress, I've been working with key regional stakeholders and government officials to expand broadband access for unserved areas of Virginia. Free-market forces, public-private partnerships, and policies that encourage investment will play a critical role in getting high speed internet to communities across the First District. If we can bring those who have been left behind up to speed, there is great potential to unleash economic growth and improve many people's' quality of life.
Social Security
Videos
Curator Aircasts
Candidate Videos
Other videos
FBI Agent, Robert Wittman, Joins Congressman Rob Wittman On The #JFRS
Published: Aug. 16, 2017  John Fredericks Show
News & Events
Sept. 2018
Voter Feedback
Suggestions
Questions
Post Supporters