Summary
Current Position: Campbell County Board of Supervisors since 2016
Affiliation: Republican
Candidate: 2022 US Representative for US House District 5
Bob Good is running for Congress to bring the conservative principles of financial stewardship and respect for hard working taxpayers back to Washington. President Trump's policies have delivered a growing, vibrant economy and we must ensure that our representatives back his agenda.
Source: Campaign page
News
U.S. Rep. Bob Good on Thursday encouraged a group of Rappahannock County High School students to not wear masks in school, saying during his visit the administration "can't stop everyone."
"If nobody in Rappahannock complies [with the mask mandate], they can't stop everyone," Good (R-5th District) told the students. "If I was ya'll, I'd say none of ya'll wear a mask. What are they gonna do? They're still going to have school."
Good, a Republican representing Virginia's 5th Congressional District in the U.S. House of Representatives, spoke to a Rappahannock County High School government class of about 20 students on Thursday after Tim Stockdale, the class' teacher, invited him to speak.
The Virginia Department of Public Health is mandating that all students, teachers, staff and visitors in K-12 schools wear masks indoors, regardless of vaccination status. The event on Thursday was originally supposed to take place in the high school auditorium, but after Good refused to wear a mask, administrators moved it outdoors to the football stadium.
Right-wing House Republicans are fueling various longshot efforts to dislodge President Joe Biden and other officials in his administration over the chaotic U.S. withdrawal from Afghanistan, but they're hitting a snag: reluctance from their own leadership.
Asked during a press event on Tuesday about calls from dozens of Republicans for Biden and other officials to resign or be impeached, House Minority Leader Kevin McCarthy called for "accountability" but stopped short of specifics, even as some lawmakers standing behind him nodded when their calls for resignation were referenced.
McCarthy's reluctance to endorse concrete recriminations puts him at odds with the Freedom Caucus, a group of around 40 right-wing House Republicans that held a dueling press conference on Tuesday touting various efforts to push for ousters.
Rep. Bob Good (R-Va.) noted the leverage the Freedom Caucus holds over McCarthy, that he will likely need their support to get the speaker's gavel if the GOP retakes the House, telling Forbes, "Anyone who wants to be speaker is auditioning for the job now."
Twitter
About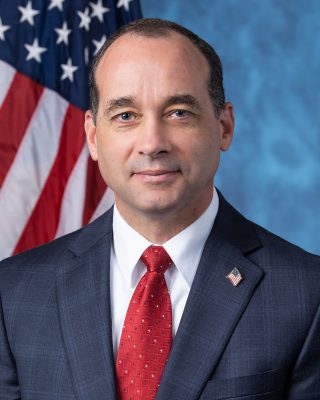 Source: Campaign page
Bob Good represents Virginia's Fifth Congressional District and is serving his first term in the 117th United States Congress. He is a member of the House Freedom Caucus and has been named to the Education and Labor Committee and the Budget Committee.
Bob is committed to effectively representing the people of Virginia's Fifth Congressional District and advocating for the foundational principles that have and will continue to make America the greatest nation in history.
Prior to his election to Congress, he served one term on the Campbell County Board of Supervisors from 2015 to 2019. Professionally, Bob worked as the Senior Associate Athletics Director for Development at Liberty University for 15 years, following a 17-year career with CitiFinancial.
Good attended Liberty University, where was a member of the wrestling team and earned a Bachelor of Science in finance and a Master of Business Administration.
Bob lives in Campbell County with Tracey, his wife of 32 years. They are the proud parents of three adult children: Patrick, Sydney, and Conner.
Experience
Education
B.S.
Liberty University
1988
M.B.A
Liberty University
2010
Offices
Campaign
PO Box 117, Lovingston, VA 22949
Phone: (434) 226-0795‬
Web
Campaign Site, Twitter, Vimeo, Facebook, Instagram, Wikipedia
Politics
Source: none
Committees
Committee on Education and Labor
Committee on Budget
Issues
Governance
Reduced non-essential spending and grew net revenue by $5 million over three years without raising taxes
Civil Rights
Made Campbell County one of the first 2nd Amendment Sanctuaries in Virginia 
[3]
Economy
Never voted for a tax increase – led the fight against the 2019 meals tax and real estate tax hikes 
[1]
 & 
[2]
Education
Advocated for the "Tebow Law" permitting homeschool children to participate in athletics & extra-curricular activities
Immigration
Opposed creating "sanctuary cities" for illegal aliens 
[4]
Fighting for the Unborn
Defended Virginia's pro-life laws from attacks by Democrats 
[4]
Defending Traditional Values
Fought the "transgender bathroom mandate" for public schools 
[5]