Top News
Summary
Current Position: US Senator since 2013
Affiliation: Democrat
Former Position(s): Governor from 2006 – 2010; Lt. Governor from 2002 – 2006; Mayor from 1998 – 2001
"Tim has made boosting job opportunities for everyone a top priority. Tim is focused on crafting smart defense strategy and reducing the risk of unnecessary war. Tim believes that health care is a right … and has consistently pushed for reforms to expand access to quality care."
About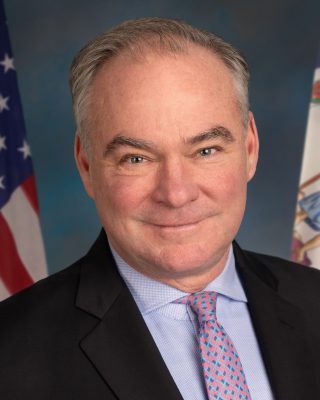 Source: Government page
Tim Kaine has helped people throughout his life as a missionary, civil rights lawyer, teacher and elected official. He is one of 30 people in American history to have served as a Mayor, Governor and United States Senator.
Early Commitment to Public Service
Tim grew up working in his father's ironworking shop in Kansas City. His parents taught him the value of hard work and showed him how small businesses and technical skills strengthen this country every day. After graduating from the University of Missouri, Tim started his public service career by running a technical school founded by Jesuit missionaries in Honduras. He trained teenagers to become carpenters and welders, equipping them with skills to lift up themselves and their communities. As Tim says, his work in Honduras was "a North Star" that led to his commitment to advance job opportunities for everyone. His time there reinforced three core values that are still a central part of his life today: "Fè, familia, y trabajo" – "Faith, family, and work."
Family Life
Tim met Virginian Anne Holton at Harvard Law School and they married in 1984 in the same church in Richmond they attend to this day. They have three adult children. Anne, a former legal aid lawyer and juvenile court judge, served as Virginia Secretary of Education from 2014 until 2016. Before that, Anne ran Great Expectations, a program that offers tutoring, career coaching, and other services to help young adults aging out of foster care and attending Virginia community colleges transition to successful, independent adulthood. She now teaches education policy and government at George Mason University – Tim calls her the best public servant he knows. Anne's father Linwood Holton, a former Republican Governor of Virginia, was critical to integrating Virginia's public schools, putting the Commonwealth on the path to progress we see today.
Early Career
After law school, Tim practiced law in Richmond for 17 years, specializing in the representation of people who had been denied housing due to their race, disability, or family status. In 1998, Tim helped win one of the largest civil rights jury verdicts ever in a case involving discrimination against minority neighborhoods by an insurance company. He also began teaching law part-time at the University of Richmond in 1987.
Elected Office
Tim was first elected to office in 1994, serving as a city council member and four years later, Mayor of Richmond. When he was first elected to City Council in Richmond, the city had one of the highest homicide rates in America, and he worked with law enforcement and the community to find solutions that brought down the rate of violent crime. He became Lieutenant Governor of Virginia in 2002 and was inaugurated as Virginia's 70th Governor in 2006. While serving as Governor, Tim improved the education and health care systems, and by the end of his term, leading publications ranked Virginia the best state to raise a child and the best state for business. He visited a school in every county and city in the Commonwealth and helped Virginia make it through the worst recession since the Great Depression. He also responded to the tragic shooting at Virginia Tech by strengthening Virginia's background check system and pushing his legislature to do more to make communities safer.
In the Senate
Tim was elected to the Senate in 2012 as a can-do optimist skilled in bringing people together across old lines of party, race, or region. Tim has spent his time in the Senate focused on improving the lives of Virginians. He has made boosting job opportunities for everyone a top priority. As co-chair of the bipartisan Career and Technical Education (CTE) Caucus, Tim focuses on expanding access to job-training programs to ensure that students of all ages are prepared with the skills they need for the jobs of the modern economy. Tim has helped lead efforts in the Senate to reduce unemployment for military families and veterans. As a member of the Armed Services Committee, a Senator from one of the states most closely connected to the military, and the father of a Marine, Tim is focused on crafting smart defense strategy and reducing the risk of unnecessary war. He works to ensure that the military has the resources it needs to keep the country safe and that servicemembers and veterans receive the benefits and care they have earned. He has also been the leading voice against Presidents starting wars without a vote by Congress. Tim believes that health care is a right, not something reserved just for those who can afford it, and has consistently pushed for reforms to expand access to quality care. This includes legislation to give Americans more options for affordable health insurance and to combat the opioid abuse epidemic. Tim serves on Senate Committees where he is able to work on those priorities every day for Virginians: the Armed Services; Budget; Foreign Relations; and Health, Education, Labor, and Pensions (HELP) Committees. He is Ranking Member of the Armed Services Readiness Subcommittee and the Foreign Relations Subcommittee on Near East, South Asia, Central Asia, and Counterterrorism.
For more information: Wikipedia  Open Secrets   Balletopia
Experience
Work Experience
Lawyer
Law school teacher
University of Richmond
1987
Education
Contact
Email:
Offices
Washington, D.C. Office
231 Russell Senate Office Building
Washington, D.C. 20510
Phone: (202) 224-4024
Fax: (202) 228-6363
Manassas, Virginia office
9408 Grant Avenue, Suite 202
Manassas, VA 20110
Phone: (703) 361-3192
Fax: (703) 361-3198 G
Virginia Beach, Virginia office
222 Central Park Avenue Suite 120
Virginia Beach, VA 23462
Phone: (757) 518-1674
Fax: (757) 518-1679
Web
Campaign Site, Government Page, Twitter, YouTube, Facebook
Twitter
Politics
Recent Elections
2018 US Senator
| | | |
| --- | --- | --- |
| Tim Kaine (D) | 1,910,370 | 57.0% |
| Corey Stewart (R) | 1,374,313 | 41.0% |
| Matt J. Waters (L) | 61,565 | 1.8% |
| Write In (Write-in) | 5,125 | 0.2% |
| TOTAL | 3,351,373 | |
2012 US Senator
| | | |
| --- | --- | --- |
| Tim Kaine (D) | 2,010,067 | 52.8% |
| George Allen (R) | 1,785,542 | 46.9% |
| Write In (Write-in) | 9,410 | 0.2% |
| TOTAL | 3,805,019 | |
2005 Governor
| | | |
| --- | --- | --- |
| Tim Kaine (D) | 1,025,942 | 51.7% |
| J. W. Kilgore (R) | 912,327 | 46.0% |
| H. R. Potts, Jr () | 43,953 | 2.2% |
| Wirte In (Write-in) | 1,556 | .1% |
| TOTAL | 1,983,778 | |
2001 Lt. Governor
Tim Kaine (D)
925,974
50.3%
J. K. Katzen (R)
883,886
48.1%
G. A. Reams (L)
28,783
1.6%
Write In (Write-in)
490
TOTAL
1,839,133
Finances
KAINE, TIMOTHY M (TIM) has run in 5 races for public office, winning 4 of them. The candidate has raised a total of $627,777,400
Source: Follow the Money
Committees
Committees
Armed Services
Budget Committee
Foreign Relations
Health, Education, Labor, and Pensions
Voting Record
See: Vote Smart
New Legislation
Source: BillTrack 50
Issues
Governance
Tim supports a smart and balanced approach to budgeting that funds our national defense, children's health care, education, substance abuse prevention, and other key programs. He has become a leader in helping Congress come to bipartisan, multi-year spending agreements that fund these critical domestic priorities and the military.
Tim is a supporter of two-year budgeting, a process he used as Governor of Virginia, to help businesses and agencies plan ahead and save money. Since taking office, Tim has raised concerns about the negative effects crisis-to-crisis budgeting has on the nation's economy, and he has done everything he can to roll back the non-strategic sequester cuts that have been hurting our national security and communities across Virginia. Tim believes fiscal policy should not be determined by political brinksmanship, and he opposes across-the-board cuts that hurt key priorities like education and health care, hampering our economic growth. Tim will continue to fight back against any efforts to slash funding for Medicare, Medicaid, and Social Security — programs that offer a critical lifeline for seniors, people with disabilities, and the most vulnerable Americans. Tim is committed to finding common ground on budget reforms that strengthen the economy over the long run. He has always believed we should combine targeted spending reductions with strategic revenues by reducing tax loopholes. Tim was disappointed with the partisan Republican tax bill passed in December of 2017, which is projected to add more than $1.5 trillion to the deficit over the next 10 years while prioritizing big breaks to large corporations and those at the top over hardworking Virginia families. Tim supports reforms to the tax code that put middle-class families and small businesses first.
Civil Rights
As a former civil rights attorney, Tim has spent his career fighting for the rights of all Americans. He and his wife Anne have dedicated their careers to making Virginia a place that provides equal opportunity for everyone, and he'll keep fighting in Congress until the federal government ensures equal voting rights, equal pay, and protection against discrimination no matter one's race, sex, nation of origin, sexual orientation, gender identity, or age.
As Senator, Tim has pushed to ensure the protection of fundamental freedoms for all Americans. He has worked to protect minority groups from discrimination in housing, the workplace, and education. He is committed to ensuring equal treatment for all Americans under the law. Concerned by the lack of recognition of African American history, Tim led efforts to propose a commission commemorating 400 years of African American history in the United States. Tim partnered with the NAACP, Congressman Bobby Scott, and a bipartisan group of Senators to announce legislation to create this commission, which passed into law in 2017.
As Governor, he promoted equal protection by banning discrimination against state employees on the basis of race, sex, color, national origin, religion, sexual orientation, age, political affiliation, veteran status or disability.
Women's Rights
Tim has been a strong voice for women's equality. He believes we must permanently end a culture where a woman who speaks out faces doubt or retribution about experiences with sexism, harassment, and assault. Tim has pledged his support for women everywhere who fear coming forward. He has called on the Senate to hold hearings on sexual harassment and assault in the workplace and successfully called for the public release of data on the Senate's sexual harassment claims and settlements. Tim believes our nation is not doing nearly enough to address the fact that women still do not have an equal role in many areas of our society. He also co-sponsored the reauthorization of the Violence Against Women Act (VAWA), which was signed into law in 2013. As Lieutenant Governor and Governor, he made it a priority to update laws on sexual violence and improve the treatment of survivors.
Tim supports the constitutional right of women to make their own reproductive choices. He opposes efforts to weaken Roe v. Wade and defund Planned Parenthood, an organization that 22,000 Virginians rely on for health care. He is an original cosponsor of legislation to restore the contraceptive coverage requirement guaranteed by the Affordable Care Act.
Tim co-sponsored the Paycheck Fairness Act because he strongly believes men and women must be paid equally for the same work. The current inequity amounts to hundreds of thousands of dollars lost over a woman's lifetime. As every dollar counts for families trying to make ends meet, gender-based discrimination harms the well-being of families and households — which depend on the wages of working mothers as well as working fathers — across the country.
Criminal Justice Reform
Tim has worked hard to improve the criminal justice system and strengthen police relationships with local communities. He is concerned about persisting racial inequalities in the criminal justice system and believes Congress must do more to address them.  In the Senate, Tim has supported legislation to reduce over-incarceration, including the Sentencing Reform and Corrections Act, a bipartisan compromise bill to reduce over-incarceration and improve community safety by reforming "three-strike" laws and expanding access to rehabilitation and reentry programs. Tim believes our nation must improve the way it treats mental illness and addiction so those who need treatment do not end up in local jails that lack the resources necessary to deliver care.
Tim believes that by investing in education and skills-training opportunities for those in the federal, state, and local prison systems, society can help reduce repeat offenses and give formerly incarcerated individuals a chance at a successful life. He is an advocate for drug courts and programs that emphasize treatment over incarceration for non-violent drug offenders. He has also worked to strengthen financial protections for men and women seeking to reenter society after leaving prison, urging the Consumer Financial Protection Bureau (CFPB) to protect inmates from predatory practices.
Democracy
Tim believes that voting is a fundamental right in our democracy that must be protected. He was extremely disappointed by the Supreme Court's decision in Shelby County v. Holder to gut key provisions of the Voting Rights Act. For decades, the Voting Rights Act was responsible for dramatically increasing minority voting, and, in turn, minority representation. He has voiced concern that since the weakening of the law, many states have limited access to the ballot box through voter ID laws by limiting weekend voting, closing voting locations, and stripping voter rolls. In response, Tim joined colleagues to introduce legislation that would restore and protect Americans' Constitutional right to vote. Tim is also concerned about the use of partisan gerrymandering to disenfranchise minority voters and will continue be a strong advocate for nonpartisan redistricting.
Economy
Tim is focused on creating economic opportunity for all Virginians. He believes that by supporting small businesses, raising wages, improving education and workforce training, and investing in new industries, the United States will continue to be a global economic leader.
Tim supports raising the minimum wage to $15 per hour because he believes no family working full time should live in poverty. He believes all Americans should have access to good jobs that put them on the path to economic success, and he supports strengthening workforce training programs to help make that goal a reality. Drawing from his experience in Virginia, Honduras, and his dad's ironworking shop, Tim has been a leader in the Senate on efforts to support skills-training programs that prepare workers for good-paying, in-demand jobs. Tim co-founded the bipartisan Career and Technical Education (CTE) Caucus and has championed legislation — including bills that have become law — to expand students' access to high-quality CTE programs and help prepare American workers for jobs in the modern economy, including in the cybersecurity industry.
Tim sees small businesses as the drivers of job creation and economic growth in Virginia and across the nation. He supports policies to help them grow and thrive by increasing their access to capital and lowering barriers to entry for minority entrepreneurs. Tim has been an advocate for women- and minority-owned businesses as well as companies that provide opportunities for veterans, military families, and people with disabilities. He is a strong supporter of the Dodd-Frank Wall Street Reform and Consumer Protection Act and is concerned about the largest banks getting bigger while the number of small community banks continues to decline. Tim has supported a bill to prevent this consolidation and expand consumer protections for servicemembers, veterans, those with impaired credit, seniors, and people hurt by data breaches. This legislation will help Virginians in rural and underserved communities secure loans to buy a home, send their kids to college, and start small businesses.
Tim has long supported smart tax reforms that provide relief to middle-class families and make the tax code fairer and simpler. He was disappointed that the partisan Republican tax law prioritized corporations and those at the top over hardworking Virginians.
Virginia has served as a model for the nation by prioritizing investments in education and workforce training, as well as embracing global fair trade, which led to the international expansion of Virginia businesses. Tim believes that we can strengthen America's economic recovery and create jobs by embracing the growth strategies that have worked in the Commonwealth. Tim served as Governor of Virginia during the worst recession since the Great Depression. Throughout his term, Virginia maintained one of the lowest unemployment rates in the nation, and Tim helped recruit several major employers to move to the Commonwealth. During his tenure as Governor, Virginia was named the best state for business in America.
Tim is a strong advocate for Virginia's farmers. Agriculture and forestry comprise the largest industry in the Commonwealth, contributing $91 billion to the economy and supporting more than 442,000 jobs. He supports a robust farm safety net, protecting our natural resources, and defending federal nutrition assistance that helps the neediest among us.
Tim was a major proponent of the most recent farm bill, the Agricultural Act of 2014, which strengthened crop insurance, maintained the Supplemental Nutrition Assistance (SNAP) program and other nutrition aid, advanced partnerships with farmers to reduce runoff in impaired watersheds like the Chesapeake Bay, expanded agricultural export markets, and bolstered local food networks to allow more businesses and consumers to buy from local farmers — all while saving $23 billion over the next decade. Tim has stood up for Virginia's farmers throughout his time in the Senate, working on efforts to lift the unfair Chinese ban on Virginia poultry that has persisted on and off, and supporting reauthorization of the Export-Import Bank, which helps small and mid-sized Virginia farmers and agricultural exporters sell their goods abroad. Tim has raised serious concerns about President Trump's actions that could threaten Virginia agricultural products and thousands of jobs. Tim has also worked to secure federal funding for agricultural research, so that top-flight institutions like Virginia Tech and Virginia State University can continue to develop new, effective methods of farming.
From his time as Governor, Tim has worked to defend the Chesapeake Bay, a cornerstone of the Virginia economy that supports the tourism, recreation, and seafood aquaculture industries. He has fought back against President Trump's plans to slash Chesapeake Bay funding and introduced bipartisan legislation to direct more funds within the farm bill's conservation title to top-priority watersheds like the Bay.
Education
Tim believes that we must improve access to quality education if we want to prepare students and workers for success in the modern economy. He supports smart investments in education — from pre-kindergarten to college and workforce training — and has learned through years of experience in Virginia that no one path is right for everyone. Drawing from his years working in his dad's ironworking shop and his experience teaching in Honduras, a key focus of Tim's work in public service has been strengthening career and technical education (CTE) programs that teach students skills to succeed in high-demand, good-paying jobs.
Tim believes a well-educated population is the key to having the most talented nation on earth. Under Tim's leadership as Governor, Virginia's innovative investments in education turned the Commonwealth into a magnet for talent. Through decades of experience, Tim learned that a huge part of remaining an attractive location for emerging industries and expanding businesses is having a skilled workforce.
To return America to the top country in the world for education, Tim supports reforms like broadening our early childhood education system, strengthening our K-12 public schools, supporting high-quality teachers and school leaders, renewing our focus on career and technical education, and dramatically reducing the cost of college. As Governor, he expanded the number of children enrolled in Pre-K by nearly 40 percent and helped expand the number of college and university facilities in Virginia to attract top students and faculty. In 2007, under Tim's leadership, Education Week ranked Virginia the state where a child was most likely to succeed.
In the Senate, Tim has made improving America's education system a central focus of his work, playing an instrumental role in the bipartisan Senate education reform bill, the Every Student Succeeds Act (ESSA). This legislation decreased the emphasis on standardized testing and gave states more flexibility. It also included provisions Tim wrote to help prevent sexual assault and improve access to K-12 career and technical education programs. Tim is a founder and co-chair of the Senate CTE Caucus, which promotes improving access to career and technical education programs to ensure students of all ages are prepared with the skills they need for the jobs of the 21st century. Tim knows that not everyone's path to a successful career will or should go through a four-year college, and he is working to create a better understanding of the critical role CTE and workforce training programs play in growing our economy. In addition to his provisions enacted into law, Tim has sponsored several pieces of legislation to raise the quality of CTE programs at schools in Virginia and across the country.
Tim is concerned about the overwhelming burden of student loan debt on millions of Americans, and he's supported policies to expand access to affordable higher education, improve financial aid, offer loan forgiveness for public service workers, and help students understand their debt obligations upfront. An estimated 56% of Virginia college students graduate with student debt. Key parts of Tim's legislation to give public servants like servicemembers and teachers the debt relief they earned passed into law in 2018, and he will continue pushing for solutions so Americans are not held back by mountains of debt.
Environment
Tim believes that America's energy production should always be trending in the direction of cleaner tomorrow than today.
From the Chesapeake Bay to the Cumberland Gap, Virginia's great outdoors are a priceless treasure that Tim is determined to safeguard for future generations to enjoy. Tim has long been an outspoken leader in support of clean energy and policies to combat climate change. As Governor, Tim put in place the Commonwealth's first comprehensive clean energy plan. He supports investing in renewable energy, including offshore wind and solar, which would create new jobs and make Virginia a leader in clean energy development. Tim believes that by advancing an energy strategy that moves us from carbon-heavy to low-carbon, we can reduce pollution, bolster our national security, and create American jobs that cannot be outsourced.
After hearing concerns from local communities and the Department of Defense, Tim announced his opposition to opening Virginia's coast to offshore oil and gas drilling. Tim has spoken out against the Trump Administration's offshore drilling proposal that could threaten military assets in Hampton Roads as well as the environment and tourism industry. Tim has called on the Administration to listen to local voices on Virginia's coast, which are overwhelmingly opposed to offshore drilling.
Virginia faces a unique set of challenges because of its coastal exposure to sea level rise caused by climate change, and Tim is committed to reducing this risk. He believes the U.S. should be an international leader on climate change and that President Trump's decision to retreat from the Paris Climate Agreement is short-sighted. Tim believes the country that won World War II and the race to put a man on the moon should be able to cut approximately 1/4th of our carbon pollution by 2025. In the Senate, Tim has been a leader on efforts to combat sea level rise and flooding in Hampton Roads, which threaten readiness at local military installations and homes in the surrounding communities. Tim introduced the BUILD Resilience Act, which would spur investments in resilient infrastructure to reduce the risk of climate effects like flooding and extreme storms to communities like Hampton Roads. He has also been an advocate for protecting the Chesapeake Bay, Virginia's National Parks like Shenandoah, its National Wildlife Refuges like Chincoteague, and its truly unique places like Tangier Island.
Tim respects the role coal production has historically played in traditional coal communities in Southwest Virginia, and as Governor, he supported the construction of the state-of-the-art Virginia City Hybrid Energy Center in Wise County, one of the most advanced clean coal plants in the United States. He recognizes the sacrifice coal miners have made over a lifetime of dangerous work, and he is fighting on behalf of them in the Senate so they receive their hard-earned pensions and health benefits. Tim has supported clean coal research funding that could help revitalize Southwest Virginia's economy, and he has co-sponsored legislation to stimulate large-scale federal and private sector investment to reduce carbon pollution through advanced clean coal technologies.
Tim has also pushed for robust funding for heating assistance programs. He has continually joined colleagues of both parties to urge the President and Senate appropriators to boost funding for the Low Income Home Energy Assistance Program (LIHEAP) and Weatherization Assistance Program (WAP), two programs that play an important role in providing vulnerable populations and low-income households with affordable home energy.
Health Care
Tim believes that health care is a right. He remains committed to protecting the Affordable Care Act and improving the health care system to give all Americans access to quality health care they can afford. Tim has fought tirelessly against efforts by President Trump and Republicans in Congress to take health care away from millions of Americans, including Virginians with pre-existing conditions.
Tim supports giving Americans more options for affordable health insurance, and he has co-authored a proposal to do just that: Medicare-X. Medicare-X would create a low-cost public option for health care, available in every ZIP code, allowing Americans to choose between the existing private insurance plans or a public one. Medicare-X would build on the Medicare framework of doctors to establish a public insurance plan offered on the individual and small business health exchanges. The Medicare-X plan initially would be available in areas where there is a shortage of insurers or higher health care costs due to less competition—including rural communities—then expand to every ZIP code in the country.
Tim believes we must do more to lower health care costs while improving the quality of care through promoting preventive care, effectively using new technology, paying our health care providers by patient outcomes, and finding ways to reduce defensive medicine and lower malpractice premiums without taking rights away from injured people. Tim opposed President Trump's actions that sabotaged the health care system and increased costs for Virginians. Recognizing that measures are now needed to stabilize the markets in the wake of President Trump's reckless decisions, Tim worked across the aisle on legislation to do just that.
Tim is a strong supporter of Medicare and Medicaid — critical programs that provide health care and economic security to seniors, people with disabilities, and the most vulnerable Americans. He continues to fight against any efforts to dismantle these programs and has been a vocal supporter for Medicaid expansion in Virginia, which will provide hundreds of thousands of people with access to care. He has also introduced bipartisan legislation to help combat Alzheimer's disease and support caregivers who sacrifice so much to help their loved ones. Tim has championed bipartisan legislation to fund pediatric cancer research, named in honor of Gabriella Miller of Loudoun County, a powerful advocate for pediatric research who passed away from a brain tumor at the age of 10. The bill became law in 2014 and has already provided $50 million for the Pediatric Research Initiative Fund.
Tim is also closely focused on the drug and opioid addiction crisis harming communities across Virginia and the nation. From the coalfields in Southwest Virginia to the suburbs in Fairfax County, he has heard from families who have lost children to drug overdoses, law enforcement officers who are facing increases in drug-related crimes, and businesses who struggle to find workers who can pass a drug test. He has introduced bipartisan legislation to help reduce opioid overdose deaths through improved access to the life-saving drug naloxone, a bill to hold the FDA accountable for the approval of new, potentially dangerous opioid drugs, and a bill to incorporate job training into drug addiction recovery programs.
Immigration
Tim knows that for far too long, our immigration system has unfairly kept millions of people who contribute to the United States living in the shadows of our society. He has spoken out forcefully against the Trump Administration's treatment of Dreamers, discriminatory travel bans, proposals to limit legal immigration, and attempts to tear families apart.
Tim strongly opposed President Trump's decision to end the DACA program, which allowed recipients—known as Dreamers—who were brought here at a young age, to live, work and study in their communities without fear of deportation. After Trump ended DACA and left Dreamers in limbo, Tim helped lead the bipartisan negotiations to find a solution that protected Dreamers, create a path to citizenship, and boost border security. Their proposal received bipartisan support from the majority of Senators but did not receive the 60 votes needed to pass after the Trump Administration announced its opposition to the bill. Tim is also a strong supporter of the Dream Act that would protect Dreamers from deportation and create a path to citizenship.
Tim supported the Senate's comprehensive immigration reform bill in 2013, bipartisan legislation to provide a better visa system to encourage growth of a talented workforce, protect Dreamers, enhance border security, and create a path to citizenship for those living in the shadows. Tim delivered the Senate's first ever floor speech in Spanish making the case for the comprehensive immigration reform bill.
Kaine has spoken out against the rise in deportations of law-abiding immigrants that are ripping families apart. Tim takes pride that the United States is a nation of immigrants. Since the nation's founding, the men and women who have come to this country from around the world have been integral to our society, bringing skills and talents that help ensure we remain competitive in a global economy. In the years since Tim was born, Virginia went from ranking 35th to 12th in individual personal income, propelled in part by the influx of immigrants to our communities.
Tim has also been a leading voice in Congress on the importance of protecting Temporary Protected Status (TPS) recipients who are living in the U.S. after being displaced by dangerous conditions in their home countries. Tim has urged the Trump Administration to extend and re-designate TPS for several countries where threats still exist and to protect TPS recipients by giving them the opportunity to gain permanent residency in the United States.
Infrastructure
Infrastructure andTransportation
Tim supports major improvements to our nation's infrastructure that would create jobs and improve daily life for families across Virginia. In the Senate, he has advocated for a robust infrastructure package that makes a significant federal investment to improve roads, bridges, rail (including Metro), water, and broadband. Tim has pushed for federal funding for transportation projects across the Commonwealth and has helped secure grants for major projects like the I-95 Atlantic Gateway multimodal project, a new interstate connector at Norfolk International Terminal, the long overdue replacement of the traffic-clogged Chesapeake Deep Creek Bridge, and rehabilitation of the I-64 Delta Frame Bridges. Tim has spoken out against President Trump's infrastructure proposal, which puts the burden on already struggling local governments to cover large costs of projects with their own funds or by making many new highway projects toll roads. Virginia has serious transportation needs — like the Hampton Roads Bridge-Tunnel, Metro, and I-81 — and Tim is disappointed President Trump's plan skimps on real federal investments to support those needs. Tim has supported a $1 trillion infrastructure proposal that would make historic investments to modernize our crumbling infrastructure and, by some estimates, create more than 15 million jobs. Tim has also introduced legislation to expand skills training to ensure we have a workforce ready to fill the jobs to complete an infrastructure plan of this nature.
Tim recognizes how vital Metro is to Northern Virginia and has pushed for reforms to improve Metro safety and service while making sure the federal government lives up to its funding commitments. Tim has worked to strengthen federal safety oversight authority over Metro, leading bipartisan legislation to enact the Metro Safety Commission, a tough new safety oversight body with the legal authority to mandate long overdue safety and operational changes to the Washington Metropolitan Area Transit Authority (WMATA). In 2017, Tim played a key role in securing $227 million to fix the aging Arlington Memorial Bridge, a critical investment for Northern Virginia commuters and visitors to Virginia and Washington, D.C. that saved the bridge from closing.
Many states would consider themselves fortunate to have either a major international airport or a major international seaport, but Virginia is blessed with both. Making the Port of Virginia and Dulles International Airport all that they can be has been a top priority of Tim's. He has worked to advance transformative projects at the Port like the Craney Island Eastward Expansion, which will nearly double its cargo capacity, and dredging of Norfolk Harbor to depths that will attract the largest post-Panamax container ships. He has also worked to secure federal funds through HUD and the Army Corps of Engineers for flood-resilient infrastructure to protect the Port, Naval Station Norfolk, and Hampton Roads from sea level rise and recurrent flooding. At Dulles, he has teamed up with the Virginia delegation to secure funds for more Customs and Border Protection officers that will reduce long lines at customs and security, and he has pushed back against changes to the Reagan National slot and perimeter rule policies that would negatively impact Dulles and could increase airplane noise in the neighborhoods surrounding National.
As Governor of Virginia, Tim made infrastructure investment a top priority. He played a key role in making Metro's Silver Line to Dulles a reality and advanced critical projects like the Norfolk Tide light-rail system and Amtrak service to Lynchburg, which in 2017 was extended to Roanoke. Tim understands that these are the kinds of smart investments that help our economy grow and thrive. He will continue being a strong advocate for fixing our roads, bridges, and rail systems to create jobs, improve the daily lives of commuters, and fuel economic growth in the Commonwealth.
Safety
Tim is a strong supporter of commonsense steps to reduce gun violence. In the Senate, he has been a leading voice calling on his colleagues to listen to the overwhelming majority of Americans and finally pass legislation that will make communities safer. He supports universal background checks and banning the sale, transfer, manufacture, and importation of combat-style weapons and high-capacity magazines to keep weapons of war off the streets and out of the nation's schools. Tim has also co-sponsored legislation to hold gun manufacturers accountable and close loopholes that allow domestic abusers to legally obtain weapons. Tim supported changes that passed into law to strengthen the background record check system and allow the CDC to conduct research on gun violence, but he believes Congress must take further action.
As Governor, Tim helped strengthen the background record check system following the tragic shooting at Virginia Tech. As Mayor of Richmond, he helped bring down the city's rate of gun violence and homicide. Tim has met with students, parents, and teachers across Virginia to listen to their concerns about gun violence, and he will continue calling for a real debate on legislation that addresses this epidemic.
Veterans
Tim has made it a top priority in the Senate to support veterans, servicemembers, and their families. He's been a leader on efforts to reduce unemployment for veterans and military spouses and ensure those who serve our nation receive the health care and benefits they were promised.
There is no state more closely connected to the military than Virginia. The map of the Commonwealth is rich with military history: Yorktown, Appomattox, the Pentagon, and more than 20 military installations. With nearly 800,000 veterans residing in the Commonwealth, Virginia has one of the highest state populations of veterans in America. Tim has fought to ensure veterans receive timely access to good health care and benefits. He has introduced legislation to improve veterans' access to care, help Vietnam veterans harmed by Agent Orange, and address serious problems facing the Department of Veterans Affairs. He has also introduced a bill to address opioid overmedication that affects veterans struggling with pain medication so that they can receive safer, more effective pain management services through the VA.
The first piece of legislation Tim introduced in the Senate – the Troop Talent Act of 2013 – was a bill to ease the transition for servicemembers into the civilian workforce. After hearing from veterans across Virginia who could not get hired despite expertise they had gained through military training, Tim wrote this bipartisan bill to help address the challenge. The Troop Talent Act helped align the skills servicemembers acquired in the military with certifications or licenses to make it easier for them to be hired in the civilian workforce. Key provisions of the Troop Talent Act have been signed into law. Tim has also introduced legislation to improve the quality of educational programs for servicemembers and veterans to help them compete and succeed in the workforce after their service.
Tim believes Congress has a duty to support military families, who sacrifice so much for the nation. After meeting with military families across Virginia, Tim learned that one of the biggest concerns facing military spouses is the toll frequent moves and unexpected transfers have on a spouse's ability to find work and maintain a career. Tim recognizes that this causes financial insecurity for families, hurting our troops' ability to do their jobs. To help tackle the problem, Tim has introduced several bills—including the Military Spouse Employment Act and the Jobs and Childcare for Military Families Act—to reduce military spouse unemployment and support military families. Tim believes that by expanding hiring and career opportunities, improving access to continuing education programs, ensuring military families can find affordable child care, and providing better transition and employment resources for military spouses, Congress can better ensure the military is ready to accomplish its mission.