Summary
The 8th district is based in northern Virginia and encompasses the inner Washington, D.C. suburbs, including Arlington, Alexandria, and Falls Church. The incumbent is Democrat Don Beyer, who was re-elected with 75.8% of the vote in 2020.
Source: Wikipedia
News
Karina Lipsman Learn About
,
(01:13)
Students onAir presents Karina Lipsman's biography and policies. She is the Republican Candidate for Virginia's 8th US House District drawn from her campaign website. Go to https://va.onair.cc/ and select the Karina Lipsman post to learn more about her biography, policy positions, and much more.
Don Beyer will be interviewed by GMU students
August 31, 2022 – 3:00 pm (ET)
Moderator: Connor Oatman, US onAir – connor.oatman@onair.cc
Aircaster: Ben Murphy, US onAir – ben.murphy@onair.cc
Featured Guest: Congressman Don Beyer, US House VA-08
Student Guests: Valentina Autorina, Frida Cervantes, Devin Pieczynski, Gabriel Yu fromt George Mason University.  Students will be asking Congressman Don Beyer about his positions on a number of issues including abortion, guns, and funding college education.
About
Predictions
Don Beyer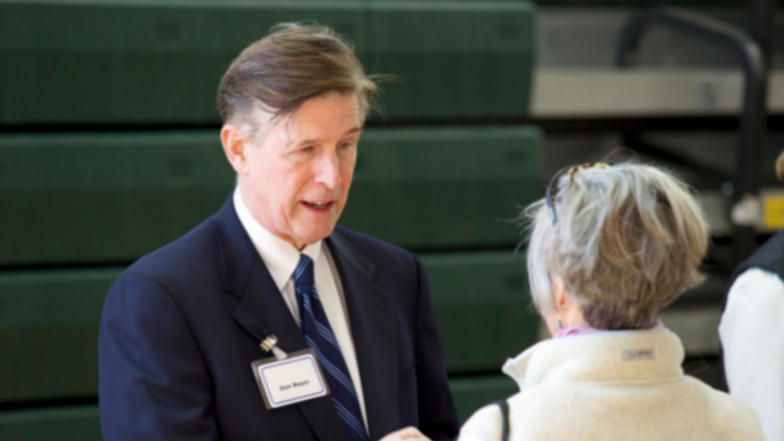 Current Position: US Representative of US House District 8 since 2015
Other Positions: Chair of the Joint Economic Committee; Chair of the Subcommittee on Space; Member of the Subcommittees on Trade, Select Revenue Measures (Ways & means), and Research and Technology
Affiliation: Democrat
Candidate: 2022 US Representative for District 8
Former Position: Lt. Governor from 1990 – 1998
Pinned Tweet: I am grateful to voters in Northern Virginia for again making me their Democratic nominee to represent Virginia's 8th District. Their trust in me is humbling, and I will continue to do all I can to earn it."
Featured Videos:
Karina Lipsman
Current Position: US Representative
Affiliation: Republican
Candidate: 2022 US Senator for District 8
Karina Lipsman is a refugee immigrant from Odessa, Ukraine who has lived the American Dream and wants to ensure that dream is available to ALL Northern Virginians!
Her campaign is focused on delivering common sense solutions to Washington to achieve common goals for all. Those goals: more money in your wallets, preserve your retirement and savings accounts, lowering energy costs, combating inflation, and protecting our children.
Our current elected officials do not understand our struggles, feel the impacts of inflation, or represent the diversity of our district.
For more information, go to this post.
US House District VA-08
Source: Wikipedia
Text below from Don Beyer's Government page
Virginia's 8th Congressional District is the heart of Northern Virginia, encompassing Arlington County, the Cities of Alexandria and Falls Church, and portions of Fairfax County. Right across the Potomac River from the nation's capital, the 8th District is home to many national memorials including Arlington National Cemetery, the Iwo Jima Memorial, and the new Air Force Memorial. Located in one of the fastest growing regions of the country, the 8th District is home to a booming high-tech sector. The federal government and government contractors are among the district's largest employers.
Our residents are some of the best educated, modern, and ethnically diverse in the Commonwealth of Virginia, and the 8th is one of the best places in the country to live, work, and visit. The region boasts a wealth of education, career, and recreational opportunities. Unemployment is among the lowest in the nation and the area is a job magnet for new college graduates.
George Washington Memorial Parkway winds its way through nearly the entire 8th District, offering pristine views of the Potomac River, Mount Vernon, Old Town Alexandria, and the heart of Arlington's business community in Rosslyn and the cityscape across the river. Northern Virginia residents spend their free time on our miles of hiking and biking trails, at our world class restaurants, or enjoying a walk through one of our pedestrian friendly urban shopping centers.
If you are interested in browsing district-specific population statistics, you can look up Census data for the 8th District.