Summary
Current Position: Businessman and politician
Affiliation: Republican
Former Position: US Representative for US House District 5 from 2019 – 2021
"As a political outsider, veteran, small business owner, and grassroots conservative, I will bring a fresh perspective to DC and help pass the President's agenda. As we have all seen over the past few years, it takes a real outsider with real-world experience to drag the swamp monsters to dry land."
Twitter
About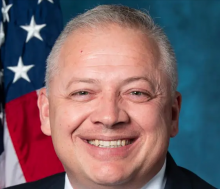 Source: Government page
Denver Lee Riggleman III was born in Virginia and grew up in Manassas. Denver graduated from Stonewall Jackson High school in 1988, where he played football. In 1989, he married his wife, Christine, who attended high school at Osbourn High School, also in Manassas.
Denver earned an A.A. from Burlington County College in 1996, an A.A.S. degree in Avionics Systems from the Community College of the Air force in 1996, a BA (with Distinction) in Foreign Affairs from the University of Virginia in 1998. Denver and Christine live in Nelson County and have three children, Lauren, Abigail, and Lillian.
Between 1992 and 1996, Denver served in the United States Air Force (USAF) as a C-141 Starlifter enlisted avionics technician at McGuire AFB, New Jersey. Denver was awarded a scholarship to the University of Virginia in 1996. He graduated in 1998 and then subsequently served as a commissioned officer with the 366th Fighter Wing and 34th Bomb Squadron at Mountain Home AFB, Idaho and in the National Security Agency (NSA) at Fort Meade, Maryland.
Denver Riggleman and his wife, Christine, dreamed for years of starting their own distillery, and in 2013 built, and now operate, Silverback Distillery in Afton, Virginia. Denver and his wife currently distill and distribute Gin, Vodka and Whiskeys. Denver has also been CEO of several defense contracting companies specializing in counterterrorism, analytic services, rapid technology development, critical infrastructure studies, C4ISR, cyber processes and support to "follow the money" organizations.
Denver was first elected to Congress in 2018 and is honored to represent the 5th district of Virginia.
Experience
Work Experience
Distillery Owner
Silverback Distillery
C-141 Starlifter enlisted avionics technician and commissioned officer
United States Air Force and NSA
Education
BA, Foreign Affairs
University of Virginia
1998
Contact
Email:
Offices
Washington, DC Office
1022 Longworth HOB
Washington, DC 20515
Phone: (202) 225-4711
Charlottesville Office
686 Berkmar Circle
Charlottesville, VA 22901
Phone: (434) 973-9631
Danville Office
308 Craghead Street
Suite 102-D
Danville, VA 24541
Phone: (434) 791-2596
Web
Campaign Site, Twitter, Facebook, LinkedIn, Government Page, Wikipedia
Politics
Recent Elections
2018
| | | |
| --- | --- | --- |
| Denver Riggleman (R) | 165,339 | 53.18% |
| Leslie C. Cockburn (D) | 145,040 | 46.65% |
| Write In (Write-in) | 547 | 0.18% |
| TOTAL | 310,926 | |
Source: Department of Elections
Finances
RIGGLEMAN, DENVER has run in 1 race for public office, winning 1 of them. The candidate has raised a total of $1,930,440.
Source: Follow the Money
Committees
Committees
House Financial Services Committee
Voting Record
See: Vote Smart
New Legislation
Source: Government web page