Summary
Current Position: US Representative for US House District 11 since 2009
Affiliation: Democrat
Candidate: 2022 US Representative for US House District 11
Former Position(s): Board of Supervisors – Fairfax County from 1995 – 2007
Congressman Connolly is a senior member of the House Committee on Oversight and Reform and serves as the Chairman of the Subcommittee on Government Operations. In this role, he is responsible for shaping government-wide policy for a broad range of issues, including federal workforce and federal agency oversight, federal procurement and information policy, national drug policy, regulatory reform, the United States Postal Service, the United States Census Bureau, and the District of Columbia. He also serves on the House Committee on Foreign Affairs. Using his extensive background in foreign policy, including as a senior staff member on the Senate Foreign Relations Committee, he has become a leading voice on foreign assistance reform, war powers, embassy security, and democracy promotion abroad.
News
i
Help is finally here
Email from Congressman Gerry Connolly
–
March 13, 2021
Dear Neighbor,
This year, you've heard President Biden and Democrats in Congress promise you that help is on the way.
Well, that help is finally here.
This week, after countless delay tactics from congressional Republicans, President Biden signed the American Rescue Plan into law. The plan, which provides $1.9 trillion in desperately-needed emergency relief, is among the most consequential pieces of legislation of our lifetime. I was proud to support it.
The American Rescue Plan funds a number of critical priorities that will help our community, our Commonwealth, and our country come out of this crisis stronger than before:
Relief checks: The bill includes an additional round of $1,400 economic impact payments for individuals making less than $75,000 and joint filers making less than $150,000 – plus an additional $1,400 per dependent.
Emergency unemployment insurance is extended through September 6, 2021. This will help ensure that Americans who lost their jobs through no fault of their own are able to make ends meet while the economy rebuilds.
Vaccine procurement & testing: The legislation includes $160 billion for national vaccination and other health efforts, including testing, tracing, genomic sequencing, public health staffing, and supplies to slow the spread of COVID-19.
Keeping small businesses open: The American Rescue Plan has billions to help small businesses keep their doors open, including:

$7.25 billion for the Paycheck Protection Program (PPP).
$15 billion for the Targeted Economic Injury Disaster Loan (EIDL) Advance Program.
$28.6 billion for a new Restaurant Revitalization Fund to provide grants to help small local restaurants, bars, and craft breweries stay in business and keep their workers employed.
$1.25 billion for the Shuttered Venue Operators Grant (SVOG) Program to support live entertainment venues, and a critical fix to ensure venue operators can access both PPP and SVOGs.
$10 billion in new funding for the State Small Business Credit Initiative to help small businesses grow and create jobs.
Reopening schools: The bill includes $170 billion for K-12 schools and higher learning institutions so they have the resources they need to reopen safely.
Keeping Americans in their homes: The legislation includes more than $21 billion in emergency rental assistance to help renters and small landlords make ends meet as well as $9.9 billion to aid homeowners struggling to afford their mortgage payments, utility bills, and other housing costs.
Help for the hungry: The legislation extends a 15 percent increase in Supplemental Nutrition Assistance Program (SNAP) benefits through September 30, 2021, which will help the nearly 50 million Americans who have struggled with hunger during the pandemic.
Maintaining government services & preventing layoffs: The bill provides $350 billion in aid for state, local, and tribal governments so they can continue to provide critical community services, limit long-term harm caused by the pandemic, and address longstanding inequities exacerbated by COVID-19.
Child care & help for families: The bill cuts taxes for working families by expanding the Earned Income Tax Credit and Child Tax Credit. An estimated 1.5 million children across Virginia will benefit from this expanded tax credit, and it will lift 249,000 children in the Commonwealth out of poverty and deep poverty. Researchers have said the move will cut the child poverty rate in half nationwide this year. The bill also includes $39 billion in dedicated relief for child care, to make sure that child care providers can continue supporting working families.
Please continue to take care of yourselves and each other, and remember that my office is here to help. Be sure to visit the COVID-19 page on my website for more information and resources. If you have any questions or concerns, or if you need assistance, please don't hesitate to call us at (703) 256-3071.
Sincerely,
Gerald E. Connolly
Member of Congress
i
Enough is enough
Email from Congressman Gerry Connolly
–
March 6, 2021
Dear Neighbor,
Like far too many communities across America, Northern Virginia is no stranger to the pain and loss wrought by mass shootings. Indeed, it's difficult to find an American whose life has not been touched in some way by the scourge of gun violence that has gripped this country for decades.
I was Chairman of the Fairfax County Board of Supervisors during the Virginia Tech massacre. I, like so many of our neighbors, will never forget the six young people we buried in the wake of that horrific day.
It is in their memory that, today, I will proudly vote for H.R. 8, the Bipartisan Background Checks Act, and H.R. 1446, the Enhanced Background Checks Act. These long-overdue bills will strengthen and expand the federal background checks system by finally closing the deadly loopholes that allow guns to fall into the wrong hands.
These are bipartisan, commonsense ideas, and they will save lives. Here's how:
H.R. 8, the Bipartisan Background Checks Act:
The purpose of H.R. 8 is straightforward: to ensure that individuals already prohibited from gun possession under federal law, such as felons and domestic abusers, are not able to obtain firearms.  The bill does this by closing a dangerous background check loophole that exempts unlicensed gun sellers –people who sell guns online, at gun shows, or person-to-person without a federal dealer's license – from having to perform any background check whatsoever before selling a firearm.
The bill would require a background check for every gun sale or transfer, with some carefully defined exceptions such as gifts to family members and temporary transfers for purposes such as hunting, target shooting, and self-defense.
Federal law already requires licensed gun dealers to conduct background checks on gun purchasers or transferees.  H.R. 8 extends the requirement of background checks to unlicensed gun sellers.  Under H.R. 8, unlicensed gun sellers would meet their buyers at a licensed gun dealer, who would run a background check using the same process already used for sales from their own inventory.
H.R. 1446, Enhanced Background Checks Act:
This commonsense bill would address the so-called "Charleston Loophole," which currently allows the sale of a firearm to proceed if a background check is not completed within three business days.
H.R. 1446 provides the FBI with crucial additional time to complete a background check on a potential firearms purchaser before a licensed dealer can transfer a gun.
First, the bill extends the initial background check review period from 3 business days to 10 business days.
After the initial 10-business day period, if a background check has not been completed, a purchaser may request an escalated review by the FBI.
This request for an escalated review will trigger a more intensive FBI investigation, designed to resolve the case within an additional 10-business day period.  If the additional 10 business days elapse without a response from the National Instant Criminal Background Check System (NICS) system, then the dealer may sell or transfer the gun to the purchaser.  Transactions for prospective purchasers who do not request an escalated review will not proceed until the case is resolved.
I've long said that there are three fundamental components to gun reform — the ABCs of gun control: Assault weapons ban, Background checks on gun sales, and Closing the gun show loophole. To that end, I am proud to cosponsor an additional package of more extensive gun control legislation:
Assault Weapons Ban – Bans the sale, transfer, production, and importation of all semiautomatic rifles and pistols that can accept a detachable magazine and have at least one military feature.
High-Speed Gunfire Prevention Act – Prohibits possession, manufacture, shipment, or transport of a trigger crank, a bump-fire stock, or any device that is designed or functions to accelerate the rate of fire of a semiautomatic weapon but not convert the semiautomatic weapon into a machinegun.
Untraceable Firearms Act – Prohibits the manufacture or possession of plastic 3-D guns that would be undetectable by traditional security measures like metal detectors and "ghost guns" that are untraceable because they are assembled with parts that do not have a serial number.
Unlawful Gun Buyer Alert Act – Requires notice to the local FBI field office and state/local law enforcement agencies when a firearm is transferred to a person who is subsequently determined to be prohibited from receiving or possessing a firearm.
Disarm Hate Act – Prohibits possession, shipment, or transport of a firearm by an individual who has been convicted of a misdemeanor hate crime.
End Purchase of Firearms by Dangerous Individuals Act – Requires states to establish reporting system for mental health professionals concerning individuals (1) who are committed to a mental institution on a voluntary basis, or who are temporarily committed or held on an involuntary basis, and who are determined to be a danger to themselves or others; or (2) who communicates to a mental health professional a serious threat of violence against another individual who is reasonably identifiable.
Fire Sale Loophole Closing Act – Ends the loophole that allows gun dealers whose licenses are revoked from converting their inventory to personal collections to be sold without conducting background checks on purchasers.
When they had majorities in Congress, Republicans may have been comfortable sitting idly by while thousands were killed or injured by our gun violence epidemic.
House Democrats are not.
We cannot afford to wait any longer. We are taking action – today.
Please take care of yourselves and each other. As always, my office stands ready to help if you or a loved one need assistance. Please don't hesitate to call us at (703) 256-3071, or visit my website here.
Sincerely,
Gerald E. Connolly
Member of Congress
i
A once-in-a-generation opportunity
–
March 3, 2021
Dear Neighbor,
Our country is at an inflection point.
This last election demonstrated just how willing too many powerful Republicans are to tear our democracy apart at the seams for their own personal or political gain.
After spending two months trying to overturn the results of a free and fair election, after failing to prove fraud in 90 court cases, after President Trump's Department Of Justice admitted there was no widespread fraud, and after Republican state officials were forced to resist personal pressure to unilaterally reverse the results of the election, President Trump incited an armed insurrection against a co-equal branch of government in order to stop Congress from certifying the results of the 2020 presidential election.
Seven people died, including three U.S. Capitol Police Officers. Hundreds were injured.
The events of January 6 underscore the need to reaffirm faith in the integrity of our election infrastructure and to help the American people reject misinformation and disinformation, whether the source is a foreign adversary or the President of the United States.
To that end, the House will consider the For the People Act (H.R. 1) today. This legislation, which I am proud to cosponsor, is the most comprehensive attempt at anti-corruption and election reform that we've seen in a generation, and it could not come at a more critical moment.
H.R. 1 offers us a real shot at restoring American democracy from the ground up. Here's how:
CLEAN AND FAIR ELECTIONS
Improve Access – H.R. 1 expands access to the ballot box by taking aim at institutional barriers to voting, including cumbersome voter registration systems, disenfranchisement, and limited voting hours. H.R. 1 will create automatic voter registration across the country, ensure that individuals who have completed felony sentences have their full voting rights restored, expand early voting and enhance absentee voting, simplify voting by mail, reduce long lines and wait times for voters and modernize America's voting system.
Promote Integrity – H.R. 1 commits Congress to build the record necessary to restore the Voting Rights Act, as embodied by the House-passed H.R. 4. It also commits Congress to deliver full congressional voting rights and self-government for the residents of the District of Columbia, which only statehood can provide, prohibits voter roll purges like those seen in Ohio, Georgia, and elsewhere and ends partisan gerrymandering to prevent politicians from picking their voters.
Ensure Security – H.R. 1 ensures that American elections are decided by American voters, without interference, by enhancing federal support for voting system security, particularly with paper ballots and also by increasing oversight of election system vendors and by requiring the development of a national strategy to protect U.S. democratic institutions.
GET BIG MONEY OUT OF POLITICS
Guarantee Disclosure – H.R. 1 shines a light on dark money in politics by upgrading online political ad disclosure and requiring all organizations involved in political activity to disclose their large donors. H.R. 1 also breaks the so-called 'nesting-doll' sham that allows big-money contributors and special interests to hide the true funding source of their political spending.
Empower Citizens – H.R. 1 strengthens the political power of hardworking Americans by creating a multiple matching system for small donations. This innovative, 21st-century system of citizen-owned elections will break the stranglehold of special interests on Congress and lay the groundwork for an agenda that meets the needs of the American people. The voluntary multiple matching system will be completely paid for by a new surcharge on corporate law breakers and wealthy tax cheats. That way, the individuals and corporations who break the public trust – like Wells Fargo, which created fake bank accounts for unwitting customers, or Volkswagen, which lied about harmful carbon emissions from its vehicles, or Facebook, which violates Americans' privacy, or Purdue Pharma, which fueled the opioid crisis – bear the cost of building a more just and equitable democracy. H.R. 1 also reaffirms Congress' authority to regulate money in politics, pushing back on the Supreme Court's wrong-headed Citizens United decision.
Strengthen Oversight – H.R. 1 ensures that there are cops on the campaign finance beat that will enforce the laws on the books. H.R. 1 tightens rules on super PACs and restructures the Federal Election Commission to break the gridlock and enhance its enforcement mechanisms. It also repeals Mitch McConnell's riders that prevent government agencies from requiring commonsense disclosure of political spending.
ENSURE PUBLIC SERVANTS SERVE THE PUBLIC INTEREST
Fortify Ethics Law – H.R. 1 breaks the influence economy in Washington and increases accountability by expanding conflict of interest law and divestment requirements, slowing the revolving door, preventing Members of Congress from serving on corporate boards and requiring presidents to disclose their tax returns.
Impose Greater Ethics Enforcement – H.R. 1 gives teeth to federal ethics oversight by overhauling the Office of Government Ethics, closing loopholes for lobbyists and foreign agents, ensuring watchdogs have sufficient resources to enforce the law and creating a code of ethics for the Supreme Court.
I am particularly proud that my amendment, adapted from my FAST Voting Act to help states implement voting system security improvements, has been included in the For the People Act. As the 2016 election showed us all too painfully, ensuring that our voting system is secure and free from interference by foreign actors is paramount to safeguarding voting rights.
With a Democratic House, Senate, and White House, we now have a once-in-a-generation chance to undo the damage of the last four years and breathe new life into our democratic institutions. It's a chance we cannot afford to miss.
I greatly look forward to voting for and passing H.R. 1 – For the People.
Twitter
About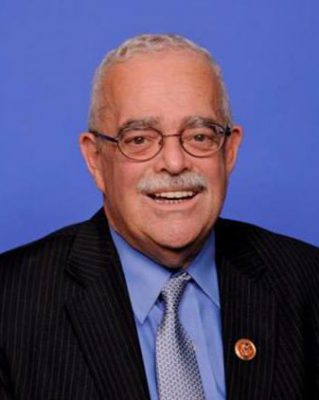 Source: Campaign page
Congressman Gerry Connolly and Cathy, his wife of more than thirty years, live in Mantua and have been residents of Fairfax County since 1979. Their daughter, Caitlin, is a graduate of a Virginia university.
Congressman Connolly is serving his sixth term in Congress. He previously served for 14 years on the Fairfax County Board of Supervisors, including as Chairman (2003-2009) and Providence District Supervisor (1995-2003). As Chairman of the ten-member board, Congressman Connolly balanced a budget of $4.5 billion and managed a county that, based on its size at the time, would have made it the nation's thirteenth largest city, twelfth largest school district, and sixth largest office market. He served as Chairman of the County's Legislative Committee and Vice-Chair of the Economic Advisory Committee. Congressman Connolly also served as Chairman of the Board of the Northern Virginia Transportation Commission (NVTC), Chairman of the Northern Virginia Regional Commission (NVRC), and a member of the Board of the Metropolitan Washington Council of Governments (COG) where he was chairman. He also chaired the region's Emergency Preparedness Taskforce, and represented Fairfax County on the Board of the Virginia Association of Counties (VaCo) where he also served as president.
In 2000, Congressman Connolly received COG's Scull Award, the region's highest award for leadership, for his work on promoting telework throughout the Metropolitan Washington Region. In 2002, he received an environmental achievement award from the Hunter Mill Defense League and was recognized by Fairfax Trails and Streams for his role as "father" of the forty-mile cross-county trail. He has been recognized by the Fairfax Federation of Citizens Associations for his authorship of the county's Value Engineering program that has saved taxpayers millions of dollars, and by the Fairfax Firefighters for his role in improving public safety. In 2005, Congressman Connolly received an award from Catholics for Housing for outstanding political leader. Also in 2005, he was named Outstanding Local Elected Official of the Year by the Virginia Transit Association. In 2006, he was named Outstanding Local Official in the United States by the American Public Transit Association. Congressman Connolly has been recognized for his leadership on a number of issues including gang prevention, for which he was named Boys and Girls Clubs of America's 2006 Man of the Year. He has twice been recognized as a Federal Computer Week Fed 100 winner, was named the 2013 FedScoop Tech Champion of the Year, the 2015 FCW Eagle Award recipient, and received the AFFIRM Award for Leadership in the IT community.
Congressman Connolly is a senior member of the House Committee on Oversight and Reform and serves as the Chairman of the Subcommittee on Government Operations. In this role, he is responsible for shaping government-wide policy for a broad range of issues, including federal workforce and federal agency oversight, federal procurement and information policy, national drug policy, regulatory reform, the United States Postal Service, the United States Census Bureau, and the District of Columbia. He also serves on the House Committee on Foreign Affairs. Using his extensive background in foreign policy, including as a senior staff member on the Senate Foreign Relations Committee, he has become a leading voice on foreign assistance reform, war powers, embassy security, and democracy promotion abroad.
In addition to his Committee assignments, Congressman Connolly is a member of the New Democrat Coalition, chair of the Smart Contracting Caucus, co-chair of the Sustainable Energy and Environment Caucus, co-chair of the Congressional Caucus on U.S.-Turkey Relations and Turkish Americans, co-chair of the Congressional Caucus on Korea, co-chair of the Congressional Caucus on Georgia and co-chair of the Congressional Caucus on Taiwan.
Congressman Connolly currently serves as the Chairman of the U.S. Delegation to the North Atlantic Treaty Organization Parliamentary Assembly (NATO PA). The NATO PA is an affiliate organization of NATO and is comprised of more than two hundred and fifty delegates from the parliaments and legislative bodies of the Alliance's 29 member states. As head of the United States delegation, Mr. Connolly sets the agenda for interaction with the Assembly on behalf of the U.S. Congress. He works in a bipartisan manner to support the values of the Transatlantic Alliance and strengthen Congressional commitment to NATO.
In Congress, Congressman Connolly is known as an expert on local and state government issues, including transportation, education, and the environment. He has successfully steered funding to Northern Virginia for vital projects, including completion of the Fairfax County Parkway, widening of the Prince William Parkway, accelerating work on Rail to Dulles, purchasing locomotives and rail cars to maintain safety and add capacity on Virginia Railway Express, and funding for Metro. In Fairfax and Prince William, he has also fought to save teachers' jobs and protect quality education.
He is also regarded as a strong advocate for federal employees and issues affecting the information technology and government contracting sectors, which form the backbone of Northern Virginia's economy and workforce. Congressman Connolly co-authored the bipartisan Issa-Connolly Federal Information Technology Acquisition Reform Act (FITARA), which was signed into law in 2014, and represents the first major overhaul of the federal laws governing IT management since enactment of the Clinger-Cohen Act of 1996. In 2016, Connolly passed the Land Management Workforce Flexibility Act, which allows temporary employees of land management agencies to now be eligible for civil servant positions. He also helped pass the Telework Enhancement Act, which requires the federal government to increase the use of telework by federal employees to ensure continuity of operations by federal agencies during emergency situations, enhance recruitment of a quality federal workforce, reduce traffic congestion, and improve the region's air quality. He has also introduced important legislation to streamline and improve our election system, find savings in federal IT procurement and data center consolidation, and reform U.S. Foreign Aid.
Congressman Connolly received a B.A. in Literature from Maryknoll College in Glen Ellyn, Illinois, and an M.A. in Public Administration from Harvard University in 1979. After graduating from Harvard, he began a ten-year career with the U.S. Senate Foreign Relations Committee, where he developed a reputation for pragmatism and effectiveness.
Prior to his election to Congress, Congressman Connolly worked in the non-profit sector, primarily advocating for hunger aid and international assistance. He spent twenty years working in the information technology and government contracting industry, serving as the Vice President for Washington operations for SRI International and as Vice President for Community Relations for SAIC, a fortune 500 company headquartered in Fairfax.
Experience
Work Experience
Chair
Fairfax County Board of Supervisors
1995 to 2008
VP
SRI International
Director of Community Relations
SAIC
managed committee oversight
United States Senate Committee on Foreign Relations,
1979 to 1989
Education
Master of Public Administration
Harvard's Kennedy School of Government
1979
B.A. in literature
Maryknoll College
1971
Contact
Email:
Offices
Washington DC Office
2238 Rayburn House Office Building
Washington, DC 20515
Phone: (202) 225-1492
Fairfax District Office
4115 Annandale Road
Suite 103
Annandale, VA 22003
Phone: (703) 256-307
Fax: (703) 354-1284
Prince William District Office
2241-D Tacketts Mill Drive, Woodbridge, VA 22192
Phone: (571) 408-4407
Fax: (571) 408-4708
Web
Campaign Site, Government Page, Twitter, YouTube, Facebook, Wikipedia, Wikipedia
Politics
Source: Wikipedia
2008
Connolly scored a 24-point victory over his closest opponent, former Congresswoman Leslie L. Byrne, in the 2008 Democratic primary. He then defeated Republican nominee Keith Fimian by more than ten points for the open seat held by Republican incumbent Tom Davis. The Independent Green Party candidate was Joseph P. Oddo.
2010
Connolly was challenged again by Fimian in 2010. Also running were Libertarian David L. Dotson, Independent Green David William Gillis, Jr., and Independent Christopher F. DeCarlo. Connolly won by fewer than a thousand votes.
2012
Connolly was challenged by Republican nominee Chris Perkins, Green nominee Joe Galdo and independent candidates Peter Marchetti, Chris DeCarlo and Mark Gibson. He received 61% of the vote.[59] Connolly was significantly aided by redistricting. The old 11th had been reckoned a swing district, though Davis had held it without serious difficulty due to his popularity in the area. Redistricting made the 11th significantly more Democratic than its predecessor. Barack Obama carried the old 11th with 57% of the vote in 2008, but would have carried it with 61% of the vote under the new lines—making it one of the most Democratic white-majority districts in the South.
2014
Connolly faced Republican Suzanne Scholte, Green Joe Galdo, and Libertarian Marc Harrold in his reelection bid, winning with 56.86% of the vote.[60]
2016
Connolly ran unopposed for reelection in 2016.[61][62] He was reelected with 87.89% of the vote.[63]
2018
Connolly faced Republican challenger, U.S. Army veteran Jeff Dove and Libertarian Stevan Porter in the 2018 election.
Recent Elections
2018 US Representative
| | | |
| --- | --- | --- |
| Gerry Connolly (D) | 219,191 | 71.11% |
| Jeff A. Dove Jr. (R) | 83,023 | 26.93% |
| Stevan M. Porter (L) | 5,546 | 1.80% |
| Write In (Write-in) | 490 | 0.16% |
| TOTAL | 308,250 | |
2016 US Representative
| | | |
| --- | --- | --- |
| Gerry Connolly (D) | 247,818 | 87.8% |
| Write In (Write-in) | 34,504 | 12.2% |
| TOTAL | 282,322 | |
2014 US Representative
| | | |
| --- | --- | --- |
| Gerry Connolly (D) | 106,780 | 56.9% |
| Suzanne Kristine Scholte (R) | 75,796 | 40.4% |
| Marc McCullough Harrold (L) | 3,264 | 1.7% |
| Joseph Francis Galdo (G) | 1,739 | 0.9% |
| Write in (Write-in) | 226 | 0.1% |
| TOTAL | 187,805 | |
2012 US Representative
| | | |
| --- | --- | --- |
| Gerry Connolly (D) | 202,606 | 60.9% |
| Christopher S. Perkins (R) | 117,902 | 35.4% |
| Mark Timothy Gibson () | 3,806 | 1.1% |
| Christopher Francis Decarlo (Write-in) | 3,027 | 0.9% |
| Joseph Francis Galdo (G) | 2,195 | 0.7% |
| Peter Matthew Marchetti (G) | 1,919 | 0.6% |
| Write in (Write-in) | 1,300 | 0.4% |
| TOTAL | 332,755 | |
2010 US Representative
| | | |
| --- | --- | --- |
| Gerry Connolly (D) | 111,720 | 49.2% |
| Keith S. Fimian (R) | 110,739 | 48.8% |
| Christopher Francis DeCarlo () | 1,846 | 0.8% |
| David L. Dotson (L) | 1,382 | 0.6% |
| David William Gillis, Jr () | 959 | 0.4% |
| Write in (Write-in) | 305 | .1% |
| TOTAL | 226,951 | |
2008 US Representative
| | | |
| --- | --- | --- |
| Gerry Connolly (D) | 196,598 | 54.7% |
| Keith S. Fimian (R) | 154,758 | 43.0% |
| Joseph P. Oddo () | 7,271 | 2.0% |
| Write in (Write-in) | 864 | 0.2% |
| TOTAL | 359,491 | |
Source: Department of Elections
Finances
CONNOLLY, GERALD E (GERRY) has run in 5 races for public office, winning 5 of them. The candidate has raised a total of $10,727,462.
Source: Follow the Money
Committees
Committees
Committee on Foreign Affairs
United_States_House_Committee_on_Oversight_and_Government_Reform
Subcommittees
Subcommittee on the Middle East and South Asia
Subcommittee on Asia and the Pacific
Subcommittee on Government Operations
Subcommittee on Economic Growth, Job Creation and Regulatory Affairs
U.S. Delegation to NATO Parliamentary Assembly (Chairman; 2013-present)
Voting Record
See: Vote Smart
New Legislation
Source: US Congress
Issues
Governance
Good Government
As a senior member of the House Oversight and Reform Committee, and the Chairman of the Subcommittee on Government Operations, Congressman Connolly firmly believes that vigorous oversight of the Executive Branch is among the most serious responsibilities mandated to Congress by the Constitution.
The importance of congressional oversight is constant, and should be blind to the partisan affiliation of each administration. However, Congressman Connolly recognizes the uniquely urgent need for full-throated investigation into the unprecedented challenges presented by the current administration. From the beginning, he has led the effort to examine the administration's growing list of ethically and legally questionable decisions. From day one, Congressman Connolly has raised questions about this administration's abrupt decision to abandon plans for a new FBI headquarters, securing an Inspector General's investigation into the matter. He has demanded investigations and subpoenas relating to the possible conflicts of interest presented by the president and his family's ongoing business ties, EPA Administrator Scott Pruitt's misuse of his office and taxpayer dollars, and the White House's adjudication of security clearances. Congressman Connolly is determined to hold this Administration accountable.
From the White House to your local post office, Congressman Connolly knows that Virginians demand and deserve a federal government that is efficient, ethical, and accountable for its actions.
Civil Rights
Equality
Congressman Connolly has been a lifelong supporter of equal rights for the LGBT community. Discrimination is anathema to our American values and violates our Constitution. No one should be treated differently because of their sexual orientation or gender identity. For his record, the Human Rights Campaign has recognized Congressman Connolly's with a 100% rating for a fourth consecutive term.
He is an original cosponsor of the Equality Act, which would explicitly prohibit discrimination on the basis of sex, gender identity, and sexual orientation in employment, public education, housing, public accommodations, credit, jury service, and federally funded programs. He condemned the Trump Administration's unconstitutional efforts to ban transgender servicemembers from the military. He welcomed the groundbreaking Supreme Court decision that marriage equality is now the law of the land. He also supported the designation within the State Department of a Special Envoy for the Human Rights of LGBT Persons.
Economy
With a professional background in the private sector and more than a decade of service in local government, Congressman Connolly's top priority has always been delivering results for the Northern Virginia economy. Congressman Connolly has helped develop our region into an economic engine for the Commonwealth by championing the growth of the technology and government contracting industries, fighting the dangerous and indiscriminate cuts of sequestration, and protecting the health of a productive federal workforce. Northern Virginia is now home to numerous Fortune 500 companies and has one of the lowest unemployment rates in the nation. Congressman Connolly wants every family in Northern Virginia to have an opportunity to share in the prosperity of our region.
As a leader of the pro-business New Democrat Coalition, Congressman Connolly has encouraged investments in three major pillars of a healthy American economy – education, infrastructure, and research and development. He has supported more federal assistance for local school systems, advanced new ways to invest in mega transportation projects, and advocated for the permanent extension of the Research & Development Tax Credit. These initiatives help unleash innovation, reduce poverty, and strengthen the American middle class – the backbone of our national economy.

Education
Congressman Connolly knows that the success of Northern Virginia's economy is directly tied to the achievement of students in our local classrooms and college campuses. As a parent, Congressman Connolly believes that investing in quality early childhood education, public education, and college access programs will spur innovation and set our young people on a path for lifelong success.
During his tenure as Chairman of the Fairfax County Board of Supervisors, he helped increase funding for local schools by more than 30%. Congressman Connolly enjoys visiting local classrooms, meeting with student robotics teams, and talking to education professionals to see the creative ways in which our schools are engaging our students in the learning process.
For Northern Virginia families looking toward a college education for their kids, tuition costs can be daunting. Congressman Connolly knows that improving college affordability and reducing the burden of student loan debt are essential components to strengthening our higher education system. Nearly two-thirds of jobs in the United States require post-high school education or training, and we must eliminate insurmountable cost barriers to higher education for middle class families if we want the U.S. to maintain its competitive edge.
Environment
Energy and Environment
As a co-Chairman of the House Sustainable Energy and Environment Caucus, Congressman Connolly plays a leadership role in efforts to protect America's environment and public health and push for investment in clean and renewable energy. In Congress, he helped pass the largest investment in clean energy in American history and supported legislation to reduce global carbon emissions. Recently, he has led efforts to oppose drilling off the coast of Virginia or in the Chesapeake Bay and introduced amendments to protect the National Environmental Policy Act (NEPA), and to require oil companies to pay the full cost of oil spill cleanups. He will continue to steadfastly oppose efforts to repeal the Clean Air Act, Clean Water Act, Antiquities Act, the Clean Power Plan, the Paris Climate Agreement and other important environmental legislation.
Congressman Connolly has worked with colleagues from around the region to fight President Trump's proposal to eliminate Chesapeake Bay Restoration funding and supports comprehensive legislation to restore the Bay.  He has also opposed efforts to slash funding for the Environmental Protection Agency by a third. He has also been a leader in expanding federal conservation efforts, including supporting the reauthorization of the Land and Water Conservation Fund and fully funding our National Park System. In addition, Congressman Connolly has continued his efforts to establish powerful voluntary tax incentives to complete America's 11 National Scenic Trails.
Locally, he has worked with community stakeholders to complete missing segments of the Potomac Heritage National Scenic Trail, and open Featherstone National Wildlife Refuge to the public. These efforts complement his efforts as a local government official, where he led the effort to build the 41-mile-long Connolly Cross County Trail and helped protect 10% of Fairfax County as county-owned parkland. He helped design and implement the county's first comprehensive environmental plan which subsequently won a national award. Congressman Connolly was recently recognized as the "Protector of Potomac" by the Riverkeeper Network for his efforts on strengthening federal coal ash regulations.
Health Care
Congressman Connolly believes health care should be a right for all Americans. He is committed to expanding access and improving the quality of care for all his constituents. In order to advance this critical priority, Congressman Connolly will fight to defend the Federal Employee Health Benefits program (FEHBP), protect the Affordable Care Act (ACA), and guard against misguided efforts to weaken, privatize, or overhaul our nation's most successful health care programs in history, Medicare and Medicaid.
He strongly opposes partisan efforts to repeal the ACA. As a result of this landmark legislation, Virginia's uninsured rate has decreased by 31 percent since 2010, providing 327,000 Virginians access to health care coverage they would otherwise have been unable to obtain or afford. In addition to expanding coverage, the ACA protects nearly 3 million Virginians who, prior to the ACA's elimination of punitive annual and lifetime limits, lived under the threat of having their inadequate health insurance cut off if they got too sick. Insurance companies can no longer indiscriminately deny an individual coverage due to a pre-existing condition, and thanks to reforms that allow children to stay on their parent's health plan until the age of 26, nearly 59,000 young adults have health care coverage. The ACA also mandates coverage of many important services including mental health screenings, and free preventive care coverage, such as flu shots, cancer screenings, contraception, and mammograms.
Unfortunately, Republican efforts to sabotage the Affordable Care, including the elimination of the individual mandate, cutting the Open Enrollment period in half, discontinuing much of the advertisement and outreach activities to boost ACA enrollment, and rescinding cost sharing reductions payments have resulted in higher premiums and fewer choices for Virginians.
Congressman Connolly believes there are improvements to the Affordable Care Act that can and should be adopted, but sabotaging and repealing the law is not the answer. He supports extending the risk-mitigation program that promotes market certainty and ensures insurance companies continue to participate in the marketplaces and finding new ways to encourage younger Americans to join the marketplaces.
Congressman Connolly been a strong supporter of Medicaid expansion in Virginia, which will provide health coverage for more than 400,000 Virginians, and was pleased to see the Governor sign it into law. He also fought for the reauthorization of the Children's Health Insurance Program (CHIP), which covers more than 200,000 children in the Commonwealth.
Since coming to Congress, he has championed greater investment in scientific and biomedical research that will lead to new breakthroughs in medicine and treatments. Each year, he has advocated for robust funding for the National Institutes of Health (NIH) and helped pass the 21st Century Cures Act, which would help unleash research and development.
Congressman Connolly is also fighting to make prescription drugs more affordable, including closing the Medicare prescription drug donut hole and holding companies accountable for indefensible skyrocketing drug costs. As a senior member of the Committee on Oversight and Reform, Congressman Connolly is supporting investigations into egregious price-gouging by pharmaceutical companies and supports reforms that will help lower prescription drug prices through greater competition and common-sense consumer protection safeguards.
Finally, he steadfastly opposes partisan efforts to insert the government between women and their doctors, and he has stood up to those in Congress who have attacked organizations such as Planned Parenthood, which provide vital health services to millions of Americans of all genders, races, and ages.
Immigration
Congressman Connolly believes Congress must be a partner in solving our immigration challenge. He has fought for bipartisan comprehensive immigration reform that would provide a path to citizenship, keep families together, and secure our borders. Congressman Connolly supports a pragmatic and results-oriented approach to border security, not an ill-conceived and unrealistic border wall.
He is a strong supporter of the DREAM Act and programs like the Deferred Action for Childhood Arrivals (DACA), Deferred Action for Parents of Americans (DAPA), and Temporary Protected Status (TPS). Northern Virginia is home to many talented DREAMers and TPS holders and Congressman Connolly has seen firsthand how much they contribute to the success of our community. Attacks on these programs threaten to break up millions of immigrant families and deprive the United States of an entire generation of future leaders.
Congressman Connolly firmly believes that America's doors must remain open to those fleeing injury, violence, or persecution. He led the fight in Northern Virginia against President Trump's illegal and immoral refugee ban and supports increasing the number of refugees resettled in our country.
Infrastructure
Transportation
Congressman Connolly understands that reducing traffic congestion is critical to our quality of life in Northern Virginia. As a former county government executive, Congressman Connolly led major infrastructure investments, including the extension of Metro's Silver Line to Dulles Airport – a $5.6 billion rail project, and pursued transformative Public Private Partnerships to add capacity to our regional transportation network. In Congress, he is fighting to fund new transportation projects and fast-track projects already underway.
Transportation investments have the potential to realize enormous returns on taxpayer dollars. It was President Dwight D. Eisenhower who signed the Federal Aid Highway Act in 1956, and our nation continues to benefit from the legacy of that investment to this day, more than 60 years later. It would be difficult to calculate what the return on investment has been for the Interstate Highway System – a massive investment entirely financed with federal funds – but we know that, to this day, it enables enormous economic activity and touches our lives on a daily basis.
Congressman Connolly has helped lead the effort to conduct Congressional oversight of safety and accountability at Metro. He sees a system in crisis and in desperate need of a wholesale culture change. Congressman Connolly understands that failure of Metro is not an option. It is too important to our regional mobility. He helped lead the effort to establish the new Metrorail Safety Commission. He is the author of Metro reform legislation that is supported by Members of Congress from Virginia, Maryland, and Washington, D.C. And he is leading the fight to preserve the annual $150 million federal investment in Metro necessary to replace aging rail cars and make other needed safety and infrastructure improvements. We need Metro to be a safe and reliable transit backbone for the national capital region.
Safety
Gun Safety
Congressman Connolly has been a strong supporter of common-sense gun safety legislation and believes that upholding the 2nd Amendment does not have to come at the expense of public safety. In Congress, he is an original cosponsor of the Assault Weapons Ban. He supports limits on large-capacity ammunition magazines, expanding background checks, closing the gun-show loophole, and preventing suspected terrorists from purchasing firearms. He also supports a repeal of the federal restrictions that prevent local law enforcement officials from accessing criminal gun trace information that is necessary to conduct gun crime investigations and dismantle illegal gun trafficking networks.
Following the tragic shooting at Marjory Stoneman Douglas High School in Parkland, Florida, Congressman Connolly met with the Parkland students and joined Northern Virginia students at the March for Our Lives. He supports the federal ban on bump stocks and voted for funding that permits the Centers for Disease Control and Prevention to conduct gun violence research. These are incremental steps in the right direction, and he will continue to push for sensible gun safety measures.
Criminal Justice Reform
Congressman Connolly is a member of a bipartisan group of lawmakers committed to addressing the complex challenges facing our nation's dysfunctional criminal justice system. He supports strategies that reduce recidivism, increase public safety, and decrease corrections costs for state and local governments. He also supports permitting courts to reduce or amend mandatory minimum sentences for non-violent defendants.
As Chairman of Fairfax County, he has seen firsthand the value of modernizing criminal justice initiatives and remains a strong advocate of innovative reform programs, such as Veterans Treatment Courts. These courts provide eligible veterans with an alternative to jail, promote community collaboration, and can connect veterans with the programs and benefits they have earned. Fairfax County established the Commonwealth of Virginia's first such program, known as the Veterans Treatment Docket
Social Security
Congressman Connolly believes we need to ensure that all Americans can retire with peace of mind. As Chairman of the Fairfax County Board of Supervisors, he helped launch the 50+ Initiative to address the many challenges facing our seniors, including housing, health care access, transportation, and educational and volunteer opportunities. He knows that seniors are a resource within the community, and that we should provide support and opportunities for them to remain active members of our community. He is promoting legislation to protect access to affordable health care and prescription drugs, improve the quality of life, and ensure financial security for older Americans.
We must protect the promise of Social Security and Medicare for today's retirees and future generations. Congressman Connolly has opposed efforts to dismantle these programs, including privatization, which would force seniors to buy insurance on the private market. Congressman Connolly is working to close the Medicare Prescription drug donut hole and providing free preventive care to seniors. He helped pass legislation to fix reimbursement rates for Medicare and TRICARE providers, ensuring seniors can keep their doctor.
He supported the renewal of the Older Americans Act, which increased federal funding for senior nutrition, support services, and overall health programs, and improved transportation services. He also supported legislation increasing federal funding for cancer and Alzheimer's research, and will continue to support research and innovation efforts in this area. Congressman Connolly has also supported legislation that permanently extends the ability of seniors to make tax-free distributions from IRA's for charitable purposes, and helps make retirement planning easier.
Veterans
Congressman Connolly is proud to represent more than 80,000 veterans and their families. He has fought to make sure our veterans have quality health care, better pay, and access to services throughout their lives. In recognition of his efforts, Our Military Kids, an organization dedicated to helping military children, awarded him the "Friend of Military Kids" award for his work on behalf of military families. In addition, Congressman Connolly has consistently received a perfect score from the Military Officers Association of America.
Since coming to Congress, he has fought for more reliable funding for veteran health care, new investments in treating traumatic brain injuries sustained by our service members, and improved assistance for homeless veterans. He has helped advance legislation to limit increases to TRICARE premiums, provide free postal benefits for troops in combat zones, provide disability compensation for PTSD, allow military retirees to pay their health care premiums with pre-tax dollars, expand the eligibility for concurrent receipt of military retired pay and veterans' disability compensation, and provide education and respite care support services for family caregivers. Congressman Connolly has introduced legislation that would ensure the immediate payment of military death benefits to survivors of fallen servicemembers when federal spending authority lapses and expand the transferability of education assistance to veterans' dependents.
Congressman Connolly believes that we have a sacred obligation to ensure that the men and women who sacrifice so much to defend our freedoms receive the services and benefits that they have earned. That starts with a functional and well-run VA. Congressman Connolly has supported efforts to improve management accountability at the VA, reduce VA backlogs, and help veterans access care at private facilities when they are unable to do so at VA centers in a timely manner. Any veteran who finds him or herself in need of assistance should know that Congressman Connolly's door is always open.
Federal Employees
As a senior member of the House Oversight and Reform Committee and Chairman of the Subcommittee on Government Operations, Congressman Connolly is a passionate and effective advocate for active and retired federal employees. In recent Congresses, federal employees have been demonized, demoralized, and asked to sacrifice more than most any group. Congressman Connolly is a vocal opponent of policies that seek to curtail federal employee pay, leave, and retirement benefits. A leading proponent of telework, He believes that the federal government should be investing in its most valuable resource – its talented workforce – in order to modernize the federal government.
Each year, Congressman Connolly introduced the FAIR Act, which provides for a pay raise to federal employees. He has also led a bipartisan letter urging the President to increase pay for federal civilian employees commensurate with pay increases provided for members of the military. In the last several years, federal workers have endured a three-year wage freeze, five years without locality pay, wage-reducing furloughs, sequester cuts, two government shutdowns, and incurred more than $182 billion in pay and benefit cuts. As a result, employee morale has taken a hit and federal wages have lagged far behind the private sector.
Congressman Connolly hosts an annual forum for federal employees to help them understand their benefits and make changes to their health plans during the federal government's Open Season. He welcomes federal employees to contact his district office if they are experiencing problems with the administration of their benefits at 703-256-3071.
Technology
Virginia's 11th district is home to some of the nation's most successful technology firms. From his private sector experience, Congressman Connolly knows firsthand the positive impact the technology sector has on our regional and national economy. He believes a strong and innovative technology agenda will be critical to ensuring America maintains our global competitiveness.
As a senior member of the House Oversight and Reform Committee, and as Chairman of the Subcommittee Government Operations, Congressman Connolly is directly engaged in federal information technology policy, federal contracting, and improving cyber security across the federal government. Congressman Connolly serves as the Co-Chair of the Government Efficiency Caucus, Smart Contracting Caucus, and Cloud Computing Caucus, bipartisan groups that work together to facilitate partnerships between federal agencies, government contracts, and the high-tech industry.
Congressman Connolly is the author of landmark bipartisan IT reform legislation known as the Federal Information Technology Acquisition and Reform Act (FITARA) and worked successfully to pass and enact the FITARA Enhancement Act, which will increase transparency of federal agency IT acquisitions. The government spends roughly $80 billion on IT products and services; however, much of it is spent maintaining aging legacy systems. Congressman Connolly's bipartisan legislation would help move us towards new IT systems by streamlining the technology procurement process and empowering CIOs within federal agencies, consolidating data centers, and identifying additional technology savings. Congressman Connolly has held a series of hearings and has devised a biannual scorecard to measure each agency's progress implementing the various components of FITARA.
Congressman Connolly also helped author the Modernizing Government Technology Act or "MGT Act." The bill allows agencies to use savings generated through FITARA and other reforms to make investments in cloud transition. This creates an incentive for agencies to find savings and reinvest them internally, creating a virtuous cycle. This reform has the potential to significantly speed up the federal government's move to 21st-century technologies. Congressman Connolly is pushing agencies to move to the cloud by authoring legislation to codify the Federal Risk and Authorization Management Program (FedRAMP) to standardize the federal government's approach to ensuring the security of all data stored in the cloud.
Animal Welfare
Congressman Connolly is a strong supporter of animal welfare and has consistently received a 100% score from the Humane Society for his voting record on these issues. Congressman Connolly is also a proud member of the Congressional Animal Protection Caucus.
He has voted for and supported important legislation to end horse slaughter, restore populations of southern sea otters and wild mustangs, restrict animal testing and increase animal welfare funding. Connolly has cosponsored the Preventing All Soring Tactics (PAST) Act, the Horseracing Integrity and Safety Act, the Humane Cosmetics Act, the Puppy Uniform Protection and Safety Act, the Traveling Exotic Animals Protection Act, and the Egg Products Inspection Act Amendments.
In addition, he supports fur labeling legislation, the outlawing of puppy mills, and believes restrictions on the cruel treatment of greyhounds and other animals used for racing should be implemented. He has also opposed the dangerous King Amendments, which would have undermined state animal welfare protections.