Summary
Current Position: US Representative since 2019
Affiliation: Democrat
Candidate: 2022 US Representative for District 7
Other Positions:
Vice Chair, Subcommittees Europe, Eurasia, Energy, & the Environment Subcommittee,
Abigail Spanberger began her career of public service as a federal law enforcement officer working narcotics and money laundering cases with the US Postal Inspection Service. Following her love of country, public service, and languages, Abigail joined the CIA as an Operations Officer.
Abigail took an oath to protect and defend the Constitution of the United States against all enemies, foreign and domestic…When she saw partisan politics threatening the country she has worked so hard to protect, she knew it was her time to stand up for the people in the 7th District.
News
"We were so willing to take seriously a global pandemic, but we're not willing to say, 'Yeah, inflation is a problem, and supply chain is a problem, and we don't have enough workers in our work force,'" said Representative Abigail Spanberger, a Virginia Democrat facing a bruising re-election. "We gloss over that and only like to admit to problems in spaces we dominate."
More pointedly, Ms. Spanberger said Mr. Biden must not forget that, for many voters, his mandate was quite limited: to remove former President Donald J. Trump from their television screens and to make American life ordinary again.
"Nobody elected him to be F.D.R., they elected him to be normal and stop the chaos," she said, alluding to the sweeping agenda the president is seeking to enact with the thinnest of legislative majorities.
Democrats in Washington on Wednesday appeared no less determined to forge ahead with Mr. Biden's signature domestic legislation: a major infrastructure bill and a multi-trillion-dollar package of social-welfare programs and initiatives to fight climate change. Both moderate and liberal lawmakers say they feel new urgency to show voters they can get big things done.
7th District Congresswoman Abigail Spanberger met with business and community leaders in Goochland Tuesday.
But with America's pullout from Afghanistan leading the headlines, the former CIA officer took time to share her views on the situation.
Spanberger's 7th District tour highlighting the billions sent to Virginia as part of President Joe Biden's American Rescue Plan was mostly jovial. But following a roundtable discussion the former CIA counter terrorism specialist and intel officer took a moment to agree with Biden's assessment of the exit of US troops from Afghanistan and the country's rapid fall to the Taliban.
"There's always been very clear indications that at the point and time when the US would leave Afghanistan there would be significant challenges," Spanberger said. "That's why we as a nation have invested, frankly billions upon billions of dollars in Afghan forces, working towards a time when the US would leave."
Twitter
About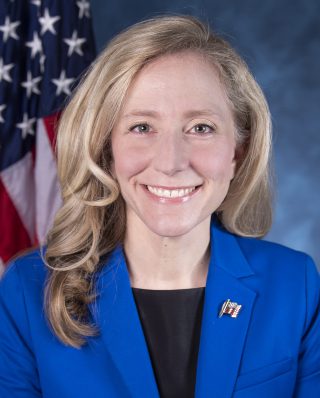 Source: Campaign page
Abigail Spanberger has always served her country and community. And now she is running for Congress. Abigail took an oath to protect and defend the Constitution of the United States against all enemies, foreign and domestic. That oath didn't come with an expiration date. When she saw partisan politics threatening the country she has worked so hard to protect, she knew it was her time to stand up for the people in the 7th District.
Abigail began her career of public service as a federal law enforcement officer working narcotics and money laundering cases with the US Postal Inspection Service. Following her love of country, public service, and languages, Abigail joined the CIA as an Operations Officer. She traveled and lived abroad collecting intelligence, managing assets, and overseeing high-profile programs in service to the United States. In 2014, Abigail left government service to begin a career in the private sector and bring her and her family back home to Virginia. Working at EAB – Royall & Company, Abigail helped colleges and universities to create diverse student bodies, increase graduation rates, and break down financial barriers to higher education.
Abigail grew up in Short Pump, in Henrico County. She attended J.R. Tucker High School's Spanish immersion program, served as a Senate Page for US Senator Chuck Robb (D-VA), and graduated from the University of Virginia. After college, Abigail moved to Germany and earned her MBA from a dual-degree German-American program between the GISMA business school and Purdue University.
Abigail and her husband, Adam, live with their children in Glen Allen.
Experience
Work Experience
Federal Agent
U.S. Postal Inspection Service
CIA officer
Central Intelligence Agency (CIA)
Education
MBA
Purdue University's Krannert School and the GISMA Business School in Hanover, Germany
BA
University of Virginia
Personal
Representative Spanberger resides in Glen Allen, Henrico County, Virginia with her husband, Adam, and their three children.
Contact
Email:
Offices
Washington, DC Office
1239 Longworth HOB
Washington, DC 20515
Phone: (202) 225-2815
Glen Allen Office
4201 Dominion Blvd
Suite 110
Glen Allen, VA 23060
Phone: (804) 401-4110
Spotsylvania Office
9104 Courthouse Rd
Room 249
Spotsylvania, VA 22553
Phone: Call (202) 225-2815 for now
Web
Campaign Site, Twitter, Facebook, Instagram, Government Page, Wikipedia
Politics
Source: Wikipedia
In July 2017, Spanberger announced her candidacy for the United States House of Representatives in Virginia's 7th congressional district in the 2018 election against Dave Brat. She made the final decision to run in the wake of the House of Representatives' vote to repeal the Affordable Care Act.
On June 12, 2018, Spanberger defeated Dan Ward in the primary election for the Democratic Party nomination with 73% of the vote, receiving more votes than any other candidate in the Virginia primaries that day.[12] Her campaign out-raised Brat's campaign. She won the seat by a narrow margin on November 6, defeating Brat by just over 6,600 votes.[4] While Brat won five of the district's seven counties, Spanberger dominated the two largest counties, Henrico and Chesterfield, by a combined margin of over 30,000 votes; her margin in either county would have been enough individually to give her the victory.
Spanberger's victory ended a 38-year hold on the district by Republicans; it had previously been numbered as the 3rd District before 1993. Tom Bliley won the seat in 1981 and handed it to future House Majority Leader Eric Cantor in 2001. Cantor held it until Brat upset him in the 2014 primary.
Tenure
Spanberger was sworn into the U.S. House of Representatives for her first term on January 3, 2019. In the election for Speaker of the U.S. House of Representatives on the opening day of the 116th United States Congress, Spanberger voted for U.S. Representative Cheri Bustos, an Illinois Democrat, for speaker. Spanberger maintained her campaign promise to support new leadership in the House.
Recent Elections
2018 US Representative
| | | |
| --- | --- | --- |
| Abigail Spanberger (D) | 176,079 | 50.34% |
| Dave A. Brat (R) | 169,295 | 48.40% |
| Joseph B. Walton (L) | 4,216 | 1.21% |
| Write In (Write-in) | 213 | 0.06% |
| TOTAL | 349,803 | |
Source: Department of Elections
Finances
SPANBERGER, ABIGAIL has run in 1 race for public office, winning 1 of them. The candidate has raised a total of $7,294,690
Source: Follow the Money
Committees
Committees
House Committee on Foreign Affairs
House Agriculture Committee
Subcommittees
Europe, Eurasia, Energy, & the Environment Subcommittee, Vice Chair
Asia, the Pacific, & Nonproliferation Subcommittee
Conservation & Forestry Subcommittee, Chair
Commodity Exchanges, Energy, & Credit Subcommittee
Voting Record
Also see Spanberger government page
See: Vote Smart
Issues
Governance
The United States of America was founded on the principle that our government is of and for the people. We each have the right to engage in the political process, express our opinions and concerns, and vote for the representatives we want to be our voice in Washington. However, across the campaign trail, I have been struck by how often people share the view that Congress is not working for them. People feel that their opinion doesn't matter, that their needs do not matter, and that ultimately their vote doesn't matter.
If we are to live up to our principle of being a government of and for the people, we must ensure that voters have faith, not just in those whom they send to Washington, but also in our election process and in our Congress.
To do that, we need greater transparency and accountability in Congress. Voters must know that their elected representatives are focused on serving them, not special interests, not themselves, not anyone, but the voters. I believe that it is the responsibility of candidates and Members of Congress to hold themselves to the highest standards of ethical behavior and accountability, and commit to strengthening our system with reforms that will restore trust, and give voters a stronger voice.
Hold regular town halls
Release a public schedule
Support No Budget, No Pay Act
Stop the abuse of taxpayer-funded mail
Forgo corporate PAC money
Require transparency on social media ads
Strengthen disclosure of outside political spending
Support a Constitutional amendment to overturn Citizens United
End gerrymandering
Enact automatic voter registration at age 18
Civil Rights
I believe every person should be treated with dignity and have equal rights under the law. No person in a free and fair society should make less money, be denied government services, pay more for healthcare, lose a job or housing opportunities, or face discrimination in the community or workplace because of their gender, race, creed, national origin, disability, whom they love, or anything else that defines them.
I support protecting women's access to reproductive healthcare and federal funding to Planned Parenthood and other providers that ensure essential healthcare to women and men. I will work to protect marriage equality and LGBTQ rights.
I also support the passage of the Equal Rights Amendment. I support the rights of individuals with disabilities and will work to preserve the protections afforded under the Americans with Disabilities Act (ADA).
We must pursue criminal justice reform. We are five percent of the world's population, but have 25 percent of the world's prisoners. We need criminal justice reform to ensure that our justice system is fairly sentencing offenders regardless of race or economic status, and that we're addressing issues related to addiction in our jails and prisons. I also support bolstering reentry efforts, which reduce recidivism and ensure that those who have paid their debt to society have the knowledge and resources necessary to become employed and engaged community members.
Democracy
Campaign Finance Reform & Gerrymandering
The Citizens United ruling is one of the most destructive decisions ever handed down by the U.S. Supreme Court. It ushered in an era of unchecked and unaccounted for political spending, and our nation has paid a dear price for it. I support campaign finance reform and efforts to reduce the influence of money in politics. I support efforts to bring greater transparency to campaign finance, overturn Citizens United, and block illegal foreign funds from influencing our elections.As we've increasingly dealt with the effects of special interests in campaign finance, it's important that all elected officials take a stand against letting a small group of funders influence our elections.
And because my commitment to campaign finance reform starts now, with my campaign, I will not accept any corporate PAC donations. I am proud that our campaign has earned the support of End Citizens United, a national organization committed to fighting for campaign finance reform.As a Virginian, I've seen the negative effects of gerrymandering. We need fairly-drawn, non-partisan districts to ensure the health of our representative democracy.
Economy
Advancements in technology have radically restructured the global economy. While these changes bring many benefits, they have also altered the employment landscape for many Americans. We must take steps to acknowledge and understand how this impacts individuals, salaries, and the economic growth across our country, so that we can plan accordingly and ensure that our workforce training meets the needs of the changing economy.
Our strength as a nation comes from the idea that anyone with a good idea can make it happen — the recent craft brewing renaissance we've experienced throughout central Virginia is just one example. This is why I support policies that empower small businesses (the backbone of our economy) to innovate and pursue bold entrepreneurial ventures.I also recognize that, despite living in an era of historic corporate profitability, people are working harder and harder, but their incomes are not keeping up with their expenses. Congress has had more than enough time to reinforce the middle class by prioritizing the people and small businesses that keep our economy strong; I will make them a priority.
I also support organized labor, as unions have historically been a driver of economic stability within America's middle class. This has been true for my own family, as my grandfather, a member of the International Union of Painters and Allied Trades, was able to raise his four children as a young widower because of the stability his union employment provided. As we see a changing landscape of employment opportunities, union apprenticeship programs remain an invaluable asset as they train the next generation of skilled workers
Education
As a proud graduate of Henrico County Public Schools and as a mother of children who attend public schools, I believe deeply in the value of public education. I will advocate for and work to strengthen our public education system. I support building more skills/career training and apprenticeship programs for Americans whose path to employment does not include a four-year degree. For those who attend two and four-year colleges, we should ensure that they are not saddled with debt when they graduate and enter the workforce. I will be a tireless advocate for our nation's students from the day they enter school to the day they graduate.

Environment
As a kid, I cherished the time I spent outdoors, trekking through the woods or picnicking in parks with my family. As an adult, I know how lucky we are to have Virginia's mountains, rivers, and beaches. It is our responsibility to protect these resources for our children and generations to come by investing in alternative and renewable energy sources and decreasing air and water pollution. Energy independence is good for the environment and good for the economy — solar energy job growth climbed 65% from 2015-16 in Virginia, making the Commonwealth one of the fastest growing solar job markets in the nation.We must do everything we can to seize this opportunity.
Climate change is real, and we're already seeing the effects right here in Virginia with rising sea levels, higher average temperatures, and stronger hurricanes. An investment in clean, renewable energy is an investment in our ecosystem, our health, and our economy. These efforts require significant coordination, as well as a shared baseline of facts, and I will stand up to attacks against science
Health Care
I will work to ensure that every person has quality, affordable healthcare. No one should have to choose between putting food on the table and getting the care, medication, or life-saving treatments they need. No one should lose or be denied coverage because of a pre-existing condition, and no one fighting a serious illness should face the fear of lifetime coverage caps. We can improve our healthcare system, while lowering costs, ensuring greater coverage, and achieving better outcomes, but it will take tremendous political will and a commitment to creatively looking at the options.
Assaults against the ACA, such as the removal of the individual mandate, are causing rising premiums and losses of coverage across our district and country. I support measures that would strengthen the framework of the ACA such as reinstating the individual mandate, which mitigates risk, and moving the enrollment deadline to align with tax day. To increase coverage nationwide, I support pursuing universal coverage through a public option, specifically the proposed Medicare-X Choice Act currently before the U.S. Senate.I support Medicare, Medicaid, and CHIP and the vital resources they provide to our seniors and most vulnerable citizens and children.
I also support protecting women's access to reproductive healthcare, including federal funding to Planned Parenthood and other providers that ensure essential healthcare to women and men.
Drugs and Addiction Crisis
Last year, drug overdoses remained the #1 cause of unnatural death in Virginia for the 4th straight year. The opioid crisis is having a serious impact on our communities and our economy, and we need to start thinking of new ways to address the problem. We must stop treating drug addiction as a crime.Substance use disorders are a health issue, and those suffering from them are in dire need of treatment.
We must treat this epidemic by studying the problem and all possible solutions. Adding to our already overcrowded jails and prisons is not the solution, and will not provide those battling addiction with a path to recovery. I support addressing prescribing practices, advocating for recovery programs, and working with law enforcement and our jails to ensure better outcomes
Immigration
The United States was founded as a nation of immigrants, but our current immigration system is broken. Too many politicians use immigration as a political talking point instead of actually trying to solve the problems.
I am committed to finding real, bipartisan solutions to fix our immigration system, and I will work with anyone to create a proposal for immigration reform that ensures border security, takes into account the needs of our workforce, respects our values and history, gives certainty to DACA recipients, and creates an earned pathway to legal status for undocumented immigrants currently living here as long as they abide by the law, work hard, and pay taxes.
As a CIA officer, I worked counter-terrorism and international drug trafficking cases. I understand the security threats we face, and I know we can secure our borders and points of entry without breaking from American values or tearing families apart. I will advocate for border security policies that use cutting edge technology, together with trained officers and physical infrastructure to ensure our nation's security at our borders and points of entry.As a former federal agent, I oppose any efforts to create safe havens for violent criminals. Our immigration system is broken, and both parties continue to play politics instead of working together to fix the problem
Infrastructure
Technology and the Internet
Access to broadband internet provides economic and educational opportunities, and I support efforts to bring broadband access to everyone here in the 7th and in underserved communities across the country.
I also support net neutrality. Legislation protecting net neutrality is vital to ensuring that the internet remains a conduit for free speech and a free market, and that it's available to those who rely on the internet to create opportunities or grow their business, whether they're working from home in Louisa or managing a farm in Culpeper. It is an essential service to small businesses, educators, and everyday citizens alike, and it must become and remain equally accessible to all users.
Safety
Gun Violence Protection
Thousands of Americans die each year due to violence, suicide, or accidents involving firearms, and our lawmakers' unwillingness to address this problem leaves our citizens and our children vulnerable. I am a former federal law enforcement officer, I used to carry a gun every day, and I support responsible gun ownership, but the ever-increasing number of Americans who die each day requires that we take action.
Addressing gun violence and protecting lives should not be a political issue; it is a public safety issue. I support background checks for all firearm purchases, regardless of where or from whom the purchases are made. States that require background checks for all purchases have fewer suicides by gun, fewer law enforcement officers shot and killed, and fewer women killed by an intimate partner. Ninety four percent of Americans support background checks for all firearms purchases, as well as the Law Enforcement Partnership to Prevent Gun Violence and the Virginia Association of Chiefs of Police.I support common sense gun policy, such as HR 2598, the Gun Violence Restraining Order Act of 2017.
The implementation of Gun Violence Restraining Orders allow family, friends, and law enforcement to help people facing crisis who, with a firearm in their possession, might be a risk to themselves or others. I support ensuring that states have the ability to provide current information to the NICs database to ensure informed background checks, and I support funding the research of gun violence. I also support the proposed HR 5087, the Assault Weapons Ban of 2018.Thoughts and prayers are not enough. Members of Congress must have the courage to address this problem and implement policies that will help keep our children and communities safe.
Social Security
Protecting Social Security and Medicare
For decades, working families have paid into the Social Security and Medicare programs with the understanding that they were paying for retirement security later in life. I oppose any attempts to privatize these systems or to cut benefits. I am committed to ensuring their viability, and I will work to protect Social Security and Medicare so we can meet our obligations to seniors, now and into the future.
Veterans
Unemployment, homelessness, and suicide rates among our nation's veterans are unacceptably high, and I will work to ensure that we, as a country, make the process of transitioning from active duty to civilian life a positive one for our veterans. I will work to ensure veterans' continued access to quality healthcare through our VA system, and I will work to strengthen existing efforts to improve our veterans' transitions to the civilian workforce through credentialing, education, and job training programs.
Marijuana and Hemp Policy
State policies on marijuana have rapidly evolved to reflect both public opinion and scientific data, but the federal government has failed to keep pace. I support Congress removing marijuana from the Controlled Substances Act and allowing states to enact marijuana laws without federal interference. Additionally, I believe we should end the ban on industrial hemp by removing it from the definition of marijuana. This change would allow an agricultural industry that's already started in the Commonwealth to flourish. Finally, I support allowing the marijuana industry to operate in a normal business environment – that means removing banking barriers to allow legitimate businesses to operate in states that have legalized marijuana for medical and adult-use.