Summary
Current Position: Attorney General since 2014
Affiliation: Democrat
Mission Statement: N/A
About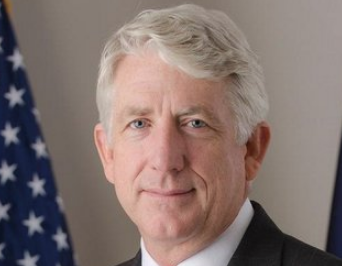 Source: Campaign page
Mark Herring was raised by a single mother in Loudoun County, Virginia. She instilled in him that when you see a problem in your community, you have an obligation to try and fix it. He worked construction and other jobs in order to help pay for college. And he's never forgotten where he came from, which is why he works every single day to make our families and communities safer.
As Attorney General, Mark has assembled an elite team of prosecutors to crack down on heroin dealers, violent gang members, gun runners, human traffickers, and those who attempt to exploit our children online.
He is helping survivors of sexual assault pursue justice by eliminating a three-decade-old backlog of more than 2,000 untested rape kits to find and prosecute criminals.
He has made communities safer by cracking down on illegal guns and promoting commonsense gun safety laws, like universal background checks, that keep guns out of the hands of dangerous criminals. And he has worked to improve relations between police departments and the communities they serve with innovative training and recruiting initiatives.
Since the day he was sworn in, Attorney General Herring has worked nonstop to defend the rights of Virginia taxpayers, seniors, veterans, and military families. He has won more than $100 million in debt relief and restitution for veterans and military families, and his best-in-the-nation Medicaid Fraud unit has saved taxpayers more than $60 million.
Just 12 days into his term, General Herring became the first attorney general to successfully argue that his state's ban on marriage for same-sex couples should be struck down, winning at the district court and appeals court before the United States Supreme Court let the decision stand, bringing marriage equality to the Commonwealth within 10 months of his taking office.
He has won huge victories in courts for clean air and water including the Chesapeake Bay, for affordable health care, and for the right of all Virginians to live and worship free from hate and discrimination.
Prior to being elected Attorney General, Mark served as a state Senator representing Loudoun and Fairfax counties. Mark worked on issues facing one of America's fastest-growing counties and some of the world's most innovative businesses. Mark also served on Loudoun County's Board of Supervisors, and was a small business owner, running a private practice in his hometown of Leesburg where he has practiced law for more than 20 years.
Mark received a bachelor's and a master's degree from the University of Virginia, and graduated with honors from the University of Richmond School of Law.
Mark and his wife, Laura, have been married for 27 years. They have two children, daughter Peyton, 24, and son Tim, 21.
Experience
Work Experience
Attorney
Private Practice
Member
Loudoun County Board of Supervisors
Education
JD
University of Richmond School of Law
BA and MA
University of Virginia
Contact
Email Links:
Offices
Richmond office
Attorney General's Office
202 North Ninth Street
Richmond, Virginia 23219
Phone: (804) 786-2071
Consumer Complaint Hotline
Phone: 1(800) 552-9963
Web
Government Pages, Campaign Site, Twitter, Facebook, LinkedIn, Flickr, YouTube
Politics
Source: Wikipedia
He served in elected office on the Loudoun County Board of Supervisors from 2000 to 2003, and was the Town Attorney for Lovettsville, Virginia, from 1992 to 1999. He is the principal with The Herring Law Firm, P.C., in Leesburg, Virginia.
Herring was elected to the Senate of Virginia in a special election triggered by two-term incumbent Republican Bill Mims' appointment as chief deputy attorney general of Virginia. He was re-elected to a full term in the 2007 election, and reelected in 2011.
On July 24, 2012, he announced that he would run for the office of Attorney General of Virginia, in the 2013 elections. On April 2, 2013, The Democratic Party of Virginia(DPVA) certified that Herring's name would appear on the June primary ballot. On June 11, 2013, Herring won the primary.
Fellow Democrat Jennifer Wexton won the election to succeed him in representing the 33rd Senatorial District.
Attorney General of Virginia
2013 Election
Herring faced Justin Fairfax in the Democratic primary in June 2013, winning narrowly by a margin of 52%-48%. He faced RepublicanMark Obenshain in the general election.
On the night of the election, Obenshain held a 1,200 vote lead over Herring. Vote totals fluctuated as ballots were canvassed in the following days, and the race remained too close to call. On November 12, 2013, with all ballots counted, Herring held a 165-vote lead, or less than 0.01%, and Obenshain requested a recount. Herring's total increased during the recount, so Obenshain conceded the election on December 18, 2013, and later that day, the recount ended with Herring winning by 907 votes, or 0.04%.
Tenure
Herring was sworn into office on January 11, 2014.
Virginia Marriage Amendment
On January 23, 2014, Herring announced that he would not defend the Virginia Marriage Amendment in federal court, and filed a brief in a federal lawsuit being brought against the law asking for it to be struck down. Herring said in a press conference announcing the move, "I believe the freedom to marry is a fundamental right and I intend to ensure that Virginia is on the right side of history and the right side of the law."
Reaction to the announcement was mainly along party lines, with Democrats mostly praising the move and Republicans mostly criticizing it as a violation of his oath of office. The National Organization for Marriage has called for Herring's impeachment, claiming that the Virginia attorney general is obligated to defend all state laws against challenges. In the press conference, Herring said, "There are those who will say that the attorney general is required to defend every challenge to a state law, even a law that is unconstitutional. They could not be more wrong."
The amendment would be ruled unconstitutional by the U.S. District Court in Norfolk in the case Bostic v. Schaefer on February 13, 2014. On July 28, 2014, the Fourth Circuit Court of Appeals issued a 2–1 opinion upholding the lower court's decision. This was appealed to the Supreme Court of the United States, which denied a writ of certiorari, letting the Fourth Circuit Court's decision stand and legalizing same-sex marriage in Virginia.
2017 Election
Herring faced no opposition in the Democratic primary and won his party's endorsement for re-election. He defeated Republican opponent John Donley Adams and won re-election. His former opponent and fellow lawyer Justin Fairfax won the race for Lieutenant Governor of Virginia in the same year.
Recent Elections
2017 Attorney General for
| | | |
| --- | --- | --- |
| Mark Herring (D) | 1,385,390 | 53.3% |
| ohn Donley Adams (R) | 1,209,540 | 46.6% |
| Write In | 2,614 | 0.1% |
| TOTAL | 2,597,544 | |
Attorney General for
| | | |
| --- | --- | --- |
| Mark Herring (D) | 1,103,777 | 49.9% |
| Mark Dudley Obenshain (R) | 1,103,612 | 49.9% |
| Write In | 5,462 | 0.2% |
| TOTAL | 2,212,851 | |
Source: Department of Elections
Finances
Source: Follow the Money
Voting Record
See: Ballotpedia
New Legislation
Source: Ballotpedia
Issues
Source: From Government Site
Mark Herring became the 48th Attorney General of Virginia on January 11, 2014. He is working to keep Virginia families safe in their communities and neighborhoods, promote justice, equality, and opportunity for all Virginians, and provide legal services to the people of Virginia and their government.
As Attorney General, Mark has built a record of:
Combating the heroin and opioid epidemic with a comprehensive strategy that includes: 

Enforcement—Attorney General Herring has assembled a team of prosecutors to take down dealers, traffickers, and those who profit off addiction. His team has worked more than 85 cases against dealers and traffickers involving more than 434 pounds of heroin, which is approximately 1.97 million doses worth about $29.5 million on the street.
Education, Prevention, and Treatment—Attorney General Herring launched an innovative education and prevention campaign to prevent heroin and prescription drug abuse, because he knows we can't arrest our way out of this problem. He has created an award winning documentary, "Heroin: The Hardest Hit," and a companion website, www.HardestHitVA.com, to serve as a one-stop-shop for education, prevention, and treatment resources in Virginia.
Legislation—Attorney General Herring has led bipartisan efforts in the General Assembly to expand the availability of naloxone, a life-saving overdose reversal drug, to law enforcement agencies, families confronting addiction, and community prevention organizations. He helped pass Virginia's first "Good Samaritan" safe reporting law to encourage people to call 911 during an overdose.

Fighting for Virginia taxpayers, seniors, and veterans and military families. Attorney General Herring's Consumer Protection section has won more than $100 million in debt relief for veterans and military families who were targeted by shady businesses. He has recovered millions from banks and mortgage companies who he believes took advantage of Virginians. His Medicaid Fraud Control Unit has recovered more than $69 million for Virginia taxpayers and was named best in the nation. He has secured the largest multistate consumer settlement ever lead by Virginia and the largest ever non-healthcare settlement for claims under the Virginia Fraud Against Taxpayers Act.
Transforming the way Virginia works to prevent and respond to sexual and domestic violence by leading a $3.4 million project to completely eliminate the Commonwealth's backlog of more than 3,000 untested rape kits. He chaired Governor Terry McAuliffe's Task Force on Combating Campus Sexual Violence, and has helped dozens of communities implement Lethality Assessment Protocols to protect survivors of domestic violence and prevent domestic homicides.
Preparing the Commonwealth for emerging safety threats by providing new resources and technology to fight child exploitation, human trafficking, and gang violence, and a range cyber-crimes that target Virginia children, consumers, and businesses.
Fighting for the fundamental rights of all Virginians, including the economic and reproductive rights of Virginia women, and the rights of LGBT Virginians to marry the person they love and be free from discrimination. He won the nation's first preliminary injunction striking down President Trump's unconstitutional Muslim ban, and sought new tools and provided new resources to prevent hate crimes and ensure all Virginians can live, learn, work, and worship free from discrimination and intimidation.
Promoting a strong business environment by ensuring the laws of the Commonwealth are applied evenly and fairly so Virginia businesses can make the investments needed to succeed in the long term. He helped craft legislation to crack down on 'patent trolls' who tie up the courts and Virginia businesses with baseless lawsuits, and legislation to help Virginia and Virginia businesses succeed in the emerging sharing economy.
Protecting Virginia's natural resources by fighting in court for clean air, clean water, renewable energy, and the Chesapeake Bay. He secured Virginia's largest ever environmental damages settlement and has numerous enforcement actions for violations of the Clean Water Act.
Modernizing and reforming the Office of Attorney General to give taxpayers the best value for their dollar, promote transparency and accountability, and update the use of technology. On his first day in office, he instituted a strict gift ban on himself, his family, and his employees.
Mark has lived most of his life in Loudoun County. After receiving bachelor's and master's degrees from the University of Virginia, he graduated with honors from the University of Richmond School of Law before returning to Loudoun and establishing a successful law practice in Leesburg.
Mark got his start in public service as the town attorney for Lovettsville, and then was elected as a member of the Loudoun County Board of Supervisors. Prior to serving as Attorney General, he served eight years in the Senate of Virginia, representing parts of Loudoun and Fairfax Counties, working to bring technology-based economic development to the Northern Virginia region, secure transportation funding for needed projects, and make both state and local governments more accountable to the citizens of Virginia.
He and his wife, Laura, have been married for more than 25 years. They have raised their two children in college, daughter Peyton and son Tim, in Loudoun County, where they are members of the Leesburg Presbyterian Church.
For more information: Wikipedia   Ballotpedia  VPAP   Vote Smart
News
Source: Government
News Releases
Twitter
Facebook
Videos
YouTube Channel
Feedback
Post Curator
The lead curator for this Mark Herring post is gmuchapter.
If you have any content you would like to add to this post, submit it to gmuchapter@onair.cc.
If you have any questions for Mark Herring, send them to gmuchapter. GMU will first see if Mark Herring has answered your question somewhere else. If they haven't, GMU will pass on your question to Mark Herring and post their answer, if they have one.
If you have any suggestions for Mark Herring, especially if you are a current or former constituent, send them to gmuchapter. GMU will record your suggestions here.
If you have something positive to say about Mark Herring and you are a Virginia onAir Hub member, send your recommendations to gmuchapter.
Forum - Coming Soon
If you want to comment directly to this or other Hub posts, you will need to be a Hub member and follow these simple rules:
All discussion and debate on the Virginia onAir Elections & Governance Hub should be respectful and compliant with all applicable laws. We will not tolerate harassment, criminal threats, or offensive comments against an individual based on a protected characteristic. Our full Curation Principles and Guidelines should offer all needed clarification, and we encourage all users to report objectionable content on our anonymous reporting form.
Sponsor this Hub
If you would like to donate to or sponsor the Virginia onAir Hub or sponsor posts, go here. All donations are made to Democracy onAir – a nonprofit, nonpartisan 5013c organization chartered in Virginia.