Summary
About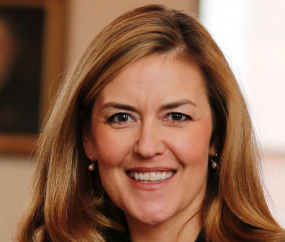 Source: Government page
Congresswoman Jennifer Wexton has been serving the people of Northern Virginia and Shenandoah Valley for nearly two decades as a prosecutor, advocate for abused children, state Senator, and now a member of the U.S. House of Representatives from Virginia's 10th District.
A native of the Washington area, Jennifer graduated with honors from the University of Maryland in College Park, and earned her law degree in 1995 from the College of William and Mary in Williamsburg, Virginia. She lives in Leesburg with her husband, two sons, and two rescued labrador retrievers.
From 2001 to 2005, Jennifer served as an Assistant Commonwealth's Attorney for Loudoun County, prosecuting felony and misdemeanor criminal and traffic cases in all of the Loudoun Courts. She successfully prosecuted hundreds of trials, including those of criminals who committed domestic violence, sexual offenses, and murder.
After leaving the prosecutor's office, Jennifer went into private law practice, but remained committed to public service. She served as a court-appointed guardian ad litem, representing children who had been abused or neglected. She also served as a special justice in mental commitment hearings, and a substitute judge in proceedings in Loudoun County's district courts.
Jennifer took her passion for protecting others to the state Senate, winning a special election in January 2014. In her five years in Richmond, Jennifer passed more than 40 bills while serving in the minority party. She found bipartisan support for legislation that makes our children safer, combats the heroin and opioid epidemic, increases access to affordable healthcare, prepares our children for jobs of the future, eases traffic congestion, and brings more businesses to Northern Virginia.
Jennifer comes to Congress with experience in legislating and a deep understanding of Virginia's 10th district and the issues that matter most to our region's families. Rep. Wexton looks forward to working across the aisle in Congress to deliver positive results for the people of Northern Virginia and the United States.
Experience
Work Experience
Assistant Commonwealth's Attorney
Loudoun County
Lawyer
Laurel Brigade Law Group
Education
JD
College of William and Mary
1995
Honors graduate
University of Maryland
Contact
Email:
Web
Campaign Site, Twitter, Facebook, Instagram, Government Page, Government Page
Politics
Source: Wikipedia
Early career
Wexton was a partner in the Laurel Brigade Law Group. She has served as a substitute judge in Loudoun County, Virginia, and, from 2001 to 2005 as an Assistant Commonwealth's Attorney. She successfully prosecuted Clara Jane Schwartz for the murder of Schwartz's father, Robert Schwartz. Wexton ran for Loudoun County Commonwealth's Attorney in 2011, losing to incumbent Jim Plowman. She was elected to the Virginia State Senate in 2014.
Virginia Senate
After Mark Herring, who represented the 33rd district in the Virginia Senate, won the 2013 election to serve as the Attorney General of Virginia, Wexton declared her candidacy in the special election to fill the seat. The district included northeastern Loudoun County and northwestern Fairfax County. In the Democratic primary, Wexton defeated Herndon Town Councilor Sheila Olem. In a campaign ad, Wexton spoke of her experience defending victims of rape and assault, and said she would "fight just as hard against tea party Republicans who would take away a woman's health care and her right to choose, even in cases of rape and incest". The Republican Party of Virginia criticized the ad, saying it compared Tea Party activists to rapists; Wexton's campaign denied the comparison. She faced Republican John Whitbeck and Republican-turned-Independent Joe T. May in the January 2014 special election, and won 53%–38%–10%. She assumed office on January 24, 2014, and was reelected in the November 2015 general election. After being elected to the U.S. House of Representatives, Wexton resigned her seat in the Virginia Senate on January 3, 2019 to be sworn in as a U.S. Representative.
U.S. House of Representatives
In April 2017, Wexton announced that she would run in the Democratic primary for the 10th District. Her state senate district included much of the eastern portion of the congressional district, wrapping around Leesburg and Sterling. In June 2018, she won a six-way primary to become the Democratic nominee for the November 2018 general election, in which she defeated Republican incumbent Barbara Comstock, taking 56 percent of the vote to Comstock's 44 percent. When she took office in January 2019, she will be only the fifth person to represent the district since its creation in 1953, and the second Democrat. The first was Joe Fisher, who held it from 1975 to 1981.
Shortly after defeating Comstock, Wexton declared her support for DC Statehood. Wexton said "the fact that D.C. residents pay taxes and don't get any representation is absurd, and I think that we should make sure they get voting representation." DC's non-voting Congressional Delegate, Eleanor Holmes Norton, thanked Wexton for her comments.
In January 2019, Wexton hung a transgender pride flag outside her office to show her support for the transgender community, saying, "The trans community has been under attack. I wanted to show my solidarity because we are talking about my friends and family".
Recent Elections
2018 US Representative for US House District 10
| | | |
| --- | --- | --- |
| Jennifer Wexton (D) | 206,356 | 43.73% |
| Barbara J. Comstock (R) | 160,841 | 43.73% |
| Write In (Write-in) | 598 | 0.16% |
| TOTAL | 367,795 | |
2015 State Senator for VA Senate District 33
| | | |
| --- | --- | --- |
| Jennifer Wexton (D) | 18,577 | 56.6% |
| Stephen Bartholomew Hollingshead (R) | 14,190 | 43.2% |
| Write in (Write-in) | 59 | 0.2% |
| TOTAL | 32,826 | |
2013 State Senator for VA Senate District 33
Jennifer Wexton (D)
11,431
52.7%
John Carroll Leon Whitbeck, Jr. (R)
8,133
37.5%
oe Turner May ()
2,117
9.8%
Write in (Write-in)
4
TOTAL
21,685
Source: Virginia Legislative Information System
Finances
WEXTON, JENNIFER has run in 3 races for public office, winning 3 of them. The candidate has raised a total of$7,578,171.
Source: Follow the Money
Committees
Committees
Committee on Financial Services
Committee on Space, Science and Technology
Subcommittees
Subcommittee on Consumer Protection and Financial Institutions
Subcommittee on National Security, International Development and Monetary Policy.
Subcommittee on Space and Aeronautics
Subcommittee on Oversight
Voting Record
See: Vote Smart
New Legislation
Source: Government website
News
Source: Government
Twitter
Facebook
Videos
Speeches
Rep. Wexton Tells Stories of #VA10 Federal Workers on the House Floor (1.11.19)
Published on January 11, 2019
Rep. Wexton shared the story of an air traffic controller who received a paycheck for $0 despite working two weeks during the shutdown.
Rep. Wexton Delivers Her First Floor Speech on the Shutdown
Published on January 11, 2019
Congresswoman Jennifer Wexton (D-VA) delivered her first floor speech as a new Member of Congress, telling the story of a VA-10 constituent who has been impacted by the ongoing shutdown. Rep. Wexton's district is home to tens of thousands of federal employees and even more government contractors.
Rep. Wexton told the story of a young couple who had to return their family's Christmas presents just to put food on the table. Their situation is all too common in Northern Virginia right now, as this shutdown approaches the longest in America's history.
Discuss
Post Curator
The lead curator for this Jennifer Wexton post is Virginia onAir.
If you have any content you would like to add to this post, submit it to virginia@onair.cc.
Feedback
Feedback discussion coming soon.
Issues