Top News
When Virginia Gov. Ralph Northam looks back at his tenure, the inflection point between being a run-of-the-mill executive and the progressive leader he has become is a painful one.
The scandal — born of the discovery of a decades-old yearbook photo that featured someone in blackface — was an existential crisis for Northam and his administration. After initially saying the person in question was him, he denied it but admitted to darkening his skin as part of a Michael Jackson dance contest in 1984. Almost every Virginia Democrat called for his ouster as the state examined its racist past. Those closest to Northam said he was close to resigning.
How the governor survived was a surprise even to his most ardent supporters. The man who was nearly thrown out of office by his own party has, in the two years since, become a progressive champion, working with the same Democrats who called for his resignation to tighten gun laws in the commonwealth, restore the voting rights to nearly 70,000 felons, approve voting rights legislation and abolish the death penalty in the state. And just this week Northam signed legislation that would legalize marijuana this summer, the first Southern state to do so.
Summary
Current Position: Governor since 2018
Affiliation: Democrat
Former Position(s): Lt. Governor from 2014 – 2018; State Senator from 2008 – 2014
Governor Ralph Northam addresses the Virginia House of Delegates, January 20, 2020. 
"Governor Northam approaches public service with the same passion he brought to his military and medical service. He is committed to working with leaders from both parties to build a Virginia that works better for every family, no matter who they are or where they live."
Featured video: Annual address to Virginia senators, delegates and supreme court justices on Jan. 8, 2020 in the Richmond State Capitol building. Content from the original Virginia House of Delegates recording has not been edited in any way.
Source: Government page
About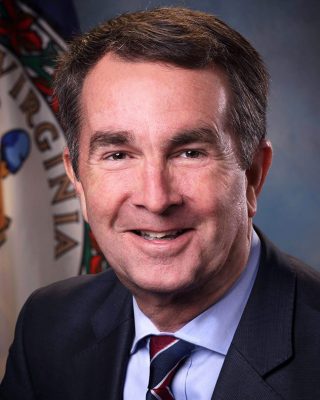 Source: Government page
Before he was inaugurated as the 73rd Governor of the Commonwealth of Virginia, Ralph Northam served as an Army doctor, pediatric neurologist, business owner, state Senator and Lieutenant Governor.
A native of Virginia's Eastern Shore, Governor Northam was educated at the Virginia Military Institute (VMI), where he graduated with distinction.
After graduation, Governor Northam was commissioned as a second lieutenant in the United States Army. He served eight years of active duty and rose to the rank of major.
He attended Eastern Virginia Medical School and then traveled to San Antonio for a pediatric residency, where he met his wife Pamela, a pediatric occupational therapist at the same hospital.  Governor Northam did his residencies at the Walter Reed Army Medical Center and served as chief neurological resident at Johns Hopkins Hospital. As an Army doctor, he served in Germany, treating soldiers wounded in Operation Desert Storm.
When Governor Northam and Pamela returned home, they chose to build their life in Hampton Roads. He began practicing pediatric neurology at Children's Hospital of the King's Daughters in Norfolk. He established Children's Specialty Group, his current medical practice, to provide expert pediatric care for patients. Governor Northam also served as assistant professor of neurology at Eastern Virginia Medical School, where he taught medicine and ethics.
Governor Northam volunteered as medical director for the Edmarc Hospice for Children in Portsmouth, where he spent 18 years caring for terminally ill children.
Governor Northam approaches public service with the same passion he brought to his military and medical service.  He is committed to working with leaders from both parties to build a Virginia that works better for every family, no matter who they are or where they live.
Governor Northam is the first native of the Eastern Shore to serve as Governor since Governor Henry A. Wise took office 1856. He is also the first VMI Keydet to serve as Governor since Governor Westmoreland Davis took office in 1918.
Governor Northam and First Lady Pamela Northam have two adult children: Wes, a neurosurgical resident in Chapel Hill, and Aubrey, a web developer in Richmond.
Experience
Work Experience
pediatric neurologist
Children's Hospital of the King's Daughters in Norfolk, Virginia.[
1992 to present
medical officer
United States Army
1982 to 1984
Education
MD
Eastern Virginia Medical School
1984
BA
Virginia Military Institute
1981
Contact
Email:
Offices
Richmond Office
Virginia Governor
Ralph Northam
P.O. Box 1475
Richmond, VA 23218
Phone: 804-786-2211
Web
Government Page, Twitter, Facebook, Instagram, YouTube
Twitter
Politics
Source: Wikipedia
Prior to entering politics, Northam voted for Republican George W. Bush in the 2000 and 2004 presidential elections, a fact that opponents raised in later Democratic primaries. Northam says that he was apolitical at the time and regretted those votes, saying: "Politically, there was no question, I was underinformed."
Virginia State Senate
Northam first ran for office in 2007 in the Virginia 6th Senate district, which includes the Eastern Shore of Virginia; Mathews County, on the Middle Peninsula; and parts of the cities of Norfolk and Virginia Beach. He was unopposed for the Democratic nomination. On November 6, 2007, he defeated Nick Rerras, a two-term Republican incumbent, 17,307 votes to 14,499.
He was re-elected in November 2011, defeating Ben Loyola Jr., a defense contractor, 16,606 votes to 12,622.
One of Northam's first major activities as a state legislator was to lead an effort to pass a ban on smoking in restaurants in Virginia. The bill failed the first time, but was passed the next year and signed into law by Governor Tim Kaine.
In 2009, Northam—a self-described "conservative on fiscal issues and liberal on social issues" was the subject of an attempt by state Senate Republicans to get him to switch parties. This action would have given Republicans control of the State Senate, but after news of the imminent switch broke on Twitter, Democrats held a closed-door meeting, and Northam reiterated that he was not leaving the party. He later said, "I guess it's nice to be wanted, but I'm a Democrat, and that's where I'm staying."
Lieutenant Governor of Virginia
Northam ran for Lieutenant Governor of Virginia in the 2013 election. Northam competed against U.S. Chief Technology Officer Aneesh Chopra for the Democratic nomination. On June 11, 2013, Northam won the Democratic primary over Chopra with 54% of the vote to Chopra's 46%.
On November 5, 2013, Northam was elected as Virginia's 40th Lieutenant Governor over Republican E. W. Jackson by a 10% margin, receiving 55% of the vote to Jackson's 45%.Northam was the first Democrat since Tim Kaine in 2001 to be elected Lieutenant Governor of Virginia.
2017 gubernatorial election
In February 2015, just over a year into his term as lieutenant governor, Northam confirmed his interest in running for Governor of Virginia in 2017.  He made these intentions official on November 17, 2015, via an email to supporters.
Northam faced former congressman Tom Perriello in the Democratic primary. The primary campaign was seen as a proxy battle between the Bernie Sanders and Elizabeth Warren wing of the Democratic Party, represented by Perriello, and the wing, represented by Northam. On June 13, 2017, Northam won the Democratic nomination with 56% of the vote to Perriello's 44%. He faced Republican nominee Ed Gillespie in the general election.
Northam's campaign funds were heavily depleted by the end of the primary race. He was left with around $1.75 million, which amounted to roughly half of Gillespie's remaining funds. But by the end of summer 2017 Northam's war chest had grown "twice as large [as Gillespie's] heading into the last two months of the campaign, according to finance reports." Northam led Gillespie among small donors, as well: "5,900 donations under $100 to Gillespie's 2,100."
In October 2017, the Northam campaign released a small number of flyers omitting Northam's running-mate for Lieutenant Governor,Justin Fairfax. These were released at the request of Laborers' International Union of North America, which had endorsed Northam (and Northam's running mate for Attorney General, Mark Herring, who was included on the flyer), but not Fairfax. LIUNA explained that Fairfax opposes the construction of natural gas pipelines that are favored by the organization. As Fairfax is black, while Northam and Herring are both white, some activists criticized the decision to accommodate LIUNA's request. All houses that received the LIUNA flyers also received standard campaign flyers including Fairfax.
During the campaign, Gillespie and President Donald Trump accused Northam of being responsible for the increased activities of theMS-13 gangs and of being "in favor of sanctuary cities that let dangerous illegal immigrants back on the streets." Gillespie and Trump said that Northam had been the deciding vote to stop a Republican bill in the state Senate which would have banned sanctuary cities and that this contributed to the surge in MS-13 violence; a notion that FactCheck.org found to be "misleading". TheWashington Post and CNN noted that there are no actual sanctuary cities in Virginia. Gillespie himself acknowledged that Virginia did not have sanctuary cities. The Washington Post furthermore noted that there is no evidence that sanctuary cities increase crime or gang activity, and that Virginia communities with higher immigrant populations have lower crime rates.
Later that month, the Latino Victory Fund, which supports Northam, released an ad in which a pickup truck, adorned with a Gillespie bumper sticker, a "Don't tread on me" license plate, and a Confederate flag, chases down minority children and corners them in an alley—one of the children in the ad then wakes up, revealing the scene to have been a nightmare.[42][43] Although Northam and his campaign were not involved with the ad, Northam initially defended it, saying Gillespie's own ads "have promoted fearmongering, hatred, bigotry, racial divisiveness," and adding, "I mean, it's upset a lot of communities, and they have the right to express their views as well." The ad was pulled the following day in the hours after the terrorist attack in New York City, in which a man killed several people by running them over with a truck. Northam then distanced himself from the ad, re-emphasizing that it was not released by his campaign and saying that it is not one that he would have chosen to run. A spokesman for the campaign said that the Latino Victory Fund's decision to pull the ad was "appropriate and the right thing to do." FOX 5 DC reported that the Northam campaign had accepted $62,000 as an in-kind media contribution from the Latino Victory Fund.
In the final week of the campaign, Northam stated that he would as governor sign a bill to ban sanctuary cities in Virginia similar to a bill he had voted against in the state Senate earlier in 2017. In response, the progressive group Democracy for America stated that it stopped direct aid of Northam's campaign. Howard Dean, who founded Democracy for America, but left the organization in 2016, wrote on Twitter that the organization had discredited itself and called its decision to stop aiding Northam's campaign "incredibly stupid". Democracy for America had already stopped collecting data for Northam and had ceased mentioning him in get-out-the-vote calls due to his campaign's decision to remove Justin Fairfax from certain campaign fliers.
Northam held campaign rallies with former President Barack Obama and former Vice President Joe Biden during the general election campaign.
According to the Washington Post, Northam owns stock in several companies "doing extensive work in Virginia". Northam has stated that if elected governor, he would place his financial investments into a blind trust, so as to avoid any potential conflicts of interest.
According to the Virginia Public Access Project, as of November 3, 2017, Northam has raised $33.8 million to Gillespie's $24.5 million.
Northam was elected 73rd Governor of Virginia on November 7, 2017, defeating Ed Gillespie in the general election with a larger-than-expected nine-point margin of victory.
Governor of Virginia
Northam was sworn in as Governor of Virginia at noon on January 13, 2018 at the State Capitol. He became the second Eastern Shore native to serve as Governor of Virginia, after Henry A. Wise (who was elected in 1855) and the second alumnus of Virginia Military Institute to serve as governor, after Westmoreland Davis (who was elected in 1917). A majority of Northam's cabinet secretaries are female, a first in Virginia history. Residents from every county in Virginia attended Northam's inauguration (which reportedly marked another first for the state) and twenty-six groups participated in the inaugural parade, which has been called the largest and most diverse in state history.
Recent Elections
2017 Governor
| | | |
| --- | --- | --- |
| Ralph Northam (D) | 1,408,818 | 53.9% |
| Edward Walter Gillespie (R) | 1,175,732 | 45.0% |
| Clifford Daniel Hyra (L) | 27,987 | 1.1% |
| Write in (Write-in) | 1,528 | 0.1% |
| TOTAL | 2,614,065 | |
2013 Lt. Governor
| | | |
| --- | --- | --- |
| Ralph Northam (D) | 1,213,155 | 55.1% |
| Earl Walker Jackson, Sr. (R) | 980,257 | 44.5% |
| Write in (Write-in) | 8,225 | 0.4% |
| TOTAL | 2,201,637 | |
2011 State Senator
| | | |
| --- | --- | --- |
| Ralph Northam (D) | 16,606 | 56.8% |
| Benito Loyola, Jr. (R) | 12,622 | 43.1% |
| Write in (Write-in) | 31 | 0.1% |
| TOTAL | 29,259 | |
Source: Department of Elections
Finances
NORTHAM, RALPH S has run in 4 races for public office, winning 4 of them. The candidate has raised a total of $41,626,149
Source: Follow the Money
Voting Record
See: Vote Smart
Issues
Source: Wikipedia
The Washington Post described Northam as a moderate state senator who moved to the left on some issues during the 2017 gubernatorial Democratic primary, such as support for a $15 minimum wage and opposition to a state constitutional amendment enshrining right-to-work legislation.
Civil Rights
Abortion
Northam supports abortion rights. In the Virginia General Assembly, he opposed a bill to mandate vaginal ultrasounds for women seeking abortions, and voted against the bill when it was revised to mandate only abdominal ultrasounds. He was endorsed in the 2017 Democratic gubernatorial primary by the abortion rights group NARALand its Virginia affiliate. Northam has argued for reducing abortion rates through education and expanding access to contraceptives.[126] Planned Parenthood pledged to spend $3 million supporting Northam in his 2017 general election campaign for governor. Northam opposes banning abortions after 20 weeks through a state version of the Pain-Capable Unborn Child Protection Act.
For third-trimester abortions, Northam supports Virginia's current law requiring certification by multiple physicians. During a January 2019 radio interview, Northam said that third-trimester abortions may be done in cases of a non-viable fetus or severe deformity. If a delivery occurred in such cases, Northam further stated that, "The infant would be resuscitated if that's what the mother and the family desired, and then a discussion would ensue between the physicians and the mother." This statement drew intense criticism from Republican politicians nationwide, many of whom accused Northam of supporting infanticide
LGBTQ rights
Northam has supported LGBT rights throughout his political career. While running for lieutenant governor in 2013, he criticized his Republican opponent, E. W. Jackson, for making what were widely considered to be divisive statements about LGBT individuals. During a debate with Jackson, who is a minister, Northam said, "What I do in church translates to what I do in everyday life. Whether it's said in my church or whether it's said in my medical clinic or whether it's said before the Senate, it's on me and it's what I believe in." That summer, when the United States Defense Department began offering marriage benefits to military personnel in same-sex relationships, Northam and Jackson disagreed with each other on the issue. Jackson said that because gay marriage was illegal in Virginia at the time, the state should withhold benefits from gay couples serving in its National Guard, while Northam supported the federal policy. Northam said that equalizing benefits for gay couples in the United States military is about "being fair with those who have served our country."
During the 2013 campaign, Northam said that opposition to LGBT rights would create an unwelcoming business environment in Virginia. In 2015, he used his tie-breaking abilities as lieutenant governor to defeat a bill in the state Senate that would have forced Virginia Attorney General Mark Herring to defend the state's gay marriage ban; Herring had argued that the ban was unconstitutional.
In 2017, while running for governor, Northam spoke against the Physical Privacy Act, a bill proposed that year in Virginia, which if passed, would have required people in government facilities to use restrooms corresponding to the gender specified on their original birth certificates. Northam called the Physical Privacy Act a "job-killing, prejudicial bill".[198] Later that same year, before Northam was elected governor, the Physical Privacy Act was defeated in the state legislature.
Northam condemned the decision by President Donald Trump to ban transgender service members from the United States military. Shortly after Trump announced this policy, Northam tweeted, "Anyone who wants to serve our country in the military should be welcomed. They're patriots and should be treated as such."
Northam's first official action as governor was to sign an executive order banning the executive branch of the state government from discriminating against LGBTQ employees. The state of Virginia currently does not have any legislation protecting LGBTQ employees from employment discrimination. Protections on the bases of sexual orientation and gender identity that had been established through an executive order issued by Northam's gubernatorial predecessor, Terry McAuliffe,[f] were maintained by Northam's own executive order, which went further, introducing, for the first time in Virginia, protection on the basis of gender expression.
While serving as lieutenant governor, Northam broke a tie in the state Senate, supporting a bill that would have codified into state law the protections included in McAuliffe's aforementioned executive order. This bill was defeated in the House of Delegates. If passed, it would have applied to all state and local government employees in Virginia; each anti-discrimination executive order issued by a Virginia governor has only applied to employees under the governor's personal authority.[208][219]Legislation that would have codified Northam's own executive order into state law passed the state Senate in 2018 and 2019, but failed both years to pass in the House of Delegates.
Marijuana
Northam favors decriminalizing marijuana.
Democracy
Redistricting
During his 2017 campaign for governor, Northam said that if elected, he would approve a map of new Virginia legislative and congressional boundaries in the post-2020 redistricting only if it is drawn by a nonpartisan commission.
Campaign and voting legislation
n January 2019, Northam introduced legislation including bills to end Virginia's photo ID law and a bill to allow absentee "no-excuse" voting to replace the current law which contains limits. He is also proposing new campaign finance limits that would block direct donations from corporations, cap donations at $10,000, and prohibit the personal use of campaign funds by lawmakers.[
Economy
Northam supports increasing Virginia's minimum wage, which at $7.25 an hour, has not surpassed the federally mandated level set in 2009.[152][153] While serving as lieutenant governor in 2014, Northam broke a tie in the Virginia state Senate, passing a bill that would have increased the state's minimum wage by increments.[152][154][155]Under the bill, the state's minimum wage would have settled at $9.25 an hour, after two years.[156] The measure was never enacted due to failing in the Virginia House of Delegates.[152][155][156] Three years later, as a gubernatorial candidate, Northam proposed that Virginia set its minimum wage at $15 an hour.[152][c] As governor, Northam plans to campaign against Republican state legislators who oppose a higher minimum wage.[152] Northam has pointed to the costliness of transportation in rural parts of the state to dispute the notion that a $15 minimum wage is too high for those areas.[157] During Northam's first year as governor, he vetoed a bill passed by the Republican-controlled legislature that would have banned localized minimum wages for government contractors.[158]
During his 2017 campaign for governor, Northam was endorsed by the Laborers' International Union of North America; the union praised Northam for his opposition to a "right-to-work" amendment to the Virginia state constitution.[159] Northam criticized the repeal of the car tax under former Governor Jim Gilmore because of its impact on both K-12 and higher education, saying Virginia still has not recovered.[160]
Northam "has called for phasing out the grocery tax on low-income people and ending business taxes in struggling rural areas."[161] He has called for a bipartisan reform commission to make recommendations on state tax policy.
Education
Northam has proposed making it free for students to pursue a community college education or apprenticeship in a high-demand field (such as cybersecurity and early-childhood education) under the condition that they commit to a year of paid public service.[67]
Northam opposes public funding for private schools.
Environment
Environment and energy
Northam accepts the scientific consensus on climate change and as a candidate for governor vowed to lead efforts to fight climate change. He pledged, if elected, to bring Virginia into the United States Climate Alliance, a multi-state agreement to uphold greenhouse gas emissions standards. Northam has emphasized the negative effects of climate-change-induced sea level rise on Virginia's Tidewater region.
During his 2017 campaign for governor, Northam pledged if elected to continue implementing the total maximum daily load limits for nitrogen and phosphorus discharges into Chesapeake Bay, a policy that had reduced harmful algal blooms. Northam said he would continue this policy even if the federal government under Donald Trump cut or eliminated funding for the program. During his campaign, Northam was endorsed by the Virginia League of Conservation Voters and the Virginia Sierra Club.
Northam has offered conditional support for the proposed Atlantic Coast Pipeline, provided that the pipeline's construction is deemed to be environmentally safe.[164][165] He has avoided taking a firm stance on other pipelines such as the Mountain Valley Pipeline.[166] He opposes both offshore drilling and fracking.
Northam has supported the Regional Greenhouse Gas Initiative (RGGI). In 2019, he vetoed a bill that would have prohibited Virginia from entering into the initiative, but in May 2019, he chose not to veto language in the state budget that prohibits spending related to the initiative, because under Virginia law, governors are generally not allowed to issue line-item vetoes of the state budget. According to The Washington Post, had Northam issued the veto, it could have been challenged in court by the Republican-controlled legislature, and Northam wanted to avoid a long legal confrontation. Northam has said that he will seek to implement RGGI spending in future budgets.
Health Care
Northam supports the Affordable Care Act ("Obamacare"), although he has argued that it is in need of improvement. After Republican attempts to repeal the law, Northam called for members of Congress to "put a stop to the uncertainty and work on stabilizing and building on the Affordable Care Act's progress."
Northam opposes a single-payer healthcare system in Virginia, preferring that such a plan be run by the federal government, but supports the creation of a state-run public health insurance option.[67]
On June 7, 2018, Northam signed a bipartisan bill expanding Medicaid in Virginia. This fulfilled one of his central campaign promises.[174][175] Northam's gubernatorial predecessor, Terry McAuliffe, had tried throughout all four years of his own term in office to enact Medicaid expansion, but McAuliffe was never able to secure enough support from Republicans, who controlled the state legislature at the time. Following the 2017 election, which brought significant gains for Democrats in the Virginia House of Delegates, Republicans still held a narrow legislative majority; during this time however, opposition to Medicaid expansion diminished among Republicans, several of whom were willing to crossover in support of the bill. Once the bill was enacted on January 1, 2019, Virginia became the 33rd state to expand Medicaid and the first to do so since Louisiana in 2016. Enrollment in the expanded program began on November 1, 2018. By the beginning of 2019, more than 200,000 Virginians had enrolled in Medicaid as part of the expansion.
On February 21, 2019, Northam signed a bipartisan bill raising the smoking age in Virginia from eighteen to twenty-one.
Family leave and child care
When Northam was inaugurated as governor, the family leave policy for executive branch employees in the state of Virginia applied exclusively to employees who had given birth and offered only partial pay. In June 2018, Northam signed an executive order extending the policy to apply to both mothers and fathers, including not only biological parents but also adoptive and foster parents. Under the new policy, employees receive eight weeks off at full pay.[168] Earlier in the year, Republican Speaker of the House of Delegates Kirk Cox had established a similar policy offering legislative branch employees twelve weeks of paid leave.
With regards to private sector employees, Northam has said that he wants to implement tax credits for small businesses that offer paid family leave.
In 2018, Northam formed a commission to study the possibility of offering child care to state employees in Richmond. Northam's wife, Pam, serves on the panel.[
Immigration
In his 2007 campaign for state Senate, Northam "advocated for Virginia being 'even more stringent than we are now in fighting illegal immigration,' and said the state should act as 'strong partners' with federal law enforcement." Northam's rhetoric shifted in his 2017 gubernatorial campaign. In 2017 Northam pledged to "stand up against ICE" so that "people, especially immigrants, in Virginia aren't living in fear," saying: "Something that we are very proud of in Virginia is that we are inclusive." He continued by saying "We will do everything we can to make sure immigrants are comfortable living here." Northam opposed President Trump's decision to rescind Deferred Action for Childhood Arrivals (DACA), which offered temporary stay for unauthorized immigrants who came to the United States as minors. Northam said Trump's "decision lacks compassion, lacks moral sense, and lacks economic sense." Northam supports granting state driver's licenses and in-state tuition to undocumented immigrants.
In February 2017, Northam cast a tie-breaking vote in the state Senate against a bill to ban sanctuary cities in Virginia. Northam said he was "proud to break a tie when Republicans tried to scapegoat immigrants for political gain" and that he was "glad to put a stop to" the bill. In an October 2017 debate, Northam said he did not support sanctuary cities, stating that there currently were none in Virginia, but Northam declined to say whether he would sign a bill as governor that was similar to the one he voted against in the Senate. In November 2017, Northam clarified that while he would veto any bill pre-emptively banning sanctuary cities in Virginia, he would support a ban, if sanctuary cities began appearing in the state. In April 2018, as governor, Northam vetoed a law that would have pre-emptively banned sanctuary cities in Virginia. He vetoed the same legislation again the following year.
Safety
Criminal justice
During Virginia's 2017 gubernatorial campaign, both Northam and his opponent, Ed Gillespie, called for the state's felony threshold on theft to be raised, which at $200, was then tied with New Jersey for lowest in the nation.[140][141] Set in 1980, the threshold's value would have been equal to around $600 in 2017, if it had kept pace with inflation.[142] Outgoing governor Terry McAuliffe had attempted, during his final year in office, to raise the threshold to $500, but was unable to advance such a proposal through the legislature.[143][144] Both McAuliffe and Northam supported raising the threshold even further to $1,000,[141] which would have been more closely aligned with those found in a majority of other states,[142] while Gillespie approved of a $500 threshold.[145] Following Northam's election to the governorship, The Washington Postidentified this issue as an opportunity for bipartisan legislation.[146]
In early February 2018, about a month after his inauguration as governor, Northam struck a deal with the Republican-controlled legislature to raise the felony threshold to $500; in exchange, Northam gave support to Republican-sponsored legislation that would require criminal defendants seeking parole to first pay full restitution to victims.[142][147] McAuliffe had vetoed a comparable restitution bill the previous year. The Washington Post's editorial board called Northam's compromise "a small step toward fairer justice in Virginia", but voiced concern that the restitution bill would place an onerous burden on poor defendants; the editorial board also noted that the $500 threshold is still one of the country's lowest and still, when adjusted for inflation, under the level that had been set in 1980.[147]
As governor, Northam signed into law a bill imposing a new mandatory minimum sentence for those who are convicted of murdering a police officer. Later during his term, in May 2019, he vowed against signing any further legislation imposing mandatory minimum sentences. In an op-ed for The Washington Post, he argued that such legislation is racially discriminatory and leads to over-incarceration.
Death penalty
Ralph Northam opposes the death penalty.
Guns
According to The Washington Post, Northam favors the "reinstatement of Virginia's 'one-gun-a-month' law limiting purchases, as well as a ban on high-capacity magazines and assault weapons.
Confederate monuments
On the controversies over public monuments to the Confederacy, in June 2017 Northam stated that the statues in the state Capitol that the General Assembly has jurisdiction over "should be taken down and moved into museums", and that the decision on other statues "belongs to local communities." He has said that there should be more public memorials to historical Virginia civil rights leaders such as Barbara Rose Johns, Oliver Hill, and Samuel Wilbert Tucker. In August 2017, Northam took a firmer stance, saying, "I believe these statues should be taken down and moved into museums. As governor, I am going to be a vocal advocate for that approach and work with localities on this issue."[137] Northam later reverted to his original stance that decisions on the monuments should be made locally.
Donald Trump
In a political commercial called "Listening", run during the Virginia Democratic primary, Northam described the importance to him of listening – as a doctor, to his patients and as lieutenant governor, to his constituents. He ended with, "I've been listening carefully to Donald Trump, and I think he's a narcissistic maniac." As the general election drew near Northam said, "[I]f Donald Trump is helping Virginia, I'll work with him." Northam explained the "softer tone": "I think people already know [their opinions of Trump] and they are judging for themselves. What we are talking about as we move forward are the policies that are coming out of Washington that are so detrimental to Virginia"