Summary
Current Position: Security consultant
Affiliation: Republican
Candidate: 2020 US Representative for US House District 2
Former Position: US Representative for US House District 2 from 2017 – 2019
Scott was sworn in to the U.S. House of Representatives in Virginia's 2nd district in January of 2017 and became the first freshman member from Virginia to ever be appointed to the Appropriations Committee for a full term. His legislative accomplishments included a law to bring accountability at the most senior levels to the department of Department of Veterans Affairs and the Ashanti Alert Act, a national alert for missing adults. He was instrumental in securing hundreds of millions of dollars for his district and state for military construction and infrastructure projects. further, his appropriations amendments helping to protect military base access roads from flooding and/or sea level rise and his amendment to allow inter-agency cooperation on public-private partnerships at rural military installations were signed into law.
Source: Campaign page
Twitter
About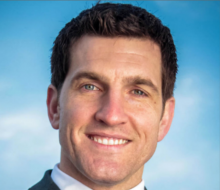 Scott was raised on the Delmarva Peninsula in the small town of Hebron, Maryland, by a single mother.
Scott began working on a farm at 11 years old and soon after was introduced to the Big Brothers/Big Sisters Program of America. His Big Brother changed Scott's life and helped set Scott on a path to success.
An accomplished wrestler in high school, after graduation Scott wanted to serve his country so he joined the Navy with the goal of becoming a U.S. Navy SEAL. After completing the six-month BUD/S training course in Coronado, California, Scott was assigned to SEAL Team 4 and served in the United States and Latin America, where he learned a fluency in Spanish.
Scott re-enlisted in the Navy after 9/11. In 2005, Scott was sent to Baghdad/Ramadi as part of Operation Iraqi Freedom. Scott served as a Navy SEAL sniper. Scott was severely injured while on a combat mission and was Medevac'd out of Iraq to Germany, then eventually back to the States. He finished out his enlistment as a marksmanship and reconnaissance instructor.
As a security consultant, Scott would travel back and forth to Yemen over four years. There he protected critical infrastructure, American citizens, and negotiated on a regular basis with armed tribesman in the Arabian desert.
In 2013, Scott won a hotly contested Republican primary and was elected to the Virginia House of Delegates, representing families in the 85th District located in Virginia Beach. His legislative accomplishments included laws dealing with energy, workforce and veterans issues.
Scott used his GI Bill education benefits to earn a bachelor's degree in International Relations from Harvard University's Extension School and is currently pursuing his masters there in the same field. He holds a Master's Certificate in Government Contracting at Old Dominion University.
Now he is ready to take back the seat he lost to Elaine Luria in 2018   Elaine Luria is not a moderate, is controlled by Pelosi, and hasn't gotten anything done as a freshman House member.  She is not at all who she said she was, and exactly who we said she would be.
Contact
Campaign Manager: Regan
Offices
Campaign Headquarters
2953 Virginia Beach Blvd.
STE 107-108
Virginia Beach, VA 23452
Phone: (757) 366-1072
Web