Summary
Current Position: State Delegate of District 87 since 2020
Affiliation: Democrat
Twitter
About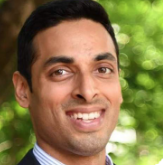 Source: Campaign page
Suhas has dedicated his life to serving his community and solving some of our country's biggest challenges. His family's story in America began in 1979, when Suhas's mother, a native of Bengaluru, India, immigrated to the United States. She landed in Dulles Airport to start a new life where she could become a physician and raise a family. She united with Suhas's father, who was born in India and raised by the widow of a deceased army veteran. Together, they pursued the American dream and passed along values that Suhas holds today: serve your community, succeed with hard work, and empower those without a voice.
These values stayed with Suhas when, while attending Tulane University in New Orleans, Hurricane Katrina hit the city. Suhas's community service work in the aftermath of the storm propelled him into a life of community service. He helped organize volunteers to rebuild and revitalize communities affected by the storm and, as President of the college's environmental club, pushed local officials to prioritize environmental standards during the rebuild. He graduated summa cum laude and turned down lucrative corporate opportunities to help get Democratic leaders elected.
Suhas has since worked tirelessly to improve the health and prosperity of all Virginians and Americans. He served on Capitol Hill as a health care and veterans policy aide, where he worked to expand and improve health care access to millions of Americans and drafted legislation to increase job opportunities and funding for veterans. He later earned his law degree with honors at Northwestern University School of Law, volunteering at the Center for Wrongful Convictions. There, he was part of the legal team that freed a man who had spent 21 years in prison for a crime he didn't commit. Suhas also clerked for the U.S. Senate Judiciary Committee, where he helped re-introduce the DREAM Act and worked on criminal justice reforms.
After spending time as a technology and regulatory attorney, Suhas was named a White House technology policy advisor to President Obama. He led a task force on technology policy that President Obama charged with addressing some of the country's most challenging technology issues, including job creation and displacement in the technology sector, regulating emerging technology, and addressing cybersecurity and IT modernization in the public sector. He also helped save taxpayers money by working on projects to make government processes and services more efficient using technology. After leaving the White House, Suhas started his own consulting firm based in Loudoun County to advise companies and nonprofits on technology, government regulations, and economic empowerment.
Suhas is a proud resident of Loudoun County and has always maintained his commitment to serving the community. He serves as a volunteer firefighter in Loudoun County, and he is an active member of the Rotary Club of Ashburn. He was also appointed by the Loudoun County Board of Supervisors to the Loudoun Health Council, where he works to address some of the most pressing health care issues in Northern Virginia. For his professional accomplishments and work in the community, Suhas was named to the Loudoun Times-Mirror's 40 Under 40.
He is married to Miranda Peña Subramanyam, who works for a government contractor and volunteers in her free time at the Loudoun Abused Women's Shelter. They were married in Sterling, Virginia, where they currently reside.
Web
Campaign Site, Twitter, Facebook, Technology for Global Security
Politics
Recent Elections
2019
| | | |
| --- | --- | --- |
| Suhas Subramanyam (D) | 17,693 | 62.00% |
| William M. "Bill" Drennan, Jr. (R) | 10,818 | 37.91% |
| Write-In (Write-in) | 25 | 0.09% |
| TOTAL | 28,536 | |
Issues
Source: Campaign page
Education and Job Training
A great community starts with great public schools. Like many, my wife and I grew up going to public schools, and we live in this community because it's a great place to start a family because it has schools with great teachers.
Improving our schools in Loudoun and Prince William Counties starts with fully funding them, providing them top-notch resources, and making sure we recruit and retain great teachers by paying them what they are worth.There are too many underpaid and overworked teachers, and there are too many instances where parents have to foot the bill for activities that the schools should cover. We also need to lower class sizes, stop constantly re-zoning kids into new schools, and invest in early-childhood education and programs for children with disabilities and special needs. We must also continue to address racism, cultural insensitivity, and inequity throughout our school systems.
Furthermore, we cannot continue to let our future leaders enter the workforce saddled with debt because of their post-secondary education. The cost of college has forced too many people to take on astronomical student loans that take decades to repay. In Richmond, I will fight for a tuition cap at state schools and maintain funding for post-secondary education. I also plan to increase access to workforce training programs to help people in our community who are looking to switch into professions in high demand by local employers.
Traffic and Infrastructure
We are spending too many hours on the roads and away from our families. Whether it's the high tolls on the Dulles Greenway or the congestion on I-66, Rt. 50, Rt. 7, Rt. 28, Rt 15, Loudoun County Parkway, and so many other roads in Northern Virginia, the traffic has been a disaster for so many people in our community. Roads are not properly maintained, our toll costs are rising, and traffic has worsened over the years.
Solving our traffic problems requires a comprehensive approach that starts with creating jobs here so we don't have to commute, getting our fair share of infrastructure funding from Richmond so that more of our state tax dollars are spent in Loudoun and Prince William, and developing responsibly so that we are not outgrowing our existing infrastructure. I will also advocate for additional funding to widen existing roads to keep up with growth around the district. As a volunteer firefighter/EMT I regularly see the accidents caused by poor traffic planning.
I also oppose any and all tolls in Northern Virginia, especially those like the Dulles Greenway and on I-66. Significantly reducing the tolls on the Dulles Greenway will require a long-term strategy that involves reducing our reliance on toll roads and raising revenue for if and when a partial or full buyback of the toll road becomes possible. Again, we also need funding from the state to widen, maintain, and improve existing roads.
Finally, let's attract employers and create high-paying jobs in Loudoun and Prince William Counties so that we don't have to commute to other places to make a living. This means encouraging the construction of more office space, malls and retail in areas like South Riding rather than putting more pressure on our traffic instructure with more crowded residential units.
Health
Everyone should have access to quality, affordable health care. As a member and former Chair of the Loudoun Health Council and volunteer firefighter/EMT, I have seen far too many of our neighbors ask not to be taken to the hospital because of high costs of care or because they couldn't afford their prescription drugs. One medical emergency could put a family in debt for decades.
I will fight to protect access to health care for seniors and people with preexisting conditions, and I will work to increase and improve access, lower health care costs, and address the skyrocketing prescription drug costs. I support price transparency for healthcare and drug costs, increasing our focus on evidence-based medicine, and consider alternative delivery systems for health and primary care. I will also work to remove the onerous work requirements that accompanied Medicaid expansion.I was a health care aide on Capitoll Hill when Congress passed the Affordable Care Act and worked to protect Medicare, Medicaid and Social Security. I have the policy expertise to make these changes happen in Richmond.
We also need to ensure access to mental health services and human services for people of all ages and incomes. This includes making counseling and therapeutic services available to children and adults as well as continuing the work started this year to allow walk-in visits at state mental health centers. We must also address addiction and the opioid crisis by investing in preventative services and improving access to screening and intervention.
Justice and Safety
My wife, Miranda, went to church in Newtown, Connecticut and her congregation lost a young member that day in Sandy Hook. We need to make progress on gun violence prevention so that we and our loved ones feel safe in our schools, places of worship, and public places. I would support comprehensive solutions to reducing gun violence, including expanding mandatory universal background checks, closing the gun show loophole, banning the sales of military-style assault weapons and high-capacity magazines, and supporting studies on gun violence as a public health issue.
As an attorney who has successfully helped free wrongfully-accused people of color, I also know firsthand the issues we need to address in our criminal justice system. There are several issues we need to address in our criminal justice system, including:
ending the school to prison pipeline
putting an end to for-profit prisons
putting an end to suspending driver's licenses for unpaid court fees and granting drivers licenses for all immigrants
decriminalizing marijuana
reexamining mandatory minimums
Equality
No Virginian should be treated differently because of their race, sexual orientation, gender, or beliefs. We cannot continue to thrive as a Commonwealth if we are not all provided with equal protection under the law. That is why as your Delegate, I will fight for a statewide fairness ordinance, work tirelessly to ensure that we ratify the equal rights amendment, and updating Virginia housing, employment, and hate crime laws to prevent LGBTQ+ discrimination.
We also need to ensure that inequality doesn't exist for women in the workplace and put an end to sexual assault, harassment, and inequality in the workplace. I am proud of the work I have done to address the gender pay gap during my time at the White House and will work tirelessly in Richmond to close the pay gap in Virginia.
Environment and Climate Change
Our environment is our most precious resource, and I have spent my life working to protect it and combat climate change. I have lived through and been personally affected by several natural disasters, including Hurricane Katrina and several floods, to know that climate change is one of the greatest crises of our generation.
That's why I, along with other concerned citizens in Loudoun and Prince William Counties, started Zero Carbon Virginia, an organization of concerned citizens devoted to bringing Virginia's energy industry into the 21st century. We introduced the Renewables First Act (HB 1686), a bill that places a moratorium on all new fossil fuel capacity construction until renewable energy generation facilities with a capacity of at least 5,500 megawatts are in operation. Unfortunately, it, like other clean energy legislation, was rejected immediately by the House of Delegates.
We must reduce our reliance on fossil fuels and move to more sustainable energy sources to mitigate the economic, environmental and social costs of fossil fuels. We can do so while creating high quality green jobs that protect and retrain workers. I will support legislation like the Renewables First Act or Renewable Portfolio Standards that help us take bold steps towards making Virginia a leader in clean energy.
Finally, we must also preserve the green spaces and rural heritage that make Loudoun County and Prince William County so beautiful. I will work to ensure that we protect our natural resources and open spaces.
Broken and Divided Politics
I have worked in every branch of the United States government and served as a voter protection attorney during the 2012 Obama campaign, and it's clear to me that our political system is dysfunctional. We continue to engage in divisive politics that puts partisanship and scoring political points over solving problems. In the meantime, we have allowed outside interests to run our political processes instead of doing what is best for the Commonwealth and the country.
I intend to break the cycle and promise to be a strong voice in Richmond for healing political divisions, changing the rhetoric in our politics, and putting decisions in the hands of people, not outside interests.
It also means bold campaign finance reform that puts caps on contributions, curbs the influence of outside groups and corporate PACs, and prevents politicians from using campaign spending accounts for personal expenses.
We need to make it easier to vote, and that means no-excuse absentee voting, extended early voting, and rolling back restrictive voter ID laws. With redistricting approaching, we also need a system where people should choose their legislators, not the other way around. That means we need fair, nonpartisan redistricting and an end to gerrymandering.
Finally, I plan to continue the work I did as a technology advisor in President Obama's White House to use technology to make government more efficient, more transparency, and more accountable. Click here to watch my TEDx talk on restoring trust in government.
I have spent my career fighting to restore trust in our government and standing up to special interests. If I am privileged to be your Delegate, I will ensure that your voice is what matters most Richmond.