Summary
District Description: Counties of Chesterfield (part) and Henrico (part); City of Richmond (part)
Current Delegate: Dawn Adams since 2018 (D)
According to Ned Oliver of Virginia Mercury:
"Adams beat longtime delegate Manoli Loupassi in 2017. This year she faces Coward, a political consultant and the second of two African-American candidates the party has recruited this year. Republicans say they doubt Adams, a nurse practitioner, has been helped by an unusual lawsuit filed by her former legislative aide alleging hacking."
VA House District 68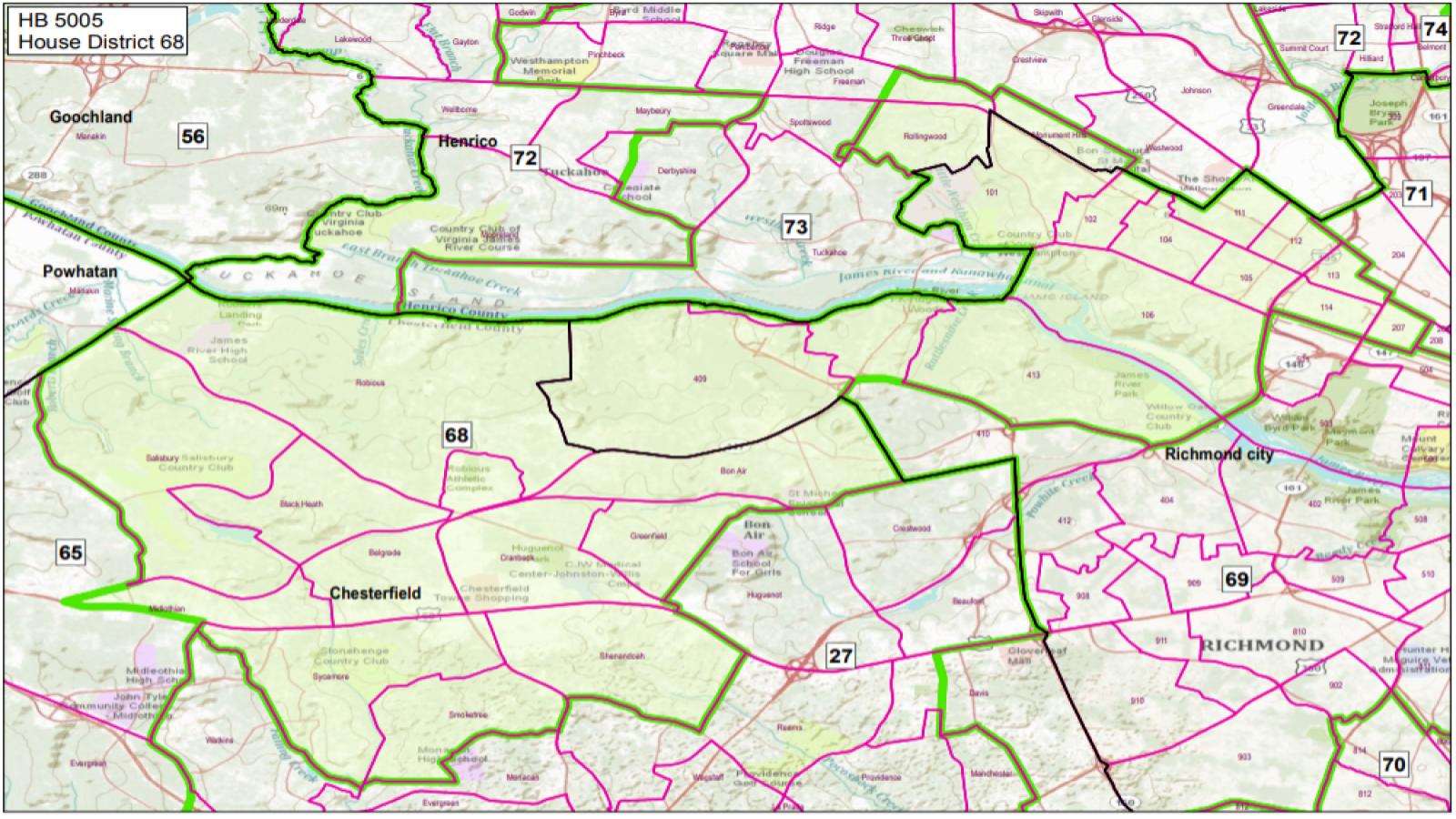 Dawn Adams
Current Position: State Delegate for VA House District 68 since 2018
Affiliation: Democrat
Candidate: 2019 State Delegate VA House District 68
For more information, see Dawn Adams's post.
Dr. Dawn M. Adams has been an advocate for healthy communities for over 30 years. After receiving her Bachelors of Nursing degree from James Madison University, Dawn positioned herself in the center of Virginia's healthcare system as a Critical Care Registered Nurse (RN). As an RN, Dawn saw first-hand how our state's most vulnerable citizens continually fell through the cracks as a result of limited healthcare access and coverage.
In 1989, Dawn returned to school to earn her Master of Science in Nursing from the University of Virginia, and soon became a Nurse Practitioner. From there, she went on to earn her Doctorate in Nursing from Old Dominion University, where she now serves as an adjunct professor. Dawn's research focused on identifying barriers to healthcare access for all people across the economic spectrum. For her research, she won the ODU Nursing Scholar award. As she studied and worked intimately in medicine, it became abundantly clear to her that the right to affordable public education and access to adequate healthcare are inextricably linked—both are necessary as well as critical to building a healthy, successful community.
Prior to beginning her career in education, Dawn worked alongside a nurse lobbyist. This afforded her the opportunity to engage in community stakeholder meetings concerning Medicaid expansion, lobby as an advocate for healthcare access, and attend the 2014 General Assembly (GA) session. This experience led Dawn to author a proposal for a Health Policy Fellowship for nurses. This fellowship is currently available to nurses who attend graduate programs within Virginia.
While at the GA, Dawn was approached by the Assistant Commissioner for Virginia Department for Behavioral Health & Developmental Services. He prompted Dawn to utilize her education and experience to solve the problem of inadequate community-based care. Due to Dawn's success in this field, she served as the Director of the Office of Integrated Health. In this role, she managed a multi-million-dollar state budget and built strong relationships with state and local agencies to implement local community programs and construct public policy for individuals with developmental disabilities. She has also began work to partner primary care service providers with mental health services.
Dawn's effort to help our community extends beyond her continuous work in healthcare. Her numerous experiences, which include being the first participant in the Virginia Nurse Advocate Health Policy Fellowship, creating beneficial relationships with Virginia's elected representatives, and developing public policy in her work as a civil servant, have helped her to identify the troubling disconnect between political maneuvering and our government's obligation to serve the people. This is what fueled her desire to run for office.
Despite all odds, being outspent 5 to 1, on November, 7, 2017, nearly 20,000 voters in the 68th District cast their vote to bring Dawn into the General Assembly, giving her the highest voter turnout of any Democratic Candidate running against an incumbent.
Dawn is honored to take the lessons she's learned as a nurse practitioner, administrator, educator, and community leader to represent her community as Delegate of Virginia's House District 68 and is proud to represent the people of the city of Richmond, Chesterfield and Henrico counties.
Garrison Coward
Current Position: Chief Operating Officer of BizCents
Affiliation: Republican
Candidate: 2019 State Delegate VA House District 68
For more information, see Garrison Coward's post.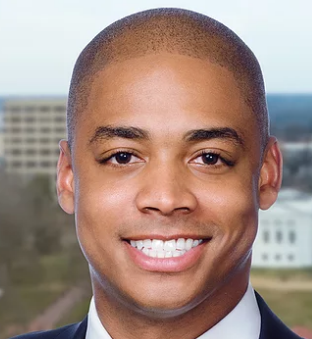 Garrison R. Coward, is a native of Richmond, Virginia (born at St. Mary's Hospital), and a proud product of Henrico County's Short Pump Middle School and J.R. Tucker High School.  He graduated from Hampden-Sydney College '12, with a degree in Economics; The George Washington University '17, with a Master's degree in Political Management; and is currently seeking his MBA from The George Washington University's School of Business.
Garrison is the Chief Operating Officer of BizCents, a local data analytics firm.  He served as a political advisor to Congressman Rob Wittman, and as Campaign Manager from 2015-2018.  He is the Executive Director of the Conservative Professionals Network, which aims to engage a new generation of center-right thinkers on public-policy matters.  Prior to joining Congressman Wittman, Garrison served as Political Director and Deputy Director of Minority Engagement for the Republican Party of Virginia.
In 2016, he was elected a Delegate to the RNC Convention from Virginia's 7th Congressional District.
Garrison enjoys reading, travelling, and playing basketball.  He serves on the Executive Committee of the Board of Directors at the Southside Community Development and Housing Corporation, the YMCA of Greater Richmond Millennial Initiative, and on the Board of Directors of the Richmond-based company BizCents. Garrison is a member of the Advisory Board of Directors of the Richmond Heritage Federal Credit Union.
Issues
Economy
Dawn Adams
In Virginia, we are fortunate to have a relatively low unemployment rate. Yet,there is still work to be done to create more jobs that enrich individuals, families, and communities.  The growth, incentivization, and development of small business are a few ways to create more jobs. We need Dawn's demonstrated ability to work across the aisle to develop other workforce solutions that will also reduce the demands for more healthcare workers, rebuild our crumbling transportation and educational infrastructure, install state-wide broadband, and operationalize energy alternatives to meet our persistent dependence on carbon fuel through solar and wind power installation.
Garrison Coward
The Greater-Richmond Area is home to many small and medium-sized businesses that are the backbone of our local, state, and national economies.
Virginia needs economic policies that:
Protect our businesses from higher and unnecessary taxes and regulations. Mandates such as repealing right-to-work laws, plastic bag taxes, and burdensome food and beverage regulations simply don't work
Protect families by ensuring their take-home pay is protected from taxes that hinder their ability to save or invest in their futures
Encourage growth by incentivizing businesses to come, stay, and grow within our communities
Health Care
Dawn Adams
Affordable healthcare coverage for all just makes sense. We can provide lower cost care to ensure all citizens receive the preventative medical, dental, and eye care that will keep them healthy, while addressing the opioid crisis, provide more comprehensive mental healthcare, and reducing the costs associated with chronic illness. At the same time, we must be prepared to take on the challenges of the epidemic of dementia, escalating needs of our aging population, the high cost of prescription drugs, and respond nimbly to the ever-changing policy demands from the federal government. We need Dawn's three decades of diverse healthcare experience and ideas to develop affordable solutions to issues.
Garrison Coward
Virginia should focus on providing better and more affordable healthcare for everyone.
We should make it easier for:
Doctors and patients to be in control of their own healthcare decisions based on their needs, budgets, and wants
Examine prescription drug pricing policies
People with preexisting conditions to obtain and maintain coverage
Young people to stay on parent's plans
More access to care through new technologies such as telemedicine
Recovery programs to seek and obtain funding to treat addiction
Education
Dawn Adams
All kids deserve a good education. Education is the foundation from which children can dream and young people can aspire to be the person they were meant to become. Strong public school education creates strong adults. Teachers and the supportive infrastructure to address the increasing demands and pressures impacting our youth today are critical to their success or failure as students. Additionally high school graduates deserve affordable options for post-secondary school and when qualified, guaranteed admission to Virginia State schools. We need Dawn's academic insight and ideas to make this a reality. Dawn will continue to fight for the cost-effective solutions that will maximize every opportunity for our children.
Garrison Coward
Good quality of life starts with a good education. Children deserve the right to a quality education regardless of their zip code, period.
In Virginia we need to:
Protect our teachers by ensuring competitive pay
Empower parents by giving them additional viable options for their children's education like public charters
Allow students to explore career fields in middle school to pique career interest earlier in order to prepare for future career and educational choices
Remove politics from our schools and focus on our children's  education
Better Government
Dawn Adams
Virginia is a Balanced Budget state. This means that it is required by law that we balance the budget, and not because any one party has decided to be more financially responsible. The real question regarding the budget is how are we spending the money and collecting the revenue to prepare for the Commonwealths priorities? Dawn gets it, and her peers within the General Assembly know it. She is well aware of the General Assembly's responsibility to be good stewards of our State's funds and has submitted several pieces of legislation toward that end.
Garrison Coward
Government Accountability
Virginia should be run like a business.  Voters should be seen as the Board of Directors and politicians our employees.
As such:
Politicians should be held accountable and to the same standards as everyone else
The government should operate as efficiently and effectively as possible
We should examine ways to control conflicts of interest
Environment
Dawn Adams
Virginia is home to the pristine splendor of our mountains, green forests, expansive ocean, and beautiful array of lakes, streams, and rivers. In our District (68th), the James River runs right through our backyards. We can do more to keep this scenic resource clean and open for recreation and ensure that the Chesapeake Bay and other waterways are safe and protected for generations to come.  As a member of the Virginia House Agriculture, Chesapeake and Natural Resources Committee, Dawn understands thatprotecting these resources makes sense for our children, families, and Virginia.
Safety
Garrison Coward
We need to make sure that our communities stay safe. Henrico, Richmond, and Chesterfield have law enforcement and first responders that are second to none.
We need to do our part by:
Addressing road safety by ensuring that resources are being used to help with roads, sidewalks, and other infrastructure issues that have caused tragedies especially in places like Midlothian, the West End, Fan and Monument District(s)
Providing law enforcement officers with the resources to curb street crime
Encourage a meaningful community dialogue surrounding criminal justice reform