Summary
Current Position: State Delegate since 2010
Affiliation: Democrat
About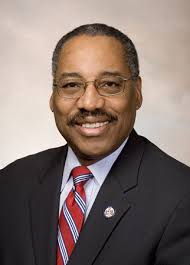 Source: Wikipedia
Matthew James (born September 11, 1955 in Norfolk, Virginia) is a Democratic member of the Virginia House of Delegates from the 80th district, which includes parts of the cities Norfolk, Portsmouth, and Chesapeake.
He won his seat in the 2009 elections after defeating Republican Jennifer Lee in the general election by nearly forty points. He succeeded incumbent Kenneth Melvin, who resigned in May 2009 to become a judge
Contact
Legislative Assistant: Kim Rollins
Administrative Assistant During Session: Ginette Bellefeuille
Email:
Offices
Capitol Office
Pocahontas Building
900 E. Main St,
Richmond, Virginia 23219
Phone: (804) 698-1080
District Office
P.O. Box 7487
Portsmouth, VA 23707
Phone: (757) 967-7583
Web
Government Page, Campaign Site
Politics
Source: Virginia Legislative Information System
Finances
JAMES, MATTHEW has run in 5 races for public office, winning 5 of them. The candidate has raised a total of $268,391.
Source: Follow the Money
Voting Record
See: Vote Smart
Issues
Economy
Delegate James works tirelessly to bring quality jobs to Hampton Roads.  He takes that experience to the House of Delegates where he is considered a leading voice on economic development.  That is why the Virginia Chamber of Commerce has recognized him on several occasions.  Delegate James has championed legislation to expand the Green Job Tax Credit, make it easier for small, women, and minority owned business to get loans, and help tourism projects benefit from tourism zones.
Minimum Wage
Virginia's minimum wage is simply impossible to live on.  It is well past time we raised the wage, so working families can afford to live.  Raising the minimum wage will raise wages for everyone, so our economy works for all.
Education
Delegate James is a strong supporter of Virginia teachers and children.  He has worked across the aisle to reform the SOLs, so we have less tests and more critical thinking in our classrooms.  He has also fought to bring Virginia teachers more in line with the national average for pay.  However, there is still a lot more work to do.
Health Care
Virginia must expand Medicaid under the Affordable Care Act.  It is irresponsible that we are sending our tax dollars to other states for their Medicaid program when thousands of Virginians could be benefiting from health care coverage.
Infrastructure
Transportation
Hampton Roads has some of the worst traffic in the country and it not only a problem for commuters, but it makes things dangerous in a disaster and hurts our ability at economic development.
Delegate James was proud to support the 2013 transportation bill, which makes a big step toward funding critical projects needed in our community.  He has also worked with the Governor to ensure lower tolls on the Midtown tunnel.  We should not be funding our roads on the backs of the working poor.