Summary
Current Position: State Senator of District 26 since 2001
Affiliation: Republican
Mark was elected to the Senate of Virginia in 2003, where he serves as Chairman of the Senate Courts of Justice Committee.  He also serves on the Commerce & Labor; Finance;  Agriculture, Conservation, and Natural Resources;  and Rules Committees. Mark is also Chairman of the Virginia State Crime Commission.
He has quickly established himself as a conservative leader, taking the lead on property rights, school choice, family values, and government reform, and emerging as one of the Senate's leading voices on public safety and other key issues.
Twitter
About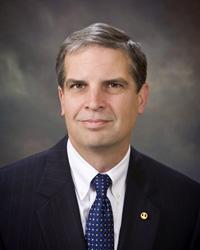 Source: Campaign page
For Senator Mark Obenshain, fighting for our rights isn't just a job—it's a calling.
Growing up in a home in which the discussion of politics was standard fare around the dinner table each night, the son of the man often dubbed the architect of the modern Republican Party of Virginia, Mark developed a passion for politics and a zeal for public service early in life, and he has emerged as one of the Commonwealth's leading champions of limited government, individual liberty, and personal responsibility.
Mark has been politically active practically his entire life. He has served as the chairman of two Republican committees, has been a delegate to every Republican state convention since 1980, and was a member of Virginia's delegation to the 1980 Republican National Convention, which nominated Ronald Reagan. Mark has worked on the campaigns of virtually every Republican nominee for state and local office since he began practicing law in Harrisonburg in 1987, and he serves as the President of the Richard D. Obenshain Foundation, named after his father, which provides the Republican Party of Virginia with the building that is its permanent home.
Mark was elected to the Senate of Virginia in 2003, where he serves as Chairman of the Senate Courts of Justice Committee.  He also serves on the Commerce & Labor; Finance;  Agriculture, Conservation, and Natural Resources;  and Rules Committees. Mark is also Chairman of the Virginia State Crime Commission.
He has quickly established himself as a conservative leader, taking the lead on property rights, school choice, family values, and government reform, and emerging as one of the Senate's leading voices on public safety and other key issues.
In his professional life, Mark is the founder of the Obenshain Law Group. Mark has practiced law in Harrisonburg and in Central Virginia for over thirty years, representing individuals and businesses in a wide range of legal matters.
In addition to his law practice and service in the Senate, Mark is active in a variety of civic, community, professional, and political organizations. In 1994, Governor George Allen appointed him to serve on the Governor's Commission on Citizen Empowerment, which established the framework for Allen's comprehensive welfare reform program and served as a blueprint for federal welfare reform two years later. He subsequently served as a member of the Commission on Welfare Reform and the Commission on Government Reform and Restructuring, where he was one of the charter members, working to identify inefficiencies, eliminate waste and fraud, consolidate duplicative functions and agencies, and make government more citizen-friendly.
In his own community, Mark served as a member of James Madison University's Board of Visitors, and also served on the boards of the Harrisonburg Education Foundation, Mercy House, and the Shenandoah Valley Technology Council, as well as on the Advisory Board for the Harrisonburg Rescue Squad.
Mark and his wife Suzanne have two children, Anne Tucker and Sam, and they are active members of Harrisonburg's First Presbyterian Church
Experience
Work Experience
Principal Attorney
Obenshain Law Group
Education
JD
Washington and Lee University School of Law
1987
BA
Virginia Tech
1984
Personal
Born in Richmond, Virginia on June 11, 1962.
Married Suzanne Speas
Membership & Affiliation
First Presbyterian Church
Contact
Legislative Assistant: Tracy Eppard
Email:
Offices
Capitol Office
Pocahontas Building
Room No: E503
Senate of Virginia
P. O. Box 396
Richmond, VA 23218
Phone: (804) 698-7525
Fax: (804) 698-7651
District Office
P.O. Box 5462
Charlottesville, VA 22905-5462
Phone: (434) 296-5491
Fax: (434) 296-5949
Web
Government Page, Campaign Site, Facebook, Twitter
Politics
Source: Wikipedia
Obenshain has accumulated a conservative voting record since his election to the Shenandoah Valley's 26th state senate district in 2003. Obenshain's 2003 victory was a 68-32% win over former Harrisonburg mayor Rodney Eagle for an open seat.
In the Senate, Obenshain is a member of the Agriculture, Conservation, and Natural Resources, Courts of Justice, Local Government, and the Privileges and Elections Committee. For fundraising and organizational purposes he is a member of the conservative Republican Senate Victory PAC. In 2007, Obenshain easily won reelection over Democrat Maxine Hope Roles 70-29 percent. Obenshain ran for re-election unopposed in 2011. Obenshain was the Republican nominee for Attorney General of Virginia, losing to Democrat Mark Herring in the 2013 Election and formally conceding on December 18.
Miscarriage reporting bill
During his run for attorney general in 2013, Obenshain was criticized for a bill he introduced in 2009 which would have required women who had miscarriages without medical attendance to report it to authorities within 24 hours. Obenshain explained that he introduced the bill in response to the case of a Virginia woman who threw her dead newborn baby's body into the trash, and was trying to create a bill to allow law enforcement to prosecute a woman in that circumstance. However, the legislation that emerged "was far too broad, and would have had ramifications that neither he nor the Commonwealth's attorney's office ever intended," and after being unable to resolve the problem of women potentially being prosecuted for miscarriages, he withdrew the bill and stated that he is "strongly against imposing any added burden for women who suffer a miscarriage, and that was never the intent of the legislation."
The bill, as proposed by Obenshain, would have required that when a fetal death occurred without medical attendance upon the mother at or after the delivery or abortion, the mother or someone acting on her behalf, within twenty-four hours, report the fetal death, location of the remains, and identity of the mother to the local or state police or sheriff's department of the city or county where the fetal death occurred. The bill also specified that no one should remove, destroy, or otherwise dispose of any remains without the express authorization of law-enforcement officials or the medical examiner, and that a violation of the statute would constitute a Class 1 misdemeanor.
Recent Elections
2019
| | | |
| --- | --- | --- |
| Mark Obenshain (R) | 36,998 | 64.88% |
| April Dorothea Moore (D) | 19,948 | 34.98% |
| Write In (Write-in) | 75 | 0.13% |
| TOTAL | 57,021 | |
Finances
OBENSHAIN, MARK has run in 6 races for public office, winning 4 of them. The candidate has raised a total of $8,822,183.
Source: Follow the Money
Committees
Committees
Courts of Justice (Chair)
Agriculture, Conservation and Natural Resources
Commerce and Labor
Finance
Rules
Appointments
Crime Commission, Virginia State
District Courts, Committee on
Interstate 81 Commission
Judicial Council of Virginia
Rappahannock River Basin Commission
Reapportionment Joint Committee
Voting Record
See: Vote Smart
New Legislation
Source: Virginia Legislative Information System
Issues
Source: Campaign page
My Legislation
I invite you to review the legislation I have introduced since taking office. Click any session for a complete list of bills I patroned that year: 2004, 2005, 2006, 2007, 2008, 2009, 2010, 2011, 2012, 2013, 2014, and 2015.
Governance
Holding the Line on Taxes
Our families already pay too much in taxes – on average, more than they spend on food, clothing, and shelter combined. In these economically trying times, higher taxes and fees would be particularly devastating. In the Senate, I have opposed higher taxes while looking for ways to reduce wasteful spending. If the Commonwealth cannot fund its top priorities, it has no business spending taxpayer dollars on other pet projects. I have been a consistent voice for a government that focuses on core services and lives within its means, and I will continue to be an advocate for maintaining the low taxes that have made Virginia consistently one of the best states in which to do business.
Government Reform
If we are to continue to provide quality services while keeping the tax burden low, we must be willing to challenge traditional notions about the way things have always been: why this program is needed, whether that program is an effective means of affecting its intended policy goal, if this service could be provided through the private sector, or that one should even exist at all.
I have worked to cut through the red tape, and I am proud to support government reform efforts ranging from the privatization of the state's liquor monopoly to the reform of our costly and outmoded state procurement policies. As your senator, I continue to work for real reform of state government, because I know that we have an obligation to spend taxpayer money wisely, and that is not a charge I take lightly.
Civil Rights
Protecting Private Property Rights
As co-patron of successful legislation defending the property rights of all Virginians against the Kelo-era expansion of government's eminent domain power to encompass such nebulous categories as economic development, I have been at the forefront of the property rights battle here in Virginia. I will continue to work to enshrine eminent domain reform in the Constitution of Virginia, standing with the people of this Commonwealth against governmental attempts to chip away at these rights.
Defending Second Amendment Rights
I believe strongly in the preservation of our gun rights in Virginia and have worked hard to uphold these rights. As a sportsman myself, I seek to protect our rich tradition of gun ownership here in the Commonwealth.
Education
Better Schools for Virginia's Children
Education is one of the most basic responsibilities of government, and I will continue to make it one of my top priorities. I recognize that state government has an important role to play, but also know that the best decisions are made "on the ground" in our local school divisions and not by bureaucrats in Richmond. I believe that the Commonwealth has long spent too much money on central office administration of our schools and too little in the classroom, where it directly affects our students. I have been a leading proponent of providing local school divisions with the flexibility they need to put state education funding toward their most urgent priorities – not the pet projects of legislators or bureaucrats in Richmond.
Environment
Promoting Energy Independence
I know that there is no one single answer to providing for our nation's long-term energy needs, and just as importantly, I know that it is not the responsibility of government to pick winners and losers. Virginia is poised to be a leader in energy production, and it is exciting to see the Commonwealth on the forefront of such advances as clean coal, wind energy, biomass research and production, and offshore drilling. I stand in strong support of Virginia's efforts to tap the significant oil deposits along Virginia's outer continental shelf in an environmentally sensitive manner, and I will work to ensure that Virginia continues to welcome these many and varied approaches to energy independence.
Infrastructure
Improving Transportation
Like other parts of Virginia, our region has sustained major growth and our roads are being stretched beyond capacity.  In Richmond, I have fought to keep transportation spending equitable and efficient for the Valley. While opposing new taxes on Virginia's families and businesses, I have advocated dedicating a portion of future revenue growth to our Transportation Trust Fund (TTF). I have supported proposals that would permanently dedicate an additional ½ penny from the sales tax to the TTF as well as a majority of the revenue realized from the privatization of ABC sales and royalties from offshore drilling.
Safety
Strengthening Public Safety
As a member of the Senate of Virginia, I have worked hard to provide law enforcement and judges with the tools they need to put criminals behind bars and to enhance penalties for gangs and drug felons. My bills have targeted the drug dealers and internet predators that would prey on our children as well as those who pose threats to our families through domestic violence and by repeatedly violating the terms of protective orders.
Additionally, I have focused on the pervasive problem of human trafficking, which is one of the world's fastest-growing criminal enterprises, where children are kidnapped and forced into a life of slavery and prostitution. It is our responsibility to protect society's most vulnerable and there is a pressing need for legislation that addresses these heinous acts. The Commonwealth of Virginia is one of only two states that lack a comprehensive human trafficking statute, and the time to act is now.
As co-patron of legislation that would create a stand-alone human trafficking felony, I recognize the responsibility we have to protect society's most vulnerable. This stand-alone felony would give law enforcement and prosecutors the tools they need to go after these heinous offenders. We have made great strides in recent years in combating trafficking, but we must remain diligent in these efforts. I will continue to fight to keep our communities and families safe as your State Senator.
Protecting Valley Values of Faith and Family
Deep faith and strong families are the foundation for our lives in the Shenandoah Valley. I have patroned legislation to require public libraries to install filtering software to protect families and children from exposure to pornographic material on library computers. I have also fought to punish internet predators who seek to victimize young children online. I believe in the sanctity of innocent human life and will stand strong to protect the rights of Virginians from those who would drive all references to God and faith from the public square. I will continue to work to promote our Valley Values for the preservation of our heritage and our children's futures.