Summary
Current Position: State Senator of District 21 since 1996
Affiliation: Democrat
John Edwards was first elected Senator for the 21st District in 1996. The 21st District includes the city of Roanoke, Giles County, and parts of Montgomery and Roanoke counties.
Senator Edwards is Chair of the Judiciary Committee and is a member of the Commerce and Labor, Education and Health, Finance and Appropriations, and Rules committees. Senator Edwards is Chairman of the Virginia Code Commission and serves on the Board of Governors of the Virginia Bar Association.
News
The Senate passed a bill last week to add six new judges — two more than what Northam proposed — to the 11-member court. The House of Delegates did not take any action on its own bill, which caused senators to raise eyebrows. House Majority Leader Charniele Herring, D-Alexandria, chairwoman of the House Courts of Justice Committee, said the House didn't have enough time to review the bill in committee before the deadline to complete action on House bills last week. She said she remains committed to expanding the court, despite what she said has been a "problem with the process."
Sen. John Edwards, D-Roanoke, chairman of the Senate Judiciary Committee, reached out to the Virginia State Bar in December asking for it to evaluate candidates for the potential upcoming vacancies. Herring said she didn't know Edwards did that, and so the House was delayed in notifying any potential candidates to send in materials to the state bar within the two-week application window
Counting Ferguson, four of that court's five judges now are women.
"That was planned," Sen. John Edwards, D-Roanoke, said with a smile. Edwards is the chairman of the Senate Judiciary Committee that oversees the process to elect judges.
Of the nine total judges in the Roanoke Valley's general district and circuit courts, only one — Judge Jacqueline Talevi — is a woman. The legislature elected her last month to another six-year term.
Lawmakers also voted to give Roanoke Judge Melissa Friedman a six-year term on the juvenile and domestic relations court. Friedman, who was appointed on an interim basis in November, began hearing cases in December.
RICHMOND, Va. (AP) — A bill that would have restored parole in Virginia has been killed by lawmakers. On Friday, members of a Senate committee heard emotional testimony from family members of crime victims who pleaded with them to guarantee that their assailants would remain locked up.
The committee voted to send the measure to the Virginia State Crime Commission for study, ending the bill's chances of passing this year.
Virginia abolished discretionary parole in 1995 and began requiring offenders to serve at least 85% of their sentences.
The bill sponsored by Sen. John Edwards would have reinstated parole and made it retroactive so that people sentenced for a felony beginning in 1995 would become eligible
A Senate committee voted Thursday to kill legislation aimed at expanding diversity in Virginia's governor's schools — a hot-button issue that's sown debate at some of the state's elite public institutions.
Senate Majority Leader Dick Saslaw, D-Fairfax, made the motion to table the bill indefinitely over strong objections from Black and minority lawmakers including Sen. Louise Lucas, D-Portsmouth — the chamber's president pro tempore and the first woman and African American to hold that role.
Several other Democrats, including Sen. Chap Petersen, D-Fairfax City, Sen. Lynwood Lewis, D-Accomack, and Sen. John Edwards, D-Roanoke, joined Republicans in voting against the bill after a heated committee argument along the same lines of debate that have unfolded elsewhere in the state.
The Senate version of the bill, sponsored by Sen. John Edwards, D-Roanoke, would do away with any and all mandatory minimums in state law. The measure, backed by the Virginia Crime Commission, passed the Senate earlier this month on a 21-17 party line vote, with Democrats in favor and Republicans opposed.
Sen. Joe Morrissey, D-Richmond, asserted that state judges don't like such minimums because "it ties their hands" from fairly considering a case.
"I can't tell you the number of times I've heard judges say, 'I don't want to do this, but I have to,'" said Morrissey, a former practicing attorney. "I have to give you a mandatory minimum of five years on each of these four counts.'"
Sen. John Edwards, D-Roanoke, who is carrying the bill in the Senate, responded that it wouldn't necessarily mean reduced sentences.
"That's why we have judges," he said. "To look at the nature and extent of the crime and the nature and history of the defendant."
The House and Senate versions also differ in that the House allows people serving prison sentences related to mandatory minimums to petition for a resentencing hearing. The Senate version does not include resentencing provisions, but proposes studying the issue.
About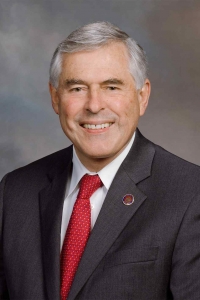 Source: Campaign page
A HISTORY OF SERVICE TO VIRGINIA AND AMERICA
John S. Edwards, born October 6, 1943, in Roanoke, Virginia, is the son of the late Judge Richard T. Edwards and Augusta Saul Edwards Farrier. He is married to Cathye Dabney Edwards and they have three children, Jack, Dabney and Catherine, and seven grandchildren. They are members of Christ Lutheran Church in Roanoke.
EDUCATION
Edwards attended Roanoke City public schools graduating in 1962 from Patrick Henry High School, where he was the first president of the student government. He was a record setting pole vaulter and state high-school champion and voted by his classmates as "most likely to succeed". In 1992 he was inducted in the high school's Sports Hall of Fame.
Edwards graduated from Princeton University in 1966 cum laude. He majored in history doing independent work on Woodrow Wilson, the Cold War, and Soviet-American relations. He wrote his Senior Thesis on "The Making of the Marshall Plan".
Edwards lettered on the varsity track team as a pole vaulter. He was class representative to the Faculty-Student Committee on Student Life his sophomore and junior years and chaired his senior Class Memorial Fund committee. He was a member of the Chapel Deacons, Orange Key Society, Student Christian Association and the Tiger Inn club.
Upon graduation, he attended Union Theological Seminary in New York City for a year on a Rockefeller Brothers Theological Fellowship.
He graduated in 1970 from the University of Virginia Law School where he was a member of the Virginia Law Review. He was elected to the University Judiciary Committee and inducted into The Raven Society and Omicron Delta Kappa honor societies. He was a summer associate for White & Case in New York. He was writing instructor assistant to Professor Antonin Scalia, later Supreme Court Justice. Edwards has also been an adjunct professor in trial advocacy at UVA Law School.
MILITARY SERVICE
Edwards served on active duty in the U.S. Marine Corps as a Captain from 1971 through 1973. He served as a JAG Officer with the 1st Marine Aircraft Wing in Iwakuni, Japan, and Futema, Okinawa, and with the 2d Marine Division at Camp Lejeune, N.C
LEGAL CAREER
Edwards practiced law with Sidley & Austin in Washington, D.C., in 1970 and 1974-76. He also did volunteer work for the Lawyers Committee for Civil Rights Under Law. He was chief trial attorney in the first successful Civil Rights class action law suit for federal employees, representing several thousand minority employees at NASA.
Edwards returned to Roanoke in 1976, practicing law with Gentry, Locke, Rakes & Moore until appointed United States Attorney for the Western District of Virginia in 1980 by President Carter. Afterwards, he joined the law firm of Martin, Hopkins, Lemon & Carter, later Martin, Hopkins, Lemon & Edwards. He is currently practicing in the Edwards Law Firm.
He has been active in bar related activities, including serving on the Board of the Roanoke Bar Association, Chair of the Virginia Bar Association's Criminal Law Committee/Section, and on the Board of Governors of the Virginia Bar Association.
He was named a "Leader in the Law" in 2012 by Virginia Lawyers Weekly for sponsoring legislation authorizing the Virginia Supreme Court to adopt Rules of Evidence.
UNITED STATES ATTORNEY FOR THE WESTERN DISTRICT OF VIRGINIA
In 1980 President Jimmy Carter appointed him United States Attorney for the Western District of Virginia. During his term, his office achieved several milestones. Among other things, he prosecuted the largest bank robbery in Virginia history, had the best record in the country at the time in enforcing criminal provisions of the Mine Safety and Health Act, prosecuted public corruption in the Mine Safety and Health Administration, prosecuted the first Criminal Civil Rights case in Virginia, prosecuted organized crime, and increased debt collections substantially from prior years. The Roanoke Times & World News reported that he had one of the "perhaps most successful tenures of any federal prosecutor in recent years".
He is the author of "Professional Responsibilities of the Federal Prosecutor", 17 University of Richmond Law Review 511 (1983).
Experience
Work Experience
Education
JD
University of Virginia Law School
1970

Union Theological Seminary
1966 to 1967
A.B.
Princeton University
1966
Personal
Born in Roanoke, Virginia on October 6, 1943
Married Catherine Dabney Edwards
Membership & Affiliation
Lutheran Church (ELCA)
Contact
Legislative Assistants: Luke W. Priddy, Leo Priddy
Email:
Offices
Capitol Office
Pocahontas Building
Room No: E506
Senate of Virginia
P. O. Box 396
Richmond, VA 23218
Phone: (804) 698-7521
Fax: (804) 698-7651
District Office
P.O. Box 1179
Roanoke, VA 24006-1179
Phone: (540) 985-8690
Fax: (540) 345-9950
Web
Government Page, Campaign Site, Facebook, YouTube
Politics
Source: Wikipedia
In November 1993, Edwards was appointed to fill a vacancy on Roanoke City Council. In the May 1994 general election, he was elected to a four-year term and Vice-Mayor of the City of Roanoke. Edwards was named Roanoker magazine's Roanoker of the Year in 1995.
In November 1995, Edwards unseated a Republican incumbent to win a seat in the Senate of Virginia, representing the 21st District. Edwards was re-elected in 1999, 2003, 2007, 2011, and 2015 to the Virginia Senate. He currently serves on the following Senate committees: Courts of Justice, Privileges and Elections, Transportation, Commerce and Labor, Education and Health, Finance, Rules (Chair)
Edwards serves on the Virginia War Memorial Foundation Board, the Virginia Indigent Defense Commission, the Virginia Capital Representation Resource Center Board, and the Virginia Commission of At-Risk Youth & Children. He is Chairman of the Virginia Code Commission and serves on the Board of Governors of the Virginia Bar Association.
Legislation that Edwards has successfully sponsored include:
establishing the Roanoke Higher Education Center, which he Chairs;
requiring Character Education to be taught in the public schools;
requiring coverage for pre-existing health conditions for persons changing individual health-insurance carriers;
establishing the Health Practitioners' Intervention Program;
establishing the Virginia Department of Veterans Services; and
adopting the Virginia Rules of Evidence for use in the state's courts.
Awards and accolades that Edwards has received for his legislative service include:
Public Service Award from Virginia Association of Nonprofit Homes for the Aging (VANHA) (1997);
Roanoke Mental Health Professional Community award (1997);
"Legislator of the Year" from the Virginia Legal Service program (1998);
Roanoke Fire Fighters Association award (1998);
Public Service Award from Alliance for the Mentally Ill of the Roanoke Valley (1999);
"Legislator of the Year" award from the Virginia Interfaith Center for Public Policy (1999);
"Profile in Courage Award" from the Coalition of Labor Union Women, Western Virginia Chapter (1999);
"Child Advocate of the Year" award from the Virginia PTA/PTSA (2002);
"Legislative Hero" from the Virginia League of Conservation Voters (2003 and 2011);
"Friend of the Family" award from the Virginia Association of Family and Consumer Services (2003);
"Public Servant Award" by Equality Virginia (2005);
Legislator of the Year from Child Health Investment Partnership (CHIP) (2005);
Virginia First Cities Excellence Award for sponsoring Constitutional Amendment (2006);
"Child Advocate Award" from Virginia Chapter, American Academy of Pediatrics (2007);
Public Service Award from Southwest Virginia Psychiatric Society (2008);
Public Service Award from Virginia Conference, American Association of University Professors (2009);
Public Service Award from the Madison Society of Virginia Western Community College (2009);
The Stamp Award for Exemplary Support of Military Families from The Virginia Council of Chapters, Military Officers Association of America (2009);
Co-Legislator of the Year from the Democratic Latino Organization of Virginia (2011);
Legislative Champion Award from the Virginia Crisis Intervention Team Coalition (2011);
Legislator of the Year Award from the Professional Firefighters Association (2012);
Legislative Service Award from Planned Parenthood of Virginia (2012);[2]
named a "Leader in the Law" by Virginia Law Weekly (2012);[3] and
Legislator of the Year Award from the Sierra Club of Virginia (2013).[4]
Edwards ran for Attorney General of Virginia in 2001. He finished second to Donald McEachin in a four-way Democratic primary.
Recent Elections
2019
| | | |
| --- | --- | --- |
| John S. Edwards (D) | 26,877 | 65.48% |
| Steven L. Nelson () | 13,882 | 33.82% |
| Write-In (Write-in) | 287 | 0.70% |
| TOTAL | 41,046 | |
2015
| | | |
| --- | --- | --- |
| John Edwards (D) | 20,881 | 50.9% |
| Nancy Vivian Dye (R) | 17,438 | 42.5% |
| Donald Stevens Caldwell () | 2,626 | 6.442% |
| Write In (Write-in) | 42 | 0.1% |
| TOTAL | 40,987 | |
Source: Virginia Legislative Information System
Finances
EDWARDS, JOHN S has run in 6 races for public office, winning 5 of them. The candidate has raised a total of $2,763,507.
Source: Follow the Money
Committees
Committees
Courts of Justice
Privileges and Elections
Transportation
Appointments
Administrative Rules, Joint Commission on
Code Commission
Gubernatorial Appointments – Joint Subcommittee on
Health Care, Joint Commission on
Interstate 81 Commission
Recreational Facilities Authority, Virginia
Roanoke Higher Education Authority
Southern States Energy Board
War Memorial Board, Virginia
Western Virginia Public Education Consortium
Voting Record
See: Vote Smart
New Legislation
Source: Virginia Legislative Information System
Issues
Democracy
INCREASING ACCESS TO THE BALLOT BOX
Edwards will keep working to ensure all Virginians age 65 and older can vote absentee without having to provide a reason or excuse. Edwards believes voting should be made more convenient, and not more burdensome.
Education
ROANOKE HIGHER EDUCATION CENTER
Senator Edwards was the chief patron of SB 1180 in 1997, which established the Roanoke Higher Education Center; he currently chairs the Center's Board of Trustees.
Since opening in 2000, the Roanoke Higher Education Center has enhanced opportunities for college, graduate and workforce training programs for our region and has boosted higher paying jobs for graduates.
According to a recent study, the Center has a $32 million annual economic impact on our region.
Those completing bachelor's degrees at the Center saw an average increase in income of $17,477 per year.
Those completing masters and doctorate degrees saw income increases of $10,145 and $16,166, per year, respectively.
Among those completing teacher licensure programs, salaries have increased by an average of $14,000 per year.
Thus, incomes have increased an estimated $35 million per year for those completing degrees at the Roanoke Higher Education Center.
In 2008 the Claude Moore Education Complex was established from rehabilitating and preserving the historic Henry Street shops – the cultural and economic center of African Americans in Roanoke for many years. The facility houses the Culinary Arts Institute, offering Associate Degrees to prepare students to be Executive Chefs and to operate restaurants and catering services.
Now Edwards is working to double the size of the popular program, which will create even more jobs.
Environment
FIGHTING THE PIPELINE
Edwards has voiced opposition to plans to build the Mountain Valley Pipeline through our mountains and neighborhoods on both environmental and safety grounds
CONSERVATION, ENERGY AND THE ENVIRONMENT
SB 1023 expanded the scope of permitted retail competition for electric generation service. In particular, the bill allows individual retail customers that are eligible customer-generators to purchase electric energy provided 100 percent from renewable energy exclusively for their own consumption from a renewable energy seller. This bill helps customer-generators and renewable energy sellers in the electricity markets to work outside of the current "exclusive service territories" of the electric utility.
Lowering barriers to entry into the renewable energy market and increasing the opportunities for competition in that market will benefit consumers and new generators.
The Sierra Club (Virginia Chapter) named Edwards "Legislator of the Year" in July 2013, recognizing his outstanding public service. In 2011 the non-partisan Virginia League of Conservation Voters (VLCV) designated Senator Edwards a "Legislative Hero," because of his dedication to conservation priorities. Senator Edwards has been ranked in the top quartile of Virginia Legislators by the VLCV for the past five years.
Health Care
MEDICAID HEALTH CARE EXPANSION
Accepting the Medicaid dollars we have already sent to Washington will grow our economy, create 30,000 new jobs, and provide up to 400,000 Virginians the health care they need.
Infrastructure
IMPROVING TRANSPORTATION
nfrastructure is the lifeblood of our economy and vital to ensuring we all get home safely each day. We need to continue to invest in improvements to provide the safest roads in the nation.
PASSENGER RAIL IS COMING TO ROANOKE IN 2017
Senator Edwards' budget amendment in 2011 established the "Connector Bus" from Roanoke to Lynchburg's Amtrak station. The popularity of the convenient, low cost bus has enabled its ridership to grow beyond expectations and, in turn, showed there is a market for passenger rail service in our region. In fact, Amtrak has announced it is coming to Roanoke in 2017 and, a few years thereafter, to the New River Valley. The 2013 transportation legislation includes funding to expand passenger rail.
Amtrak will open up the Northeast Corridor to our region and give people an alternative to the congestion and hazards of the interstate. Riders will have comfortable "same seat" rail service to places like Washington DC, New York City and Boston. The benefits to our region will increase immeasurably with Amtrak.
In November 2014, Governor McAuliffe with Senator Edwards announced plans for the new Amtrak station in downtown Roanoke.