Summary
This Virginia onAir hub supports Virginians to become more informed on and engaged in federal and state governance and elections while facilitating more civil and positive discussions with their representatives, candidates, and fellow Virginians.
Virginia onAir is one of 50 state governance and elections hubs that the US onAir Network is providing to reinvigorate our imperiled democracy.
Virginia onAir is US onAir's model of how a state's onAir Council and curators can enhance a state Hub with fresh Top News and state legislature content, moderated discussions, and production of zoom aircasts with committees, interviews and debates with candidates, and presentations.
For more information  about the many opportunities to learn about and engage with this Virginia onAir hub, go to this US onAir post on the US onAir central hub.
Our two minute vision video about the US onAir network is below.
State Representatives
Virginia is located in the Southern region of the USA with Richmond as its capital.
Ralph Northam (D) is Governor, Justin Fairfax is Lieutenant Governor, and Mark Herring is Attorney General.
The Virginia General Assembly has 40 Senate members and 100 House of Delegate members.
Governor Ralph Northam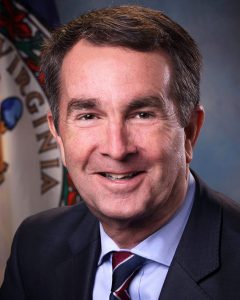 Current Position: Governor since 2018
Affiliation: Democrat
Former Position(s): Lt. Governor from 2014 – 2018; State Senator from 2008 – 2014
Virginia onAir Post
Quotes: "Governor Northam approaches public service with the same passion he brought to his military and medical service. He is committed to working with leaders from both parties to build a Virginia that works better for every family, no matter who they are or where they live."
US Senators
Senator Mark Warner
Senator Tim Kaine
US House Members
Virginia's 11 US House members are displayed in the US House Members "Top Posts" slider. Map of US House Members and their districts.