Summary
The 2021 Virginia gubernatorial election will be held on November 2, 2021, to elect the next governor of Virginia. Incumbent Democratic Governor Ralph Northam is ineligible to run for reelection, as the Constitution of Virginia prohibits the officeholder from serving consecutive terms.
The Democratic Party selected its candidate in a primary election on June 8, 2021. The Republican Party held a convention on May 8, 2021, at 37 polling locations throughout the state. On May 10, businessman Glenn Youngkin was declared the Republican nominee. Former Governor Terry McAuliffe won the Democratic primary. Teacher Princess Blanding is running under the newly formed Liberation Party.
News
If it didn't count as a banned weapon, she would have brought her sledgehammer, anti-abortion activist Victoria Cobb told the March for Life crowd Friday from the steps of the Virginia Capitol.
The hammer, she said, is a symbol of what the pro-life movement hopes to do to former Gov. Terry McAulffe's "brick wall" for abortion rights.
"You are going to break down that wall," Cobb, president of the socially conservative Family Foundation, told the group gathered on Capitol Square. "You are going to be the ones that do whatever it takes."
Legal developments outside Virginia have pushed abortion to the forefront of this year's elections, with activists on both sides stressing the high stakes in the gubernatorial contest between McAuliffe, a Democrat, and Republican Glenn Youngkin.
Three Republican lawmakers spoke at the third annual March for Life in Richmond, where marchers shouted chants against the landmark Roe v. Wade Supreme Court decision that established abortion as a constitutional right and booed at the mention of recent Democratic governors. The Family Foundation described the crowd as being in the thousands. Capitol Police estimated there were 600 attendees.
None of the three Republicans running for statewide office this year spoke at the event, forgoing a chance to speak to a sizable crowd to campaign elsewhere. Earlier this year, Youngkin was caught on camera expressing sympathy for the anti-abortion cause but adding he couldn't press the issue to avoid turning off independent voters.
Democrat Terry McAuliffe and Republican Glenn Youngkin met Thursday in southwest Virginia for the commonwealth's first gubernatorial debate of the general election season.
Much of the exchange between McAuliffe, a longtime Democratic Party fundraiser who is seeking a rare second term as governor, and Youngkin, a former business executive and political newcomer, dealt with vaccine mandates and abortion policy.
Here is a look at some other topics the candidates sparred over during the hourlong debate in a race that is being closely watched ahead of next year's midterms:
Virginia gubernatorial candidates Terry McAuliffe and Glenn Youngkin each raised more than $11 million in the last two months, but Youngkin loaned his campaign an additional $4.5 million to give himself a significant advantage, according to the most recent campaign-finance reports.
The $4.5 million Youngkin, a GOP businessman making his first run for office, loaned his campaign is on top of $11.2 million he had already lent.
McAuliffe and other Democrats have long expressed fears that Youngkin, who made his fortune as an executive with The Carlyle Group investment firm, will be able to use his personal wealth to give his campaign an edge.
The reports, which were due Wednesday, cover the months of July and August. McAuliffe raised $11.5 million. Youngkin raised $11.2 million, not including the $4.5 million loan.
Democrat Terry McAuliffe and Republican Glenn Youngkin sparred over COVID-19 vaccine mandates, abortion rights, tax policy and more during the first debate of Virginia's governor's race on Thursday night.
A new 8News/Emerson College poll released ahead of the debate showed the candidates are neck and neck.
On the night before early voting for the November 2 election begins in Virginia, the candidates made their key differences clear on the debate stage.
Thursday's debate, which was held at the Appalachian School of Law in Grundy, was moderated by Susan Page, the Washington bureau chief of USA Today, with panelists Bob Holsworth, a Virginia political analyst, and WTVR-TV anchor Candace Burns.
(CNN)Virginia gubernatorial candidates Terry McAuliffe and Glenn Youngkin sparred on Thursday over what each would do in the fight against the coronavirus, revealing a significant divide between the Democrat's backing of vaccine mandates and the Republican's argument that vaccination is a personal choice.
The fight over measures to combat Covid-19 was the focus of the first gubernatorial debate from the outset of the contest, with both candidates attempting to go on offense on the issue during the event hosted by Appalachian School of Law in Grundy, Virginia.
Youngkin argued that while he personally supports the Covid vaccine and wants everyone to get the shot, he believes "that individuals should be allowed to make that decision on their own." He also pushed for McAuliffe to join him in taping a public service announcement to "encourage all the Virginians to get the vaccine."
Pressed on whether he, as governor, would join his Republican colleagues and challenge President Joe Biden's recent vaccine mandates, Youngkin did not give a direct "yes" or "no" answer, but said, "I don't believe that President Biden has the authority to dictate to everyone that we have … to get the vaccine." Biden 
announced earlier this month
 a series of new vaccine rules on federal workers, large employers and health care staff.
McAuliffe, a former governor of Virginia, fired back, calling Youngkin anti-vaccine and saying that he, as governor, would back up employers who mandate vaccines and would call for such mandates for people working in health care and in most education settings and for those pursuing higher education. The Democrat also said, after being pressed by moderator Susan Page, that he would support adding the Covid vaccine to those required for students older than 12, since the US Food and Drug Administration 
has authorized use of the vaccine
 for 12- to 15-year-olds.
"I am for requiring, mandate vaccinations. He's not," said McAuliffe, who is running for a second stint in office in a commonwealth that bars governors from serving successive terms. "He wants to do PSAs. PSAs aren't going to get you anything. I want everybody to be vaccinated here in the commonwealth of Virginia."
California's recall election has understandably dominated headlines, but there are two other gubernatorial elections this November that might tell us more about the national environment: Virginia and New Jersey.
To be sure, President Joe Biden carried both of these states by double-digit margins in 2020, and neither state has been terribly hospitable to Republicans since former President Trump won the 2016 election. But in recent weeks, Biden's approval rating has taken a sizable hit as the situation in Afghanistan has deteriorated and the delta variant of COVID-19 has complicated his efforts to steer the country out of the pandemic. In fact, Biden's approval rating has fallen to about its lowest point (about 46 percent), while his disapproval rating is up to 49 percent, according to FiveThirtyEight's presidential approval tracker. The upshot is that Biden's worsening ratings could improve the GOP's chances of winning these gubernatorial races, particularly in Virginia, which is a more competitive state than New Jersey and doesn't have an incumbent seeking reelection. Here is the state of play in these two elections a little less than two months before November:
A new Monmouth University poll shows the former Democratic governor slightly ahead of his GOP opponent, Glenn Youngkin.
Former Virginia Gov. Terry McAuliffe holds a narrow lead in this year's race for his old job, according to a new poll released on Tuesday, setting up the November election as a major test of Democratic voters' enthusiasm without Donald Trump in the White House.
The poll from Monmouth University found McAuliffe leading Republican businessman Glenn Youngkin, 47 percent to 42 percent among registered voters.
Monmouth ran a series of turnout scenarios and found that Youngkin did better when more irregular voters were included. And broadly, the Republican overperformed the former governor among voters who described themselves as "more enthusiastic" about this race compared to past gubernatorial contests, roughly a quarter of the electorate.
About
First debate – September 16, 2021
Youngkin and McAuliffe met at Appalachian School of Law in Grundy, Virginia on September 16, 2021, one day before early voting began. The debate started with discussion over a recent COVID-19 mandate President Joe Biden signed requiring federal workers, employees of large companies, and contractors to be vaccinated. Youngkin doubted if Biden had the power to authorize the mandate, and supported personal choice for receiving the vaccine. McAuliffe supported the mandate and accused Youngkin of spreading "anti-vax" rhetoric.[126] Youngkin denied the claim.`
The discussion moved to climate change, where Youngkin stated he would use all sources of energy to address climate change without "putting [the] entire energy grid at risk for political purposes." McAuliffe called for clean energy in the state by 2035 and stressed the idea for the state to be a production hub.
The discussion then moved to abortion, specifically the recent Texas Heartbeat Act signed by Texas Governor Greg Abbott (whom endorsed Youngkin).[127] When asked whether or not Youngkin would sign a similar bill, Youngkin stated that he would not sign the bill, and that he was pro-life and supports exclusions in cases such as rape, incest, and when the life of the mother is endangered and also supports a "pain-threshold" bill. In addition, Youngkin said he would "go on the offensive" to defund Planned Parenthood and stated McAuliffe was "the most extreme pro-abortion candidate in America today". In response to Youngkin, McAuliffe stated he was a "brick wall" to women's rights and would protect a woman's decision over abortion and supports reducing the number of doctors needed to certify a third-trimester abortion from three to one.
The next discussion topic was over election integrity. After supporting an "Election Integrity Taskforce", Youngkin stated he does not believe there has been "significant fraud", and stated the issue of fraud as "a democracy issue". Youngkin stressed that he believes that "Joe Biden's our president" and criticized the withdrawal from Afghanistan. McAuliffe took note to Donald Trump's endorsement of Youngkin, calling him a "Trump wannabe".[126] Both candidates stated they would concede the election if the other came out on top.
The final discussion topic was over the economy. McAuliffe attacked Youngkin on his top economic advisor, Stephen Moore, who advised Donald Trump's 2016 presidential campaign. Youngkin defended Virginia's right-to-work law.
Source: Wikipedia
Predictions
Videos
Virginia's First Gubernatorial Debate
Published on September 16, 2021
By: WUSA9
Terry McAuliffe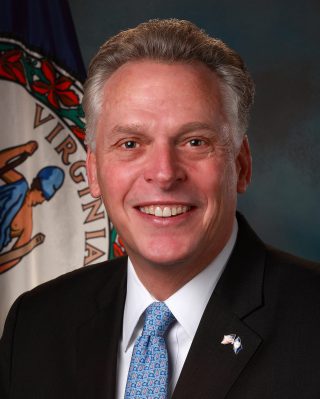 Current Position: GMU Distinguished Visiting Professor since 2018
Affiliation: Democrat
Candidate: 2021 Governor
Former Position(s): Governor from 2014 – 2018; Chair, Democratic National Committee from 2001 – 2005; Chair, Hillary Clinton presidential campaign since 2008
Terry McAuliffe is a lifelong entrepreneur and proud Democrat who served as the 72nd Governor of the Commonwealth of Virginia from 2014-2018. As governor, Terry focused on making the Commonwealth welcoming and inclusive and building a 21st Century economy that created good jobs and expanded economic opportunity for all Virginians.
For more information, see this Terry McAullife post.
Glenn Youngkin
Current Position: Republican Nominee for Governor of Virginia
Affiliation: Republican
Candidate: 2021 Governor
Glenn Allen Youngkin (born December 9, 1966) is an American businessman who is the Republican nominee in the 2021 Virginia gubernatorial election. Prior to entering politics, he spent 25 years at the private-equity firm The Carlyle Group, rising to become its CEO in January 2018.
He stepped down from the Carlyle Group in 2020, and in January 2021 he announced his candidacy for the 2021 Virginia gubernatorial election, and won the Republican nomination on May 10, 2021.
For more information, see this Glenn Youngkin post.
Issues
Governance
Terry McAuliffe
n/a
Glenn Youngkin
Virginia's government is failing its fundamental mission – serving the people. Our system is broken as customer service at agencies such as the DMV and VEC disappears. Glenn will make government work by:
Fixing the DMV & the Virginia Employment Commission
Protecting our Constitutional Rights
Conducting a Statewide Transparency Audit to Root out Waste, Fraud & Abuse
Restoring Photo ID Laws & Making it Easy to Vote and Hard to Cheat
Investing More Money in Roads & Highways
Completing Long-Delayed Environmental Projects
Civil Rights
Terry McAuliffe
Lifting Up Black Virginians: Terry's Plan to Create a Stronger, More Equitable Commonwealth
Creating Opportunities for Black Virginians
As Virginia's next Governor, Terry will take on the systemic racism that plagues our Commonwealth. That means addressing racial disparities and creating opportunities for Black Virginians to build wealth through homeownership and by investing in Black-owned businesses. Terry will continue his fight to defend and advance civil rights by making the restoration of voting rights permanent in Virginia's constitution, reforming the criminal justice system, and working to improve police-community relations. Terry will also ensure that Black Virginians have access to high-quality, affordable health care coverage and a world-class education, and promote equitable land use and access to safe and welcoming green spaces.
Glenn Youngkin
n/a
Economy
Terry McAuliffe
Creating Good-Paying Jobs and a Thriving Economy for All Virginians
Raise the Minimum Wage to $15 by 2024, Provide Paid Sick, Family & Medical Leave, Make Childcare More Affordable, and Create Pathways to Good-Paying Jobs for All Virginians
The COVID-19 pandemic has laid bare the pervasive inequities in our systems and disproportionately impacted Black and Brown communities when it comes to education, minority-owned businesses, housing and health care. Terry's plan will rebuild our economy again so that all Virginians can prosper.
As Governor, Terry will work to keep Virginians safely back at work and in schools, rebuild our thriving network of small businesses, and support our workforce with access to paid sick days, COVID-19 vaccines, affordable child care and hazard pay.
He will also make critical investments in building and training the workforce of the future and ensuring that people of all ages have the skills they need to be successful in the jobs of tomorrow.
Glenn Youngkin
The cost of living is rising for Virginians, and people are leaving the Commonwealth to look for jobs and start lives elsewhere. Glenn will tackle the rising cost of living and cut costs for Virginians by:
Eliminating Virginia's Grocery Tax & Suspending the Recent Gas Tax Hike for 12 Months
Providing a One Time Tax Rebate of $600 for Joint Filers and $300 for Individuals
Ending Runaway Property Taxes by Requiring Voter Approval for Increases
Cutting Income Taxes by Doubling the Standard Deduction & Cutting Taxes on Veteran Retirement Pay
Add 400,000 Jobs & 10,000 Startups
Virginia's jobs machine is broken. After zero job growth from 2013 through 2020, Virginia currently ranks 44th in job recovery during the pandemic and was recently ranked as the 49th best state to start a business. Glenn will jumpstart our economy by:
Keeping Virginia Open and Protecting Lives & Livelihoods
Protecting Virginians from Forced Unionization & Cutting Job Killing Regulations by 25%
Launching #JumpstartJobs to Develop Talent, Train Workers, Attract Investment, & Make Virginia the
Easiest State to Start a Business
Reinvigorating Small Business by Enacting a Small Business Tax Holiday & Ending the Tax on Rebuild VA and PPP Loans
Healthcare
Terry McAuliffe
Ensuring That Every Virginian Has Quality, Affordable Health Care
As Virginia's next governor, Terry will fight to make sure all Virginians have access to quality, affordable health care coverage and that no Virginian is forced to choose between medication or a meal. Terry will address racial, gender, and geographic disparities in access to coverage and outcomes by strengthening Medicaid, working with the federal government to implement a reinsurance program to lower health insurance premiums, protecting reproductive freedoms, and combating rising prescription drug prices by holding pharmaceutical companies accountable. As governor, Terry will also work to end unacceptable maternal mortality rates for Black women by expanding home visiting programs, improving access to quality care, ensuring access to lactation support, and mandating mental health screenings for pregnant and postpartum women.
Glenn Youngkin
n/a
Safety
Terry McAuliffe
Taking Action to Protect Virginians from Gun Violence
It's time to Ban the Sale of Assault Weapons, Close Loopholes, and Treat Gun Violence as a Public Health Epidemic
As Virginia's next Governor, Terry will send a clear message that gun violence has no place in the Commonwealth. He will ban the sale of assault weapons and get high-capacity magazines and ghost guns off of our streets. He will also close lethal loopholes that repeatedly allow firearms to get into the hands of dangerous individuals. By creating an Office of Gun Violence Prevention and creating a research Center of Excellence at a Virginia college or university, Terry will treat gun violence as the public health crisis it is and deploy evidence-based solutions to save lives.
Glenn Youngkin
Failed leadership and dangerous policies have left Virginia less safe. With rising violent crime and the murder rate at a 20-year high, Glenn will keep our communities safe by:
Fully Funding Law Enforcement & Protecting Qualified Immunity for our Law Enforcement Heroes
Firing the Parole Board & Keeping Violent Criminals Off Our Streets
Launching #UnityInTheCommunity Programs Operation Ceasefire & Project Exile
Fixing Our Broken Mental Health System
Education
Terry McAuliffe
Ensuring that Every Child has Access to an Equitable, World-Class Education
$2 Billion Annual Investment to Raise Teacher Pay Above the National Average, Get Every Student Online, Expand Pre-K, and Eliminate Racial Disparities in Education. 
As Virginia's next Governor, Terry will ensure that every student has access to an equitable, world-class education. His plan will invest a record $2 billion annually in education, which will raise teacher pay above the national average for the first time in Virginia history, give every 3 and 4-year-old in need access to pre-k, and get every student online. Terry will also address Virginia's educator shortage and diversify our educator workforce through his Lucy Simms Educator Program. The Lucy Simms Program will cover education costs for students who commit to teaching for five years in one of Virginia's public schools after graduation. Terry will also fight to make Virginia the best state in the nation for STEM-H and computer science education.
Glenn Youngkin
Restore Excellence In Education
Virginia's students have fallen behind because of extended school closings, lower school standards, and political agendas. Glenn will empower parents and restore excellence and commonsense in education by:
Keeping Schools Open Safely Five Days a Week
Restoring High Expectations & Getting Every Student College or Career Ready
Ridding Political Agendas from the Classroom by Banning Critical Race Theory
Rebuilding Crumbling Schools, Raising Teacher Pay, & Investing in Special Education Programs
Creating at least 20 New Innovation Charter Schools across the K-12 Spectrum to Provide Choice