Summary
District Description: County of Prince William (part); City of Manassas Park
Current Delegate: Danica  Roem since 2018 (D)
According to Ned Oliver of Virginia Mercury:
"A tougher lift for Republicans, but they say it's in the realm of possibility. Roem, a former newspaper reporter and the first transgender woman elected to the statehouse, has a nationwide profile and is well liked. She faces Kelly McGinn, a former lawyer and congressional staffer, who opposed the ERA and has a history of opposing same-sex marriage, positions that echo the stances of Bob Marshall – the anti-LGBTQ delegate Roem toppled in 2017."
VA House District 13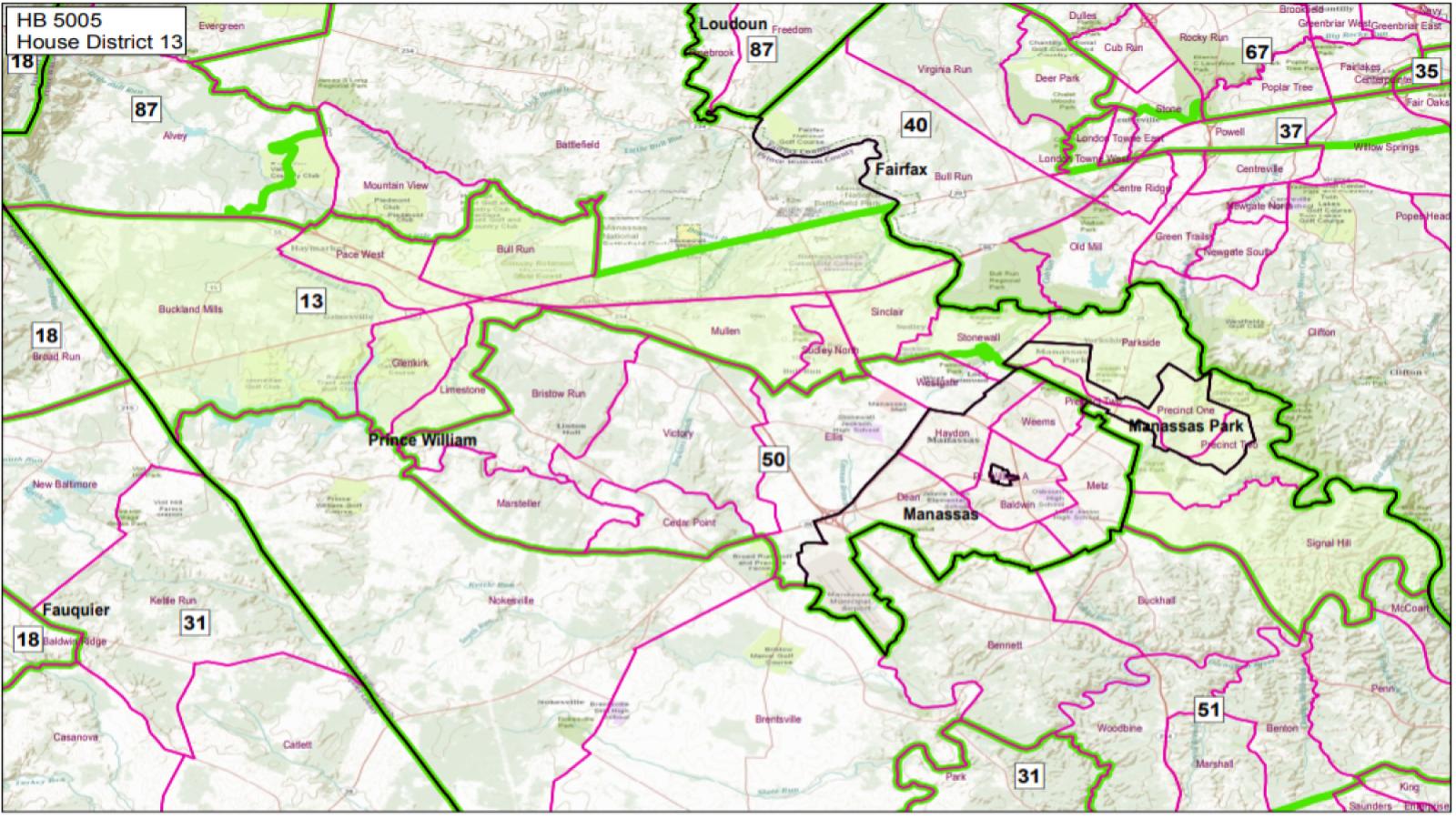 Danica Roem
Current Position: State Delegate for VA House District 13 since 2018
Affiliation: Democrat
Candidate: 2019 State Delegate VA House District 13
For more information, see Danica Roem's post.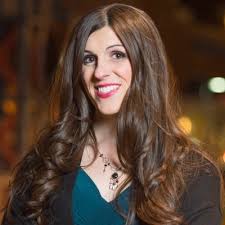 Danica Roem is an American journalist and politician of the Democratic Party. In the 2017 Virginia elections she was elected to the Virginia House of Delegates, winning the Democratic primary for the 13th district on June 13, and the general election on November 7. She is the first openly transgender person to be elected to the Virginia General Assembly, and in January 2018 became the first to both be elected and serve while openly transgender in any U.S. state legislature. In December 2017 The Advocate named her as a finalist for its "Person of the Year". In January 2018, Delegate Roem was included on the cover of Time Magazine in their "The Avengers" feature, highlighting new female candidates and elected officials from around the country.
Early life and education
Roem was born at Prince William Hospital and raised in Manassas, Virginia, the child of Marian and John Paul Roem. Her father committed suicide when she was three years old, and her maternal grandfather, Anthony Oliveto, acted as a father figure. Living in Manassas, Virginia for her whole life, she attended the majority of her schooling there. She went to Loch Lomond Elementary School for grades K-3, and then All Saints School for grades 4-8. She then attended Paul VI Catholic High School in Fairfax, Virginia and then went to her aunt and uncle's alma mater, St. Bonaventure University in St. Bonaventure, New York to pursue journalism.[10] As a student at St. Bonaventure University, she had a 1.1 GPA her first semester and was more focused on music than homework. During her second semester, she made a comeback and raised her GPA to a 3.48 and made the Dean's List. Her professors described her as tenacious, persistent, and one who worked for those who voices were often ignored. She moved back to Virginia after graduation.
Roem has stated that her role models growing up were Senator Chuck Colgan (D-29) and Delegate Harry Parrish (R-50) because, although they were affiliated with a party, they had more independent ideologies.
Journalism career
When Roem was a child, her grandfather would tell her, "the basis of my knowledge comes from reading the newspaper every day." This influenced her to become a journalist. She was a journalist for ten and a half years. Her first job out of college, in 2006, was at the Gainesville Times in Gainesville, Virginia. Roem worked for nine years as the lead reporter for the Gainesville Times and Prince William Times. She then went to work as a news editor in August 2015 at the Montgomery County Sentinel in Rockville, Maryland, where she was employed there until December 2016. She then decided to run for public office. She said she has a wide knowledge of policy issues due to her journalism career. She won awards from the Virginia Press Association seven times.
Kelly McGinn
Current Position: Former Senior Counsel for International Human Rights
Affiliation: Republican
Candidate: 2019 State Delegate VA House District 13
For more information, see Kelly McGinn's post.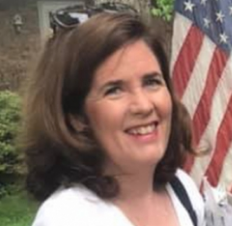 Values
Kelly grew up in a faith-filled, close-knit family that valued hard work and serving others. She babysat throughout high school for many families, earning enough money to visit her grandparents in Ireland for a summer and to self-finance her living expenses in college. Kelly's family also regularly served at soup kitchens and volunteered in the community.
Patriotism
As a high school exchange student on a government scholarship program in Germany during the 80s, Kelly's love of our country and her appreciation for our free market system grew. Visits to East Berlin and Moscow impressed upon her the stark reality that the communist system meant poverty and limited life options for millions of those walled inside the Eastern bloc.
Education
Kelly is a summa cum laude graduate of the School of Foreign Service at Georgetown University where she studied International Politics. She went on to earn a law degree at the University of Virginia Law School. She knows that promoting access to education and job training is vital to our community and that one's education is not limited to formal schooling but is instead a lifelong endeavor. She'll work to promote a rich cultural environment in our area where libraries, the arts, and civic organizations are valued.
Advocate
Kelly's dream in law school was to be a human rights lawyer. It came true when she was hired as Senior Counsel for International Human Rights to Senator Sam Brownback of Kansas. Advocating on behalf of political prisoners, child slaves, and the poorest of the poor and serving as a voice for persecuted people around the world deepened Kelly's passion to continue fighting for the most vulnerable at home and abroad.
Mom
Since she decided to become a full-time mother, Kelly has devoted herself to the most important work in the world – raising the next generation. She and her husband built their first home in Prince William County because they wanted their kids to grow up in a diverse community where they could play outside and truly enjoy the innocence of childhood. She believes parents are the first and most important teachers of their children and will fight to protect the rights of parents against governmental overreach into the upbringing of their children.
Issues
Better Government
Danica Roem
Increase Citizen Review
House Bill 2375, one of my three bills that passed during the 2019 session, increases transparency in local government by requiring governing bodies to hold a public hearing before fast-tracking a zoning ordinance change through a planning commission. They will also have to advertise that public hearing in the print edition of a newspaper and on the governing body's website so it is in the public record at least two weeks ahead of the vote.
 When budget amendments arrived late this year in Richmond, I voted against cutting the amount of public review time from 48 hours to 24 hours before the General Assembly voted on them and adjourned. The rule change passed anyway, so I logged into Facebook that night and early the next morning and read page after page of the budget amendments live on camera so the public would know what we were voting on that Sunday.
I will keep fighting for citizens to have more access to information and continue my work to increase government transparency so you know exactly what your elected officials are doing with your time and your dime.
Strengthen the Freedom of Information Act
There's no reason why Maryland's government should be more open and accessible than Virginia's government, yet that's exactly where we find ourselves. I authored HB 940 (2018) HB 2507 (2019) to establish a state-level Freedom of Information Act (FOIA) ombudsman through the Office of the Attorney General. The Ombudsman would be a dedicated, independent, neutral position to streamline and mediate FOIA requests, and ensure that they are being addressed effectively and more efficiently between FOIA requestors and state agencies. I'll bring this legislation back in 2020 so we can create this important position to help everyday citizens navigate the complex and confusing world of state agencies and public information.
I also filed HB 1603 (2018) to eliminate fees for the first two hours it takes an agency or governing body to fulfill a FOIA request. In many cases, these fees are designed to limit the public's access to information, not strengthen it. I'll continue working to make FOIA more accessible to the public and stand up to unnecessary exemptions that harm open government.
Increase Accessibility
Through the first half of 2019, I hosted or participated in 20 local town hall meetings in the greater Prince William County area since January 2018, including events in each of the four communities I represent: Manassas, Manassas Park, Gainesville and Haymarket. Being present and available in the community is the same work ethic I showed for more than nine years as your local reporter. As your local elected official, I remain accessible and accountable to you.
On many nights during the 2019 session, I posted two-minute videos recapping my day in Richmond so my constituents would know what I was doing on their behalf. I take my commitment to open government seriously and will continue to do so on behalf of the people of the Thirteenth District.
In 2018 (HB 1309) and 2019 (HB 2250), I introduced legislation to establish a Shield Law to prevent reporters from being jailed for protecting a confidential source. I also signed on as the chief co-patron of a bill introduced by another reporter-turned-delegate, Chris Hurst, D-12th, to prevent school officials from censoring student journalists.  I'll continue advocating for a free and open press so aspiring journalists and professional reporters alike can hold government officials accountable and report vetted facts to the public.
Prevent Child Warfare Fraud
One of my other government accountability bills that was signed into law is HB 2339 (2019), which allows the Department of Social Services to work with the Department of Taxation to modify existing child support orders and prevent child welfare fraud. I had to wage an epic fight for this bill on the floor of the House of Delegates and prevailed as a freshman member of the minority party because I learned the rules and procedures and built a reputation as a bipartisan consensus seeker who always works in good faith.
The relationships I built across the aisle during my time in office so far allowed this bill to pass out of the House of Delegates and Senate. I'm committed to maintaining those relationships so I can make a good law even better in 2020 by allowing the Department of Social Services to notify Virginians that they are eligible for the Earned Income Tax Credit (EITC) and other benefits.
Democracy
Danica Roem
Enact Real Campaign Finance Reform
Not only have I refused to accept any money from for-profit corporations, their PACs, their trade associations and their lobbyists, I introduced HB 562 (2018) to ban public service corporations from donating to elected officials because the regulated should not be to have undue influence over their regulators.
Through my advocacy to reform our campaign finance system and eliminate conflicts of interest, I've led by example both on the campaign trail and in the General Assembly through my actions.
I pledged not to take any money from Dominion Energy before the Activate Virginia pledge even existed in 2017. I continue to rely on people power to fund my campaigns and on my constituents to help me craft our legislation, not on corporations
Civil Rights
Danica Roem
Ratifying the Equal Rights Amendment
On Feb. 21, 2019, a 50-50 vote in the House of Delegates ended our chance this year for Virginia to become the 38th and final state needed to ratify the Equal Rights Amendment to the Constitution of the United States. The ERA text states the following:
Section 1. Equality of rights under the law shall not be denied or abridged by the United States or by any State on account of sex.
Section 2. The Congress shall have the power to enforce, by appropriate legislation, the provisions of this article.
Section 3: This amendment shall take effect two years after the date of ratification.
I wore my mother's 43-year-old "Women's Bicentennial" ERA medallion necklace almost daily during session in 2019. Ratification of the ERA has an 81 percent favorability rating in Virginia. Its support goes across party lines and ideologies. I'll continue advocating for ratification of the Equal Rights Amendment so we are all considered equal under the Constitution.
Championing Your Rights
The Due Process Clause of the Fourteenth Amendment of the Bill Rights ensures your right to privacy so you can have the autonomy to make your own reproductive health care choices and marry the consenting adult you love. That's why we need to update the Code of Virginia to remove discriminatory language and ensure equal rights of all Virginians.
My legislative record is solidly on the side of justice and inclusion so we provide equity and equality for women, people of color, LGBTQ people, immigrants, workers, the disabled, seniors, students, people experiencing homelessness, survivors of sexual assault and human trafficking and all of my constitutions who need a hand up.
I'm proud to stand up for my constituents no matter what they look like, where they come from, how they worship if they do or who they love because of who they are, not despite it.
Kelly McGinn
Defending the Most Vulnerable
The life of every single Virginian is important to Kelly. That's why she'll fight for the littlest Virginians among us and is 100% pro-life and pro-woman. As an adoptive mom, Kelly is passionate about helping unite families through foster care and adoption. She believes respecting life means looking out for people at every stage including the seriously ill, people in economic distress, and the elderly.
Economy
Danica Roem
Creating a Fairer Tax System
When the majority caucus this year proposed disproportionately extending federal tax cuts to people making more than $50,000 a year while providing barely anything for those who earned less, I fought for all of my constituents to be included until half of the tax cuts went to people making less than $50,000.
I'll continue supporting a fair, equitable tax system that takes care of all of my constituents, including making the Earned Income Tax Credit fully refundable, without playing political games. That's why I voted for conformity of the tax code this year and last year so my CPA constituents could do their work in a timely manner without the uncertainty of waiting for the Virginia General Assembly to do its job. I'll continue legislating in a fiscally responsible manner to make sure Virginia pays its bills and maintains its AAA bond rating.
Kelly McGinn
Kelly knows our economy thrives when government gets out of the way. She and her husband have run a small business and recognize that entrepreneurship is key for economic growth. We must continue to make Virginia the best place to do business, grow our local economy, and create high-quality jobs.
Education
Danica Roem
Raising Teacher Pay
When I voted to fulfill my campaign promise to expand Medicaid to 400,000 uninsured constituents, the state government was able to bring home $371 million from the federal government, which freed up enough money in the state budget to tackle major education funding issues. By casting this vote, I also fulfilled another campaign promise to raise teacher pay. By voting for the approved FY 2019-2020 budget and related amendments in 2019, I voted to raise salaries for public school instructional staff by 5 percent. This is a great start but not the end of this important issue as we work to make sure Prince William County teachers do not have the lowest salaries in Northern Virginia while also bringing Virginia above the national average for teacher salaries. The budget also included the In-State Undergraduate Tuition Moderation Fund to prevent tuition hikes in higher education. I'll continue to work across the aisle to fully fund K-12 and higher education while taking care of our students, instructional staff and administrators.
Feeding Hungry Kids
For the 2018 and 2019 General Assembly sessions, I have worked with one of my Gainesville constituents to author legislation to ensure Virginia students do not go hungry at school. During the 2019 session, I introduced and passed into law HB 2400 to require all public school districts throughout Virginia to post prominently on their websites an online portal for parents to apply for free and reduced meals for their children. There are thousands of children throughout Virginia, including Prince William County and Manassas Park who are eligible for free and reduced school meals but are not enrolled because completed paper applications never made it back to school. Having an online system that's easy to find on the school division website will allow parents to apply on their own time and without the social stigma of having to turn in a paper form declaring that their income allows them to be qualified for the program in the first place. The law goes into effect July 1, 2019, so I will monitor our local school divisions to make sure they are compliant.
Leading By Example
When Google offered me $2,500 in exchange of using two seconds of a video of me for their International Women's Day 2018 ad, I declined taking the money for myself. Instead, I asked Google to pay off $2,500 worth of school meal debts in the 13th District. This money was used to pay off all school meal debt at Loch Lomond Elementary School in Manassas, PACE West in Gainesville and took care of almost all the debt at Sinclair Elementary School in Manassas.
Meanwhile, I contributed hundreds of dollars to the "Settle the Debt" campaign to pay off school meal debts in Prince William County as my Gainesville constituent Adelle Settle raised more than $40,000 to pay off school meal debts across Prince William County Schools.
While it's important to pay down existing debts, it's even more important to address the systemic problems that cause debt in the first place. I will continue to advocate for maximizing enrollment in the federal Community Eligibility Program so more schools can provide meals without charge to students while I continue to advocate for the reduction and elimination of school meal debts at the state level.
Eliminating School Meal Shaming
No student should be shamed for their parents' income situation. In addition to introducing anti-school meal shaming legislation in 2018 as a constituent service request, I signed on as the chief-co-patron of Del. Patrick Hope's HB 50 (2018) and worked with him to pass this legislation to prevent students from being forced to wear a wristband or do chores as a result of having school meal debt. HB 50 also requires all communication concerning school meal debt to be addressed to the parent, not the student because children should just be able to focus on learning instead of being shamed for debt that their parents/guardians owe. In fact, parents often don't know what happens when their kids carry school meal debts. I authored HB 2462 (2019) to require school districts inform parents of the policies, procedures and consequences for students carrying school meal debt. I also introduced HB 2376 (2019) to ban school officials from forcing students to throw away meals after they've been served to them because the student carries school meal debt or their parents/guardians cannot afford their meals. Thankfully, this shaming practice does not apply in Prince William or Manassas Park but it exists in other parts of Virginia. While HB 2462 and HB 2376 had bipartisan support of more than 50 co-patrons each – a majority of the House of Delegates – the Chairman of the House Education Committee recommended for them to instead be considered for administrative implementation through the Code of Virginia. I've followed up with Education Secretary Atif Qarni since then to make sure that happens. I believe forcing a student to throw away a meal should be explicitly banned in the Code of Virginia instead of at the will of the agency, so I will reintroduce that legislation to prohibit that form of school meal shaming.
Being Accessible to Student Constituents
It's one thing for a legislator to make time for adults when the adults can vote for them. It's another to make time for students who are too young to vote. I serve all of my constituents, regardless of their eligibility to vote and the best place to interact with students is to meet them where they're at: school. In 2017, I heard from Manassas Park residents that they felt invisible to their elected officials so I told them that would stop with me and started engaging with my student constituents at school. Two weeks after I won the 2017 campaign, I toured every public school in Manassas Park.
In May of 2018, U.S. Senator Tim Kaine and I hosted a student-led gun prevention roundtable at Manassas Park High School where we answered questions and heard public policy ideas from Manassas Park, Stonewall Jackson, Patriot and Hylton high school students. When Stonewall Jackson High School students asked me to attend a public hearing about the proposed boundary lines for the 13th high school in Prince William County, I went and listened to the students express their frustration that the proposed lines packed students of color at one school while diluting the presence of students of color at Patriot and Battlefield High Schools.
I have conducted student town halls at Stonewall Jackson High School and the George Mason University Science and Technology campus in Manassas. By writing and passing commending resolutions in the House of Delegates, my team and I have honored educators and students alike from Prince William and Manassas Park, and twice joined the Battlefield BEST Club as they, in partnership with the Virginia Student Training and Refurbishment (STAR) Program, gave away refurbished laptops to families who needed them at Sinclair and Tyler Elementary Schools.
I attended the Manassas Park High School senior awards ceremony and sat on stage at each of the graduation ceremonies for every public high school in western Prince William County as well as the eighth grade promotion ceremony at Manassas Park Middle School, the fifth grade promotion ceremonies at Piney Branch, Sinclair, Sudley, Manassas Park Elementary Schools and even the second grade promotion ceremonies at Cougar Elementary School.
Whether it's an outdoor festival at Osbourn Park High School to raise money for hurricane survivors in Puerto Rico, joining the advisory board for the George Mason University Science and Technology campus or testifying in front of our local school boards in favor of including LGBTQ students and staff in their non-discrimination policies (which are now implemented both in Prince William and Manassas Park), I've been present in our community, accessible and accountable as I've advocated for our community. I'll continue to do so as your delegate.
Creating Equitable, Safe and Fun Learning Environments
During the 2019 session, I signed onto Del. Jeff Bourne's HB 1600, to address the statewide of problem of black students and disabled students being disproportionately more likely to be given long-term suspensions from schools than other students. The bill, now signed into law, reduces the length of long-term suspensions from 364 days – the highest in the nation – to 45 days except in the most severe circumstances. Simply put, a child cannot learn while rehabilitating their behavior if they are being taken out of school for months at a time without education. This legislation marks the first major crack we took in the House of Delegates at addressing the school-to-prison pipeline, one of the policy promises I made during my 2017 campaign.
In Northern Virginia, we heard parents raise awareness about how denying elementary school students 15-minutes of recess in a day is actually detrimental to children as they need that unstructured time to reset and unwind before continuing their education. In 2018, I signed on as a co-patron to Del. Karrie Delaney's HB 1419, to allow school divisions to count recess as instructional time in elementary schools. After the bill was signed into law, the Prince William County School Board was the first in the commonwealth to adopt it, so students in kindergarten through fifth grade now have an additional 15 minutes of recess per day. I'll continue working with my colleagues who advocate on behalf of students to improve their learning environment inside and outside of the classroom.
Kelly McGinn
Quality educational opportunities are vital as we raise our next generation. Kelly will work with local school board officials to help our young people get the very best education here at home and affordable access to our state colleges and universities.
Health Care
Danica Roem
Expanding Health Care Insurance Coverage
Expanding Medicaid to 400,000 uninsured Virginians – including 3,800 of my constituents – was the single most consequential and important vote I cast during my first term because I know what it's like to be uninsured. More than 279,000 Virginia adults enrolled in Medicaid in less than five months – far surpassing enrollment timeline expectations. Passing Medicaid expansion through the budget also included historic investments in mental and behavioral programs across the state as well as much needed funding to combat the opioid crisis.
At the same time, hundreds of thousands of Virginians who earn more than $17,256 per year remain uninsured or underinsured with $5,000 deductible plans that leave many people functionally uninsured. Meanwhile, even more Virginians have health insurance premiums that keep rising.
That means we need to stay vigilant. Here's what we can do:
1) Maximize Medicaid expansion enrollment: I'll continue working with the Department of Social Services in Prince William County and the City of Manassas Park to make sure than each and every one of the 3,800 constituents I represent, who are eligible for Medicaid expansion, have all the information they need to enroll if they so choose. My office has assisted many constituents in applying for coverage under Medicaid expansion and is happy to continue doing so in the future. Please visit www.coverva.org for eligibility and enrollment information.
2) Create a public option: I'll keep encouraging our federal delegation to pass U.S. Sen. Tim Kaine's Medicare-X Choice Act, which would create a public option that could drastically reduce the uninsured and underinsured populations in Virginia. This would build on Medicare to create a public plan offered on the individual and small business health exchanges, giving Americans the option to choose between existing private insurance plans or a public option. The Medicare-X legislation is currently under consideration in Congress. If there is no action on it at the federal level by 2021, I'll work with my colleagues in the House of Delegates to re-examine how we can use the framework from the Marketplace Virginia proposed compromise from five years ago as a means of establishing a state-level public option while preserving Medicaid expansion.
3) Fight "junk" plans: I have voted against "buyer-beware" proposals lacking even some of the most basic protections that would dilute the health insurance market pool and raise insurance premiums on people with pre-existing conditions. I'll continue working to make sure our legislature strengthens the Patient Protection and Affordable Care Act in Virginia and does not undermine it.
Covering Your Health Care Needs
Far too often, doctors prescribe their patients treatments that health insurers simply won't cover because they're not required to do so. I worked hard to close some of these health insurance coverage gaps for my constituents during my first term in office and I remain dedicated to making sure your health care needs are not excluded from coverage.
1) Mental Health: While I support fully implementing the recommendations of the Deeds Commission, I'm continuing my work to emphasize suicide prevention in the commonwealth. I was honored to earn the 2018 Virginia Counselors Association's "Legislator of the Year" award for my advocacy on behalf of mental health care causes, including my resolution HJ 138 that would have ensured all employees in a school district are trained to identify the signs of suicidal ideation in students. I also voted for HB 2053 (2019) and the budget amendments this past session that allocated $12.2 million to improve the student-to-counselor ratio to start making progress on this issue. I'll continue supporting our counselors, school psychologists and social workers to make sure our most vulnerable students receive the care they need.
2) Autism Spectrum-Related Healthcare: In 2018, I introduced HB 1113 to eliminate the age cap for autism-related health insurance coverage on behalf of one of my Manassas Park constituents and a group of moms in Prince William County. In 2019, I signed on as a co-patron of HB 2577 to eliminate (2019) all age requirements for autism-related health insurance coverage. This year, we got it done. I'll continue to advocate for my autistic and Aspie constituents, especially students who are at risk of being misunderstood and mistreated by peers or staff due to a lack of awareness and training.
3) Mechanical Prosthetic Devices: For my amputee constituents, I introduced HB1478 (2018) and HB 2669 (2019) to require health insurers to cover doctor-prescribed mechanical prosthetic devices, such as myoelectric, biomechanical or microprocessor-controlled devices. HB 2669 requires doctor prescribed mechanical prosthetic devices with a Medicare code to be covered under all health plans regulated by the commonwealth. This is an opportunity to give members of the limb loss community, such as one of my constituents, access to the care they need, when they need it. HB 2669 was referred to the Health Insurance Reform Commission for further consideration. I'll continue advocating for the limb loss community as a means of improving the mental and physical quality-of-life of my constituents.
4) LGBTQ Healthcare: Whether it's access to PrEP, IVF treatments or transition-related health care, LGBTQ health care is health care. I signed on as the chief co-patron to HB 1466 (2018) and HB 1864 (2019) to ensure health insurance coverage for transition-related healthcare in Virginia. None of my constituents should have their health care needs rejected when they are following their doctors' orders and this is a key issue as I champion non-discrimination in general for my LGBTQ constituents.
Kelly McGinn
Kelly knows we must reduce healthcare costs and ensure access to lifesaving treatment for those with preexisting conditions. She will work with public health experts to bring market solutions to the healthcare industry and keep more dollars in your pocket.
Environment
Danica Roem
Ban Above-Ground Transmission Lines Near I-66
As the lead reporter of the Gainesville Times, I was at Silver Lake in 2006 when activists floated balloons 155-feet-high in the air so we could see how a proposal from Dominion Energy to build transmission lines along the Interstate 66 corridor would affect the environment.
Eight years later, I identified Amazon as the owner of the controversial data center in Haymarket on Sept. 10, 2014 when Dominion Energy officials refused to name their corporate client when they proposed building 110-foot-high transmission lines along the I-66 corridor again.
Simply put, the people of Haymarket and Gainesville have had enough of these drawn out fights against corporate giants spanning the last 13 years.
When legislators proposed to include the hybrid route for the Haymarket Transmission Line in a large bill (SB 966/HB 1558) favored by Dominion Energy in 2018, I actually read the text and found out that the bill would actually allow above-ground transmission lines:
"§ 8. Approval of a proposed transmission line for inclusion in this program shall not preclude the placing of existing or future overhead facilities in the same area or corridor by other transmission projects."
In Catholic school we would call this "sin by omission" as the bill simply does not mention above-ground transmission lines rather than including provisions to ban them. I called this out on the House floor (video) and voted against the bill. After the legislation passed the House, that line was stripped from the bill.
I take constituent requests very seriously. When my Haymarket and Gainesville constituents contacted my office by an overwhelming majority in opposition to the Haymarket Transmission Line project, I filed HB 2469 (2019) to ban above-ground transmission lines in perpetuity along the Interstate 66 corridor between Gainesville and Haymarket. With many of my constituents in Richmond to testify for the bill, we challenged Dominion head-on in the House Commerce and Labor Committee. I earned bipartisan support for my bill this time around and plan to build upon that in 2020 to finally pass the legislation.
I also carried HB 556 (2018) to allow citizen groups like the Coalition to Protect Prince William County to recover some of their legal fees from the State Corporation Commission to level the playing field between small constituent advocacy organizations and public service corporations like Dominion Energy.
Meanwhile, I filed HB 562 (2018) to ban public service corporations like Dominion from being able to donate to political campaigns so regulated monopolies don't have undue influence over their regulators.
I don't take Dominion's money or money from any for-profit corporation, their PACs, their lobbyists or trade associations.
Controlled Development
As a member of the House Counties, Cities and Towns Committee, I sit on Subcommittee 2, which deals with legislation regarding residential developments. My legislative philosophy in most circumstances is that I generally try to empower localities to make their own land-use decisions as the people closest to the area know the most about their environment and property.
When those issues relate to Prince William County, the first question I ask if how will this bill affect residential development: will it make it easier for the Board of County Supervisors to bring development under control and will it be a tool the Board of County Supervisors can be counted on to use responsibly?
While other local governing bodies in Virginia are likely to use the proffer bill (HB 2342, 2019) that passed this year responsibly, I had severe concerns about whether Prince William County  would fall into the same old habits that created the county's over-development problem in the first place. We need to have adequate, existing infrastructure for roads, schools, water and first responders in place before approving new developments. We need public policy that prioritizes infrastructure development before residential development.
That's why I've attended a number of MIDCO and Planning Commission meetings regarding the Kline Farm and The Reserve at Long Forest in Manassas as those developments directly affect my Signal Hill and Yates Ford constituents. As a state delegate, I only speak in front of local elected governing bodies upon invitation, so I do not try to use the heavy hand of the state government to tell local elected officials how to do their jobs. At the same time, I do speak in front of appointed bodies, citizen organizations and listen to constituent feedback so I can take their ideas and make the best, most informed decisions I can for the people of the Thirteenth District in Richmond.
Infrastructure
Danica Roem
Fix Route 28 Now!
During the 2017 campaign, you may have seen my "Fix Route 28 Now!" yard signs and if you ever heard me speak, I'm sure it was one of the first things I mentioned. It's my #1 issue because I know how it affects my constituents' lives.
As a lifelong resident of the Manassas part of Prince William County, I covered our transportation issues for over nine years as the lead reporter of the Gainesville and Prince William Times. Prior to my journalism career it was a problem my family dealt with every single workday as my mother commuted up and down Route 28 for 40 years. I'm proud of the significant progress we've made since 2017. However, the people of the Thirteenth District elected me to fix the problem, not just improve it.  Fixing Route 28 remains my top legislative priority along with alleviating traffic congestion along Interstate 66.
Expand Mass Transit
Shortly after I was elected in November 2017, I met with Bob Schneider, Executive Director of the Potomac and Rappahannock Transportation Commission, and discussed the need to expand OmniRide bus service to Gainesville and Haymarket.
In 2018, I fulfilled my 2017 campaign promise to work across the aisle in favor of putting a floor on the Northern Virginia regional motor fuels tax and we got it done with HB 768/SB 896. Because of that vote, I was able to fulfill another campaign promise to expand mass transit in western Prince William County because the revenue from the motor fuels tax allocated $7.86 million more to the PRTC, allowing the PRTC board to launch the first ever OmniRide commuter bus linking Haymarket and northern Gainesville to Arlington on December 17, 2018.
As of now, four buses make six stops each along the westbound side of Heathcote Boulevard corridor and five locations near Metro stations in Arlington. This Sept. 9, two eastbound stops are due to be added at Carterwood and Sheringham.
The more mass transit options we provide for commuters, the more passenger vehicles we can remove each day from Interstate 66. I'll continue advocating and legislating to make this happen.
Improve Dangerous Intersections
During the last two years, two fatal traffic accidents have shook Gainesville as we've mourned those who died at intersections Rollins Ford Road and Estate Manor Drive and Heathcote Boulevard and U.S. 29.
It shouldn't take a fatality for us to improve road safety. That's why I worked for months with VDOT to improve the Heathcote/29 intersection, which happened on June 29, 2019 with the additional lane paving for commuters along northbound U.S. 29 turning left onto Heathcote Boulevard.
I also worked for months with VDOT on coming up with alternative intersection designs at three intersections along Rollins Ford Road and held three bipartisan town halls dedicated to gathering feedback from my constituents so VDOT would know what options the people who live in the area prefer. VDOT has since presented us with alternative intersection designs for the area. I'll continue to listen to what my constituents want for the area and work to secure funding to implement them.
Fully Fund the Northern Virginia Transportation Authority
In 2018, we had the opportunity in the General Assembly to both provide dedicated funding for the Metro and simultaneously preserve enough money with the Northern Virginia Transportation Authority (NVTA) to keep funding more fixes for Route 28, such as the 6-7-8 lane hybrid widening in Centreville. Before the Reconvene Session in April, where the General Assembly considers the Governor's proposed amendments and vetoes, I wrote a letter to the Governor urging him to amend HB 1539 (2018) to keep the NVTA from losing $35.1 million per year to fix our roads and multi-modal projects. Given that HB 1539 called for transferring money from the NVTA to fund Metro, I asked the Governor to offer amendments to safeguard NVTA funding that only applied to the six Metro compact jurisdictions – Alexandria, Arlington, Falls Church, Loudoun, Fairfax County and Fairfax City – not Prince William County, Manassas or Manassas Park. The Governor did exactly that in Recommendation #16 to HB 1539, which the majority caucus killed on a party-line vote of 51-48. As an immediate consequence of that vote that left crucial transportation funding on the table, Fairfax County decided to proceed only with the six-lane widening of Route 28 in Centreville instead of the 6-7-8 lane hybrid widening option that would widen the road to six lanes in the south near Compton Road and eight lanes by Route 29.
However, I would not accept defeat when that transportation funding was lost. I spoke out on floor of the House of Delegates and called for NVTA funding to be restored by inserting a provision in the Interstate 81 bill (HB 2718, 2019) that included bringing back $20 million per year to the NVTA without raising taxes in Northern Virginia. This time, when the funding amendment arrived, I worked hard behind the scenes to whip support and helped deliver 48 Democratic votes for the amendment while 12 of 51 Republicans crossed the aisle to vote along with us. This allowed us to deliver and approve the largest transportation funding bill in six years.
In addition, I will continue to advocate for Del. Vivian Watts' legislation, HB 2085 (2019), to restore another $30 million of funding for the Northern Virginia Transportation Authority. Combined with the $20 million I helped bring back this year, that will restore $50 million annually — and that does not even include the money that would come from the localities.
Northern Virginia candidates and politicians routinely talk about bringing back transportation funding from Richmond. In under two years in office, I helped secure $20 million a year for Route 28 improvements and other Northern Virginia regional transportation projects. I'm not afraid to take tough votes, fulfill my campaign promises and deliver the results I've promised for the people of the Thirteenth District.
Kelly McGinn
Better Roads
We all know our roads need work. Route 28, in particular, is an ongoing traffic bottleneck that we need to fix. Increasing traffic congestion is not just a drain on our time but it is also a safety concern as it can lead to aggressive driving and more accidents. Kelly will fight for our fair share of transportation funding so that we can finally get traffic congestion under control.
Safety
Danica Roem
Gun Violence Prevention
As of May 26, 2019, 73 of the 110 homicides committed in greater Washington, D.C. Metropolitan Area have come from people being shot to death, including in Prince William County, according to the Washington Post. Gun violence also makes up an untold number of suicides and assaults in the region. It is possible to prevent people from killing other people or themselves without infringing upon someone's Second Amendment rights for lawful self-defense and recreation.
This is why I signed onto legislation to require universal background checks (HB 140, 2018), prohibit bump stocks (HB 41, 2018) and allow localities to regulate firearms in government buildings (HB 261, 2018). I also support enacting "red flag" laws to allow a judge to issue an emergency substantial risk order to prohibit someone who is in imminent danger of hurting themselves or others from purchasing, possessing or transportation a firearm (HB 198 (2018) and HB 1763 (2019).
As we work across the aisle on this issue, we must involve our student constituents in the discussion. In May 2018, I hosted a student-led roundtable discussion with U.S. Senator Tim Kaine on gun-violence prevention at Manassas Park High School. Student participants from Manassas Park, Stonewall Jackson, Patriot and Hylton High School shared their stories, offered innovative policy solutions and stressed the critical need for gun violence prevention legislation as they feared for their safety in school and the local community. Our students and community deserve to live free from the threat of gun violence.
I'll continue to support gun violence prevention bills where there is existing precedent in Virginia or other states for bipartisanship so we can get something done that is effective and data-driven.
Kelly McGinn
There is nothing more important than keeping our children and community safe. Kelly will work with law enforcement, faith leaders, public health officials, and community members to find common sense solutions to problems facing our citizens. Kelly is particularly concerned about the rise of gangs, opioid addiction, and human trafficking in our community.
Veterans
Kelly McGinn
As the wife of a West Point graduate, Kelly understands the unique challenges facing military families. She will fight to make sure our active duty military personnel, veterans, and military families receive the benefits and resources that they've earned.