Summary
Current Position: State Delegate of District 33 since 2014
Affiliation: Republican
Twitter
About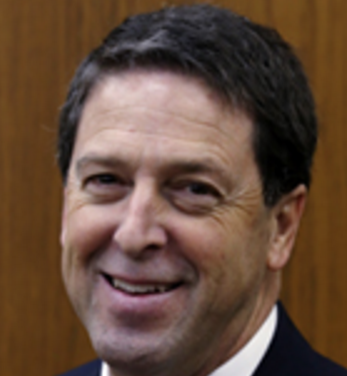 Source: Campaign page
Dave LaRock serves in the Virginia House of Delegates, representing the 33rd District, which covers most of rural Loudoun County and portions of Clarke and Frederick Counties. Friends, neighbors, and people Dave has worked with over the years trust him as a man of his word.
Dave's Pledge to the people of the 33rd District
"I will put aggressive management practices to work and begin to fix the problems that plague the Commonwealth.
I give voters my promise that I will provide honest, fair, and conservative leadership, to protect our rights and fight for high quality services and lower taxes."
Dave and Joanne LaRock have been married 35 years and have seven children and eleven grandchildren. He and his family settled in Loudoun County 31 years ago. Dave and Joanne are active in the local home school network and in their church community, and support their family members who have devoted much time ministering to impoverished people in Belize, Ghana, and Brazil. They attend Cornerstone Chapel in Leesburg.
Joanne and Dave have grown a successful small business as a general contractor, working hard to build about two to three homes a year. As the manager of the business, Dave has a proven track record as an innovator and problem-solver. The success of this business proves his abilities to negotiate complex contracts and interact with government agencies. Dave has hand-picked teams and tackled big projects while staying within set budgets.
The family business is a model of good management practices and includes competent outside advisers who are central to the constructive decision making that has shaped the business over the years. Dave is excited about applying this experience to tackle Virginia's fiscal problems which have festered over the last decades. The LaRocks have avoided being encumbered by debt in their business and non-business lives as a matter of personal conviction. Dave knows the value of a dollar.
Dave became active in the political process around 2008, mostly helping good conservative candidates as they campaigned for office. He served as Blue Ridge District Chairman for the Loudoun County Republican Committee.
Dave worked countless hours with other activists in the community to protect private property rights when the Loudoun County Board of Supervisors attempted to adopt restrictive and unnecessary environmental regulations.
Dave took the lead in the fight against the funding scheme for the Dulles Metro Rail project that threatened to place a huge burden on Loudoun taxpayers. Those efforts were crucial to moving county officials to shift costs away from taxpayers and over to developers. Even with that success, Dave is very concerned that this Dulles Rail project will cost Loudoun residents billions of dollars in higher taxes and tolls while not improving traffic. Dave has broadcast the message that Dulles Rail will primarily benefit a few station-area developers.
"My family and I love living in this beautiful rural area. This is our home and we would like our children to be able to make it their home. Raising a family, running a household and a business has taught me the importance of making careful decisions. I am sure that spending wisely and sticking to the conservative principles we share is the way to improve everyone's quality of life."
Dave works to protect families, children, and the unborn, while standing up for our rights and keeping spending in check.
"The people of this district want high-quality services without massive tax increases. We are paying more than enough in taxes, but spending is out of control. I'd like to change that."
Dave knows government should protect our rights and allow us the freedom and opportunity to make our lives better. He understands that when government gets outside its proper boundaries, it needs to be restored to its core functions and run efficiently. Too much of what our state legislature does is off course and out of touch with the needs of common working people and businesses.
Over the last 20 years government spending has soared, while many of our problems, including traffic congestion, have only gotten worse. One of Dave's top priorities is to prioritize spending so the 33rd District's needs can be funded while keeping taxes low and spending at or below current levels. He aspires to be a statesman, not a politician!
Experience
Work Experience
President
LaRock Builders, Inc.
2019 to present
Education
Personal
Birth Year: 1956
Place of Birth: Oswego, NY
Gender: Male
Race(s): Caucasian
Religion: Christian
Spouse: Joanne Leslie Gilbert
Children: David, Peter, Paul, Elizabeth Andrews, Laura, Abigail, and John
Membership & Affiliation: Cornerstone Chapel, Leesburg
Contact
Legislative Assistant: Daniel Davies, Legislative Assistant; David C Wescott, Session Aide
Administrative Assistant During Session: Allene Cahill
Email:
Offices
Capitol Office
Pocahontas Building
900 E. Main St,
Richmond, Virginia 23219
Phone: (804) 698-1033
District Office
P.O Box 6
Hamilton, VA 20159
Phone: (540) 751-8364
Web
Government Page, Campaign Site, Twitter, Facebook, YouTube, LinkedIn
Politics
Recent Elections
2019
| | | |
| --- | --- | --- |
| Dave A. LaRock (R) | 17,671 | 56.75% |
| Mavis B. Taintor (D) | 13,433 | 43.14% |
| Write-In (Write-in) | 34 | 0.11% |
| TOTAL | 31,138 | |
2017
| | | |
| --- | --- | --- |
| David Larock (R) | 16,723 | 54.8% |
| Tia Lynn Walbridge (D) | 13,770 | 45.1% |
| Write In (Write-in) | 47 | 0.2% |
| TOTAL | 30,540 | |
2015
| | | |
| --- | --- | --- |
| David Larock (R) | 12,004 | 59.9% |
| Daniel Charles Hedges (D) | 7,300 | 36.4% |
| Mark Dewey-Heinz Anderson (L) | 723 | 3.6% |
| Write In (Write-in) | 19 | .01% |
| TOTAL | 20,046 | |
2008
| | | |
| --- | --- | --- |
| David Larock (R) | 13,827 | 53.6% |
| Mary Louise Costello Daniel (D) | 11,048 | 42.8% |
| Patrick Guy Hagerty (L) | 876 | 3.4% |
| Write In (Write-in) | 49 | 0.2% |
| TOTAL | 25,800 | |
Source: Department of Elections
Finances
LAROCK, DAVE A has run in 3 races for public office, winning 3 of them. The candidate has raised a total of $799,669.
Source: Follow the Money
Committees
Committees
Science and Technology
Transportation
Education
Subcommittees
Education – Subcommittee #2
Transportation – Subcommittee #1
Transportation – Subcommittee #2
Appointments
House Education
House Science & Technology
House Transportation
Joint Commission on Transportation Accountability
Northern Virginia Transportation Commission
Technology and Science, Joint Commission on
Voting Record
See: Vote Smart
New Legislation
Source: Virginia Legislative Information System
Issues
Governance
Standing up to Washington
Virginians need strong conservative leaders who work to bring innovative, effective solutions to the issues facing our communities. Far too often, regulations and mandates from Washington, DC increase costs, block innovation, and hurt our efforts to provide essential services and grow our economy. Dave believes that we must rein in federal over-reach and hold the power of the federal government to Constitutional limits.
Civil Rights
Conservative Values
Dave LaRock is a Rock-Solid leader standing up for what we believe: pro-Life, pro-Second Amendment, and strong for all our conservative values.
Economy
Taxes
Dave believes Virginia's taxes are high enough and has signed the Taxpayer Protection Pledge opposing increases in Virginia tax rates without corresponding cuts in other taxes. Dave opposes Obamacare's expansion of the budget-consuming Medicaid program.
Spending
Costs for everything rise because of inflation, but government's size shouldn't be increasing more than population growth. As your delegate, Dave LaRock is working to keep Virginia a conservative, low tax state by keeping spending at or below current levels and opposing expansion of welfare giveaway programs that threaten that status.
Infrastructure
Traffic and Roads
Northern Virginia pays a disproportionate share of taxes for transportation and we get far too little back. Northern Virginia should see our tax dollars spent here, rather than watch Richmond politicians distribute them around the state. Dave LaRock will fight to change that as Delegate. Dave will also continue to lead on efforts to ensure that transportation funding is directed to projects that do the most to improve congestion relief and safety.
Motorists Rights
Dave LaRock stands up for people who have to use their cars to get around, opposing wasteful road and transit projects that aren't necessary or cost-efficient. Dave is leading in the fight to ensure that our transportation funds are used to fix our legendary, worst-in-the-nation traffic congestion here in Northern Virginia.
Agriculture
Agriculture and forestry combined are Virginia's largest industry, and they support many other industries. They are extremely important as job-creators and in sustaining local communities here in the 33rd District. That makes agriculture and forestry extremely important to Dave, and will work to protect the interests of farmers while managing the state budget wisely.