Summary
Current Position: State Delegate since 1992
Affiliation: Republican
Candidate: 2019 US Senator
Former Positions: Hopewell City Council from 1986 – 1991; Hopewell City Council (Mayor) from 1989 – 1991
About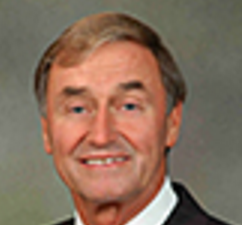 Delegate Riley Ingram has deep roots in the community, and has long been dedicated to serving its constituents and their families. Riley has served in the Virginia House of Delegates since 1992. 
He graduated from Prince George High School and grew up in Hopewell, Virginia. He was a Letter Carrier for nine years at the Hopewell Post Office and has been the Owner/Broker of Ingram & Associates Real Estate Company, Inc. for 38 years. He currently lives in Hopewell and attends Hopewell Church of the Nazarene. Riley is very much a family man who has three grown children, Tracy Ingram, Stacy Ingram Hanson and Riley Ingram, Jr. He has five grandchildren:Taylor and Parker, Brinkley, Dylan and Drake. 
Achievements:
•Serves as a member of the Jamestown-Yorktown Foundation
• Past Chairman of Tri-Cities Regional Domestic Violence Task Force 2006
• Past Mayor for the City of Hopewell
Military Service:
VaNG (176 Infantry, Company E, 1959-60, 1961-62); USA (active duty, 1960); 80th Division USAR Band (1962-68)
Experience
Work Experience
Real estate broker
2019 to present
Education
CRS, CRB
Realtors Institute, IL
2019 to present

University of Virginia School of Continuing Education
2019 to present
Personal
Place of Birth:

 Halifax County, VA

Gender:

 Male

Race(s):

 Caucasian

Religion:

 Church of the Nazarene

Spouse:

 Mary Ann Brinkley (deceased)

Children:

 Tracy I. Crowder, Stacy I. Hansen, and Riley, Jr.
Membership & Affiliation:
Church of the Nazarene
Hopewell Jaycees (life member)
AF&AM Masons Lodge 289
Wild Turkey Federation, T.E. Peterson Chapter
Ducks Unlimited
NRA
Moose Lodge 1472
American Legion Post 146
Chester Business Association
Hopewell Rotary
Ft. Lee Civilian-Military Advisory Board
Hopewell-Prince George Chamber of Commerce (former president)
Scottish Rite, 32° Mason
Acca Temple Shrine
Jamestown-Yorktown Foundation (board of trustees)
Joint Commission on Health Care
City Point Rotary
Awards
Southside Virginia Association of Realtors, Realtor of the Year
Hopewell Jaycees, Boss of the Year
80th Division USAR Band, Soldier of the Year
Contact
Legislative Assistant: Pat Bennett
Administrative Assistant During Session: Anita Schepker
Email:
Offices
Capitol Office
Pocahontas Building
900 E. Main St,
Richmond, Virginia 23219
Phone: (804) 698-1062
District Office
3302 Oaklawn Boulevard
Hopewell, VA 23860
Phone: (804) 452-2202
Web
Government Page, Campaign Site, Facebook
Politics
Source: Wikipedia
Ingram was elected to the Hopewell city council in 1986, and became mayor in 1988.In 1989, he challenged 28-year Democratic incumbent Charles Hardaway Marks in the 64th House district, but lost. He was re-elected to the Hopewell city council in 1990.In the 1991 redistricting, the 62nd House district was moved northwards to include Hopewell. Ingram defeated another Democratic incumbent, R. Beasley Jones, for the House seat
Recent Elections
2017
| | | |
| --- | --- | --- |
| Riley Ingram (R) | 12,163 | 51.7% |
| Shelia Bynum-Coleman (D) | 11,344 | 48.2% |
| Write In (Write-in) | 38 | 0.2% |
| TOTAL | 23,545 | |
2015
| | | |
| --- | --- | --- |
| Riley Ingram (R) | 7,239 | 59.4% |
| Sheila Carol Bynum (D) | 4,914 | 40.3% |
| Write In (Write-in) | 26 | 0.2% |
| TOTAL | 12,179 | |
Finances
NGRAM, RILEY EDWARD has run in 10 races for public office, winning 10 of them. The candidate has raised a total of $1,194,118.
Source: Follow the Money
Committees
Committees
Chair: Counties Cities and Towns
Appropriations
Privileges and Elections
Rules
Subcommittees
Chair: Appropriations – Commerce, Agriculture, Natural Resources and Technology Subcommittee
Appropriations – Compensation and Retirement Subcommittee
Appropriations – General Government and Capital Outlay Subcommittee
Appropriations – Health and Human Resources Subcommittee
Appropriations – Special Subcommittee on Amazon
Privileges and Elections – Subcommittee #1
Rules – Standards of Conduct Subcommittee
Appointments
Other Commission & Committee Appointments
Commerce, Agriculture, Natural Resources and Technology Subcommittee
Gubernatorial Appointments – Joint Subcommittee on
Health Care, Joint Commission on
House Appropriations
House Counties Cities and Towns
House Privileges and Elections
House Rules
Jamestown-Yorktown Foundation Board of Trustees
State Training Centers, The Special Joint Subcommittee to Consult on the Plan to Close
Unemployment Compensation, Commission on
War Memorial Board, Virginia
Voting Record
See: Vote Smart
New Legislation
Source: Virginia Legislative Information System