Summary
Current Position: State Delegate of District 65 since 1998
Affiliation: Republican
In deciding how to vote as your delegate to the House, I consider both my core convictions and our place within the larger Commonwealth of Virginia. For example, we all want the best public schools, from kindergarten through college. We all want a good transportation system.
About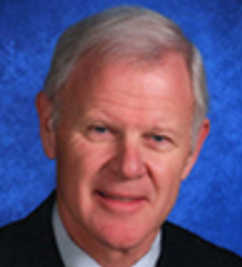 Source: Campaign page
Lee Ware is serving his tenth term in the House of Delegates from the 65th District. The 65th House District encompasses all of Powhatan County, the Brandermill (403), Skinquarter (309), Swift Creek (411), Tomahawk (310), and Woolridge (313) precincts and parts of the Evergreen (312) and Midlothian (503) precincts of Chesterfield County; the Columbia (201) and Fork Union (301) precincts of Fluvanna County; and the Fife (101), Hadensville (102), Sandy Hook (202), and Three Square (201) precincts and also part of the Goochland Court House precincts of Goochland County.
Delegate Ware serves on four major committees in the House of Delegates: Finance–of which he is Chairman; Commerce and Labor; Agriculture, Chesapeake, & Natural Resources; and Rules. He also serves, by appointment of the Speaker, on the Coal & Energy, Unemployment, Small Business, Water, Health Insurance Reform, Jamestown-Yorktown, War of 1812 Bicentennial, and Civics Education commissions. With colleagues from the Senate he serves, too, on the Joint Subcommittee for Tax Preferences.
A Citizen-Legislator Delegate Ware, who is 65, is the former Academic Dean of Benedictine Preparatory School of Richmond. Previously he was a teacher of History and Government in Blessed Sacrament Huguenot Academy in Powhatan, and, prior to that vocation, was for fifteen years a teacher of History and Government in Powhatan High School. The recipient of numerous civic and professional awards, he has been named Outstanding Virginia Teacher of the Constitution by the John Marshall Foundation. He is also a former award-winning editor of newspapers in both Virginia and New Hampshire. He is a graduate of Wheaton College with a double major in History and Literature, and he has pursued graduate studies at Harvard University, Virginia Commonwealth University, and Longwood College. Delegate Ware served two terms on the Board of Supervisors of Powhatan County and he also served one year as the board's chairman. In 1994 he became the first public school teacher to serve on the State Board of Education, by appointment of Governor George Allen. Delegate Ware and his wife, Kathy, who is a certified public accountant, are parents of four children, each of whom was graduated from our local public schools. He is a member of St. John Neumann Roman Catholic Church of Powhatan.
Experience
Work Experience
History and government teacher
Education

Harvard College,

Virginia Commonwealth University

continuing education

BA
Wheaton College, IL
1974 to present
Personal
Birth Year:

 1952

Place of Birth:

 Fitchburg, MA

Gender:

 Male

Race(s):

 Caucasian

Religion:

 Roman Catholic

Spouse:

 Kathleen Annette Nulton

Children:

 Karen Reid, Rob, Thomas, and Jeb
Membership & Affiliation
St. John Neumann Catholic Church
Virginia State Board of Education (former member)
Powhatan County Social Services Board (former member, chairman)
Contact
Legislative Assistant: David A. Bovenizer, IV, Counsel and Consigliere
Administrative Assistant During Session: Barbara Monroe
Email:
Offices
Capitol Office
Pocahontas Building
900 E. Main St,
Richmond, Virginia 23219
Phone: (804) 698-1065
District Office
P.O. Box 689
Powhatan, VA 23139
Phone: (804) 598-6696
Web
Government Page, Campaign Site
Politics
Recent Elections
2019
| | | |
| --- | --- | --- |
| R. Lee Ware, Jr. (R) | 24,751 | 65.06% |
| Michael P. "Mike" Asip (D) | 13,273 | 34.88% |
| Write-In (Write-in) | 26 | 0.07% |
| TOTAL | 38,050 | |
2017
| | | |
| --- | --- | --- |
| Lee Ware (R) | 22,394 | 64.0% |
| Francis M. Stevens (D) | 12,530 | 35.8% |
| Write In (Write-in) | 60 | 0.2% |
| TOTAL | 34,984 | |
2015
| | | |
| --- | --- | --- |
| Lee Ware (D) | 19,842 | 97.3% |
| Write In (Write-in) | 548 | 2.7% |
| TOTAL | 20,390 | |
Source: Virginia Legislative Information System
Finances
WARE JR, R LEE has run in 11 races for public office, winning 10 of them. The candidate has raised a total of $1,424,681.
Source: Follow the Money
Committees
Committees
Agriculture Chesapeake and Natural Resources
Chair: Finance
Commerce and Labor
Rules
Subcommittees
Agriculture Chesapeake and Natural Resources – Subcommittee #2
Agriculture Chesapeake and Natural Resources – Subcommittee #3
Finance – Subcommittee #2
Finance – Subcommittee #3
Commerce and Labor – Subcommittee #1
Rules – Subcommittee #1
Appointments
Voting Record
See: Vote Smart
New Legislation
Source: Virginia Legislative Information System
Issues
Source: Campaign page
Principles and Issues
Every voter has something to contribute to how we govern ourselves as a Commonwealth. Accordingly, every day since my fellow citizens elected me to the House of Delegates in 1998, my primary objective has been to represent our shared interests in deliberations at the Capitol.
To do so, I meet regularly with individual citizens, civic associations, local officials and employees, and educators, and I receive, ponder, and respond to a steady stream of calls, letters, and email. Your interests and concerns then become the portfolio that I carry to Richmond, and which I represent in each and every vote that I cast on your behalf.
In deciding how to vote as your delegate to the House, I consider both my core convictions and our place within the larger Commonwealth of Virginia. For example, we all want the best public schools, from kindergarten through college. We all want a good transportation system. And, we all want to be safe and secure in our homes and neighborhoods.
Ends, Means, Consequences
On these and other perennial issues, most differences concern only how to achieve a shared objective. The challenge to which I devote my energies on any major issue, therefore, is how to balance the ethical relationship among ends, means, and consequences.
For example, there is broad consensus that everyone should have access to healthcare. But, what are the best means of achieving this good end? Should government or the private sector be the principal insurer? In either case, what would be the consequences for taxpayers, for businesses, for doctors and nurses, for hospital systems and patients? And, would individual liberty be enhanced—or diminished?
It is because the means and consequences matter as much as the ends or objectives of public policy that I embrace principles of the Republican Party. While independency is possible at the local level, to be effective in Richmond every legislator must declare an allegiance. For example, though there are two Independents in the House of Delegates, both are members of the Republican Caucus. Each represents a traditional, rural district. (One of them is my seatmate.)
Our system of government is characterized by faction and friction—exactly as the Founders intended. Within these necessary constraints, it has I believe been the Republicans in the House—including my fellow neighboring delegates Sam Nixon, Kirk Cox, Manoli Loupassi, Watkins Abbitt, Bill Janis, and Tommy Wright—who have protected us against too much taxation and too much governmental spending at any level. And also, I might add, against too-intrusive a state government.
A Record of Achievement
Our achievements in the current biennium have been significant. We increased state support for public education. We prevented costly new proposals just before the recession confirmed our judgment against an increase in state spending—and taxation. And, through my own legislation, we have preserved 220,000 acres of land for the future, and for farming, through permanent conservation easements.
These achievements, and also a complete record of my votes on every bill that has come before the House of Delegates, are readily accessible to you by visiting the official webpage of the House of Delegates. To do so, please click on the resources link in the top of the page.
Of course there is much more to be done, on many issues. Which is precisely why I am seeking voters' support to continue to represent your best interests, within the context of our beautiful and bountiful Commonwealth, for another term.
Governance
Taxes and Spending
It seems that everyday there is a story about how government spending is increasing and taxpayers are shelling out more money. Delegate Ware supports keeping the rate of growth of governmental taxing and spending in balance with economic conditions in the private sector.
Like you, Lee expects government to use fiscal restraint when spending our hard-earned tax dollars, and he believes that providing tax incentives to businesses – not more governmental spending – is the key to spurring economic recovery
Economy
Education
Improving Education
As the father of four children, each of whom was graduated from our public schools, Delegate Lee Ware understands the vital importance of parent-and-teacher cooperation in the creation and maintenance of outstanding schools. His wife, Kathy, as a PTO leader, complemented this devotion for many years.
Like you, Lee Ware is a taxpayer. Like you, he understands that voters rightly expect state government to maximize the efficiency of the public purse—including in administering taxpayer dollars for education. This is why he champions strict fiscal discipline in state spending generally, and this is why he works to funnelDelegate Lee Ware on Education taxpayer dollars to the classroom. Lee Ware has helped engineer a 123% increase in state funds for Chesterfield Schools during his decade as our Delegate. For Powhatan Schools the increase has been 175%.
Attracting and retaining the best-qualified teachers, and ensuring that our children are given every opportunity to experience—and to excel—in the adventure of learning, are among his legislative priorities.
Named Virginia's 'Outstanding Teacher on the Constitution' in an annual ceremony by the John Marshall Foundation, and the first public school teacher appointed to the State Board of Education, Lee Ware brings the unique experience of the classroom to the Capitol for his constituents. To him, education is both a personal career and a public commitment.
For full state support of local schools' obligations
For the highest academic standards – – and opportunities
For merit pay for outstanding teachers
For salaries sufficient to attract and retain the best teachers
For rigorous academic standards
For maintaining decision-making authority at the local level
For proper benefits for all educational personnel
For local control of the school-year calendar
Infrastructure
Good Growth and Transportation
Virginia's transportation issues are a growth issue and Delegate Lee Ware believes we need a state-wide transportation reform plan that addresses both road construction as well as development and growth.
Delegate Ware also supports additional rail improvements that help take cars off our roads and enable families to spend more time with one another – not stuck in traffic.
As both a county supervisor and now as a legislator, Delegate Ware has worked for comprehensive planning that balances commercial development and residential expansion.
He crafted the legislation that enhanced Virginia's conservation easements, leading to the preservation of 220,000 acres—and also of numerous family farms.
His bill of the 2009 Session to create "green roof" incentives for environmentally-friendly building was passed into law. And another of his 2009 bills—to enable counties to better preserve Virginia's 3,000 miles of "scenic byways" —was passed by the House of Delegates.
As vice chairman of the House committee on Agriculture, Chesapeake, and Natural Resources, Delegate Ware is a leader on every issue of importance to Virginia's largest industry, to restoring the Bay, and to the wise use—and also the faithful renewal—of the resources of nature that make Virginia both bountiful and beautiful. His advocacy of wise land use and urban design contributes both to our prosperity and to the attractiveness of the communities in which we live.