Summary
District Description: County of Henrico (part)
Current Delegate: Schuyler T. VanValkenburg since 2018 (D)
According to Ned Oliver of Virginia Mercury:
"VanValkenburg, a teacher, was the first Democrat to even run for this seat in 10 years when he won in 2017 with just under 53 percent of the vote. Though the district has gotten consistently bluer each year, Republicans say they see an opening for Vandergriff, who unsuccessfully ran for school board and serves on a variety of community boards. For now, the money is on VanValkenburg's side, who had raised $205,000 at last report, nearly twice as much as Vandergriff."
VA House District 72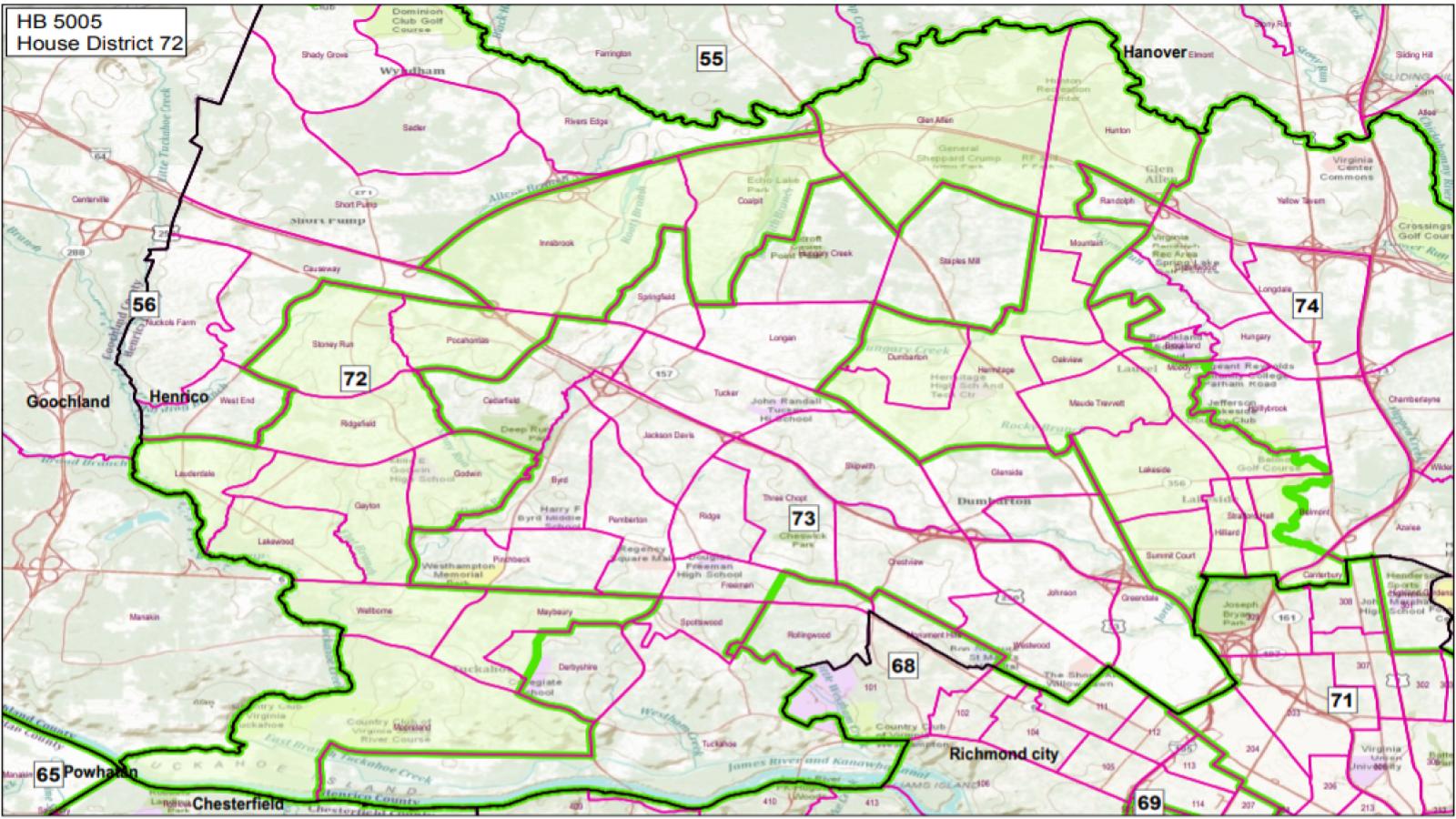 GayDonna Vandergriff
Current Position: Business and nonprofits
Affiliation: Republican
Candidate: 2019 State Delegate VA House District 72
For more information, see GayDonna Vandergriff's post.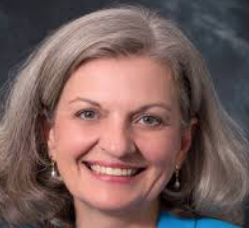 GayDonna is an educator, community leader, and mother who will take common sense Henrico values to the General Assembly.
Born and raised in Virginia, GayDonna Vandergriff is a first-generation college graduate and learned early on the power of public education to change someone's life. GayDonna has been married to John, her sweetheart since 4th grade, for 27 years. Their two daughters, Abby and Shelby, are both graduates of Glen Allen High School and are Virginia Tech Hokies.
Keeping Henrico Strong
GayDonna has invested over twenty years encouraging knowledge and strong education through her service promoting literacy as Chairman of the Henrico Library Advisory Board and President of the Friends of the Glen Allen Library. She currently serves the broader community as the Brookland District Representative on the Henrico Area Mental Health and Development Services Board. GayDonna has further invested in Henrico's next generation of leaders by serving as a substitute teacher at Glen Allen Elementary School, teaching university classes, and serving on multiple PTA boards in Henrico County Public Schools. Now, GayDonna wants to continue her service to the citizens of Henrico as your Delegate for State House District 72.
Smart Solutions for Henrico
GayDonna's MBA and experience in business and nonprofits has equipped her with the necessary skills to negotiate competing needs in a way that will provide for the common good of Henrico citizens.  Her commitment to the needs of the people of Henrico ensures she will prioritize common sense solutions within our means, demanding the best use of our tax dollars, and leading with smarter, more efficient solutions to our challenges.
Schuyler VanValkenburg
Current Position: State Delegate for VA House District 72 since 2018
Affiliation: Democrat
Candidate: 2019 State Delegate VA House District 72
For more information, see Schuyler VanValkenburg's post.
As A Legislator
Since Schuyer won election in 2017, he has been hard at work creating legislation to help Virginia and Henrico County.  For example, in his first session, he sponsored and passed a bill to prevent people from losing their state professional licensure due to student debt problems – a cruel policy which Virginia had allowed for too long.  After all, if you take someone's license to work, how will they pay the debt for which you took the license? In the wake of the Parkland shootings, he was one of a few delegates chosen to serve on a select committee for school safety, so he held community input sessions and met with parent activists and school safety experts to work on a set of recommendations to the General Assembly.  He made sure the final recommendations were not just about physical infrastructure but also student mental and emotional health, and about school-community relations, to address not just tragic shootings but school violence more generally. He helped to pass Medicaid expansion, which enabled more 9,500 people in Henrico county access to affordable, quality healthcare coverage in its first few months of operation alone.  In his second session, Delegate VanValkenburg led the charge to get a higher standard for school counseling in the state budget, ensuring that schools will have the resources to reach a ratio of one counselor for every two hundred and fifty students. Delegate VanValkenburg has been proud to fight for equality of opportunity, quality education, and inclusiveness – and his record speaks to his commitment to those ideas.
Personal Story and Background
Schuyler VanValkenburg grew up thirty minutes north of Albany, NY, in the small city of Johnstown, nicknamed the "Glove City" for its leather tanning mills in the 19th century. He watched as the city's economy continually suffered when factory jobs left for overseas factories. Early on, his family impressed on him the importance education would have in this changing world and he fell in love with history thanks to some very talented educators.
After high school, he enrolled at the University of Richmond in 2001. His family's insistence on bettering himself through education pushed him to excel in the history department and complete teacher licensure programs while he was there. During his undergraduate studies, he also met his wife. After college, they started a family and he began his teaching career in Henrico County Public Schools. He has been a teacher for twelve years, first at Short Pump Middle School, and now at Glen Allen High School.
During his teaching career, Schuyler went back to school to earn his Masters degree in American History at Virginia Commonwealth University in 2008, with a focus on women's history. He also won National Board Certification and became the We the People constitutional competition coach at Glen Allen High School.
Schuyler VanValkenburg's experience growing up in small industrial town, attending the University of Richmond, and teaching in Henrico County, have all invigorated him in the fight to make Virginia a national leader in education in order to expand opportunity for all Virginians. He knows firsthand the immeasurable impact a high quality education can have, and is committed to ensuring that for every child across the commonwealth. He also knows how important it is provide equitable access and opportunities for every citizen – both by ensuring a democracy where every voice is heard and every vote counted and by increasing job growth and access to economic opportunity.  Finally, Schuyler believes in an inclusive society, and believes that Virginia has no place for discriminatory laws and policies which and that threaten the constitutional right to equal protection.
Issues
Civil Rights
Schuyler VanValkenburg
Equality
Virginia should be a bold symbol of the American value of egalitarianism.  Every person, regardless of religion, sexuality, gender, or race should have the same rights, opportunities, and social status as everyone else.  Period. I have and will push back against anti-LGBTQ legislation from bathroom bills to protections for conversion therapy. I also stand with criminal justice reformers – for example, I was part of the effort to raise the cap on felony crimes in Virginia and reduce the number of minor crimes (like stealing an iPod) being prosecuted as felonies. Virginia has a long way to go one women's rights, too – I voted for the Equal Rights Amendment and spoke in its defense in one of the speeches I was most proud to make on the floor all year in 2019. I was also a vote against gender-discriminatory products like imposing taxes on necessities like femine hygenie products. Virginia still needs to make progress to close the wage gap and fight against gender discrimination in the workplace.
GayDonna Vandergriff
Religious Freedom Matters
Religious liberty is one of the cornerstones of our founding and our laws dictate a separation of church and state. My faith is extremely important to me and I believe in openness and tolerance for others to worship as they choose.
Economy
Schuyler VanValkenburg
I believe in creating an economic environment that creates opportunity for all. In the past two years, I have sponsored and worked on legislation that would give Virginians more opportunities to engage in apprenticeship programs and job training, eliminate the use of non-compete clauses to restrict the opportunities of low-income workers, and prevent people from losing professional licenses for unpaid student debt.  Virginia's prosperity is remarkable – we have some of the lowest unemployment and highest income to cost of living rates in the nation – but we must make sure it is accessible to everyone. The more people participate in our commonwealth's economy, the better off we are.
GayDonna Vandergriff
My roots are humble. My father left school after seventh grade because his parents literally couldn't afford to buy him shoes. Still, he persevered with pride and hard work. He had a blue-collar job to deliver bread to the grocery stores. Everyone knew my dad as the Rainbo bread man. His name is Charles and he wore it proudly on a patch sewn to his work shirts which my mom stood and ironed every Sunday for 40 years. His job taught my sisters and I the value of hard work and it kept the importance of community as a daily part of our lives. Sadly, though, those jobs and others started disappearing and families like mine were out of work and eventually out of options. Businesses closed and my generation had to leave to find work.
A priority of the state government must be to create an environment that supports business growth in the Commonwealth. We should start with limiting regulations and supporting policies that create the best possible economic environment for Virginia. My MBA and business experience will be a true asset. I have taught business courses at the college level at Strayer University, I have 6 years of retail experience, and I have advised small businesses for over a decade. This knowledge is truly needed at the General Assembly.
Education
Schuyler VanValkenburg
I am one of the few teachers in the General Assembly, and my thirteen year career in teaching has shown me first hand the need for adequate support for our school systems from the state.  This is particularly true when it comes to student safety, and I served on a special commission for student safety in the wake of the Parkland shootings which made significant bipartisan progress.  One such area that was particularly valueable was an increase in the budget for school counseling staff and the implementation of a 1:250 counselor:student ratio, which I was proud to fight specifically for in the 2019 session of the legislature.  I also was part of a bipartisan move to give schools more control over their own calendars and remove the influence of special interest tourism industry lobbies from our school calendars.
But there is still so much more to do to improve our state's education system.  Virginia remains one of the worst states in the nation for college affordability, our schools are funded almost 10% less per student by the state now than they were in 2008, leaving localities holding the bag, and our SOL testing system is a burden on schools, students, and parents.  As an educator and parent, improving Virginian's access to educational opportunity from pre-school to trade school as the basis for prosperity and equality is my greatest passion.
GayDonna Vandergrif
Public Education Matters
My education is 100% public education kindergarten through MBA. My daughters are both 100% public educated at Henrico County Public Schools and Virginia Tech. My husband's education is also 100% public. If not for public education, my family would have no education.
Personally, I have experienced Virginia's public education system as a student, parent, classroom volunteer, PTA President, and substitute teacher. I am proud to have served the Henrico County Public Schools community through numerous positions for 15 years. As a parent advocate and PTA leader, I am most proud of my efforts to have Henrico invest in its older school facilities. My work led to the renovation of Brookland Middle School and much needed repairs and improvements at Henrico's other older schools. The benefits of this work are still being seen today with the decision to build new schools to replace Tucker High School and Highland Springs High Schools.
I am also a tireless advocate for reducing classroom sizes and replacing trailers with permanent classrooms. Twice recognized as an HCPS PTA volunteer of the year, Brookland Middle School and Hungary Creek Middle School, I also served on the Parent Advisory Committee at Glen Allen High School. I understand what support our Henrico schools need from the Commonwealth.
Thankfully, more discussions are being had about public education funding. Our K-12 teachers absolutely need a raise. Our schools absolutely need increased funding. However, money alone isn't enough to address the problems inside our classrooms. We have to focus on teaching not testing. We have to focus on the greater needs of the classroom as a whole for all of our students, teachers, and parents. We can and we must do this.
Higher Education Matters
I worked my way through school. First, starting at Mountain Empire Community College, then UVA-Wise and finally graduating from an Historically Black College and University—West Virginia State. After my husband and I moved to Henrico for his job, I went back to school at night while raising our daughters and earned my MBA from VCU. In one generation, through hard work and determination, my family made it from a seventh-grade education to an MBA and now to a candidate for the House of Delegates.
In total, it took me 15 years to earn my college degrees and I am still paying my students loans 17 years later. One of the things I worry about the most is that a young person of very modest means, like I was, can no longer do what I did. It gets harder and harder to work to put oneself through college. This reality is one which Virginia must face. Thankfully, conversations have begun in Virginia. Actions are needed to restore state funding to pre-recession levels. Still, we must also act to ensure these dollars are spent wisely. As your delegate, I will support approaches of affordability for Virginia residents with a return to core academics rather than expensive non-academic services.
Technical Education Matters
One of the issues contributing to the student loan crisis is the belief that all of our children need a college education to be successful. This is simply not true. There are many paths forward. My father-in-law is a master electrician who provided well for his family without a college degree. Educating students early about alternatives to college and working with local businesses to modify curriculums will better prepare our students to make better fitting career choices. The quickest way to reduce the student loan debt burden is to help students understand that not all paths forward require a college degree.
Literacy and Libraries Matter
One of the key ways I closed the economic gap in my own journey was through the free resources available at my local library. As a child, I was an avid reader and learned so much about other people and opportunities. As an adult, I have given back to the library community and literacy by serving as an appointee to the Henrico County Library Advisory Board.
I am proud to have advocated for the expansion of Henrico's library system. During my tenure on the Library Advisory Board and while serving as Chair, I advocated for the construction of the Tuckahoe, Twin Hickory, Varina, Libbie Mill and Fairfield Libraries along with the renovation of the Gayton Library and the expansion of the Glen Allen Library. As the President of the Friends of the Glen Allen Library, I have worked tirelessly to raise funds through book sales to support the Summer Reading program and the All Henrico Reads initiative, both of which provide for the greater public benefit of literacy.
Health Care
Schuyler VanValkenburg
Virginia has achieved one of the most important goals I fought for in my first campaign for office: an expansion of our Medicaid program, with federal subsidy, to more than 200,000 additional low-income Virginians.  Health is the basis of everything – without affordable healthcare, a good job and educational opportunities are often out of reach – and so expanding Medicaid was a crucial milestone.
There are new challenges, though.  Virginia continues to wrestle with its opioid epidemic, and I am a strong advocate of adopting a public-health approach to our drug problems rather than a primarily criminal one.  Virginia has one of the highest concentrations of veterans in the nation, and their health needs are special – we must make sure Virginia can pick up some of the care and attention our state's veterans need and which the national V.A. doesn't always provide.  Finally, the gap in healthcare between the rural and poor parts of our community and the wealthier ones is still staggering, and health infrastructure investment and concentrated programs must supplement Medicaid expansion in those areas of the state.
GayDonna Vandergrif
The debate about healthcare in this country has focused too much on who supplies what type of health insurance and not enough on the well-being of the patient. The well-being for all Virginians should always be our top priority. This starts with addressing rising costs of treatment and prescriptions while maintaining coverage for pre-existing conditions. We must also protect our system of quality care which provides the latest and best treatments in the world.
We need to continue to find free market solutions to our challenges that keep patients in control of their healthcare decisions. Medical spending accounts, buying insurance based on needs, lowering the barriers to introduce new drugs, safety nets for pre-existing conditions and minimizing the frivolous lawsuits that drive costs up for medical treatments are among the things I would support.
Infrastructure
Schuyler VanValkenburg
Virginia's state government can do more to help its counties and cities build infrastructure, fund crucial projects, and strengthen local programs on the ground.  I'll work to ensure that the Richmond metropolitan region has the funding and communication necessary to promote our economy. From revitalizing Lakeside Avenue to fixing Sadler Road traffic by working with local planning authorities to mass transit planning like the GRTC pulse, shared growth and prosperity is key to Henrico and the region's future
Democracy and Civic Engagement
Schuyler VanValkenburg
As a teacher, I have seen the transformative power of knowledge and democratic engagement.  But Virginia's laws as they currently stand don't give our citizens enough ways to engage their government effectively.   I was proud to help start the process of gerrymandering reform by voting for the first stage of an independent redistricting commission amendment in 2019, but that commission will need additional stages and implementing legislation which we must follow through on by doing thing s like banning the use of partisan data in the commission process, for example.
We need to make voter registration more accessible, reform and extend voting times and precinct efficiency, and make absentee and early voting easier.  Many populations with burdens on their time and ability to get to physical polling places, from college students to the elderly to those with high-travel jobs, are badly punished by Virginia's current inflexible systems of voting.
Better Government
GayDonna Vandergrif

Smart Financial Decisions Matter
State government should be a good steward of your tax dollars and not take a single dollar out of your paycheck that isn't absolutely necessary. Just as with your own family budget, decisions about state spending need to be analyzed using a cost to benefit ratio. As our delegate, I will question if your dollars are being wisely spent. I know how hard you work to earn them. I will work just as hard to make sure you get to keep them.
My husband and I started our family with a household budget at the poverty level. We learned how to stretch a dollar and how to do without. By law, Virginia is required to have a balanced budget. There are no credit cards and no loans. We must accept that government cannot and should not provide all things. Choices must be made to yield the greatest good from the dollars spent. The ability to prioritize and spend efficiently is a must. Those are skills my personal journey has sharpened.
Environment
GayDonna Vandergrif
Being from the mountains of Virginia, I never had to look far to see the natural beauty this state enjoys. My childhood was spent outdoors enjoying the mountains and rivers. We were taught that each of us has a personal obligation to protect the environment. My grandfather was a farmer and the family grew much of what we ate. I truly understand the need for sound environmental policies. As your delegate, I will advocate for Virginia's land, water, and air.
Veterans
GayDonna Vandergrif
The men and women of our military deserve our deepest gratitude. We should thank them for their service and always support them and their families. Without these great men and women, we would not be able to enjoy the benefits that come from living in a free and independent country. This is a very personal issue for me as my father is a disabled Army veteran and he lives with me. Being my father's caregiver, I take him to the VA frequently for his healthcare. I understand the challenges. I want to ensure all veterans and their families have easy access to the benefits they have earned. I will always advocate for our service families.