Summary
Current Position: Business and nonprofits
Affiliation: Republican
Candidate: 2019 State Delegate
The most important thing I can do for you as your state delegate is to always remember you and your family are whom I represent. This guiding principle will ensure I always have your best interests at heart.
I have worked for decades to champion individuals and to respect the differences that make us stronger when united rather than divided. I believe we are in this together
About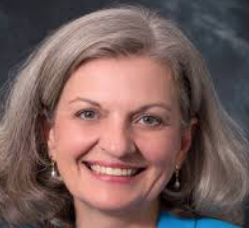 Source: Campaign page
GayDonna is an educator, community leader, and mother who will take common sense Henrico values to the General Assembly.
Born and raised in Virginia, GayDonna Vandergriff is a first-generation college graduate and learned early on the power of public education to change someone's life. GayDonna has been married to John, her sweetheart since 4th grade, for 27 years. Their two daughters, Abby and Shelby, are both graduates of Glen Allen High School and are Virginia Tech Hokies.
Keeping Henrico Strong
GayDonna has invested over twenty years encouraging knowledge and strong education through her service promoting literacy as Chairman of the Henrico Library Advisory Board and President of the Friends of the Glen Allen Library. She currently serves the broader community as the Brookland District Representative on the Henrico Area Mental Health and Development Services Board. GayDonna has further invested in Henrico's next generation of leaders by serving as a substitute teacher at Glen Allen Elementary School, teaching university classes, and serving on multiple PTA boards in Henrico County Public Schools. Now, GayDonna wants to continue her service to the citizens of Henrico as your Delegate for State House District 72.
Smart Solutions for Henrico
GayDonna's MBA and experience in business and nonprofits has equipped her with the necessary skills to negotiate competing needs in a way that will provide for the common good of Henrico citizens. Her commitment to the needs of the people of Henrico ensures she will prioritize common sense solutions within our means, demanding the best use of our tax dollars, and leading with smarter, more efficient solutions to our challenges.
Web
Issues
Governance
Smart Financial Decisions Matter
State government should be a good steward of your tax dollars and not take a single dollar out of your paycheck that isn't absolutely necessary. Just as with your own family budget, decisions about state spending need to be analyzed using a cost to benefit ratio. As our delegate, I will question if your dollars are being wisely spent. I know how hard you work to earn them. I will work just as hard to make sure you get to keep them.
My husband and I started our family with a household budget at the poverty level. We learned how to stretch a dollar and how to do without. By law, Virginia is required to have a balanced budget. There are no credit cards and no loans. We must accept that government cannot and should not provide all things. Choices must be made to yield the greatest good from the dollars spent. The ability to prioritize and spend efficiently is a must. Those are skills my personal journey has sharpened.
Civil Rights
Religious Freedom Matters
Religious liberty is one of the cornerstones of our founding and our laws dictate a separation of church and state. My faith is extremely important to me and I believe in openness and tolerance for others to worship as they choose.
Economy
Jobs Matter
My roots are humble. My father left school after seventh grade because his parents literally couldn't afford to buy him shoes. Still, he persevered with pride and hard work. He had a blue-collar job to deliver bread to the grocery stores. Everyone knew my dad as the Rainbo bread man. His name is Charles and he wore it proudly on a patch sewn to his work shirts which my mom stood and ironed every Sunday for 40 years. His job taught my sisters and I the value of hard work and it kept the importance of community as a daily part of our lives. Sadly, though, those jobs and others started disappearing and families like mine were out of work and eventually out of options. Businesses closed and my generation had to leave to find work.
A priority of the state government must be to create an environment that supports business growth in the Commonwealth. We should start with limiting regulations and supporting policies that create the best possible economic environment for Virginia. My MBA and business experience will be a true asset. I have taught business courses at the college level at Strayer University, I have 6 years of retail experience, and I have advised small businesses for over a decade. This knowledge is truly needed at the General Assembly.
Education
Public Education Matters
My education is 100% public education kindergarten through MBA. My daughters are both 100% public educated at Henrico County Public Schools and Virginia Tech. My husband's education is also 100% public. If not for public education, my family would have no education.
Personally, I have experienced Virginia's public education system as a student, parent, classroom volunteer, PTA President, and substitute teacher. I am proud to have served the Henrico County Public Schools community through numerous positions for 15 years. As a parent advocate and PTA leader, I am most proud of my efforts to have Henrico invest in its older school facilities. My work led to the renovation of Brookland Middle School and much needed repairs and improvements at Henrico's other older schools. The benefits of this work are still being seen today with the decision to build new schools to replace Tucker High School and Highland Springs High Schools.
I am also a tireless advocate for reducing classroom sizes and replacing trailers with permanent classrooms. Twice recognized as an HCPS PTA volunteer of the year, Brookland Middle School and Hungary Creek Middle School, I also served on the Parent Advisory Committee at Glen Allen High School. I understand what support our Henrico schools need from the Commonwealth.
Thankfully, more discussions are being had about public education funding. Our K-12 teachers absolutely need a raise. Our schools absolutely need increased funding. However, money alone isn't enough to address the problems inside our classrooms. We have to focus on teaching not testing. We have to focus on the greater needs of the classroom as a whole for all of our students, teachers, and parents. We can and we must do this.
Higher Education Matters
I worked my way through school. First, starting at Mountain Empire Community College, then UVA-Wise and finally graduating from an Historically Black College and University—West Virginia State. After my husband and I moved to Henrico for his job, I went back to school at night while raising our daughters and earned my MBA from VCU. In one generation, through hard work and determination, my family made it from a seventh-grade education to an MBA and now to a candidate for the House of Delegates.
In total, it took me 15 years to earn my college degrees and I am still paying my students loans 17 years later. One of the things I worry about the most is that a young person of very modest means, like I was, can no longer do what I did. It gets harder and harder to work to put oneself through college. This reality is one which Virginia must face. Thankfully, conversations have begun in Virginia. Actions are needed to restore state funding to pre-recession levels. Still, we must also act to ensure these dollars are spent wisely. As your delegate, I will support approaches of affordability for Virginia residents with a return to core academics rather than expensive non-academic services.
Technical Education Matters
One of the issues contributing to the student loan crisis is the belief that all of our children need a college education to be successful. This is simply not true. There are many paths forward. My father-in-law is a master electrician who provided well for his family without a college degree. Educating students early about alternatives to college and working with local businesses to modify curriculums will better prepare our students to make better fitting career choices. The quickest way to reduce the student loan debt burden is to help students understand that not all paths forward require a college degree.
Literacy and Libraries Matter
One of the key ways I closed the economic gap in my own journey was through the free resources available at my local library. As a child, I was an avid reader and learned so much about other people and opportunities. As an adult, I have given back to the library community and literacy by serving as an appointee to the Henrico County Library Advisory Board.
I am proud to have advocated for the expansion of Henrico's library system. During my tenure on the Library Advisory Board and while serving as Chair, I advocated for the construction of the Tuckahoe, Twin Hickory, Varina, Libbie Mill and Fairfield Libraries along with the renovation of the Gayton Library and the expansion of the Glen Allen Library. As the President of the Friends of the Glen Allen Library, I have worked tirelessly to raise funds through book sales to support the Summer Reading program and the All Henrico Reads initiative, both of which provide for the greater public benefit of literacy.
Environment
Environment Matters
Being from the mountains of Virginia, I never had to look far to see the natural beauty this state enjoys. My childhood was spent outdoors enjoying the mountains and rivers. We were taught that each of us has a personal obligation to protect the environment. My grandfather was a farmer and the family grew much of what we ate. I truly understand the need for sound environmental policies. As your delegate, I will advocate for Virginia's land, water, and air.
Health Care
Healthcare Matters
The debate about healthcare in this country has focused too much on who supplies what type of health insurance and not enough on the well-being of the patient. The well-being for all Virginians should always be our top priority. This starts with addressing rising costs of treatment and prescriptions while maintaining coverage for pre-existing conditions. We must also protect our system of quality care which provides the latest and best treatments in the world.
We need to continue to find free market solutions to our challenges that keep patients in control of their healthcare decisions. Medical spending accounts, buying insurance based on needs, lowering the barriers to introduce new drugs, safety nets for pre-existing conditions and minimizing the frivolous lawsuits that drive costs up for medical treatments are among the things I would support.
Mental Health & Developmental Services Matter.
Our community is experiencing rising levels of substance abuse, mental health diagnoses, and needs for developmental services. I am proud to serve on the Henrico Area Mental Health and Developmental Services Board as an appointee of Supervisor Dan Schmitt. Henrico County is a state leader in services to the mental health community. Our efforts address many of the struggles Virginians face, including public safety, addictions, homelessness, developmental delays, and crime. As your state delegate, I will continue my advocacy for these vital services.
Veterans
Our Veterans Matter
The men and women of our military deserve our deepest gratitude. We should thank them for their service and always support them and their families. Without these great men and women, we would not be able to enjoy the benefits that come from living in a free and independent country. This is a very personal issue for me as my father is a disabled Army veteran and he lives with me. Being my father's caregiver, I take him to the VA frequently for his healthcare. I understand the challenges. I want to ensure all veterans and their families have easy access to the benefits they have earned. I will always advocate for our service families.
You Matter
The most important thing I can do for you as your state delegate is to always remember you and your family are whom I represent. This guiding principle will ensure I always have your best interests at heart. I have worked for decades to champion individuals and to respect the differences that make us stronger when united rather than divided. I believe we are in this together. We try our best to provide for our families' daily needs, and we do that through the dignity of hard work. We try our best to provide for our children's futures, and we do that through quality education to provide many options for successful futures. We try our best to keep our families healthy, and we do that through access to affordable quality health care. We try our best to have a strong community, and we do that together.
Henrico Matters
The role of a state delegate is to represent and advocate for the community where they live. I am proud to have called Henrico County my home for 24 years. I am a Virginian by birth and a Henricoan by choice.
As a fellow resident of Henrico, you understand we are fortunate to live in one of the top counties in the nation. This approach of governance with a focus on low taxes, responsible spending, and pride of service to all constituents is the Henrico Way. I am proud to have played a part in creating this example, and I will proudly carry it to the state capitol.
As your delegate, I will be a strong voice for Henrico in matters of the state. Policies that come down from the state should support not hinder local governments, schools, and businesses. I will put Henricoans first, before party politics and political agendas. I will be Henrico's voice at the General Assembly.
I want to keep Henrico a place where companies want to invest and where people want to live. We do that by keeping taxes low, reducing regulations, ensuring we have strong schools, and making post-high school education and training possible for working families—for families like mine. We need common-sense solutions that keep Henrico competitive.
Virginia Matters
I am proud of Virginia. I will serve as our delegate to keep Virginia a place people want to call home and a place where businesses want to invest. I was born in the far southwestern part of Virginia, which has faced significant economic struggles for decades. I have witnessed first-hand the devastation bad policies can have on a community. I have seen a part of Virginia nearly die. I have watched families struggle, stores close, banks fold, and schools shuttered. My family had been in Southwest Virginia since the late 1700s. My sisters and I had to move for employment. I moved in 1990 and Southwest Virginia is still struggling 30 years later. I do not want this to happen to all of Virginia.
Solutions Matter
People want solutions and leadership. They are tired of political noise. In my 20+ years of community service, whether as a Girl Scout Troop leader or PTA President, politics were not the focus. The goal was to lend a hand, to fill a need, to invest in our community,and to make a difference. I will always put people before politics and do what is best for our community and future. I will prioritize common sense solutions and will lead with smarter, more efficient solutions to our challenges.
I am proud of my reputation as a tireless leader who seeks the best possible solutions with a kind, compassionate heart and a level-headed understanding of what can be accomplished with compromise and civility.