Summary
District Description: Loudoun County (Part), Prince William County (Part)
Current Senator: Richard Black since 2012 (R)
According to Ned Oliver of Virginia Mercury:
"Democrats tried and failed here in 2015, pumping $1.6 million into a campaign to unseat GOP Sen. Dick Black, who is not running for reelection. This year, Bell, a Democratic state delegate, will face Higgins, a Loudoun supervisor. With no incumbent in the way, Democrats see it as their most obvious opportunity to pick up a district that's been trending bluer for years and Northam won with 55 percent of the vote."
VA Senate District 13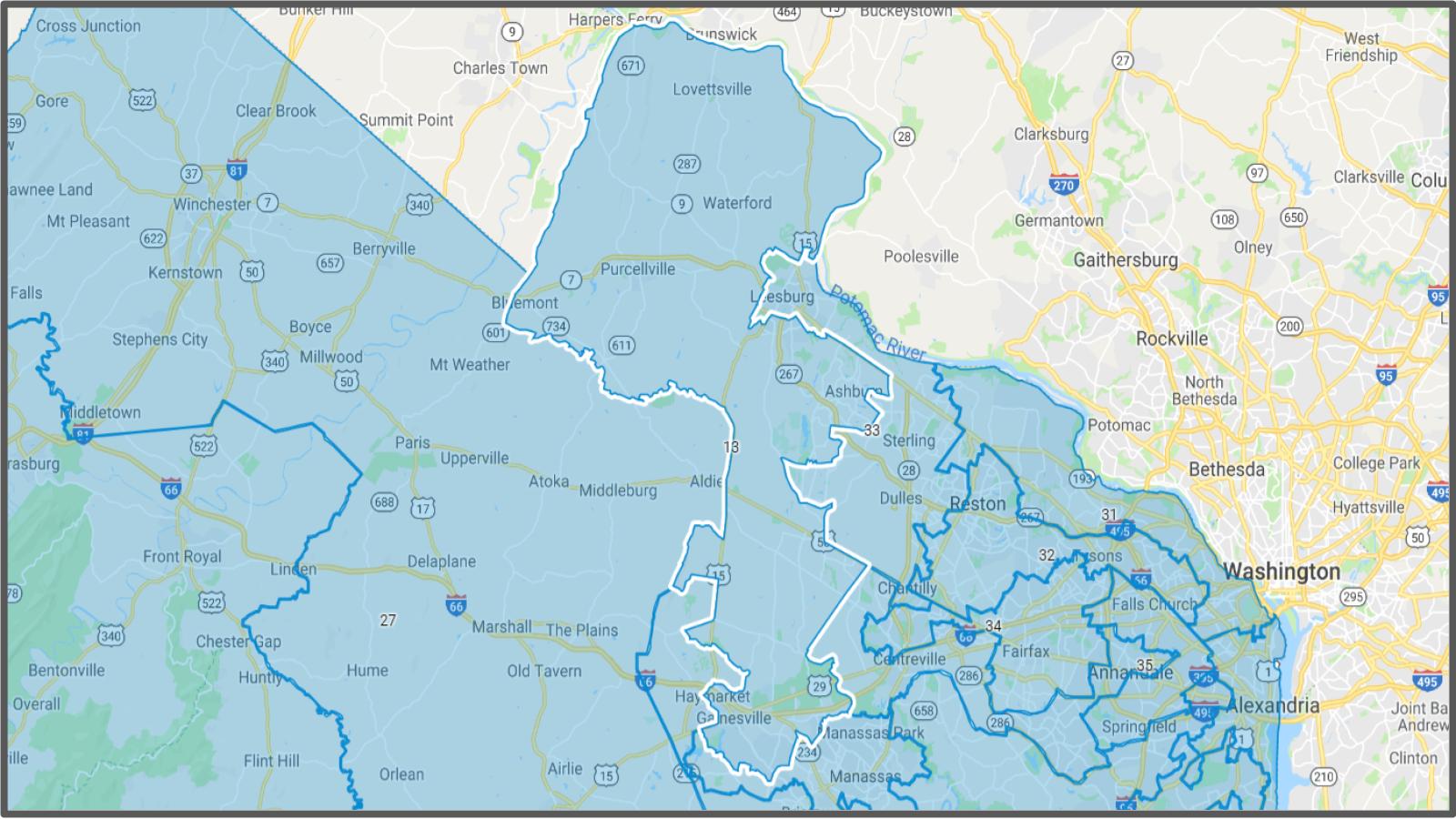 John Bell
Current Position: State Delegate for VA House District 87 since 2016
Affiliation: Democrat
Candidate: 2019 State Senator VA Senate District 13
For more information, see John Bell's post.
Delegate John Bell is a retired member of the United States Air Force. He served almost 26 years before retiring as a Major in 2007. During his Air Force career, John served as a Finance Officer all over the world, including tours in support of operations in Iraq and Afghanistan. His ability to build consensus among diverse participants produced savings and cost reductions throughout the world, including $200 million saved annually from his work in Iceland.
John enlisted in the Air Force in 1981 after graduating from high school. He was consistently recognized during this enlisted career as an outstanding performer and was named the #1 Non Commissioned Officer out of over 5,000 assigned to the Far East in 1992. After completing his bachelors degree in Business Administration and graduating Summa Cum Laude (while serving full time in the Air Force) from Regis University, he was selected for Officer Training School. At Officer Training School, John finished in the Top 10% of graduates and was named a Distinguished Graduate. John was also a Distinguished Graduate of Squadron Officer's School and was named the U.S. Air Force's 2006 Outstanding Contributor to Financial Management and Comptrollership.
John now leads a team of financial professionals in the private sector and assists government clients to identify inefficiencies and implement cost-saving solutions.
John volunteered as the head tennis coach for the Freedom High School Varsity Boys program from 2008 to 2013. After taking over a team with only 3 victories in school history, Freedom now boasts a powerhouse program and is 66-12 in John's tenure with a 3A Final Four appearance, 2 Regional titles and 4 District titles. John has also proudly served on Congressman Frank Wolf's Service Academy Selection Board from 2011 to 2014.
In addition to his Bachelor's degree, John also has an MBA (finance emphasis) and a Masters in Organizational Development from George Washington University.
John is married and lives in South Riding in Loudoun County with his wife Margaret (also retired Air Force). Margaret is a realtor and is an avid supporter of animal rescue. They have five children and have a proud tradition of military service with 3 children serving: John (6 years active duty Air Force), Josh (6 years Air National guard), and Danielle (10 years in both USAF and ANG).
John was elected to the House of Delegates in 2015 to replace Delegate David Ramadan.
Geary Higgins
Current Position: Catoctin District Supervisor
Affiliation: Republican
Candidate: 2019 State Senator VA Senate District 13
For more information, see Geary Higgin's post.
Elected in November 2011, Geary M. Higgins represents the Catoctin District on the Loudoun County Board of Supervisors. He serves as Chair of the Board's Transportation and Land Use Committee and is a member of the Joint Board of Supervisors-School Board Committee, having previously served as co-chair of that committee. He is one of two of the Board's representatives on the Northern Virginia Regional Commission and serves as the Board's representative on the Loudoun County Agricultural District Advisory Committee.
As the Catoctin District School Board Member from 2000-2004, Geary served as the Chairman of the Personnel Services Committee and on the Legislative Policy and Discipline Committees. He worked extensively on formulating the LCPS budgets and initiated the concept for the Academy of Sciences. Since 1998, Geary has been a Board Member and officer for the Loudoun Museum where he has served as the Vice President, Treasurer, and Chairman of the Education Committee.
Jasmine Moawad-Barrientos
Current Position: Civil Rights Advocate
Affiliation: Other
Candidate: 2019 State Senator VA Senate District 13
For more information, see Jasmine Moawad-Barrientos's post.
Jasmine's passion is advocacy, her specialty in civil, and human rights as she understands that now. We are citizens of the world, and we, should have more comprehensive understanding of Civil Laws and Human Rights. Her practice and experience include working in the Supreme Court in Bolivia, learning international law interpretation, and working in Brazil in a very "heartbreaking field" as she describes. She worked in the Sexual Assault Center Program Advocacy in the "fabelas"(poor villages), in which she met women, children, transgender and gays who were physically, mentally, and sexually abused. She recently received a recognition by the department of education and the Superintendent of Public Instruction for a year of Service in support of students across the Commonwealth of Virginia with Suicide and Bullying Prevention Programs.
She born in Spain in a Muslim religion culture with Palestinian roots and was raised later in South America with a catholic mother. Jasmine attended a Catholic school for most of her student and college years, as her father worked as diplomat and the military field for many years. She moved to The United States of America as any other immigrant did chasing the "American Dream". She depicted Virginia as her home for being "warm, welcoming and inspirational". She works in Virginia integrating immigrants to the American system and recently with victims of human trafficking and forced labor.
Jasmine is a Next Generation Muslim Latinx, her kids two boys and a girl; like to call themselves "CHRISLIMS" Christian and Muslims as they celebrate Ramadan and Christmas as many next generation Chrislims in United States of America.
She is passionate about empowering immigrant minorities and the vulnerable. She recently wrote a book "the Devils skunk" to empower teens and spread awareness of suicidal prevention.
She was invited for the Pluralism Project by the Harvard University.
She also was the public speaker for Sharia laws and Hate Crimes at the Arkansas LAW Bar Association. She has been interviewed by her labor of advocacy with DACA "Dreamers"in Telemundo TV and for Islamophobia prevention and her work at the "Muslim Ban" at the Dulles airport by Al Jazeera TV.
She was one of the few political writers who help readers decide to vote for candidates who support our ideals and keep their promises. Her articles are all over the internet under Washington Post and Huffington Post.
She is the founder of NAPAC National ProAmerica Coalition in which she is working in a bill called Bullying Prevention Act.
She is member of the board of ARD American Rights Defenders who along NACA The Neighborhood Assistance Corporation of America have helped many subprime and later on Alt-A , and Prime mortgage and homeowners people to fight for their homes in foreclosure in 2010 and 2011 from predatory lending from National Corporates like JP Morgan part of Merrill Lynch, Goldman Sachs, J.P. Morgan, Morgan Stanley and Bank of America Merrill Lynch with Countrywide around USA and mainly in Virginia.
On 2014 Jasmine went against an establishment, the FBI and she got her name LADYJ the UNDERDOG ,because she was the first person who was able to find justice in Maryland criminalizing and pushing a sentence for an FBI supervisor of counterterrorism who violently try to kill her 14 year old son while off duty, for the only reason of being Hispanics.
On 2018 she become a University of Virginia fellow trough their Sorensen Institute.
She has been awarded with the 40 under 40 DC Prospanica for the best notorious leaders of 2017.
She is working with HUDSON LINK project to bring higher education to inmates in Virginia as the same program in New York.
She grassroot for Alexandria Ocasio-Cortez campaign in New York and many others locally, as they follow same political ideology and movement.
As the year progresses she wants you to know that running for office is not an easy task. When you decide for a candidate do your homework, check what he or she has been doing for the community during this past years their political views and affiliations, because few will stay in their promises once they reach their positions unless they have worked in service for years.
Jasmine has been working with the immigrant community, the children and the seniors for more than ten years and that makes her very sensible to the vulnerable.
And like "LADY J" the UNDERDOG and your future Senator says , it is not about a political party ,it is a political revolution, a social movement that started with few but now are so many…who fights injustice and rejects corruption.