Top News
Virginia onAir
There are many ways to engage with Virginia onAir. All that is required for most projects is to become an onAir member with your first name and last name, email address, and zip code. It's free to join!
OnAir members will be able to participate in discussions in both livestreamed, online Zoom meetings which we call aircasts as well as engage in projects as onAir Curators. Elected politicians, candidates, and nonpartisan organizations will also be able to host aircasts supported by onAir Producers and Curators as well as co-curate their Virginia onAir posts.
Some of the ways you can engage with Virginia onAir are listed below. For more information, see posts in the "Engage" drop down menu in this Hub's header.
Read and Discuss
Read about who represents you and Discuss.
Make a suggestion. Ask a question. Add a forum comment. Give your endorsement.
You can find your representative by going to va.onair.cc and select the "VA Representatives" billboard and the "Who Represents Me" choice. Type in your street address, city and state.
To learn more your delegate, select the three dots next to the post's title and navigate the tabs. To view all the content at one time, select the feature image or the post's title.
To add to a discussion, login and select the speech balloon.
Moderate Discussions
Moderate the discussions in a committee post
Help insure that Virginia onAir comments on committee posts meet our moderation guidelines.
Moderators will become co-authors of a committee post and will have reserved seats to any aircast related to the post(s) they are moderating.
Moderators can also assist with curation of a post's content collaborating with other their co-authors and interested viewers.
Watch an Aircast
Watch and Participate in Aircast Forums on issues
Learn about issues important to you & ask the politicians and experts questions.
Aircasts are Zoom meetings with featured guests and audience participation that are livestreamed to the public. Aircasts are recorded and archived in onAir Hubs and YouTube channels and shareable on social media and websites
To be part of an audience during an aircast, contact the aircast's Host.
Curate an Aircast
Curate aircasts w/ your representatives.
As an onAir Curator, you coordinate and introduce aircasts on representatives you want to support. 
You will curate aircasts that feature   Virginia representatives. Slide presentations and short videos can be part of an aircast to introduce the representatives. The representatives will decide on who can participate in the aircast's Zoom audience.
You may consider using slides or a short video to share information with attendees.
Aircasts are also conducted with the support of aircast producers who manage all the technical aspects of the aircast. Contact Shuaib.Ahmed@onair.cc to become an aircast producer.
Intern with VA onAir
Democracy onAir welcomes any US citizen to apply for an internship. We require a minimum commitment of 6 hours per week.
We have a special interest in working with undergraduate students majoring in government, communications, media, or a related field with a passion to improve democracy in the US.  Students (and other US citizens) who want to intern with Democracy onAir this fall can submit their resume with an introductory email articulating why you are interested in being a Democracy onAir intern and include a link, if appropriate, to your relevant academic program (internship, capstone project, research project etc.) to: internships@onair.cc. 
To learn more about interning, go to this post.
Become a VA onAir Donor
If you are interested in creating a more trusted source of political information and more civil political discussions, donate to Democracy onAir.
Donations can made by any individual or foundation that wishes to support the mission of Democracy onAir. Donors can choose to support the entire organization or state Hub, as well as specific operations, such as a District and all the posts within it, an individual politician Post, or a specific Issue Post. Donations, at the donor's request, can be displayed on the appropriate Hub with links to social networks and/or websites.. Anonymous donations are accepted as long as they are verified as US residents or US-based foundations with no foreign affiliations.
Democracy onAir was chartered in Virginia in 2018 and has obtained 510(c)(3) status. Checks or wire transfers are made out to Democracy onAir. All donations are tax deductible.
Become a VA onAir Sponsor
Sponsors can choose to support the US onAir Network or as specific state Hub, as well as specific operations, such as a District and all the posts within it, an individual politician Post, or a specific Issue Post. We are particularly interested in sponsoring organizations that seek to support student civic engagement, democratic and civil discourse, and the intersection of technology and government. Foreign owned or affiliated organizations are not permitted to be sponsors of any US onAir Hub.
Hub sponsors will be displayed throughout an onAir Hub and its posts. Hub sponsors will have the option to create their own US onAir post or sponsors can have links to their websites or video.
For further information about sponsoring, contact scott.joy@onair.cc.
Fairfax League of Women Voters
We are a nonpartisan political organization that encourages informed and active participation of citizens in government. We work to increase understanding of major public policy issues, and we influence public policy through education and advocacy.
We discuss and study issues of local, national, state and regional concern. We inform ourselves, legislators, and the general public about the results of our research.

We monitor elections and government activities.

We sponsor candidate debates and community forums about vital issues.

We testify at legislative and administrative hearings to insure citizen input in policy making decisions.

We publish and distribute issue-oriented material.

We advocate, occasionally go to court to help clarify and enforce laws in the public interest.

We produce and distribute Voters' Guides to help citizens to choose a candidate and to be prepared to vote on ballot questions.

We get INVOLVED!
We Never Support Nor Oppose Candidates For Office. We Never Support Political Parties. Any Use Of The League Of Women Voters Name In Campaign Advertising Or Literature Has Not Been Authorized By The League
Monthly calendar of events
Action Alerts
Anu Sahai & Nancy Roodberg, Co-Presidents
Email: Contact form
Website: lwv-fairfax.org/
Voting Registration Drives
Upcoming Voter Registration Drives
Drives During The Pandemic
Volunteers the Farmer's Markets, Food Drives and more. Have an idea or question? Write to Bob Meredith.
We have completed our voter registration drives for the fall of 2020. See you in 2021!
Registering Voters Requires Official Training.
The Virginia Department of Elections requires online Voter Registration training to be renewed each year after July 1st. 
https://www.elections.virginia.gov/registration/registration-drives/voter-registration-training-video/
 1. Watch the online training video (Updated 7/1/20). Certification expires on June 30th each year. Online training must be retaken annually after July 1st.
2. Once you have watched the ELECT certified training video, submit the voter registration application request and affidavit.
Interested In Organizing A Voter Registration Drive Or Have Questions About Volunteering?
The League of Women Voters of the Fairfax Area seeks volunteers to register voters at various locations across the county.
For any voter registration question, contact Bob Meredith, our Voter Registration Chair.
Serve as an Election Officer
Election Officers Needed!
The Fairfax County Office of Elections is currently recruiting voters to serve as Election Officers a few days a year. To learn more, go to http://www.fairfaxcounty.gov/elections/working.htm
In order to be an Election Officer, you must:
Be fluent in English

Be a registered voter in the Commonwealth of Virginia

Be able to fulfill the Federal I-9 employment eligibility requirements

Attend a 3-hour training class

Arrive at the polling place at 5:00 am and remain until all work has been completed after the polls close at 7pm

Have basic computer skills
The Election Officer's main priority is to ensure the accuracy and integrity of the election process. A typical Election Day consists of:
arriving one hour before polls open to set up voting equipment

hanging up pertinent signage

preparing the polling room for voting

processing voters throughout the day

assisting with operating voting equipment

securing voting equipment and closing down the polling place at the end of the day
Election Officers are offered a stipend of $175 for serving a full day.
We especially encourage bilingual citizens to serve as we need language assistance in many precincts. Residency in Fairfax County is not required.
It is a wonderful opportunity for those interested in the election process or public service, and we need civic-minded individuals to help make Election Day a success!
To apply, call the office at (703) 324-4735. You can also email elect@fairfaxcounty.gov or visit the Fairfax County Office of Elections for more information.
Condo and Community Center Elections
If you are interested in having the League come to facilitate your condo or community center elections, contact our co-presidents, Anu Sahai and Nancy Roodberg.
Condo and Community Center Elections are one of the League's biggest fundraisers.  If you are interested in volunteering to help out, please see the election calendar below for individual elections.
Join the League's National Lobby Corps!
Join the League's National Lobby Corps!
Do you love to learn about national public policy? Now's your chance to serve our country and get a deep dive about what's happening in Washington, D.C. Become a national League volunteer lobbyist! Learn more about the issues impacting our country and help the League bring bills to U.S. Senators and U.S. Representatives. You can bring education to the offices at the capital!
How can you join? Print and fill out the application. Then scan, mail, and/or take a picture of your application. Email scans and pictures of completed applications to the national chair of the Lobby Corps: Jackie Coolidge — jcoolidge@schoolbench.com.
Opportunities for High School students
We have many opportunities for high school students to volunteer and engage in voter registration activities.  Webpage
Student Volunteer
Interested in volunteering with us? Great! Please write to HSVolunteers@lwv-fairfax.org.
For the March 3rd Presidential Primary, you could create social media.
FCPS Interns
For more about the internship program, write to Beth Tudan, director@lwv-fairfax.org.
More Projects
Learn more about the Fairfax League of Women Voters and their activities at their website
Virginia General Assembly
Source: Website
Virginia onAir posts:    VA Senate   VA House of Delegates
Citizen Involvement
As a citizen of the Commonwealth of Virginia, one of your greatest responsibilities is to help elect the legislators who represent all Virginians. But your role in the democratic process of government does not end at the polls. By sharing your opinions and ideas with your elected officials, you help them resolve issues and evaluate pending legislation.
Below are five projects you can do to become more involved in your democracy.
Learn about Who Represents You
Know who your Senator or Delegate is and how to contact them. If you don't know who represents you in the Senate and House or Congress, you can find out by using this "Who Represents Me" Virginia onAir tool. When you find your representatives, you can then select them to launch a widget with access to a deep post on your representative.
If you have any problems finding your representatives using our Who Represents Me tool, you can try the state's  Who's My Legislator tool.
Learn how Bills become Laws
The process of introducing legislation to be considered by the General Assembly and ultimately enacted into law is one of the most important responsibilities of a Senator or a Delegate. The Constitution of Virginia, the Rules of the Senate, and the Rules of the Virginia House of Delegates outline the process bills must go through become law. The following outline depicts the various steps required for an idea to be considered and passed by the General Assembly, and approved by the Governor:
Bills may originate in either the Senate or the House of Delegates.
A Senator or Delegate, as requested by constituents, prepares to introduce legislation. (For example: Permitting the governing bodies of localities to prohibit the sale and use of certain fireworks)
The Senator or Delegate then explains exactly the proposal he/she has in mind to a staff attorney in the Division of Legislative Services. A staff attorney checks existing law and the constitutionality of the proposed legislation.
The bill is then drafted by the Division of Legislative Services. Draft copies of the bill are made and delivered to the Senator or Delegate.
The member signs his/her name on the bill and introduces it by laying the original and duplicate copies on the desk of the Clerk (of the Senate or of the House of Delegates).
The bill is ordered printed and referred by the Senate Clerk or the House Speaker to the appropriate Standing Committee. (The Senate has11 Standing Committees and the House of Delegates has 14 Standing Committees.)
The members of the Committee -in public session- study, discuss, and vote on the bill.
The Committee then reports ("approves") the bill, with or without amendments, to the originating body (Senate or House of Delegates).
The Constitution, within Article IV, Section 11, requires that every bill have three readings on three calendar days.

First Reading: The bill title is printed in the Calendar (the daily printed agenda of business) or is read by the Clerk.

Second Reading: The next day the bill title appears in its respective Calendar. Bills are considered in the order in which they appear in the Calendar. The Clerk of the Senate/House of Delegates reads the title of the bill.

A bill on second reading is amendable. Any amendments are taken up and agreed to or rejected. By voice vote, the bill is engrossed and passed to its third reading.

A bill that has passed the second reading with or without amendments is engrossed

If amendments are adopted, the bill is rewritten with amendments included and reprinted in its engrossed form for passage.

Third Reading: The next day, the engrossed bill title appears in the calendar on third reading. The bill is read by title by the Clerk. By a recorded vote, the bill is passed.
Communication: When passed, the bill is sent to the other house for its consideration.
In the other body's chamber: The bill goes through substantially the same procedure as it did in the originating body.
The bill is read by title a first time, then the bill is referred to a Standing Committee, considered and reported by the Standing Committee, read a second time and a third time before passage by a constitutional majority.
If there are differences between the Senate and House versions of the bill, a Committee of Conference is created to resolve them.
After the bill has been passed by both houses of the General Assembly, it is printed as an enrolled bill, and examined and signed by the presiding officer of each house.
The bill is sent to the Governor for approval, where the Governor may 1) sign the bill into law; 2) amend the bill and return it to the General Assembly for approval; 3) veto the bill and return it to the General Assembly, where the House of Delegates and the Senate may override the veto by a two-thirds vote of both houses; or, 4) take no action and the bill becomes law without the Governor's signature.
After being signed by the Governor, the bill is sent to the Clerk of the House of Delegates (Keeper of the Rolls of the Commonwealth) and is assigned a Chapter number. All Chapters of a Session are compiled and bound as the Acts of Assembly.
Bills enacted at a Regular Session (or the Reconvened Session which follows) are effective the 1st day of July following adjournment of the Regular Session, unless another date is specified.
Bills enacted at a Special Session (or Reconvened Session) are effective the 1st day of the fourth month following the adjournment of the Special Session, unless another date is specified.
The General Appropriations Act is usually effective July 1st and Emergency Acts become effective when signed by the Governor.
Learn how to Track Legislation
How to Track a Bill
By bill/resolution number.
By subject.
By legislator who introduced the legislation.
Past Legislation
If you want information on legislation from a past session (1994-present), select the session year from the "Other Session" drop down menu for which you are interested.
If you want to search subject matter from across sessions (1994-present)
For Questions or Additional Information about legislation prior to 1994, Contact:
Senate Legislative Information and Constituent Services (LINCS) Office (804)698-7410 or information@senate.virginia. gov
House of Delegates Information and Communications Services (HICS) Office (804)698-1500 or ics@house.virginia.gov
If you are interested in tracking and being notified of actions on legislation in a current session, you may use Lobbyist-in-a-Box.
Testify on a Bill
How to Testify on a Bill
During the legislative session the Senate committee meeting schedule and the House committee meeting schedule are set. However, due to the rapid pace of the legislative session, the meeting schedule and agendas frequently change. The most current daily committee and interim meeting schedule is found by clicking on the plus sign (+) next to "At a Glance" at the top of this webpage. For future meetings, reference the meeting schedule on the LIS website. An interactive, House of Delegates Meeting Schedule is also available.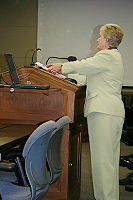 Citizens can speak on pending legislation.
Tips for Testifying
All legislative meetings are open to the public and citizens are welcome to attend even if you do not desire to speak. The chairman who is presiding over the meeting will determine what time limits, if any, are imposed on public testimony. Remarks should be brief and to the point.
Be prepared to speak from the podium. State your name. Please address the chairman and members of the committee. For example, "Mr. Chairman and members of the committee…"
Be aware that sometimes the patron of a bill may offer amendments to the bill. Amendments could possibly change your opinion of the bill and affect your remarks.
Be prepared to adapt your remarks to avoid making the same point made by previous speakers.
Be prepared to answer questions that the legislators might have. When responding to questions, remember to address the chairman and the members of the committee, not just the member that asks the question. For example, "Mr. Chairman and members of the committee, I would answer by saying…"
It is recommended that you have written copies of your testimony to accompany your oral remarks. Please have at least 30 copies of your remarks available for distribution to the members of the committee and the staff. If the testimony is lengthy, it is recommended that you quickly summarize the material in order that other speakers might be heard. Remember, the committee will also accept written testimony in lieu of an oral presentation.
Outbursts and remarks from the audience are prohibited (Capitol and Pocahontas Building Guidelines). No audible devices are allowed in the committee rooms.
Please do not be offended if some legislators rise and leave the committee room. They have many commitments, including making presentations before other committees.
If you are unable to attend a committee meeting or public hearing you can express your opinion via email. Please send your correspondence to committee staff (Committeeoperations@senate.virginia.gov and/or CommitteeOps@house.virginia.gov). Please take care to ensure the information arrives before the hearing so the committee clerk can provide your correspondence to the committee members before they vote.
Requests for interpreters should be received seven days prior to the meeting. For interpreter services or further information please call or email the respective offices listed below:
Meet with a Lobbyist
Lobbyists are individuals who receive compensation or are reimbursed for expenses for representing an organization, association or other group for the purpose of influencing or attempting to influence legislative (or executive) action by means of oral or written communication. Lobbyists play an important role in the legislative process, by providing information on many issues. Virginia law requires lobbyists, with a few exceptions, to register with the Office of the Secretary of the Commonwealth and file annual reports of their activities. For more information about lobbyist registration, reporting requirements and a searchable database of registered lobbyists by name, principal or disclosure reports, please go to the Secretary of the Commonwealth's website.
Lobbyist Registration Database
Democracy Squad at GMU
Source: Jennifer Victor page
Why Democracy Squad?
There are three reasons it is important to organize the campus community to engage in politics:
Over the past several years, partisan polarization has contributed to the decline of democratic norms. Political science has shown that democratic institutions fail when citizens and leaders fail to adhere to democratic norms. We can shore up democracy, its institutions and norms, by taking positive actions to reinforce them.
Politics and policy at the federal level are are damaged and gridlocked. We can reinforce democracy by taking actions in our community.
Modern American politics are ugly. Conditions are ripe for misinformation, conspiracy, and sometimes violence. As a campus community, it is important to be a model of positive civic engagement. Democracy Squad highlights partisan-neutral, positive civic participation.
What does Democracy Squad do?
Volunteers in Professor Victor's Democracy Squad connect through Magnify, a social media application designed to facilitate collective action. Democracy Squad includes a collection of projects, big and small, to help facilitate positive civic engagement on campus. Democracy Squad members can join one another's projects or event, or post their own. Examples include: attend an open panel or talk on campus, attend a local city council meeting, create an info-graphic about misinformation and post it on social media, create a chalk campaign to thank first responders and essential workers, and more!
Can small, individual acts really reinforce democracy?
Yes. How do I know that small, individual acts can reinforce democracy? Because it's the only thing that ever has. When combined, small acts of individuals add up to collective action. When people reinforce democratic values, the democracy is strengthened.
What type of small acts are most effective at reinforcing democracy?
To support democracy, take actions that directly impact the sources of polarization: inequality, weak parties, and lack of shared information. The books listed below each category help to explain how trouble in these three areas have contributed to polarization. Taking action to correct these, can counteract polarization. Examples of current Democracy Squad projects that speak to these challenging areas are listed below.
1. Inequality (economic, racial, health, education, environmental, etc.). Polarization rises with inequality. Read more about how inequality contributes to democratic decline in these books:
2. Strong political parties have a moderating effect on political candidates. Strengthen parties that support democratic values. People are attracted to extremism and anti-democratic movements when they feel unrepresented. Change election laws to promote multi-partyism and generate more representation.
3. Bifurcated information environment contributes to polarization.
What has Democracy Squad done?
During the peak of the 2020 election season, George Mason University's Democracy Squad boasted about 120 members who took more than 100 actions in 48 different local projects. Our movement was noticed by the Mason community and spread to other campuses, including University of Texas, Austin..
How do I join Democracy Squad?
Join Democracy Squad by creating an account on Magnify and joining the Democracy Squad organization on Magnify. You can then join a project that is already posted, or create your own project in Democracy Squad. Proposed projects will require approval from Professor Victor. Student generated projects are encouraged and should be consistent with the goals of Democracy Squad: encourage Mason Nation to take positive actions that reinforce democracy, reduce partisan polarization, and support democratic norms and values through civic engagement.
Click Here to Join Democracy Squad
You can also join Democracy Squad using Magnify invite code: "squadgoals." Democracy Squad is open to any George Mason University student, staff, alumni, or faculty.
Start a Democracy Squad at another university or in your neighborhood
Source: Webpage
Assignment
To complete this assignment:
1. Use Magnify to establish a Democracy Squad for your neighborhood or community. Seed the organization with a few projects and encourage others to join and post their own projects. Keep the group non-partisan and focused on helping people vote in 2020. Post a screenshot in comments of your new group.
-or-
2. Encourage a friend at another university to start a Democracy Squad on their campus. Post screenshots in comments that show the new commitment or group at another school.
Description
Using social network tools to connect with people about voting and to help people make a plan for voting is what will make this election work. Voting is a social activity and the pandemic presents many barriers for many people. Plus, voting laws are different depending on where you live. Small, local organizations to help citizens exercise their voting rights will make a difference in voter turnout in 2020 and beyond.
Attend a Meeting: City Council of Fairfax
Source: Webpage
Assignment
Choose a Fairfax City government meeting to participate in (virtually) from the list here: https://www.fairfaxva.gov/services/about-us/city-meetings
Write which meeting you'll attend in the comments. Post a photo and any thoughts that you have about your experience afterwards!
Description
The City of Fairfax has a council/manager form of government. The mayor and six council members are elected every two years on an at-large, non-partisan basis. The current term expires 6/30/2022.
Participatory democracy requires participation. Sign up to listen to an upcoming city council meeting for the city of Fairfax, VA. Let us know which meeting you'll be joining in the comments. Take a photo while you're listening, and share your thoughts!
Propose your own project or event in GMU Democracy Squad!
Source: Webpage
Assignment
To complete this assignment, propose a new project in GMU Democracy Squad. It can be an event about voting that you want to help promote, or an original idea you have about how to help Mason nation get ready to vote in 2020. Projects must be non-partisan and promote positive campus civic engagement. Post about your new project in comments below so we can see the movement grow.
Description
The more projects there are for students to complete, the more activity, energy, and engagement democracy squad will create. As the projects and engagement grows, more and more of Mason nation will be ready to vote in 2020.
A Healthy Community: Workout Together
Source: Webpage
Assignment
Can you build a healthy community? Democracy starts by building social cohesion. If you are a Mason student, sign up for an exercise class and invite your family or friends to join you. It's a free resource. A healthy community is one that collaborates, whether that's with voting or fitness. Sharing events bring us together.
Let us know what you're doing and send us a photo in the comments!
Description
Are you a Mason student? In case you haven't already signed up for this free benefit, BurnAlong is a free health and wellness app you have unlimited access to thousands of on-demand and live video classes spanning 45+ health and wellness categories (from cardio to yoga to dance to mindfulness to sleep to nutrition to financial wellbeing to prenatal to kids classes to classes for chronic conditions).
You can take classes alone or you can also invite up to 3 friends and family to join you in a live class – see and hear each other while taking classes together. Again, the service is available free of charge to you and your family members (you can add up to four family members under your account).
Register to vote or verify your registration
Assignment
Use this link citizen portal to register to vote in Virginia, or verify your registration:
https://vote.elections.virginia.gov/VoterInformation
Description
It will take you less than five minutes to complete this project. Register to vote or verify that you are registered to vote. Done!
Join Faculty Network for Student Voting Rights
Source: Webpage
Assignment
Faculty, go to the website for the Faculty Network for Student Voting Rights and sign up! Join their efforts to promote voting on campus. https://facultyforvotingrights.org/
Description
Faculty, join a national organization for faculty to support student voting rights on their campus. Faculty commit to promoting campus polling stations, absentee voting, and generally supporting student voting rights on their campus. This project is for FACULTY to show their commitment to students.
Run for Student Government
Source: Webpage
Assignment
Sign up to lead. Email sg@gmu.edu to register to run for student government! Leadership starts with you.
Description
Each spring, Student Government hosts an election for Student Body President, Vice President, and 30 Student Senator positions. The Student Body President and Vice President run as a combined ticket and students running for Senate can choose to run alone or with a "coalition" or group of other students (please keep in mind that each member must still be elected). For more information please email sgedc@gmu.edu.
More Projects
Source: Webpage
Democracy Squad at GMU has more national and local projects. Check out the webpage above.
More Opportunities
Virginia Government
 Virginia onAir state Government Post 
State Government website: virginia.gov
The statewide elected officials are governor, lieutenant governor, and attorney general.
The Virginia Governor's Cabinet is a body of the most senior appointed officers of the executive branch, responsible for advising the Governor. It is composed of the following offices,nominated by the Governor and then presented to the Virginia General Assembly for confirmation.
The judiciary of Virginia is defined under the Constitution and law of Virginia and is composed of the Supreme Court of Virginia and subordinate courts, including the Court of Appeals, the Circuit Courts, and the General District Courts. Its administration is headed by the Chief Justice of the Supreme Court, the Judicial Council, the Committee on District Courts, the Judicial Conferences, and various other officers.
Calendar of Commonwealth Events
Congressional Representatives
US Senators: Mark Warner and Tim Kaine  US House members
Virginia's current U.S Senators are Democrats Mark Warner (Serving Since 2009) and Tim Kaine (Serving Since 2013). Virginia is allotted 11 seats in the U.S House Of Representatives, currently 7 seats are held by Democrats and 4 seats are held by Republicans.
Virginia21
Source: Website
Virginia21 empowers college students and young Virginians to be engaged citizens and advocates for issues important to them and Virginia's future. Founded and led by young people, VA21 envisions a well-educated, prosperous, and civically-engaged Virginia.
Virginia21's premier student leadership development program attracts community-minded young people who are ready to begin the rewarding process of defining their identities as leaders. Virginia21 provides quality programming featuring elected officials, business leaders, citizen advocates, as well as access to one of Virginia's largest nonpartisan political networks.
Virginia21 Action, Virginia21's 501(c)4 affiliate, advocates on behalf of young people around the state to our lawmakers in Richmond. Virginia21 Action advocates for accessible and equitable higher education that leads to a good job, economic prosperity, and a full life here in the Commonwealth. Virginia21 Action also advocates for policies that increase civic engagement and participation, as well as good governance.
Our work ensures that the collective voice of our young people is heard in our local communities, campuses, the state capitol, and beyond. Click here to view our FY20-25 strategic plan.
VPAP – Virginia Public Access Project
Source: Webpage
The nonprofit Virginia Public Access Project elevates public understanding of politics and government by organizing and presenting information in ways that are easily accessible and free of partisan bias.
VPAP is fiercely nonpartisan. We do not lobby or take positions on issues. Our singular focus is to give Virginians information they need to make their own decisions.
We were founded in 1997 with one simple premise: If Virginia's campaign finance system relies upon disclosure, citizens should have the right to know who is giving to whom. Since then, we have expanded our focus to include related topics such as election results, lobbying, the legislative process and redistricting.
Our approach is grounded in verifiable facts drawn directly from government databases. Our integrated methods provide unique and valuable insights into decisions that impact your family and community. Our data visualizations turn complex data into easily digestible information.
In addition, we operate a free news aggregation service. VaNews provides a convenient way to find articles about government and politics that meet high standards for original news reporting.
VPAP's unique, nonpartisan approach is supported by Republicans and Democrats alike. Our work has won awards from numerous organizations, including the Virginia Coalition for Open Government, the Wilder School of Public Policy at VCU and the Society of Professional Journalists.
See VPAP post for more information
Virginia Mercury
Source: Website
Virginia Mercury is one of the fews news publishers in Virginia that provides its content freely available under a Create Commons for Non Profits license. Below is from the Virginia Mercury website.
The Virginia Mercury is an independent, nonprofit online news organization covering state government and policy. From the push to remove Confederate statues to big shifts in health care and energy policy, the Old Dominion is changing. The Mercury aims to bring a fresh perspective to coverage of the state's biggest issues.
The news outlet, which also features original and guest commentary on a range of topics, is staffed full-time by five veteran Virginia newspaper journalists.
The Mercury is part of States Newsroom, a national 501(c)(3) nonprofit supported by grants and a coalition of donors and readers. We retain full editorial independence and are a proud member of the Virginia Press Association.
The Virginia Mercury generally features progressive commentary, though we are open to considering serious submissions on policy issues. We generally do not accept submissions, however, from declared candidates for public office or sitting elected officials. Contact Editor-in-Chief Robert Zullo at commentary@virginiamercury.com with submissions. Please include links and sourcing to expedite fact-checking.