Virginia
"It's not a happy election": Primaries see low turnout and confusion over new districts
Abigail Brashear and Claire Colby
Daily Press- June 11, 2019
Virginia has infamously low turnout for elections — 6% and 8% for the Democratic and Republican 2018 primaries, respectively. And in a few districts, many of those who wanted to cast a ballot Tuesday ran into a problem.

Redistricting approved by a panel of federal judges in January left some voters confused. Hebb Greenwell, an election official at a polling place in Yorktown, said his precinct was split between the 91st and 93rd House districts. The 91st had two Democratic candidates, Martha Mugler and Michael Wade. In the 93rd district, only incumbent Michael Mullin, D-Newport News, filed to run, meaning that the district didn't have a primary election Tuesday.
Primary Tuesday: GOP delegate felled from the right; Democratic giant barely fends off progressive hopeful; and Morrissey wins (but not from jail this time)
By Ned Oliver
Virginia Mercury  June 7, 2019
Voters around the state sent mixed messages, voting out a Republican delegate for not being conservative enough in a purple district but backing a moderate Republican who faced similar attacks in his deep-red Senate district to the west. On the Democratic side, Sen. Dick Saslaw, the corporate-friendly minority leader in the Senate, leader only narrowly held onto his seat in the face of an aggressive, progressive challenge despite outspending her by nearly 10 to one.
Do you have a primary to vote in?
By Robert Zullo
Virginia Mercury – June 11, 2019
It's primary day, and there are dozens of races across the state to pick official party candidates for the November elections, when all 140 seats in the General Assembly will be on the ballot, among other local races.

Virginians need not be a member of party to vote in these races.
Visualization: How often do voters from one party crash the other party's primary?
VPAP  – June 9, 2019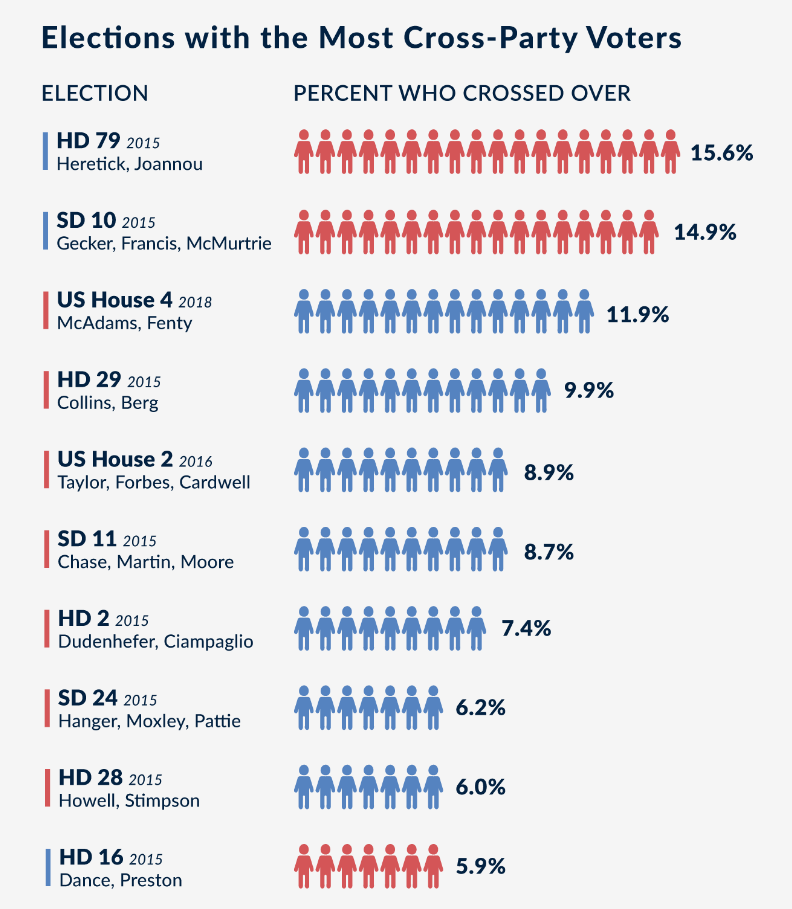 After Virginia Tech, survivors advocated for tighter gun laws. Instead they've gotten looser
By Ned Oliver
Virginia Mercury  June 7, 2019
After the 2007 mass shooting at Virginia Tech, survivors and their families spent years advocating to reform and tighten the state's gun laws.

Their efforts gained little traction in the General Assembly, which has instead loosened restrictions, repealing a 1993 law that limited handgun purchases to one a month.
Special session on guns could test Virginia Beach delegation
by Mechelle Hankerson
Virginia Mercury – June 9, 2019
Virginia Beach is the state's most populous city and its delegation in Richmond generally prefers to stay out of political fights on controversial topics.

Until now, when the deadliest mass shooting in the country so far this year, combined with Gov. Ralph Northam's call for a special legislative session next month in its aftermath, thrusts the city into the heated gun control debate. Recent gun reform efforts have been thwarted in legislative committees by Republican majorities.
Democratic legislators call on court to overturn Union Hill permit
Sarah Vogelsong
Virginia Mercury- June 10, 2019
Twenty-eight Virginia General Assembly members are urging a federal court to overturn a controversial permit granted by the State Air Pollution Control Board for a compressor station key to the Atlantic Coast Pipeline on the grounds that it would irreparably harm Buckingham County's historic freedman's community of Union Hill.
Solar is powering part of Danville's resurgence
Mason Adams
Virginia Mercury- June 10, 2019
Tobacco seedlings stretched for the sky in the mid-90s heat, same as they have here for 300 years.

Today, that legacy crop is supplemented by another kind of farm — acres of solar panels producing not just power but optimism, too.

Just outside of town, 2,300 panels spread out next to a rural school complex. The 6-megawatt system was completed a year ago and has already saved Danville about $500,000 in energy costs. It's the first of three city-backed projects coming online in the midst of an economic and civic revival in the historic city.
VA Senate
VA House
US Senate
US House
Virginia delegation, like rest of U.S. House, splits on party lines on Trump subpoena fight
Robin Bravender
Virginia Mercury- June 10, 2019