Summary
Here at Mason Cable Network, we have built a training ground for any student who hopes to gain hands-on experience or further their career in television or film.
Starting in 2012, our broadcast switched over to high definition to increase the quality of our content.
Fall 2012 was the first semester that Mason Cable Network has had the ability to produce and distribute live content through the network and online websites through live streaming.  In the  years since, MCN has broadcasted several University events including Mason Madness, and the International Week Dance Competition.  We expanded our live content with a  weekly news show,  and through a partnership with Mason Athletics, broadcast the majority of  the Athletics home games including basketball, soccer, lacrosse, wrestling, and volleyball.
As we move forward, we strive to bring the Mason Nation programming that is geared to the community, whether that be news, sports, or entertainment.
No matter the occasion, no matter the program, Mason Cable Network is 24/7 programming for Patriots by Patriots. Come and visit us in the Office of Student Media in the HUB.
Information
Website: masoncablenetwork.com/
Team
Mason Cable Network has a variety of people working to make sure that the channel runs and has content. We run 24/7 on our campus channel and broadcast our live events and shows online, here on masoncablenetwork.com. The following people make that happen. Feel free to contact us at mcn@gmu.edu.
Fun fact: All executive staff at Mason Cable Network and other GMU Student Media outlets are students who attend the university.
General Manager
Major: Communication, Media Production & Criticism
Minor: Political Communication
Year: Senior
Bio: Angelique's hobbies include working at her local movie theater, photography and travel. At George Mason, Angelique is a part of Mason Cable News, Society of Professional Journalists, GMU Fourth Estate and enjoys working with other outlets at the Office of Student Media. As a freshman with Mason Cable Network, Angelique served as the Assistant Production Manager and was promoted to Production Manager just one year later. Now, she currently serves as the General Manager. Angelique hopes to sustain the network's growth, and bring new student concepts to the table. She enjoys the creativity and integrity behind multimedia journalism, and is furthermore interested with the discipline's connection to political communication. Angelique aspires a career as a news reporter/MMJ.
Contact: aarintok@gmu.edu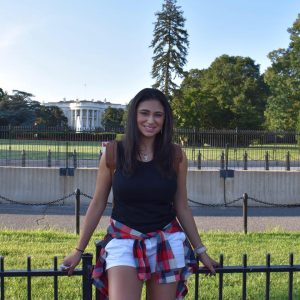 Sonia Bahou
Production Manager 
Major: Communication, Journalism
Year: Sophomore
Bio: Sonia grew up in Gainesville, Virginia and graduated from Patriot High School in 2017. Her hobbies include video editing, photography, traveling, listening to music and spending time with family and friends. At George Mason, Sonia is Secretary of the Orthodox Christian Fellowship, a member of the Society of Professional Journalists, a certified member of Alpha Lambda Delta and is actively involved in the Office of Student Media. Freshman year, Sonia spent most of her time volunteering every Tuesday as a daily update reporter with Mason Cable News. She was also a scriptwriter for the live weekly broadcasts. After a year of involvement in the Office of Student Media, she is currently fulfilling the role as Production Manager of the network. She enjoys working with a team to establish quality media content for her peers. In the future, she aspires to be a news anchor for a TV news station in the DC area.
Contact: sbahou@gmu.edu
Assistant Production Manager
Major: Communication, Media Production & Criticism
Year: Sophomore
Bio: Cruz grew up in Tulsa, Oklahoma and graduated from Bishop Kelley High School in 2017. His interests include media, photography, running, and traveling. He started down the media path when he first discovered short films on YouTube. Shortly after, he joined Bishop Kelley's television network where he learned the ins and outs of live stream production. While at Kelley, Cruz worked with several other students to film musicals, concerts, and other events. On the side, Cruz would make shorts with his friends that would ultimately lead to the founding of a production company. His future career goal is to produce television shows that showcase and promote the wonders of the world.
Contact: csanche@gmu.edu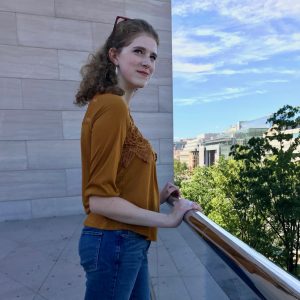 Abby Clark
Senior Video Editor
Major: Film and Video Studies
Year: Freshman
Bio: Abby Clark is a 2018 graduate of Saint Gertrude High School in Richmond, Virginia. There, she worked as a stage manager and a student director in the Stuart Avenue Players theater program. She also created short films for classes, events, and theatrical productions. Abby has pursued her interest in film technology and technique through a summer intensive at the University of North Carolina School of the Arts and an internship with the Virginia Film Office. She led a team to participate  in the 2018 Richmond 48 Hour Film Project. During her senior year of high school. Abby won a grant to write, direct, and edit a 20 minute short film, "eighteen," which she submitted to film festivals around Virginia. She is very excited to join the Mason Cable Network crew and to work with a team of creative and hardworking people. In the future, Abby wants to edit and produce feature films.
Contact: aclark46@gmu.edu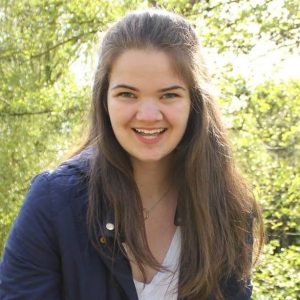 Christina Matt
Deputy Video Editor
Major: Communication, Media Production and Criticism
Year: Senior
 Bio: Christina is from Richmond, Virginia. Over the last three years, Christina changed her major four times, and her minor twice. This allowed her to complete coursework in a wide variety of disciplines including business, film, and graphic design. In her spare time, Christina enjoys traveling, photography, playing the piano, and spending time with friends. Last semester Christina studied abroad at the University of Leicester, and it was a life changing experience. While there she had the opportunity to travel to nine different countries, and witness many newsworthy events such as the Royal Wedding. She enjoyed her time in the United Kingdom so much that she would like to move there, eventually. She aspires to work for the BBC.
Contact: cmatt@gmu.edu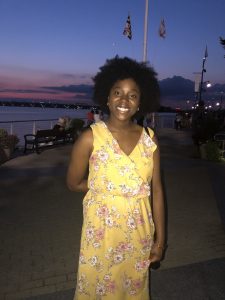 Madeline Powell
Mason Cable News Director
Major: Communication, Media Production and Criticism
Minor: Dance Appreciation and Anthropology
Year: Senior
Bio: Madeline joined Mason Cable News during her sophomore year as a daily update and field reporter. Her passion for the network and her will help other students develop their craft is her main motivation. She plans to pursue a career as a news broadcaster and a professional ballet dancer. She is from Centreville, Virginia but represent the countries of Ghana and Jamaica. She loves music and arts. Her talents include dancing, playing the flute, and drawing. She also has a passion for philosophy and mathematics. Her hope is to become an all-round woman while leading others to be their best selves.
Available Positions
(Voluntary Basis)
Camera Operator
Switcher
Production Assistant
News Writer
Videographer
News Anchor
News Reporter
Sports Broadcaster
Production Crew
Video Editor
Graphic Designer
Social Media Coordinator
Marketing Coordinator
Public Relations Coordinator