Summary
News
Members of the Arlington delegation to the General Assembly were in near-unanimous alignment with the legislative priorities of the Arlington branch of the NAACP during the 2021 legislative session, according to a new scorecard.
All four members of the House of Delegates from Arlington districts scored 100 percent – being on the same side with the NAACP on 31 bills. Of the three Senate members, the trio was in line with NAACP positions 94 percent of the time, supporting 17 of 18 bills used for the ranking.
"The Arlington branch of the NAACP applauds our elected officials – we hope to see continued support in voting records throughout the 2022 session," the political-action arm of the Arlington NAACP noted in the report, which used positions of the Virginia State Conference of the NAACP to base its rankings.
In addition, NAACP officials singled out Del. Patrick Hope and Sens. Adam Ebbin and Barbara Favola for serving as chief patron of at least one of the bills supported by the civil-rights organization, and noted that Del. Mark Levine has served as copatron of 23 of the 31 pieces of legislation ranked on the House side.
Rehab and Social Services Committee – Host, Senator Barbara Favola

Virginia legislators have considered a slew of measures focused on school closures throughout the pandemic, both in the current 2021 legislative session and a nearly three-month special session last fall. Most of the bills — including a measure that would require local school divisions to provide vouchers to parents if they didn't offer in-person classes — died quickly in the General Assembly's Democratic-controlled committees.
But Tuesday's vote also underscored changing attitudes on school closures since the beginning of the pandemic. Even some opponents of the bill agreed that it was better for students to attend classes in-person, arguing instead that a mandate would place an unfair burden on many local districts. Sen. Barbara Favola, D-Arlington, said she was "reluctantly" voting against the bill based on the difficulty — and cost — of implementing measures to stop COVID-19 from spreading in schools.
Northam has also shifted his messaging on school closures since the start of the pandemic. In mid-January, he ordered local divisions to start making plans for resuming in-person classes, saying the "starting point" should be how they could reopen schools safely. The Virginia Department of Education also released new guidance emphasizing that classes could resume even in areas with high community spread if schools effectively implemented mitigation measures.
A similar version from Sen. Barbara Favola, D-Arlington, failed to pass the Senate on a vote of 16-22, with senators expressing concerns about how the bill didn't include a provision for people to get their gun rights restored.
Petersen tweaked Murphy's bill so that people could get gun rights restored three years after they were convicted.
Still, Morrissey and gun rights advocates had concerns about how Virginia's definition of assault and battery is very broad.
Senate Bill 1221, introduced by Sen. Barbara A. Favola (D-31), which would allow Loudoun to also locally operate its health department, has passed the General Assembly and is waiting on the governor's signature.
Goodfriend also said he expects the state's website to improve over time.
"There are privacy issues with the state system, just like we have privacy issues," Goodfriend said. "The information you gave us when you signed up is private information. So there's only so much that we want to be able to share with folks without some way of vetting who is asking for that information and if they have a right to it."
Senator Barbara Favola of the 31st District said no matter what happens in court there will likely still need to be some negotiation.
Reeves likened the entire situation to a messy divorce.
"A marriage of three counties is going through a divorce," he said. "This [bill] is a post nuptial agreement after the fact. I feel for Emmett Hanger. I don't know its right to put a post nuptial agreement on. These folks knew what they were getting into.
Twitter
About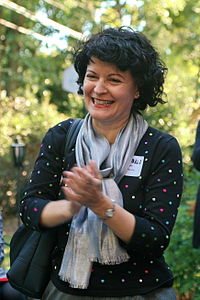 Source: Campaign page
Prior to her election as a State Senator, she served on the Arlington County Board for fourteen years (1997-2011) and chaired that body three times.  During her service with the County, Senator Favola was the Board's leading advocate for children, youth and families, and her contributions to the community include establishing mental health services in the public schools.
Throughout her public life, she has been a vigorous supporter of universal human rights.  In the Virginia Senate, Barbara is focusing her legislative efforts on women's reproductive rights, health care access, K-12 education funding, workforce training, safety net programs, helping foster children, preventing domestic violence and sensible environmental policies.  Senator Favola also believes that a living wage is essential for families and communities to thrive.  She acknowledges that job creation and economic security are the cornerstones of a vibrant Commonwealth and a secure future.
Senator Favola serves on Virginia's Senate Local Government Committee, Rehabilitation and Social Services Committee, and Transportation Committee. She is Chair of the Virginia Advisory Committee for Sexual Assault and Domestic Violence,  Chair of the Senate Women's Health Care Caucus and Chair of Virginia's Commission on Youth.  She served on Governor McAuliffe's Climate Change and Resiliency Update Commission.  Senator Favola was recently appointed to the Disability Commission and the Joint Committee to Study the Future of Public Education.   Senator Favola serves on the Advisory Board of Virginia Tech's School of Public and International Affairs.
Prior to Senator Favola's elected life, she served as a Presidential Management Intern and senior policy advisor at the Federal Department of Health and Human Services.  She also served on the House Budget Committee in the U.S. House of Representatives. Senator Favola is the founder and managing director of Pathways to 21st Century Communities, a consulting group specializing in government relations and community outreach.  In addition to her Senate duties,  Ms. Favola also serves on numerous Boards and Commissions, including the Advisory Committee for the Arlington YMCA and the Fairfax CASA Board.
Experience
Work Experience
Policy advisor
U.S. Department of Health and Human Services (HHS)
2019 to present
Contact
Legislative Assistant: Julia J. Kim
Email:
Offices
Capitol Office
Pocahontas Building
Room No: E616
Senate of Virginia
P. O. Box 396
Richmond, VA 23218
Phone: (804) 698-7531
Fax: (804) 698-7651
District Office
2319 18th Street North
Arlington, VA 22201-3506
Phone: (703) 835-4845
Web
Government Page, Campaign Site, Twitter, YouTube, Facebook
Politics
Source: Wikipedia
From 1997 until 2012, Favola was a member of the Arlington County Board; she served as Chairman in 2000 and 2004 and Vice Chairman in 1999, 2003 and 2011. She has been a Board member since December 1997.
In 2006, Virginia Gov. Tim Kaine appointed Favola to a four-year term on the State Health Board.
Favola was a policy advisor for 15 years at the U.S. Department of Health and Human Services (HHS). Favola started her career at HHS as a Presidential Management Intern (PMI), and served in various policy and planning positions throughout the Department, with several assignments in the Office of the Secretary and the Office of the Assistant Secretary for Public Health. As part of the PMI experience, Ms. Favola also worked on the House Budget Committee in the U.S. House of Representatives.
State Senate
Favola was first elected to the Virginia Senate in 2011 in the 31st district, defeating Republican Caren Merrick with 58% of the vote. She was re-elected in 2015, defeating Republican George Forakis with 62% of the vote.
Recent Elections
2019 State Senator
| | | |
| --- | --- | --- |
| Barbara A. Favola (D) | 46,655 | 91.63% |
| Write-In (Write-in) | 4,261 | 8.37% |
| TOTAL | 50,916 | |
2015 State Senator
| | | |
| --- | --- | --- |
| Barbara Favola (D) | 26,373 | 62.3% |
| George Vasilios Forakis (R) | 15,904 | 37.5% |
| Write In (Write-in) | 81 | 0.2% |
| TOTAL | 42,358 | |
2011 State Senator
| | | |
| --- | --- | --- |
| Barbara Favola (D) | 24,349 | 58.1% |
| Caren Dewitt Merrick (R) | 17,484 | 41.7% |
| Write In (Write-in) | 79 | 0.2% |
| TOTAL | 41,912 | |
Finances
FAVOLA, BARBARA  has run in 2 races for public office, winning 2 of them. The candidate has raised a total of $1,145,161.
Source: Follow the Money
Committees
Committees
Local Government
Rehabilitation and Social Services
Transportation
Appointments
Disability Commission
School Facility Modernization
School Leadership & Student Outcomes
Sexual and Domestic Violence, Advisory Committee on
Virginia School for the Deaf and Blind, Board of Visitors
Youth, Commission on
Voting Record
See: Vote Smart
New Legislation
Source: Virginia Legislative Information System
Issues
Civil Rights
Fighting for Criminal Justice
We know that solitary confinement severely affects a person's mental health and ability to reintegrate into society. I am sponsoring a bill that would require the Department of Corrections to submit an annual report to the General Assembly containing statistical information regarding the use of solitary confinement.
Economy
Fighting for Paid Family Leave
I have been working with stakeholders to craft a bill that provides much needed support for families. We are looking at best practices in other states to evaluate ways for making such a program universal. My bill will seek a tax credit to help small employers cover the costs associated with the program.
Education
Promoting Mental Health Services in Public Schools
I am submitting legislation that will require school counselors to allocate 80 percent of their time to behavioral health counseling. It is also important that the Standards of Quality reflect a counselor to student ratio of 1 to 250. I will address this issue in my budget amendments.
Promoting Quality K-12 for All Students
In collaboration with Loudoun Public Schools and other stakeholders, I am submitting legislation to enable the creation of "Divisions of Innovation." This concept will enable schools to create a more comprehensive and more meaningful way to teach and measure academic success. I will also be advocating for increases in teacher salaries.
Health Care
Improving Access to Health Care
Working in collaboration with the Medical Society of Northern Virginia and area pediatricians, I will submit a bill that would require all health insurance plans in the Commonwealth, including short term plans and association plans, to cover the basic primary and preventive services currently required under the Affordable Care Act.
"So often folks do not realize that these "cheaper" plans really don't cover many services at all. It is heartbreaking to know that consumers learn about theses omissions when they need care." – Barbara Favola
Promoting Women's Health
I am submitting a bill to codify the U.S. Supreme Court decision on "Roe versus Wade." This decision granted women the right to privacy in making reproductive health care decisions, including access to abortion care for up to 20 weeks during a pregnancy. "Given the new composition of the Supreme Court, States will likely be granted authority to establish barriers for women wishing to access abortion care. Virginians want us to act now to protect this important right to privacy." – Barbara Favola
Infrastructure
Championing Solar Freedom
I am proud to collaborate with my colleague, Senator McClellan, environmental leaders and business leaders on a bill that will enable the creation of more solar energy, including increased opportunities for individuals and businesses to participate in new metering.
Safety
Reducing Hate Crimes
For the past several years I have submitted bills to strengthen Virginia's Hate Crime laws. At the request of Attorney General Mark Herring, I will be carrying a bill to include sexual orientation and gender identification as causes for hate crimes. A stronger Virginia Hate Crimes statute will give prosecutors more "tools" in the tool box when they are evaluating sentencing options. "It is incredibly important to keep track of and understand crimes motivated by hate and prejudice. We must send a message that all Virginians are valued and the Commonwealth is committed to keeping everyone safe." – Barbara Favola
Protecting Survivors of Domestic Violence and Sexual Assault
As chair of the Sexual Assault Advisory Committee, I learned from Victims' Rights groups that the process for continuing a protective order can cause a hardship on the survivor. My bill would enable a judge to rule on the continuation of a preliminary protective order at the same time the criminal trial is being heard. This eliminates the need for the survivor to return to court just for a hearing on a protective order. I also submitted a bill which would allow a judge to hear a request for a protective order using Skype if the petitioner is hospitalized or cannot make an in-person appearance because of an extraordinary circumstance.
Promoting Gun Safety
I will be submitting legislation to require that an individual who has been convicted of two misdemeanor assaults of a household member shall forfeit possession of a firearm. Additionally, I will be advocating for passage of "red flag" laws and the implementation of more complete and more universal background checks. "We must take steps to remove guns from those who have a history of violence. Abused women are 5 times more likely to be killed if their abuser owns a firearm. Virginians want to be safe in their homes and in their communities. Responsible gun ownership needs to accommodate safety considerations." – Barbara Favola
Protecting Our Animals
In response to constituent concerns about the treatment of companion animals, I have submitted a bill that grants local governments the authority to adopt an ordinance that defines "adequate care."
Supporting Vulnerable Families
Once again, I am submitting a budget amendment to provide child care subsidies and case management services to individuals, mainly moms, for a 2-year period if they are participating in an educational or work training program.
"It is absolutely critical that individuals transitioning off of public assistance be given the opportunity to succeed. This means we should help them continue their education or technical training so they can secure jobs that pay enough to support a family. Our income security programs must be redesigned to help folks achieve self-sufficiency and not just provide band aids for the moment." – Barbara Favola
I am also supporting a budget amendment to ensure that when foster children are reunited with their families, the family receives case management services for a year to help ensure a smooth transition.