Summary
Current Position: Child care center development consultant
Affiliation: Democrat
Candidate: 2019 State Delegate
Overview: N/A
About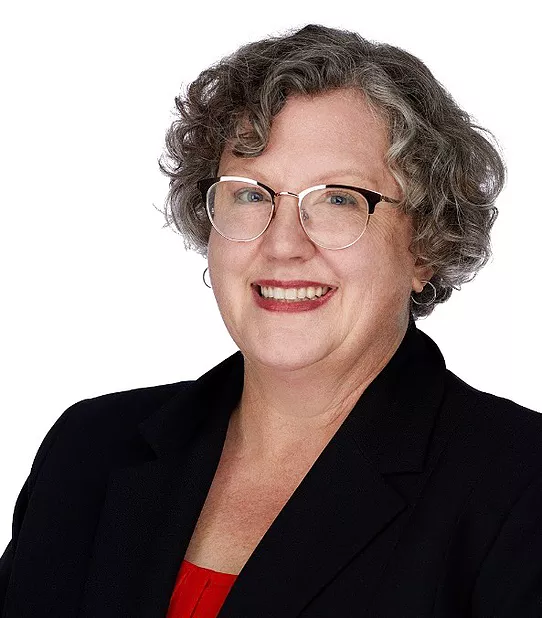 Source: Campaign page
My Virginia roots go back to a signer of the Declaration of Independence and two presidents, so you could say the calling to public service runs in my blood. While I feel a deep connection to the past, the challenges of modern life have required me to face the future with a combination of courage, ingenuity, creativity and determination.
My story may sound familiar. I was raised in a traditional nuclear family, so I was blindsided by a sudden divorce and the accompanying stress and financial anxiety of raising two small children alone. My family went from giving assistance to needing assistance, and that is a hard and humbling transition for any family to make. We struggled through job loss, near-bankruptcy caused by the Great Recession, lack of health care coverage, and life-threatening illness, but we never gave up. We never stopped believing that together, with the support of our community, our family could triumph. I want every family in the 15th District to know that if they elect me to the House of Delegates, they will have an advocate who understands their struggles working tirelessly on their behalf so that they may triumph, too.
Experience
Work Experience
Child care center development consultant

Worked on multiple federal projects

Health educator

Worked with teenagers and college students
Education
Contact
Email:
Offices
District Office
PO Box 523
Woodstock, VA 22664
Web
Campaign Site, Twitter, Facebook, Instagram
Politics
Finances
Beverly Harrison is running for the 15th House of Delegates seat in 2019. As of November 5, 2019 Beverly Harrison has raised $82,534.
Source: VPAP
Issues
Economy
Local businesses should be able to fill job openings with local talent. No young person in the 15th District should feel that they have to move away to find dignified, living-wage jobs when those jobs exist right here and go unfilled for lack of training. I believe that by matching vocational training to the needs of our local business community, we can make sure our young people and our businesses have the best chance for mutual success. I will work with local schools and businesses to facilitate Business-Education Partnerships so that our citizens and businesses can continue to call the 15th District home.
It should not be a struggle to find affordable housing. Lack of affordable housing is driving citizens out of the Valley. More and more people are being forced from their gentrifying communities, resulting in long commutes and less time for family. The shortage of affordable housing is creating hardship for elderly, young adults, and for lower-income citizens. I will partner with local initiatives to bring creative, affordable housing solutions to District 15.
Education
I will work to give your children a high-quality education. Well educated citizens are vital to a healthy democracy, yet my opponent does not seem to believe that our public school system matters at all. In fact, he is the only person in the General Assembly to earn a 0% percent rating from the Virginia Education Association. From my own career in education, I know firsthand the importance of investing in public schools. When our schools engage students, nurture their talents, develop their strengths, and make sure students have the skills they need to succeed in life, everyone benefits. I will work hard to earn a 100% VEA rating on behalf of the students in our district.
​
It is time to develop new pathways to success for our students and businesses. I propose a new way of training our students for the specialized skills needed in skilled technical careers. The Commonwealth could create regional technical programs that offers training to a select group of students. Building on and utlizing the Governors Schools model, students would have access to training that matches their interests with local jobs while also working to educate them on skills that will benefit them now and in the future. It is time to better serve our vocational students by offering advanced education and opportunities. By utilizing the existing Governors School model and infrastructure, we can provide needed services while being good stewards of limited resources.
Health Care
Quality/Affordable Health Care Coverage
I will work to protect and improve your health care coverage. I believe that every person in our should have access to quality, affordable health care coverage. Thanks to the results of the 2017 election, Virginia joined 32 other states who direct their federal tax dollars back to their own residents through Medicaid expansion. More than 400,000 Virginians now enjoy health care coverage they didn't before. As a breast cancer survivor, I understand what it means to have a "pre-existing condition." You can count on me to protect our citizens' access to affordable, life-saving health care. Our lives depend on it.
Addiction Recovery & Family Support
I will work to provide support to families struggling to recover from addiction. Did you know that at least 10% of the children our district are being raised by family members other than their parents? Children are the often-overlooked victims of the drug crisis. The grandparents and family members who assume the responsibilities of an absent parent do not receive the same level of support or financial aid as foster parents. I will work to make sure that caregivers and parents have the resources they need to help their families cope with and recover from addiction.
Infrastructure
Every citizen should have access to broadband. Reliable broadband has become essential for students, families, and businesses. Lack of access to high-speed internet is a deterrent to businesses, large and small, which might otherwise locate in our district and contribute jobs and prosperity to our communities. With the advent of telecommuting, many workers in our district could drastically increase time spent with family and improve quality of life, if they could depend on high-speed internet. I will work to expand broadband service and make sure that the existing services are living up to the expectations of 15th District customers.
News
In the News
House delegate race pulls no punches
By: Max Thornberry
The Northern Virginia Daily – October 10, 2019
Candidates for Virginia's 15th House District clashed on Wednesday, coming from opposite ends of the political spectrum and employing divergent strategies to get the upper hand on their opponent.
Beverly Harrison, a Democrat from Woodstock and a former teacher, went on the offensive from the outset, attacking Del. Todd Gilbert, R-Mount Jackson, on everything from his voting record to campaign donors.
"My opponent's funding shows that his primary supporters are businesses and special interest groups," Harrison said in her opening remarks. "I am not here tonight to personally attack my opponent. But I am here to disagree with much of his voting record."
Candidates answered questions about topics ranging from homelessness to education but hot-button issues Gilbert has leaned into over his career dominated the discussion.
Voters to decide state House, Senate representatives
By: Max Thornberry
The Northern Virginia Daily – November 3, 2019
House District 15:
Since 2006, Todd Gilbert, R-Mount Jackson, has represented voters in Shenandoah, Page, Warren and Rockingham counties.
For the first time in 10 years, Gilbert faces a challenger for his seat in the House of Delegates. Beverly Harrison, a Democrat from Woodstock, is running as a political novice who was spurred on by her involvement with a campaign to have the Equal Rights Amendment ratified last year.
Running as an outsider, Harrison is campaigning on a platform of supporting local businesses and labor unions; increasing broadband access and creating technical training schools.
Recent Events
Women's Equality Day
When: August 26, 2019 5:45 pm
Where: Alamo Winchester
Meet and greet to talk about my campaign and the ERA – then stay for the film.
Twitter
Videos
Other Videos
Beverly Harrison Democratic Candidate For 15th Delegate District
Beverly Harrison
Published on March 29, 2019
By: Beverly Harrison
"I will work alongside you to address the issues that matter to all of us: business opportunities, I-81, education, healthcare, and family. I also spent years working on behalf of children and families. I know firsthand the financial destruction of the Great Recession. It impacted families, businesses, and our public schools. We need a delegate who understands that we, right here in District 15, need an economy where parents and children can afford to live and work in the valley, where small businesses thrive, and our rural agricultural history is respected. Please support me, Beverly Harrison, for delegate." Beverly Harrison
Beverly Harrison for Delegate
Benjamin L. Somberg
Published on September 23, 2019
By: Benjamin L. Somberg
Beverly Harrison is a candidate for the Virginia House of Delegates, District 15