Summary
Current Position: State Delegate since 2018
Affiliation: Republican
Former Position(s): Stafford County Board of Supervisors from 2012 – 2018
Overview: N/A
About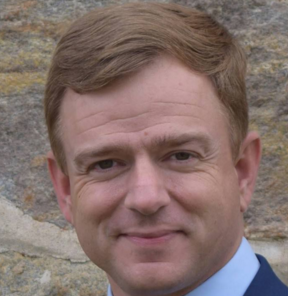 Delegate Robert M. "Bob" Thomas, Jr. is a proud husband, father, small business owner, U.S. Marine Corps veteran, and citizen legislator representing the 28th District in the Virginia House of Delegates.
Bob was first elected as Delegate in November 2017 following the retirement of former Speaker Bill Howell. He serves on three committees in the House: Counties, Cities, and Towns, Transportation, and Science and Technology. Prior to taking office January 2018, he served six years on the Stafford County Board of Supervisors representing the George Washington District.
In Richmond, he is committed to representing our shared values, delivering results for his constituents, and making our community the best place to live, work, and raise a family.
Bob was born and raised in Sandusky, Ohio. Shortly after high school graduation, Bob felt a strong calling to serve his nation and joined the United States Marine Corps at age 18. He spent nearly four years stationed in Okinawa, Japan until he was transferred to Marine Corps Base Quantico in January of 2000. Bob and his young family loved the Fredericksburg area so much, they decided to call Stafford County home.
In 2006, after spending three years working for a large government contractor following active duty, Bob and a fellow Marine started their own company, Capriccio Software. As a small business owner, Bob has the unique perspective of knowing how it feels to have nearly thirty families depending on the success of a company.
Bob currently lives in Stafford with his wife, Christi, and their large family. Bob and his family are active members of Spotswood Baptist Church. He is a graduate of Excelsior College with a BS in Information Technology.
Experience
Work Experience
Business Owner
USMC
1995 to 2004
Education
B.S
Excelsior College, NY
2003
A.A.S.,
Northern Virginia Community College
2002
Awards
2019 Delegate of the Year – Fredericksburg Regional Chamber of Commerce
2019 Legislative Champion Award – Virginia Education Association
2019 Free Enterprise Award for Affordable Housing – Virginia Chamber of Commerce
2019 Distinguished Legislative Leadership Award – Virginia Transit Association
2018 Rookie of the Year – Fredericksburg Regional Chamber of Commerce
2018 Free Enterprise Award for Transportation – Virginia Chamber of Commerce
2018 Healthcare Hero Award – Virginia Hospital & Healthcare Association
Personal
Place of Birth: Sandusky, Ohio
Gender: Male
Race(s): Caucasian
Religion: Baptist
Spouse: Christina Debra Calverley
Children: Lindsey, Amberly, Adam, Mackynzie, Ashlynn, Madeline, Lillian, and Rosaleigh
Membership & Affiliation
Spotswood Baptist Church
Contact
Legislative Assistant: Heather Swartz
Administrative Assistant During Session: Jackie Price
Email:
Offices
Capitol Office
Pocahontas Building
900 E. Main St,
Richmond, Virginia 23219
Phone: (804) 698-1028
District Office
P.O. Box 9142
Fredericksburg, VA 22403
Phone: (540) 693-0726
Web
Government Page, Campaign Site, Twitter, Facebook, Instagram
Politics
Source: Wikipedia
Thomas was elected to the Stafford County Board of Supervisors for the George Washington District in 2011, defeating Democrat Charles V. Latimer by a margin of 60%-39%. He won re-election unopposed in 2015.
In March 2017, he announced his candidacy for the 28th district seat in the Virginia House of Delegates in the race to replace Speaker Bill Howell, who was retiring. Howell endorsed Thomas in the Republican primary. Thomas was opposed in the Republican primary by one current and one former Stafford County Board of Supervisors member; Thomas won the primary with 49% of the vote.
In the general election, Thomas was opposed by Democrat Joshua Cole. On election night on November 7, 2017, unofficial election results showed Thomas had won the seat by a margin of 104 votes. Post-election canvassing shrunk the lead to 86 votes as of November 9.]Cole's campaign manager said they would likely seek a recount.[7] Cole's campaign and the Virginia House Democratic Caucus requested that the Stafford County Electoral Board count 55 absentee ballots that were not received by the electoral board until the morning after the deadline, but the board voted to disqualify the ballots, though they counted 40 of 50 provisional ballots. On November 14, the Stafford County Electoral Board certified the results, showing Thomas had won by 82 votes. The same day, the Cole campaign stated it had filed a lawsuit demanding that the ballots be counted, and additional challenges are possible. On November 17, a federal judge dismissed Cole's lawsuit demanding the 55 absentee ballots be counted. On November 20, the state board of elections said at least 83 voters from the 28th district were incorrectly given ballots for the 88th district, and decided to delay certifying the results of the 28th district race, potentially allowing a court to step in. The following day, attorneys for House Republicans sent a letter threatening to sue the state board of elections over the delay, saying the appropriate course of action would be to certify the results to allow for a recount. The board found further "irregularities", saying the number of voters who incorrectly cast ballots in the 28th and 88th district races was at least 147, opening the possibility that Cole could contest the election and ask the House of Delegates to order a new election.  On November 27, the state board of elections finally certified the results, giving Thomas the victory, but on November 29, the Cole campaign filed for a recount. On December 7, attorneys for House Democrats petitioned a federal judge to order a new election due to the issues with the 147 voters. The recount began on December 21, and found that Thomas won by a margin of 73 votes. On January 5, a federal judge denied a request from Democrats to prevent Thomas from taking office while they made their case for calling a new election. The Democrats appealed that ruling to the Fourth Circuit Court of Appeals, but on January 10 a three judge panel unanimously denied the Democrats' appeal, clearing the way for Thomas to be sworn in on the first day of the General Assembly session.
In June 2019, after one term, Thomas lost the Republican nomination to former Stafford County Supervisor Paul Milde. Milde, who had unsuccessfully challenged Thomas in the 2017 primary, won 2,974 to 2,831.
Recent Elections
2017 State DelegateArray
| | | |
| --- | --- | --- |
| Bob Thomas (R) | 11,842 | 50.1% |
| Joshua Gregory Cole (D) | 11,760 | 49.7% |
| Write In (Write-in) | 45 | 0.2% |
| TOTAL | 23,647 | |
Source: Virginia Legislative Information System
Finances
THOMAS JR, ROBERT M (BOB) has run in 1 race for public office, winning 1 of them. The candidate has raised a total of $245,243.
Source: Follow the Money
Committees
Committees
Science and Technology
Counties Cities and Towns
Transportation
Subcommittees
Counties Cities and Towns – Subcommittee #1
Transportation – Subcommittee #1
Transportation – Subcommittee #3
Appointments
Voting Record
See: Vote Smart
New Legislation
Source: Virginia Legislative Information System
Issues
Governance
GOVERNMENT SPENDING & TAXES
As a father and small business owner, Bob Thomas believes we must reduce the tax burden on small businesses and hardworking families. In 2018, Delegate Thomas successfully passed legislation to reduce the merchant's capital tax. This year, he helped pass the Republican-led $1 billion tax relief package, the second largest tax cut in Virginia history.
Civil Rights
LIFE
Bob protects our traditional family values and will always defend the right to life. He believes that every life is precious, and we must protect the unborn.
2ND AMENDMENT
As a concealed carry holder and member of the National Rifle Association, Bob always stands up for the rights guaranteed to us by the Constitution. He supports the rights of gun owners, hunters, and sportsmen.
Education
As a parent, Bob believes that every child deserves the opportunity to receive a high quality education. This year, he submitted a budget amendment to increase funding for our local schools and recognizes that education works best at the local level with input from parents, teachers, and citizens.
Infrastructure
TRANSPORTATION
Bob understands that transportation issues affect all areas of our community. In 2018, he was awarded the Transportation "Free Enterprise Award" from the Virginia Chamber of Commerce for introducing and passing legislation to address growing congestion on our roads.
News
Twitter
Videos
Other Videos
Results vs. Rhetoric
Delegate Bob Thomas
Published on December 6, 2018
By: Delegate Bob Thomas