Summary
Current Position: State Delegate since 2016
Affiliation: Republican
"Chris understands what sort of leadership the community expects- principled conservatism with an emphasis on serving the needs of the public. It is vital that our leaders fundamentally understand that every dollar taken from the taxpayer must, in turn, be respected as the taxpayer's money."
About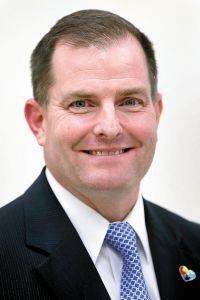 Source: Campaign page
A Winchester and Frederick County native, Delegate Chris Collins has always called the valley home. He was born in Lynchburg, VA on March 22, 1971 and raised in Winchester. He graduated locally from James Wood High School in 1990 and later received an Associate of Science in Respiratory Therapy from Shenandoah University in 1992. In 1994 Chris graduated from James Madison University with a Bachelor's of Science in Economics. He received his Juris Doctorate from the University of Baltimore School of Law in 2003 and is currently a defense attorney in Winchester, VA.
Chris has a longstanding history of service to his community, which began in his teen years thanks to his parents. Charlotte and Verne were Deans at the University of Shenandoah. Charlotte was Dean of the Conservatory and Verne was Dean of the University, and later Director of Development and a professor of business. His parents' passion for serving their community got young Chris involved in volunteer work with the Apple Blossom Festival, various Shenandoah University events, the Child Advocacy Center, and the Lions Club.
Chris's commitment to his community continued as an adult. He was on the Frederick County Board of Supervisors for the Redbud District, a local governing body for Frederick County responsible for personal property tax rates and the annual budget for education, public safety and other necessary expenses. He was also Chairman of the Code and Ordinance Committee. This Committee reviewed all new ordinances or revisions to county code. During this time Chris was a member of the Human Resources Committee, which handled all personnel in the county. Additionally, he sat on the Public Safety Committee which oversees fire and rescue as well as the Sheriff's office for the area. Chris is also the former 3rd Vice President of the Winchester 3rd Lions Club and a member from 1994-2000.
Before becoming a delegate for the 29th District, Chris had several different careers. He served in the Army National Guard from 1989-2005, was a respiratory therapist at the UVA Medical Center Critical Care Unit, a trust officer with F&M Bank in Winchester, a Deputy of Frederick County Sheriff's Office, and an attorney at Inger and Collins. Currently he is a defense attorney with Buchbauer and McGuire in Winchester.
In the House of Delegates, Chris serves on several committees including Courts of Justice, Education, and Transportation.
​
Delegate Collins continues his service to Frederick County and currently serves as a member of the Frederick County Service Authority Committee, where he deals with local water and sewer priorities for the area.
Notable legislation the Delegate was a part of ranged from "Go Virginia", a program to create economic growth in the Commonwealth's Districts through grants, to the formation of Drug Courts in the region. Chris also worked on legislation that provided reciprocity with other states for concealed hand gun permits. His work to support local businesses and the "Go Virginia" grant program earned him recognition as Freshman Legislator of the Year from the Virginia Chamber of Commerce.
​
Chris lives in Winchester with his wife, Therese, their son Noah, and two rescue labs, Ranger and Lola. In his free time the Delegate referees for local high school varsity football games, enjoys playing golf, and model railroading with his son.
Experience
Work Experience
Defense attorney
Buchbauer and McGuire
2019 to present
Deputy
Frederick County Sheriff's Office
2019 to present
Defense attorney
Inger and Collins
2019 to present
Trust officer
F&M Bank in Winchester
2019 to present
Respiratory therapist
UVA Medical Center Critical Care Unit
2019 to present
Education
JD
University of Baltimore
2019 to present
B.S., Economics
James Madison University
2019 to present
A.S., Respiratory Care
Shenandoah University
2019 to present
Personal
Birth Year: 1971
Place of Birth: Lynchburg, VA
Gender: Male
Race(s): Caucasian
Religion: Catholic
Spouse: Therese Marie Frank (Tereze)
Children: Noah
Membership & Affiliation
Sacred Heart Catholic Church
Rotary of Frederick County
Winchester Football Officials Association
FOP
Mason
Contact
Legislative Assistant: Brad Veach
Administrative Assistant During Session: Brenda Short
Email:
Offices
Capitol Office
Pocahontas Building
900 E. Main St,
Richmond, Virginia 23219
Phone: (804) 698-1029
District Office
P.O. Box 459
Winchester, VA 22604
Phone: (540) 539-1724
Web
Government Page, Campaign Site, Facebook, Twitter, Instagram
Politics
Recent Elections
2019 State DelegateArray
| | | |
| --- | --- | --- |
| Chris Collins (R) | 15,532 | 64.36% |
| Irina Khanin (D) | 8,583 | 35.57% |
| Write In (Write-in) | 17 | 0.07% |
| TOTAL | 24,132 | |
Source: Virginia Legislative Information System
Committees
Committees
Courts of Justice
Transportation
Education
Subcommittees
Courts of Justice – Subcommittee #1
Courts of Justice – Subcommittee #3
Courts of Justice – Ethics Subcommittee
Education – Subcommittee #1
Transportation – Subcommittee #2
Transportation – Subcommittee #4
Appointments
Crime Commission, Virginia State
House Courts of Justice
House Education
House Transportation
Indigent Defense Commission, Virginia
Substance Abuse Services Council
Virginia Alcohol Safety Action Program, Commission on
Voting Record
See: Vote Smart
New Legislation
Source: Virginia Legislative Information System
News
In the News
Virginia officials react to invitation from West Virginia delegate
By: Josh Janney
Weirton Daily Times – January 19, 2020
Meanwhile, Del. Wendy Gooditis, D-Clarke County, said it's hard to imagine that the citizens of Frederick County want to join West Virginia. "Loving Frederick County and Winchester as we do, I can't imagine Virginia would let them go lightly!," she said.
Del. Chris Collins, R-Frederick County, called the situation "a very interesting legal discussion." When the state of West Virginia was being created, Collins said, a ruling from the Supreme Court of Virginia said that a magisterial district can vote to leave the state and join another state. To his knowledge, he said he is unaware of a Supreme Court ruling on the matter since.
Twitter