Summary
Current Position: State Delegate since 1998
Affiliation: Republican
Candidate: 2020 State Delegate
Former Position(s): Suffolk City Council (1986-98; Vice Mayor 1986-90; Mayor 1992-96)
Overview: N/A
About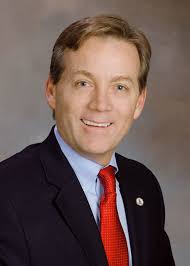 Chris Jones was born and raised here in the 76th District. Born in 1958, he grew up in a family of three children with parents Bobby and Barbara Jones, who were active in their community.  Growing up in Chuckatuck, Chris was involved with Little League Baseball, a member of the Chuckatuck Volunteer Fire Department and spent time working for his father, a pharmacist who owned Village Drugs in Chuckatuck. Chris graduated from John Yeates High school in 1976 and attended Randolph-Macon College where he was a member of the Ashland Volunteer Fire Department and the Ashland Volunteer Rescue Squad. Following in his dad's footsteps, Chris attended the Medical College of Virginia to become a pharmacist graduating in 1982. In 1985, Chris opened Bennett's Creek Pharmacy. In 1986, Chris began his first term on the Suffolk City Council where he represented the Chuckatuck Borough until 1998. While on council he served two terms as Vice Mayor, from 1986-1990 and served two terms as mayor from 1992-1996. In 1997, he was elected to the Virginia House of Delegates by the residents of the 76th District. In Richmond, Chris serves on three Standing Committees in the House of Delegates, Privileges and Elections (since 1998), Appropriations (since 2002), and Rules (since 2012).  In 2014, Chris was tapped as Chairman of the House Appropriations committee, where he provides a strong, common-sense voice for the hard-working citizens of the Commonwealth. Chris and his wife Karen have one daughter, Kaitlin, who is a graduate of the College of William and Mary.
Experience
Work Experience
Education

Medical College of Virginia, School of Pharmacy
1982
Awards
Suffolk Jaycees, Outstanding Young Man (1989)
Virginia Retail Merchants Association, Retailer of the Year (1995); Legislator of the Year (2011)
MCV/VCU Alumni Association, Distinguished Pharmacy Alumnus (2002)
Suffolk Rotary, Suffolk's First Citizen (2009)
Virginia State Police Association, Delegate of the Year (2010, 2013, 2017)
LEAD Hampton Roads Leadership, Regional Statesman of the Year (2011)
Hampton Roads Chamber of Commerce, Suffolk Small Business of the Year (2011)
Sierra Club, Virginia Chapter, Leadership Award (2015)
Personal
Birth Year: 1958
Place of Birth: Suffolk, VA
Gender: Male
Race(s): Caucasian
Religion: Christian
Spouse: Karen
Children: Kaitlin
Membership & Affiliation
Joint Legislative Audit and Review Commission
Virginia Pharmacists Association
National Community Pharmacist Association
Medical College of Virginia, School of Pharmacy (Clinical Assistant Professor of Pharmacy and Pharmaceuticals and Preceptor)
International Academy of Compounding Pharmacists
Contact
Legislative Assistant: Susan C. Clark
Administrative Assistant During Session: Pat Marxen
Email:
Offices
Capitol Office
Pocahontas Building
900 E. Main St,
Richmond, Virginia 23219
Phone: (804) 698-1076
District Office
P.O. Box 5059
Suffolk, VA 23435
Phone: (757) 483-6242
Web
Government Page, Campaign Site
Politics
Recent Elections
2017 State Delegate
| | | |
| --- | --- | --- |
| Chris Jones (R) | 22,736 | 93.9% |
| Write In (Write-in) | 1,471 | 6.1% |
| TOTAL | 24,207 | |
Finances
JONES, S CHRIS has run in 10 races for public office, winning 10 of them. The candidate has raised a total of $2,741,351.
Source: Follow the Money
Committees
Committees
Chair: Appropriations
Privileges and Elections
Rules
Subcommittees
Chair: Appropriations – Special Subcommittee on Amazon
Chair: Rules – Subcommittee #2
Privileges and Elections – Subcommittee #3
Rules – Joint Rules
Voting Record
See: Vote Smart
New Legislation
Source: Virginia Legislative Information System
Issues
Governance
Government Spending
Chris knows that you want the most for your hard earned tax dollars and expect the government to use your money wisely. This is why he has fought to cut out wasteful spending so that your tax dollars can be put to better use such as funding for new roads and bridges and better technology in our public schools.
Civil Rights
Second Amendment
Chris understands that gun ownership is a fundamental right of all American's and has been a champion of protecting the Second Amendment. He believes in the value of owning firearms for home defense and sport. He rejects bills that infringe on the fundamental rights of Virginians to own and carry firearms.
Economy
Del. Jones has a proven record of supporting legislation that makes it easier for Virginia businesses to operate and thrive. He stands behind policies that help create jobs for the Commonwealth by cutting back on government red tape that gets in the way of running a business. As a small business owner himself, Chris knows what it takes to create good-paying jobs that help Virginia's families. He supports Virginia's Right to Work laws that protect workers from being forced into paying union dues and helps businesses continue to run efficiently and continue to grow and hire.
Education
Del. Jones has championed Education reform bills that will make standardized testing more applicable to real world situations and critical thinking skills. This will ensure that the children of Virginia are prepared and competitive in a global workforce. He understands that the children are the future of the commonwealth and deserve the very best from the public school system so that they have a fair shot at success.
Infrastructure
Transportation
Chris understands the congestion issues that a growing state faces and knows that the less time you spend sitting in traffic means more time at home with your family. He serves on the Hampton Roads Transportation Accountability Commission that decides how the money appropriated to Hampton Roads for new roads and bridges gets spent. He has been a champion of sweeping transportation reform that will improve the infrastructure of the entire state of Virginia and shorten your commute to and from work every day.
Safety
Crime
Del. Jones was named the 2013 Delegate of the Year by the Virginia State Police Association as well as receiving numerous other awards from law enforcement agencies. He is not only committed to supporting our brave men and women in law enforcement but also supporting policy that help keep our neighborhoods safe.