Summary
Current Position: Lawyer
Affiliation: Democrat
Candidate: 2019 State Delegate
Overview: N/A
About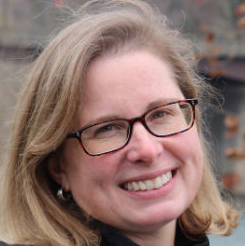 Source: Campaign page
Christian fell in love with Lexington, Virginia, as a freshman at Washington & Lee. In college, she also met and fell in love with her husband of almost 24 years, Ben, who grew up in Lexington.
After putting herself through law school, Christian built a sole practice representing clients in all aspects of family law while Ben worked for the local community college. Christian was active in her local bar association and legal community, serving as a volunteer and board member with the local pro bono organization for many years.
Ben and Christian kept a painting of House Mountain over their fireplace to remind them of their goal to return to where they first met. When Ben had the opportunity to take a position as the Academic Vice-President of Dabney S. Lancaster Community College, the family moved to Lexington and found a home within walking distance of Ben's parents.
Their daughter is a rising sophomore at Virginia Commonwealth University in Richmond, and their son is a rising junior at Rockbridge County High School, where he keeps busy with sports.
Christian has been a dedicated volunteer as a member of the Lexington City Democratic Committee, helping to run Get Out The Vote efforts for the past three elections. She serves on the board of CARE Rockbridge and United Way of Rockbridge, and is an ever-present volunteer at local events and festivals.

Web
Issues
Source: Campaign page
HEALTHCARE ACCESS
Provide incentives to attract more medical providers to districts like ours.
Lower health insurance premiums for employers and self-employed individuals.
Increase the number of mental health providers for rural areas, particularly for children.
WELL-FUNDED SCHOOLS
Recruit and retain quality teachers in rural areas with competitive pay and benefits.
Return public school per-pupil funding to equal or surpass levels from before the Great Recession (2008 – 09).
Restore funding for building improvements, including modernized Career and Technical Education (CTE) facilities.
WORKFORCE DEVELOPMENT
Provide skills and technical training in high schools and community colleges for in-demand jobs.
Attract long-term business investments by providing economic incentives that make our district competitive with the rest of Virginia.
Encourage and support the construction of safe, quality housing our working families can afford.
RELIABLE BROADBAND
Fund immediate rural broadband installation.
Recognize that broadband is a utility, not a luxury.
Support localities in their coordination with providers for installation to the last home on the last mile.
CLEAN ENERGY
Act at a state level to stop pipelines from threatening lives, livestock, and our natural resources.
End restrictions that prohibit landowners from generating and selling clean energy back to the grid.
Protect the environment and act against the growing climate crisis before it is too late for our family farms, our families, and our planet.
Videos
Other Videos
Christian Worth
Michael Todd
Published on December 5, 2018
By: Michael Todd
Christian Worth interviewed by the Rockbridge Report Dec. 5, 2018.
Christian running for Virginia Delegate
Breaking Through News
Published on November 30, 2018
By: Breaking Through News
Christian Worth is hoping to fill Ben Cline's vacant delegate seat. Cline recently won the Sixth District Congressional seat. Worth a Democrat is facing Republican Ronnie Capbell in a special election on Tuesday December 18.
Breaking Through News Reporter, Elaine Rackley spoke with Worth about her candidacy.