Summary
Current Position: State Delegate for District 77 since 2016
Affiliation: Democrat
Former Position(s): Chesapeake City Council (2004-12) from 2004 – 2012
Cliff Hayes was first elected Delegate for the 77th District in 2016. The 77th District includes parts of Chesapeake and Virginia Beach.
Delegate Hayes serves as Chair of the Communications, Technology and Innovation Committee and is a member of the Health, Welfare and Institutions,  and Appropriations committees. Delegate Hayes serves as the CIO/Technology Director for the Norfolk Sheriff's Office.
News
"I told him 'Cliff we need to do something. This shouldn't have happened.' I said 'This can't happen to anyone else again.' And he said 'I got you 100%,'" said Shawn Eure-Wilson, Jamile's mother.
Hayes then spearheaded the legislation. Currently, to get an Ashanti Alert, you have to show evidence of abduction, and the current Amber Alert system applies only to children with autism, not adults.
"This bill expands to include those with autism regardless of age. With Autism Spectrum Disorder, there's a tendency to wander anyway," said Arketa Howard, an advocate for the Autism Society of Tidewater.
bill to govern training and use of non-lethal weapons by police to control protests hit close to home for Del. Cliff Hayes, D-Chesapeake, whose 20-year-old cousin was critically wounded by a "bean bag" round fired at him mistakenly during an anti-racism protest in Texas at the end of May.
He told his colleagues Thursday that Justin Howell, a student at Texas State University, suffered a fractured skull and brain damage after police fired a so-called "non-lethal" munition during a protest at the University of Texas in Austin on May 31 after the death of George Floyd in police custody in Minnesota.
Austin Police Chief Brian Manley said police hit Howell mistakenly while firing at another protester who was hurling objects at them, and Texas news accounts said they also fired on protesters trying to carry Howell to safety.
Del. Cliff Hayes, D-Chesapeake, who has 25 years' experience as an IT professional in Hampton Roads – including with law-enforcement agencies – heads a JCOTS panel examining the two-edged sword of facial recognition systems. On one hand, they promise quantum advances in crime fighting and national security. On the other, they are the fondest dream of totalitarian regimes as witnessed by wholesale deployment throughout China.
Hayes is skeptical about the technology's widespread use.
"One of the things I know is that there is always this push to use technology to make ourselves more efficient. The question is how you define it. When you talk about effectiveness, what lens do you look at it through. Is it through a tactical or quantitative lens, or is it through an ethical and moral lens?" he said.
Jez started hearing about the facility two years ago. That's when he reached out to C.E. "Cliff" Hayes, Jr., who was elected to the Virginia House of Delegates in 2016.
"He was really integral," Jez said about Hayes, who helped pass a binding resolution in the House of Delegates honoring his meet in 2017. "He's just been a good advocate for our event, even though it wasn't even in his jurisdiction. I started talking to him about this new track and he put me in contact with some people from the city. They did a great sale. I was just going to host one meet there, then it became two, then it became me bringing the VA Showcase there."
Hayes thinks the track meet and the facility will have a "huge" economic impact to the area.
About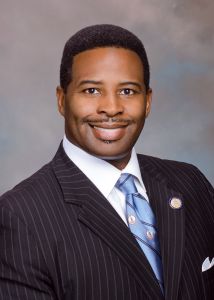 Source: Campaign page
Delegate C.E. "Cliff" Hayes, Jr. was sworn in as a member of House of Delegates, representing the 77th District of the Virginia General Assembly on November 22, 2016. Delegate Hayes is a life-long resident of the Chesapeake area. He is married to the lovely Kecia N. Brothers-Hayes and they have two daughters Felecia, who is a graduating student-athlete at The College of William & Mary, studying Kinesiology and Health Administration. Tonecia, who is a graduate of Virginia Commonwealth University, is in her second year of Law School at the University of Maryland.  He is also the proud son of Cliff, Sr. (George Washington Carver High School – Chesapeake c/o 1961) and Carolyn Hayes (Booker T. Washing High School – Norfolk c/o 1963).  His brother Corey and he were taught by their parents to be hard-working and civic-minded.
GROWING UP IN CHESAPEAKE, VIRGINIA
C. E. Cliff Hayes, Jr. in a 1985 graduate of Oscar Smith High School, where he excelled in a number of school activities.  Prior to attending Oscar Smith High School, Cliff attended Portlock Elementary, Carver Intermediate, and Truitt Junior High School.  While at Truitt Junior High School, Cliff was inducted into the National Junior Honor Society.  In addition, he was a member of the track team running the 100 M, 200 M, and the long jump.  His love for football, baseball, and basketball was on display through the South Norfolk Recreation Leagues.  His proudest youth athletic achievements came when he received the Dr. "Digger" Atkins MVP award in baseball and leading the football midget league Bobcats to a championship title at Cascade field.  Cliff ran for 32 touchdowns during that season.
While attending Oscar Smith High School, Cliff was a SCA reporter and president his junior and senior years, respectively.  He also served as president of the Fellowship Christian Athletes.  In addition, Cliff was a trumpet player in the Marching Tiger Band his freshman and sophomore years.  During his sophomore year he rose to first-chair.  He enjoyed his final year of high school serving as captain of the varsity baseball team, co-captain of the varsity football team, and voted as "Best All-Around".
When Cliff was born, his family lived in the LBJ Apartments on Portland Street in South Norfolk.  When Cliff was four years old, the family moved to a nearby home on Oldwood Street.  At the age of seven, Cliff's family moved to Varsity Manor located in the Portlock section of Chesapeake.  Cliff's parents continue to reside there today.
THE LATER YEARS
Upon graduating from high school, Cliff had several scholarship offers to play football and baseball.  Following in his father's footsteps, Cliff accepted a baseball scholarship at Norfolk State University where Cliff, Sr. was the starting shortstop under Coach Joseph G. Echols on the Spartan's very first baseball team.  After getting injured, Cliff concentrated on completing his degree in Computer Information Systems, with a minor in Business Administration.  Cliff has further study in management and leadership from Regent University (Virginia Beach, VA), urban affairs at Norfolk State University (Norfolk, VA), The Sorensen Institute for Political Leadership at the University of Virginia (Charlottesville, VA), The Hampton Roads CIVIC Leadership Institute (Norfolk, VA), and the Executive Leadership Program at Harvard University (Cambridge, MA) John F. Kennedy School of Government's Innovation in Government Through Information Technology.  In addition, Cliff holds a Master of Management degree in Business Administration from Cambridge College (Cambridge, MA). Finally, Cliff is enrolled at the distiguished Carnegie Mellon University Chief Information Officer Institute (Pittsburgh, PA) to become a certified chief information officer.
Cliff's professional development has occurred through various occupations and experience.  He began his career working as an accounting technician for Landmark Communications (Virginian- Pilot).  In addition he worked as a programmer/analyst for the City of Suffolk.  He also has experience working assisting businesses with licensing requirements through the Chesapeake Commissioner of the Revenue's office.  In the early years of the station, Cliff worked as a volunteer field reporter for WCTV Channel 48.  He also was hired as an Information Technology Specialist for the City of Chesapeake's Department of Information Technology before being hired by the Chesapeake Sheriff's Office in 1999 to manage information technology.  He continued in that role until 2015. In addition, he has taught technology courses at Tidewater Community College and served as the Web Development Technologies Coordinator for Norfolk Public Schools.  Today, he serves as the CIO/Technology Director for the Norfolk Sheriff's Office. Prior to being elected to the Virginia General Assembly, Delegate Hayes served as a member of the Chesapeake City Council from 2004 – 2012.  He is an ardent supporter of senior citizens rights, healthy alternatives for youth, public safety, technology, job creation/retention, and the city's school system.
WORK ETHIC – LESSONS LEARNED FROM FIRM, BUT LOVING PARENTS
Cliff and his brother Corey learned the value of hard work at an early age.  Their parents taught them great work ethic.  Their father worked early morning hours as a delivery driver for a local milk/ dairy products provider.  Then Cliff, Sr. went on to work for Tidewater Regional Transit (Now Hampton Roads Transit) as a driver.  He retired after 39 years of service.  Cliff, Jr. now serves with pride as a commissioner for that organization.  Their mother Carolyn retired in 1993 after 27 years of service as a quality assurance specialist at Naval Air Rework Facility, Norfolk.  She was the first female and African-American to work in that role at NARF.  She also owned a small floral business for approximately ten years.
Cliff began working as a newspaper carrier at the age of 13 in Portlock.  Later he began working for McDonald's in South Norfolk on the closing shift after school and extra-curricular activities.  After college, Cliff went to work as an accounting technician (Landmark Communications – Virginian Pilot) and programmer/analyst (City of Suffolk).  In 1992, he was hired as a business license specialist for the Chesapeake Commissioner of the Revenue's office.  In 1996 he worked as an information technology specialist for the Department of Information Technology.  In 1999 he was hired to manage technology for the Chesapeake Sheriff's Office.  In addition, he taught technology courses for Tidewater Community College from 2001 – 2004.
In 2004 Cliff was elected to the Chesapeake City Council and re-elected as the highest vote-getter in 2008.  While serving as a council member his assignments have included:  Economic Development, Transportation Planning Organization, Hampton Roads Sports Council, Chesapeake Redevelopment and Housing Authority, Youth Committee, Parks and Recreation Advisory Board, South Norfolk Revitalization Commission, and the Port Authority. With year's served as an employee (20 yrs.), a councilman (8 yrs.), and a state delegate (1 yr.) Cliff has 29 years of service to the citizens of Chesapeake.
GIVING BACK TO THE COMMUNITY
Cliff understands the importance of investing in the community in which one lives.  Since graduating from college, Cliff served as an advisor for the Junior Achievement program.  He also served as a coach and board member for the South Norfolk Boys Baseball Association before running for office.  Currently, he is a member for the Chesapeake Sports Club.  In addition he's served as an officer with Chesapeake Men for Progress and Chesapeake Forward.  He's a member of the Omega Psi Phi Fraternity, Inc. and a Master Mason, Prince Hall affiliated.  Cliff has served as the Area II president and former board member with the Virginia State Conference of Branches of the NAACP.  He a former Chairman of the Board of Directors for the Urban League of Hampton Roads.  He is a past board member with the Chesapeake Regional Hospital Foundation.  He also serves as a board member with the Southeast Virginia Community Foundation.  He is the founder of the Ronald McNair Young Scholars program.  He also is the founding treasurer for the Norfolk, Chesapeake, Portsmouth (NCP) Community Development Federal Credit Union.  He is a former Vice-Chairman for Chesapeake Jail Ministries.  His experience also includes time spent as a co-host for two radio programs:  "Crusading for Christ" WPCE and "Your Voice" WNSB.  Finally, he is a past board member with the Chesapeake Board Unit of the Boys and Girls Club of Southeast Virginia and a charter board member of the Chesapeake Sports Club..
AWARDS/RECOGNITION/ACHIEVEMENTS
Cliff has completed the Chief Information Officer Institute at Carnegie Mellon University in 2012. In addition he has completed the Federal CIO Institute – 2013. In 2006 Cliff was recognized by Inside Business Magazine as one of the Top Forty – Under 40 in Hampton Roads.  In 2007 he received the "Courage and Leadership" award presented by Lead Hampton Roads, Chamber of Commerce.  In 2008 and 2009 he received the Dr. Martin Luther King, Jr. award from two separate organizations in Hampton Roads.  In 2008 he completed the Harvard University John F. Kennedy School of Government's "Leadership in a Networked World" Executive Leadership Program for Innovation in Government through Information Technology.  In addition, he completed the Hampton Roads CIVIC Leadership Institute.  He is a graduate of the Sorensen Institute at the University of Virginia.  He's also a member of the Virginia Economic Development Association and the High Tech Crime Institute.
Experience
Work Experience
CIO/Director of Technology
Education

Carnegie Mellon University
2012

Chief Information Officer Institute,

B.S., Computer Information Systems
Norfolk State University
1991
Awards
Oscar Smith High School Athletic Hall of Fame (2000)
Hampton Roads Chamber of Commerce, Courage in Leadership Award (2011)
Personal
Place of Birth: Chesapeake, VA
Gender: Male
Race(s): African American
Religion: Baptist
Spouse: Kecia
Children: Felecia and Tonecia
Membership & Affiliation
"The Mount" Mount Lebanon Missionary Baptist Church
Chesapeake Men for Progress
Omega Psi Phi Fraternity, Inc.
Master Mason F&AM (Prince Hall affiliated)
Urban League of Hampton Roads
Hampton Roads Committee of 200+ Men
NAACP (life member)
Norfolk State University Alumni (life member)
Contact
Legislative Assistant: Sheryl Moody Reddington
Administrative Assistant During Session: Pat Frasher
Email:
Offices
Capitol Office
Pocahontas Building
900 E. Main St,
Richmond, Virginia 23219
Phone: (804) 698-1077
District Office
P.O. Box 5142
Chesapeake, VA 23324
Phone: (757) 364-0272
Web
Government Page, Campaign Site
Politics
Recent Elections
2019 State Delegate
| | | |
| --- | --- | --- |
| C. E. "Cliff" Hayes Jr. (D) | 14,108 | 91.42% |
| Write-In (Write-in) | 1,324 | 8.58% |
| TOTAL | 15,432 | |
2017 State Delegate
| | | |
| --- | --- | --- |
| Cliff Hayes (D) | 16,483 | 82.6% |
| Jeffrey Bennett Staples (G) | 3,362 | 16.8% |
| Write In (Write-in) | 110 | 0.6% |
| TOTAL | 19,955 | |
Source: Virginia Legislative Information System
Finances
HAYES JR, C E (CLIFF) has run in 3 races for public office, winning 2 of them. The candidate has raised a total of $95,460
Source: Follow the Money
Committees
Committees
Chair of Communications, Technology and Innovation
Health, Welfare and Institutions
Appropriations
Subcommittees
Appropriations – General Government and Capital Outlay Subcommittee
Appropriations – Higher Education Subcommittee
Health, Welfare and Institutions – Subcommittee #1
Voting Record
See: Vote Smart
New Legislation
Source: Virginia Legislative Information System
Issues
Legislation as Chief Patron: (registered users: create report or csv file)