Summary
Current Position: State Senator for District 10
Affiliation: Democrat
Dr. Ghazala Hashmi is an experienced educator and advocate who has spent over 25 years working within Virginia's college and university system. She currently serves as the Founding Director of the Center for Excellence in Teaching & Learning (CETL) at Reynolds Community College.
Ghazala is guided by the principles of integrity, social justice, and ethics in government in her approach to public service.
News
Legislators attempted to pass a bill that would expand the definition of a hate crime to include crimes against people based on perception, but opponents said the bill was too broad and could be misused.
Senate Bill 1203, proposed by Sen. Ghazala Hashmi, D-Richmond, aimed to ensure that someone who maliciously attacks a person based on their perception of that person's membership or association within one of the aforementioned groups is held to the same standard as someone who attacks a person they know is a member of one of the groups. Hashmi's bill also added color, national origin and gender expression to the list of protected classes.
Hashmi cited an incident during Black Lives Matter protests last summer in which Harry H. Rogers, an avowed high-ranking member of the Ku Klux Klan, drove his truck into a crowd of protesters. Henrico's Commonwealth Attorney Shannon Taylor said her client, who was hit, was not protected under current hate crime legislation because he is white. She said Rogers drove his truck with the intention to disrupt the protests.
After a lengthy and impassioned floor debate, the Democrat-controlled Virginia Senate passed a one-sentence bill Tuesday that would require every local school division to make both virtual and in-person learning available to students.
Democrats who spoke against the bill warned about creating mandates for school districts, and they raised concerns about the well-being of teachers and school support staff, as well as a mutated version of the virus first identified in South Africa. Public health officials are concerned that version spreads more easily and vaccines could be less effective against it.
Sen. Ghazala Hashmi warned that because the bill wouldn't take effect until summer, it could complicate the efforts of local school districts that are already moving forward with partial reopening plans.
Despite bipartisan support from current and former elected officials, members of the local bar and the Virginia conference of the NAACP, one of Chesterfield County's two Black judges will not be reappointed to the General District Court when her current six-year term expires March 31.
Because of opposition from two of the three state senators who represent parts of Chesterfield – Democrats Joe Morrissey and Ghazala Hashmi – the Senate Judiciary Committee declined to certify Pamela O'Berry's name for consideration by the full chamber during the 2021 General Assembly session.
"I've met with Judge O'Berry and was very impressed by her," said Hashmi, D-Richmond, in an interview Sunday afternoon. "She has strong professional credentials and an amazing life story. I wish my decision could be different, but ultimately I had to listen to the voices of my constituents."
Twitter
About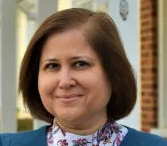 Source: Campaign page
Dr. Ghazala Hashmi is an experienced educator and advocate who has spent over 25 years working within Virginia's college and university system. She currently serves as the Founding Director of the Center for Excellence in Teaching & Learning (CETL) at Reynolds Community College. Ghazala immigrated to the U.S. from India 50 years ago. As an immigrant living in a small town in the South, she saw first-hand how community building and fostering important dialogue can bridge the cultural and socioeconomic divisions that we face. She later earned her PhD in English from Emory University, and she and her husband moved to the Richmond area in 1991. Their daughters were born and raised in Midlothian and educated in Chesterfield County Public Schools. Ghazala is guided by the principles of integrity, social justice, and ethics in government in her approach to public service. If elected, Ghazala Hashmi would be the first Muslim-American woman to serve in the Virginia State Senate.
Ghazala's Path to Victory
The district has been trending increasingly more Democratic over the last several elections. The current GOP incumbent pulled out a slight victory in 2015, but the district voted for Clinton and Northam by more than 10 points. Senate District 10 is ready for a progressive leader in the State Senate who truly understands the district — its priorities, its diversity, and its potential — and is ready to fight for residents every day in Richmond. By sharing her plans on important issues like improving public education, implementing commonsense gun safety reforms, and protecting the natural beauty of our Commonwealth, Ghazala will build a meaningful connection with voters that will propel her to victory.
Experience
Work Experience
Education
Contact
Email:
Web
Campaign Site, Twitter, Facebook, YouTube
Politics
Recent Elections
2019 State Senator
| | | |
| --- | --- | --- |
| Ghazala F. Hashmi (D) | 44,286 | 54.00% |
| Glen H. Sturtevant, Jr. (R) | 37,636 | 45.89% |
| Write-in (Write-in) | 84 | .10% |
| TOTAL | 82,006 | |
Issues
Civil Rights
Every day, Virginians across the state are forced to decide between helping family in times of need or going to work. This is an unfair choice. That's why we need to establish a paid family and medical leave program in Virginia, which will allow working people to continue to earn a portion of their pay when they need to temporarily take time away from work to care for themselves or a loved one. This will ensure that people across the Commonwealth can care for their family while maintaining their economic security.
Education
Early Childhood Education is the foundation upon which Virginia students can build a lifetime of skills for social and academic success. Quality and accessible early childhood education is a fiscally-sound investment for our communities, helping young children develop the emotional, social, cognitive, and motor skills necessary for effective learning.
Providing quality public education for all Virginia families is our shared social
responsibility. Regardless of socio-economic status, children have a right to public educational institutions that are supportive and that nurture intellectual curiosity and creativity. Virginia has every capacity to be a national leader in providing access to high quality public education.
Accessible and affordable higher education
Accessible and affordable higher education is essential if we want to grow Virginia's
economy and ensure that our residents are prepared to lead and to participate in a rapidly-changing world. The next generation of public leaders, entrepreneurs, teachers, and creative thinkers need access to quality community colleges, colleges, and research universities.
Environment
The health of Virginia's environment is the foundational rock for all of our communities. Ensuring protections for clean air, water, and soil are not options; they are safeguards of our most valuable legacies for our children and grandchildren. Environmental protections and regulations protect our communities and place people over profit.
Health Care
Reproductive health care is a right, not a privilege. I am committed to protecting all women's right to make their own family planning decisions. I will also fight to ensure that women have access to affordable reproductive health services.
Virginia's recent Medicaid expansion provided healthcare insurance for 400,000 previously-uninsured Virginians. Preventative care, comprehensive coverage for pre-existing conditions, mental health and substance abuse treatment plans, and coverage for young adults through their parents' insurance ensures that our state values the health and safety of all of its residents.
Too many of our residents have limited access to quality healthcare services. Comprehensive health insurance provides entry into healthcare services, but it is not enough. Virginians also need accessible healthcare services and facilities, and they need healthcare providers with whom they can develop trusting relationships. Development and expansion of effective medical services such as telemedicine technologies, mobile clinics, and effective cooperation across organizations will help our residents access healthcare and improve lives.
Infrastructure
Virginia's rural communities still have limited and spotty access to digital resources. This digital divide creates and perpetuates real barriers to educational, social, and technological resources. Expanding the infrastructure for high speed internet access is essential for our economy and for our residents' full participation in emerging opportunities.