Summary
Current Position: State Senator since 2016
Affiliation: Republican
Candidate: 2019 State Senator
Overview: N/A
About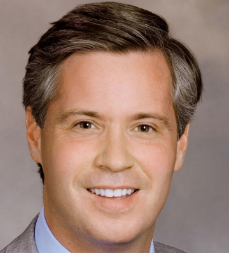 Source: Campaign page
Glen Sturtevant grew up in rural Spotsylvania County, where he learned the value of hard work while working through high school at his neighborhood grocery store. As a young man, Glen was very involved in Scouting, and after demonstrating his commitment to community service and servant leadership, he was awarded the rank of Eagle Scout.
As a proud product of Virginia public schools, Glen knows firsthand the benefits of learning from excellent teachers in neighborhood schools alongside students from diverse backgrounds. After graduating high school, Glen attended Catholic University and met his future wife Lori. They quickly became college sweethearts, and after graduation, Lori and Glen were married. As a schoolteacher, Lori put Glen through George Mason University School of Law. In law school, he served as an editor for the school's legal journal and helped prosecute criminals in the Fairfax Commonwealth Attorney's office.
After passing the Virginia State Bar, Glen and Lori moved to Richmond and started their family. The adoption of their children motivated Glen to get involved improving Richmond Public Schools. As a concerned parent, he helped lead the Richmond Public Schools Education Foundation, a non-profit focused on working with the private sector to support educational excellence in the school system.
Glen was elected to the Virginia Senate to succeed retiring Senator John Watkins in November 2015 and was sworn into office in January 2016. Since then, Glen has focused on making meaningful reforms to improve our public schools, ensuring that college is more affordable and accessible for Virginia students and families, reducing individuals' tax burdens and promoting policies to grow our economy and create jobs, making healthcare more affordable, and increasing transparency and accountability in state government.
Even so, his biggest priority is being a husband and father. Glen and Lori have been married for more than a decade and the most fulfilling part of their life is raising their three beautiful children: Ethan (9), Reed (6), and Emily (5).
Experience
Work Experience
Volunteer Experience
Leader
Richmond Public Schools Education Foundation
2019 to present
Education
JD
George Mason University School of Law
2019 to present
BA
Catholic University
2019 to present
Personal
Born in Wilmington, Delaware on September 13, 1982.  Married Lori Cochrane Sturtevant; Catholic;
Contact
Legislative Assistant: Nikki Thacker
Email:
Offices
Capitol Office
Pocahontas Building
Room No: E513
Senate of Virginia
P. O. Box 396
Richmond, VA 23218
Phone: (804) 698-7510
District Office
P. O. Box 2535
Midlothian, VA 23113
Phone: (804) 601-4046
Web
Government Page, Campaign Site, Twitter, YouTube, Facebook, Instagram
Twitter
Politics
Recent Elections
2015 State Senator
| | | |
| --- | --- | --- |
| Glen Sturtevant (R) | 27,651 | 49.8% |
| Daniel Allen Gecker (D) | 26,173 | 47.1% |
| Marleen K. Durfee () | 1,136 | 2.0% |
| Carl Richard Loser (L) | 527 | 0.9% |
| Write in (Write-in) | 60 | 0.1% |
| TOTAL | 55,547 | |
Finances
STURTEVANT JR, GLEN H has run in 1 race for public office, winning 1 of them. The candidate has raised a total of $2,072,743.
Source: Follow the Money
Committees
Committees
Commerce and Labor (Acting Chair)
Courts of Justice
General Laws and Technology
Local Government
Appointments
Administrative Rules, Joint Commission on
Broadband Advisory Council
Coal Ash Special Subcommittee
Health Care, Joint Commission on
School Facility Modernization
Unemployment Compensation, Commission on
Virginia Alcohol Safety Action Program, Commission on
Wireless Communications Infrastructure Group – Joint Subcommittees of House Commerce & Labor, Senate Commerce & Labor, and Senate General Laws & Technology
Voting Record
See: Vote Smart
New Legislation
Source: Virginia Legislative Information System
Issues
Economy
Growing Our Economy & Cutting Taxes
Glen is focused on making Virginia a better state for our local businesses to grow and create new, good paying jobs. He was a chief co-sponsor of the second largest tax cut in Virginia history, which included the first meaningful increase in our standard deduction in a generation and an additional tax rebate this fall. Glen has a proven record of advancing balanced budgets that invest in our top priorities, like public education, transportation, and public safety, without raising taxes or fees.
Education
Improving our Schools
Glen believes every child deserves to get a quality education at a safe school, regardless of where they live. Glen fights for more funding for education every year – so that more of our tax dollars are spent in the classroom. As the husband of a school teacher, Glen understands that great teachers are our best asset to ensure kids succeed and worked to recruit and retain top notch teachers by providing 5% pay raises this year.
Freezing College Tuition
Glen is a strong leader for Virginia students and their families by working to make college more affordable and accessible. Growing student loan debt is a significant problem, and Glen is fighting against extreme tuition and fee hikes by supporting freezing tuition. He introduced bills to cap the rate of tuition growth and provide guaranteed tuition costs for 4 years, so students and their families aren't priced out of higher education.
Health Care
Increasing Access to Affordable Healthcare
As your Senator, Glen is working to improve healthcare outcomes and affordability. Glen has introduced legislation to protect patients from surprise balance billing and to create additional low-cost insurance options that include coverage for pre-existing conditions, preventative care, and essential health benefits. Glen is working to make it easier and more affordable for small businesses to obtain coverage for their employees.