Summary
Current Position: Co-Founder, Pyramid Technologies, LLC
Affiliation: Democrat
Candidate: 2019 State Senator
N/A
Twitter
About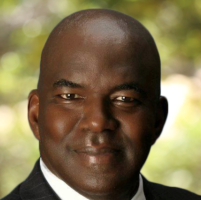 Source: Campaign page
Herb began his career in government service as a second lieutenant in the 24th Infantry Division, Fort Stewart, Georgia. Over the next 10 years, he was stationed at Fort Sam Houston, Texas, Fort Meade, Maryland, Bangkok, Thailand, and Fort Lee, Virginia.
Herb left active duty to start a career in finance and investments with Edward Jones, Signet Financial Services, Bank of America, and Colonial Downs. Herb ran to be the County Treasurer for New Kent in 1999 and served three terms. At the same time, he remained in the US Army Reserves. He was called up twice after 9/11 and served here in Virginia and two tours in Iraq.
In 2011, Herb decided not run for a fourth term and took a position with the federal government as a operations officer in Afghanistan 2012. He served in this capacity until November 2014. As a result of Herb's extensive military knowledge and experience, Virginia Governor Ralph Northam appointed Herb to his Military Advisory Council.
Herb and his brother, Michael, started Pyramid Technologies, LLC, a cloud-computing, project management, and logistics firm. He currently serves as the co-founder and CEO of Pyramid. Herb and his wife, Yvonne, reside in the Providence Forge area of New Kent County. Yvonne is a retired educator who served as the principal at New Kent High School for 14 years. They have two sons, and one grandson.
Experience
Work Experience
Awards
Champion, Progressive Change Campaign Committee (2019)
Contact
Email:
Offices
Campaign
P.O. Box 432, Providence Forge, VA 23140
Phone: 804-993-4648
Web
Facebook, Twitter, Instagram, Campaign Site
Issues
Economy
Economic Policy
Technology has changed the 21st economy and workforce. These changes affect every aspect of day-to-day living. It affects our schools, the way we communicate, the way we conduct business. The effect is global. Currently, US business has a deficit in homegrown talent to full positions in our workforce. we can plan accordingly and ensure that our workforce training meets the needs of the changing economy.
I believe in organized labor. Unions have historically been the bedrock of the American middle-class. Unions are responsible for the establishment of minimum-wage laws, overtime rules, worker's compensation, severance pay, and many other benefits all Americans enjoy today. Given the changing workforce needs, unions and the training opportunities they provide, i.e., apprenticeship programs, are vital in preparing the next generation of skilled workers and for the future of the Commonwealth of Virginia and the United States.
The United States is the wealthiest nation in the history of the planet, but not everyone is benefiting from this. People are working longer and harder, and still falling behind. I believe that the minimum wage should be a living wage. I believe that the minimum living wage should be $15/hour. But just setting a minimum wage is not enough. We have to create an economy and jobs that people earn much more than the "minimum living" wage.
The Commonwealth of Virginia state income tax structure is inherently unfair and needs to be overhauled. A person who earns $17,000/year the income tax rate is 5.75% If a person earns 10 million dollars a year, the income tax rate is 5.75%. This is simply wrong. I think that the state income structure should be reformed so that the first $60,000 of earned income is exempt from the state income tax. We should reform the tax code to create a more modern rate that lifts the burden off of hard-working Virginians. This reform helps, working families, retirees, students, and veterans…
Education
I believe our schools and education systems of today are the economies of tomorrow. I believe learning is a lifelong process that starts at birth and doesn't stop when we graduate from high school or college. Over the past 20 years, we have seen radical changes in technology. We must bring the new technologies into our schools and education systems up to 21st century standards. We are still using 20th century metrics to measure the success of our students, teachers and schools. This is shortsighted and will result in the US continuing to fall behind other developed countries. Today, a strong grade-point-average is not enough; our students must be creative problem solvers, and able to work collaboratively. We must provide our teachers and staff with the tools and techniques to prepare our students to prosper in a vibrant, dynamic, evolving economy. To do this, we must 1) provide quality pre-kindergarten for all families; 2) equip teachers, staff with the training and tools that facilitate collaborative, dynamic learning; 3) attract and retain the best and the brightest talent available by treating and compensating teachers as the professionals they are; 4) create learning environments that are safe, nurturing and up to 21st century standards; 5) create greater opportunities for skilled training and apprenticeships so student are prepared to begin a career that may or may not include college.
Environment
We must leave a habitable environment for our children, grandchildren, great-grandchildren and generations to come. We will consume most if not all mineable fossil fuels by the end of this century. Mankind's activities are creating C02 that is heating up the planet at an unsustainable rate. We must get this under control. Many scientists say that we are falling behind. It is imperative that we invest in research the will provide renewable and alternative sources of energy.
Health Care
No one should have to declare bankruptcy as a result of medical expenses. Virginia finally expanded Medicaid and 400,000 more Virginians now have access to health care that they did not have before. In addition to my support of Medicaid Expansion, I also support CHIP and the important services they provide to Virginians. I will work to protect Medicaid Expansion, to fully fund the Department of Medical Assistance Services (DMAS), and to provide access to healthcare for the 300,000 Virginians who will still not have access after Medicaid Expansion is fully implemented. I will work with our leaders in Washington to provide universal healthcare public options like Medicare for All. I will work to improve our healthcare systems through efficiencies and automation. More of our resources need to be allocated to addressing mental health needs and opioid addiction. We must stop putting people in prison for addiction disorders. I also support protecting women's access to reproductive healthcare, to include Planned Parenthood and other providers that ensure essential healthcare to women and men.
Safety
Too many people die from gun violence, suicide and gun-related accidents. This must be addressed by our leaders in Richmond and Washington. I am a retired military officer. During my career, I trained with and operated firearms routinely. When I was deployed to Iraq, I carried a weapon every day. I believe in the importance of the Second Amendment to the United States Constitution, protecting everyone's right to bear arms. I also believe in responsible gun ownership. My wife and I own fire arms. Gun safety is not a political issue; it is a commonsense issue. I was in Afghanistan when the shooting at Sandy Hook Elementary in Newtown, Connecticut occurred. My wife is a retired high school principal; I remember calling her to check on her in the wake of Sandy Hook. As I was talking to her, it occurred to me that I was safer in a combat zone in Afghanistan than she was in the United States as the principal of a high school. There's something very wrong with that. The time to act is now, before any more children are victims of gun violence.
The war on drugs has been – and continues to be – an abject failure. At the center of this inept effort has been the ill-conceived and poorly implemented prohibitions and regulations on cannabis and industrial hemp. Over the past 50 years, billions of dollars in precious resources have been used to prosecute and imprison millions of people and across the United States and the Commonwealth of Virginia. I will work to create and implement commonsense regulations that will regulate the adult use of cannabis, and the cultivation and harvest of industrial hemp. Removing these barriers will create jobs, spur the economy, and save millions of dollars in prioritizing law enforcement resources. In states with full regulated adult use, the use of opioids is markedly lower.