Summary
Current Position: State Delegate for District 86 since 2019
Affiliation: Democrat
Ibraheem Samirah won a special election on Feb. 19, 2019 against Republican Gregg Nelsen and other candidates. On November 5, 2019  was unopposed in the Delegate race for District 86 – see Recent Election results below.
Ibraheem says "I worked hard in school so I could one day return to the country I loved. I attended American University and went on to Boston University for dental school. Today, I run a community based dental practice serving patients throughout metro DC.
Now, I am running for Virginia's House of Delegates to give back—by helping families stay healthy, with more opportunities to succeed, and more time to spend together."
Featured video: This interview was conducted by Nader Momtaz in Ibraheem Samirah's office in Herndon, VA on Oct. 2, 2019. Original interview recording has not been edited in any way.
Twitter
About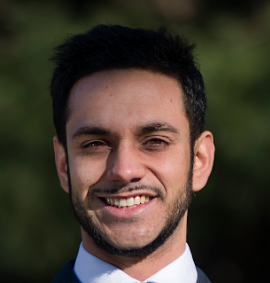 Source: Campaign page
Growing up in the Chicago suburbs, I enjoyed a typical American childhood– watching basketball in the bleachers, riding bikes with my brothers, and then getting around to my homework.
That all changed in middle school when my father traveled to Jordan to care for his ailing mother and was denied re-entry to the U.S. by the Bush Administration. My family uprooted and relocated to stay together and fight for my father's reinstatement. It took eleven years, but we won.
I worked hard in school so I could one day return to the country I loved. I attended American University and went on to Boston University for dental school. Today, I run a community based dental practice serving patients throughout metro DC.
Now, I am running for Virginia's House of Delegates to give back—by helping families stay healthy, with more opportunities to succeed, and more time to spend together.
https://vimeo.com/384803565/5971e97bfd
Experience
Work Experience
Education
B.A., Political Science
B.A., Political Science
2009 to 2013
Doctor of Medical Dentistry
Boston University
2013 to 2017
Personal
Place of Birth: Chicago, IL
Gender: Male
Race(s): Other
Religion: Muslim
Membership & Affiliation: ADAMS Center
Jewish Voice for Peace
Sigma Alpha Mu-Delta Beta Chapter
NAACP
Black Lives Matter
American Dental Association
Virginia Dental Association
Contact
Legislative Assistant: Jacob Shuford
Email:
Offices
Capitol Office
P.O. Box 406
Phone: (804) 698-1086
District Office
397 Herndon Parkway, Suite 110, Herndon, VA 20170
Phone: (571) 324-2448
Web
Government Page, Campaign Site, Facebook, LinkedIn, Twitter, Instagram
Politics
Recent Elections
2019 State Delegate
| | | |
| --- | --- | --- |
| Ibraheem Samirah (D) | 14,730 | 88.92% |
| Write-In (Write-in) | 1,836 | 11.08% |
| TOTAL | 16,566 | |
2019 State Delegate
| | | |
| --- | --- | --- |
| Ibraheem Samirah (D) | 3,738 | 59.5% |
| Gregg Nelson (R) | 2,162 | 34.4% |
| Connie Haines Hutchinson () | 370 | 5.9% |
| Write in (Write-in) | 13 | .2% |
| TOTAL | 6,283 | |
Source: Ballotpedia
Finances
Source: VPAP
Voting Record
See: Vote Smart
New Legislation
Source: Ballotpedia
Issues
Governance
Criminal Justice
The "tough-on-crime" approach to criminal justice has been a massive failure. Instead of reducing crime, it has led to the mass incarceration of people of color and low-income people. I favor an approach to criminal justice that is both rehabilitative and restorative, where we address crime by attacking its socio-economic roots rather than the communities it harms.
One of the best ways to begin to end mass incarceration would be to legalize marijuana for adult-use in Virginia, and expunge past convictions that have historically targeted Black and Latino communities. While states across the country have seen impressive results from legalization efforts, Virginia continues to arrest more and more people for marijuana possession each year. This clogs up our criminal justice system and creates financial and legal complications for thousands of young people who have done nothing wrong.
Reforming or ending cash bail entirely should be a top priority for criminal justice reform. Too often, Virginians who have never been convicted of a crime are sent to jail simply because they are poor. That time spent in jail away from their job and their home often puts families through financial ruin. A justice system where your personal wealth decides the privileges you get is not one that can be called fair.
Other criminal justice priorities include:
Dismantling the school-to-prison pipeline by reforming discipline and law enforcement practices in schools and recognizing racial discrimination.
Ending the use of private prisons in the Virginia justice system.
Raising the felony larceny threshold so the law can't be used against low-level offenders who are most often low-income and people of color.
Banning the practice of solitary confinement in Virginia's prisons.
Abolishing the death penalty in Virgini.
Reimagining juvenile detention to be a community-centered, rehabilitative experience by ensuring child offenders are housed in facilities near their families that offer educational and economic opportunities.
Holding law enforcement accountable for wrong-doing.
Civil Rights
Women's Empowerment
The Equal Rights Amendment will finally clear the legal avenues to achieving gender pay equity in the entire nation. The gravity being, that of thirty eight states required to ratify the Equal Rights Amendment to the Constitution, and after half a century of activism in the face of gridlock, Virginia could be the deciding vote in 2019.
In Virginia, all factors considered, Latinx women make 53 cents to a white man's dollar. African-American women earn 59 cents to that dollar, while white women earn 79 cents. That pay gap is the effect of pervasive racism and sexism in the job market without adequate mechanisms of law to bring disparity to justice in the courts. In the next era of Democratic leadership in Virginia, we will ratify the ERA and achieve equal pay for all.
I'm a medical professional, which means I know that reproductive and contraceptive care is healthcare. As states across the nation crack down on the constitutional right to choose, Virginia should lead the way in affordable and accessible abortion and other vital reproductive care. That means permanently codifying Roe v. Wade into law in Virginia to ensure that this fundamental right is not infringed. It also means working to eventually cover the cost of essential reproductive care under medicaid as well as private insurance.
Democracy
I strongly believe that we need to do everything we can to increase ballot access and voter turnout. In many ways, our democratic system has been distorted by both state and federal level Republicans who have rigged elections in their favor. Look no further than gerrymandering, voter ID laws, and discriminatory election administration to see these insidious efforts. Plus, this election rigging almost always targets people of color and other marginalized communities. I will work to roll back voter disenfranchisement and ensure voting is a right for all in Virginia.
One of the best ways to open up our elections to marginalized people would be to adopt automatic voter registration. AVR would modernize the voting system to ensure that voter registration doesn't continue to serve as a significant barrier to American citizens exercising their right to vote. Whenever a Virginian interacts with state agencies, they would be registered to vote while given the chance to opt-out.
Partisan gerrymandering at the state and federal level must be stopped. Communities deserve representatives that come from and answer to the place where they live. I support the formation of an independent redistricting commission that would be a check on the redistricting process and ensure extreme partisans cannot weaponize the process.
The Electoral College is an outdated institution that creates an undemocratic system for deciding who holds the most important office in the land. I believe that the candidate who gets the most votes should win an election. That's why I gladly support entering Virginia into the National Popular Vote Interstate Compact, which would pledge our electoral college votes to whoever wins the popular vote in presidential elections.
Virginia's policy of felony dienfranchisement is, quite frankly, a legacy of slavery and the Jim Crow era. We must finally join 47 other states and restore the right to vote to ex-felons, who are overwhelmingly people of color.
Economy
This year, Virginia was ranked the best state to do business by CNBC. At the same time, we were ranked the worst state for workers' prosperity by Oxfam. These two rankings are not a coincidence. For years, a focus on making Virginia "business-friendly" has been a smokescreen for pushing through ultra-conservative reforms that take political and economic power away from working families and give it increasingly to corporate giants that want to squeeze their workers for all they are worth. My economic vision acknowledges that our economy is stronger, our productivity is higher, and our public health is better when everyone is cared for.
Helping working Virginians prosper means putting more money in their pockets. People are working harder than ever but aren't seeing the profit of their labor, and Virginia's minimum wage of $7.25 is a chief culprit. We must immediately raise the minimum wage to $15 an hour to ensure that nobody working 40 hours a week has to live in poverty. We must also make a serious effort to crack down on wage effort, a practice that deprives Virginia's workers of millions of dollars that they rightfully earned.
Decades of research shows that strong unions are key to higher earnings, better benefits, and an improved quality of life for workers. Despite this, Virginia's GOP have made it harder and harder for Virginians to organize in the workplace. We must repeal the so called "Right-to-Work: law and ensure that unions have the power to bargain for a fair shake in their job.
Other economic priorities include:
Taking a hard look at Virginia's tax code and making historic reforms so that the wealthy and big corporations pay their fair share of taxes and contribute to essential public services.
Ensuring paid family and medical leave, so working Virginians can take the necessary time-off from work without financial penalty.
Establishing prevailing wages so that blue-collar workers don't continue to be underpaid.
Repealing the Comstock Rule that bans Project Labor Agreements.
Education
Every Virginian wants a quality education for their child – it's the building block on which a lifetime of success can be built. But for many, getting access to even the opportunity to succeed can be near impossible. My long-term vision is to create a Virginia where a child can receive a world-class education from pre-K to college regardless of their family's income, race, zip code, ability, or citizenship status. That will require large investments in schools at the state level, so students in historically underinvested communities can still go to quality, productive schools.
Empowering our public school teachers is a sure way to improve educational outcomes in Virginia. While the General Assembly was able to secure a 5% pay raise for teachers in 2019, we are still behind target. Virginia has to offer a competitive salary to ensure that teachers can focus on teaching rather than worrying about making ends meet. We also have to protect and expand teacher's rights to use collective bargaining to secure better pay, conditions, and benefits.
Environment
The climate crisis is here. The experts warn that we are woefully unprepared. The United Nations' top scientists have given humanity 11 years to drastically reverse course, or face irreparable harm from climate change. That means we've already missed our window for half-measures and small ideas. In order to preserve our clean air and water, improve public health, and bring our energy grid and infrastructure into the 21st century, we need an authentically Virginian Green New Deal: a legislative plan of action to begin the economic transition to a decarbonized Commonwealth.
The diverse communities of Virginia make the case for a Green New Deal themselves. Virginia's Tidewater region faces increased threat from sea level rise and increasingly dangerous storms and hurricanes. Appalachian communities that are reliant on coal and natural gas industries are in desperate need of an energy sector transition that can reinvigorate the economy. And in Union Hill, a historically black community, a textbook example of environmental racism is transpiring as major fossil-fuel peddlers are working to build a pipeline compressor station that will target the community with pollution.
The Green New Deal would work to provide a just transition for those disproportionately impacted by climate change. That means:
An education and jobs program that will retrain marginalized communities to work in good paying jobs in the renewable energy sector as part of a state-wide effort to rapidly eclipse fossil fuels with green energy production.
Significant investments in clean public transit like buses, trains, light-rail, and accommodation for bikes and pedestrians.
The immediate blockage of all dirty energy infrastructure projects like the Mountain Valley and Atlantic Coast Pipelines.
Updates to Virginia's roads, bridges, tunnels, and water systems to ensure that frontline communities in coastal regions can be resilient to the effects of a changing climate.
A focus on research and development to utilize Virginia's growing tech sector to be a global leader in renewable energy technology.
Protecting and honoring Virginia's parks, forests, waterways, and public green spaces that promote healthier communities, preserve biodiversity, and bring in millions of dollars in state revenue through tourism.
Health Care
Democrats fought hard to expand Medicaid access in Virginia so more working families don't have to choose between life-saving care and financial stability. Now we need to fulfill the vision of universal coverage by expanding Medicaid to cover even more Virginians on the margins, and eventually provide a Medicaid option to any Virginian who is tired of dealing with expensive and inefficient private health insurance.
As the price of prescription drugs like insulin skyrocket nationwide, those who don't have the money to afford it are forced to simply face their illness without pharmaceuticals. That is unacceptable. I will fight for legislation that caps the costs of prescription drug copays at affordable rates for working families – both private policy holders and medicaid recipients alike. I will also work to regulate (or cut out entirely) the middlemen between patients and manufactures that soak up a significant share of the profit.
Investing in mental health services, especially in our public schools, needs to become a bipartisan objective in Virginia. These investment could go towards increasing wraparound services, strengthening mental health assessments, and hiring more social service workers. Alongside this, we need to make sure our services are accessible for people of all backgrounds, especially LGBTQ people, who suffer disproportionately from mental health issues. We also need to understand the direct correlation between mental health and poverty, discrimination, and isolation, and tackle those issues head on.
I'm a medical professional, which means I know that reproductive and contraceptive care is healthcare. As states across the nation crack down on the constitutional right to choose, Virginia should lead the way in affordable and accessible abortion and other vital reproductive care. That means funding Planned Parenthood, rolling back outdated restrictions, and investing in comprehensive sex education in public schools.
Our campaign recognizes the physical and mental health gaps around motherhood, and is dedicated to closing them. Our pregnancy care system should prioritize the mental health of mothers by closely screening and offering robust resources for both pre- and post-natal wellness. We must work diligently to address the mortality rate among Black mothers and make pregnancy and safe and healthy experience for all, both mother and child.
Infrastructure
Transportation
The single most important connection to any family's economy is the one that goes from work to home. For many, it's a smoggy highway too old to accommodate its volume of traffic. For many, our homes are simply too far from public transportation to utilize its potential. By developing pedestrian and bicycle friendly affordable housing concentrated around systems of light rail and electric buses that connect our workplaces and centers of commerce, we ease the economic and environmental tension of transport for all.
Housing
Housing is a critical issue that is often ignored by politicians of both parties. The economic consensus is clear that where you live, down to the exact neighborhood and block, often determines your social and economic outcomes. That's because housing not only decides your personal health and stability, but your physical access to good jobs, quality schools, healthy food options, public transit and other crucial services. It is for this reason that racial and economic segregation presents generational disadvantages to communities across Virginia.
With big companies like Amazon quickly buying up real estate in Northern Virginia, affordable housing is going from a problem to a crisis in the region. While rents rise and new development struggles to keep up with the need for affordable units, families that have long lived in Fairfax County, Arlington, and Alexandria are being pushed out of their homes and farther out into the suburbs. Meanwhile, those who don't are seeing rent eat up 40%, 50%, or even 60% of their paycheck each month.
The fight for affordable housing for all needs to be fought on two interconnected fronts: supply and cost.
To increase the supply of affordable housing, we need zoning reform legislation that can make it easier for cities and towns to move away from exclusionary, single-family zoning, and move towards building dense housing developments. Not only does density promote affordability by increasing supply, but it's also better for the environment, combats the legacy of neighborhood segregation, facilitates better public transit, and makes for a more connected local and regional economy. The Commonwealth should work with local governments to streamline and incentivize the construction process for developers who agree to stipulations about density, size, sustainability and the share of affordable units in new projects.
Reforming rules around short-term rentals can also help provide more affordable choices for those who need housing. Companies like AirBNB take thousands of affordable units off the market by allowing landlords to rent out second or third properties on their platform, decreasing supply and therefore driving up costs for the remaining units. New rules should stipulate that AirBNB hosts in the neediest housing markets in the Commonwealth can only use their primary dwelling for short-term rentals.
Alongside measures to increase supply, we need measures like rent control and greater tennant's rights to ensure that people can afford to stay where they are. Raising wages for workers is also an often-overlooked way to help families afford housing.
Safety
Gun Safety
For far too long, politicians who are bought-and-sold by the NRA and gun manufacturers have controlled the agenda on gun safety. We have had to endure years of inaction as our communities suffer every day from senseless, preventable violence. I pledge to support a suite of reforms that can preserve the right to gun ownership while making historic progress on curbing gun violence in Virginia. These reforms include:
Universal, mandatory background checks on all firearm purchases
A ban on assault-style weapons that are frequently used in mass murders
Red Flag laws that can stop shootings before they happen
A ban on high capacity magazines, bump stocks, and silencers
Meaningful waiting periods for firearm purchases
Child Access Prevention mandates that can reduce accidental deaths