Summary
Current Position: State Delegate for District 92 since 2004
Affiliation: Democrat
Jeion Ward was first elected Delegate for the 92nd District in 2004. The 92nd District includes parts of Hampton.
Delegate Ward serves as Chair of the Labor and Commerce Committee and is a member of the Communications, Technology and Innovation, Rules, and Transportation committees.  Delegate Ward is President of the Hampton Federation of Teachers, AFT Local 4260.
News
Twitter
About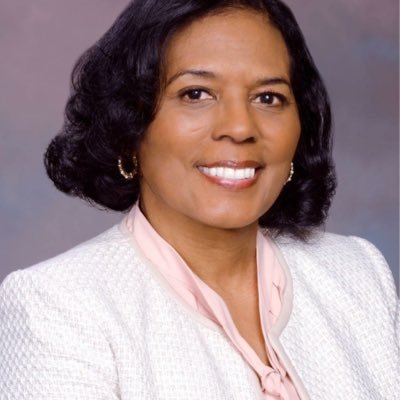 Source: Campaign page
Delegate Jeion Ward began serving as a member of the Virginia General Assembly, representing the 92nd District of the House of Delegates, in 2004.  As a member of the House of Delegates, she serves on the commerce and labor, transportation and general laws committees.
As a lifelong resident of the Hampton Roads area, Jeion and her family have remained active in the community for over thirty years. Jeion attended Huntington High School until the close of the eleventh grade. She then went on to graduate from the first fully integrated class at Warwick High School in Newport News.
Jeion has been married for 44 years to her high school sweetheart James Ward.  The Wards have three sons: James Jr., Jason and Jeremy. As her children reached school age, Jeion became more active in her children's elementary, middle and high school development.  Her roles have included PTA board member, room mother, band booster and athletics team mom.
Jeion became active in the newly chartered Hampton Federation of Teachers, AFT Local 4260 and began working to improve the professional opportunities for teacher assistants. While working full-time as a teacher assistant, Jeion completed the first two years of her degree at Thomas Nelson Community College with a 4.0 GPA and then transferred to Christopher Newport University, where she was placed on the Dean's List each semester. She was inducted into Sigma Tau Delta, English Honor Society and graduated Magna Cum Laude in 1995 with a Bachelor of Arts Degree in English and Certification in Middle Education, grades 5-8.
In 1998, after serving four years as Vice President, Jeion was elected President of the Hampton Federation of Teachers, AFT Local 4260, a position she currently holds.  Jeion is a member of the Executive Council of the Virginia AFL-CIO. She has coordinated both partisan and non-partisan "Get-Out-The Vote" campaigns in targeted areas of Hampton and Newport News since 1997. In addition, she has organized voter registration drives and restoration of rights campaigns.
With community service at the forefront of her agenda, Jeion remains active in the Hampton Alumnae Chapter of Delta Sigma Theta Sorority, Inc., the Hampton Branch NAACP, the National Council of Negro Women, the Southern Christian Leadership Conference, the Democratic Women's Club, the Coalition of Labor Union Women, Hampton Democratic Committee, and the Hampton Roads Chapter of the American Red Cross and Transitions Family Violent Services.
Experience
Work Experience
Education
BA
Christopher Newport University
1995

Thomas Nelson Community College
Awards
American Federation of Teachers Pioneer Award (1997)
National Association of Letter Carriers Branch #247, Appreciation Award (2005)
SCLC Political Woman of the Year, Virginia State Unit (2006)
Virginia Community Action Partnership, Appreciation Award (2006)
H/NN Chapter Continental Societies, Inc., Thaddeus E. Hayes Continental HEER Arts and Humanities Award (2006)
Office of Human Affairs, Community Volunteer Award (2006)
Hunter Andrews Democrat of the Year (2006)
Dr. William H. Butts Award, Outstanding Contribution to the Disability Community (2006)
Coalition of Labor Union Women, WV Chapter, Profiles of Courage Award (2007)
BPW/VA Federation/CLA, Honorable Mention (2007)
Coalition for the Preservation of VSDBM-H, VSDBM-H Defender Award (2007)
Women in Government, Presidential Leadership Award (2007)
United Food and Commercial Workers Minority Coalition, Legislator of the Year (2015)
200+ Men, Leadership Award
Personal
Birth Year: 1954
Place of Birth: Newport News, VA
Gender: Female
Race(s): African American
Religion: Christian
Spouse: James Addrill Ward, Sr.
Children: James A., Jr., Jason A., and Jeremy A.
Membership & Affiliation
Sixth Mount Zion Baptist Temple
NAACP
National Council of Negro Women
Peninsula Central Labor Council
Democratic Women's Club
Hampton Federation of Teachers (president)
Coalition of Labor Union Women
Virginia AFL-CIO (executive council)
Delta Sigma Theta Sorority, Inc., Hampton Alumnae Chapter
Contact
Legislative Assistant: Diamond Clark
Administrative Assistant During Session: Jennifer Powers
Email:
Offices
Capitol Office
Pocahontas Building
900 E. Main St,
Richmond, Virginia 23219
Phone: (804) 698-1092
District Office
P.O. Box 7310
Hampton, VA 23666
Phone: (757) 827-5921
Web
Government Page, Campaign Site, Twitter, Facebook, Instagram
Politics
Recent Elections
2019 State Delegate
| | | |
| --- | --- | --- |
| Jeion A. Ward (D) | 15,608 | 93.51% |
| Write-In (Write-in) | 1,083 | 6.49% |
| TOTAL | 16,691 | |
2017 State Delegate
| | | |
| --- | --- | --- |
| Jeion Ward (D) | 18,873 | 97.3% |
| Write In (Write-in) | 518 | 2.7% |
| TOTAL | 19,391 | |
Source: Virginia Legislative Information System
Committees
Committees
Transportation
Commerce and Labor
General Laws
Rules
Subcommittees
General Laws – Subcommittee #1
Commerce and Labor – Subcommittee #2
Transportation – Subcommittee #1
Rules – Subcommittee #1
New Legislation
Source: Virginia Legislative Information System
Issues
Economy
Green Jobs/Renewable Energy
Over the years of our country's progress, we have realized dramatic technological achievements.  But many of these achievements have come at the expense of our environment and health.  Asbestos became widespread during the industrial revolution and assisted in technological advancements including electric appliances, fire retardant coatings, and drywall.  It was also a major component in the construction of our ships.  Years later we discovered it was a major cause of lung cancer and mesothelioma.   Cars and trucks serve as the most prevalent and convenient means of travel, but the resulting emissions have had a major impact on climate change and the need for oil has contributed greatly to energy insecurity.  Just as asbestos removal became a billion dollar industry that created jobs while improving the lives of millions, creating renewable energy sources and solutions will do the same.
I support passage of clean energy and climate-change laws that will reduce global warming and move America toward energy independence.  These laws will also prompt the market to expand job opportunities in green technologies and manufacturing.  The development of solar, wind, geothermal, hydropower, biomass, and hydrogen technologies, have the potential not only to offset job losses that have been experienced in traditional industries, but will also provide long term and more dynamic job opportunities to current and succeeding generations of workers.
Given Hampton's proximity to major national and international transportation centers, we are uniquely situated to provide manufacturers with access to markets, not only across the continent, but also around the world.  In pursuing this once in a lifetime chance to position ourselves as a global industry leader, I pledge to support the expansion of the Governor's Opportunity Fund.  This will provide the needed incentives required to compete for green manufacturing businesses, which will result in needed jobs and economic development.
Jobs and the Economy
We are currently recovering from the worse economic downturn since the Great Depression.  This event has strained localities, resulted in home foreclosures, forced cuts in services and the maintenance of our roads, tunnels, and bridges, and made growing unemployment a harsh reality.  With a civilian labor force of over 70,000 and an unemployment rate of 7.3% (2009) the City of Hampton faces critical challenges, but our location, local assets, and access to stable industries have made us privileged to opportunity.  I will continue my endeavor to expand those opportunities by assisting small and minority businesses and creating jobs through rebuilding our infrastructure.
Small and Minority Business
Firms with under 500 employees represent 99.7% of all employer firms and employ just over half of all private sector employees.  Small businesses pay 44% of total U.S. private payroll and have generated 64% of net new jobs over the past 15 years.  They are vital to returning strength to the economy and developing our communities.  That is why I support the Virginia Jobs Investment Program (VJIP). This initiative offers three programs for new and existing businesses, in addition to a worker retraining program.  Through my efforts, and the work of my colleagues in the Virginia Legislative Black Caucus, the Commonwealth of Virginia completed a Procurement Disparity Study detailing the impact of Virginia's support of small minority businesses and what can be done to improve the health of minority businesses.  As your Delegate, I will continue to champion the cause of small business development.
Creating Jobs Through Rebuilding Infrastructure
Under the American Recovery and Reinvestment Act of 2009, Virginia received a total of $694.5 million in highway funding.  $117.8 million of this funding will be for projects selected by the state's five large urban metropolitan planning organizations.  $100.6 million is targeted to improve or replace 122 structurally deficient and functionally obsolete bridges and culverts.  $146.4 million is targeted toward repaving or overlaying 609 lane miles of highway and primary roads in Virginia.  $91.3 million is targeted to fund necessary improvements near expanding military installations supporting 21,400 jobs.  $61.7 million is targeted to improve Virginia's rail network and access to the neighboring Port of Virginia.  $20.8 million is targeted to be used for enhancement projects.  Finally, $175 million is targeted to advance much-needed congestion-relief projects including building 100 lane miles of new roadway.  Through my work as the ranking member of the House Committee on Transportation, I will make certain that Hampton Roads realizes its fair share of job opportunities provided by ARRA infrastructure projects.
Education
Every child should have the opportunity to learn and achieve in a secure and nurturing environment.  This requires schools that are safe, manageable classroom sizes, challenging curriculum, and a commitment to equal access to all students. Though these are not the only criteria that will insure our children's success, they form the foundation essential to creating successful students.
Safe Schools
Parents and teachers stress school safety and order among their highest priorities.  Studies show that it is rare for violent crimes involving children to occur in school and schools remain one of the safest spaces for our children.  However, we must not rest on this knowledge and must constantly strive to make schools the safest environment possible.  Many children with persistent behavior problems lead volatile lives.  Every school should have the resources necessary to provide an organized and stable environment.   That is why I support:
Rigorously and fairly enforced discipline codes that are supported by the entire community
Prevention and intervention strategies that are based on defensible research and well tested methods.
Programs that provide behavioral, academic support, mentoring, skill development, and assistance for at-risk students and their families.
A commitment to high standards for safe buildings and school safety plans that protect students from dangers from outside of school.
Reduce Classroom Size
Research has shown that reducing class size, particularly for younger children, has a positive effect on student achievement overall and an especially significant impact on the education of disadvantaged children.  Large gains in both math and reading stem from more effective teaching and more focused learning.  Smaller class sizes allow for more teacher-student interaction and present to teachers the opportunity to recognize the needs of individual students and customize instruction and assignments.   Students in smaller classes create fewer discipline problems and engage in more pro-social behavior, allowing teachers to devote more time to instruction and less to controlling the class. Smaller classrooms are more pleasant and have fewer distractions.
Ideally, every Virginia classroom should range in size from 15 to 19 students.
Charter Schools
I support charter schools that embody the core values of public education in a democratic society:  Every student should have equal access to these schools, academic standards should be high, their workers should be protected; and each school should be committed to helping all public schools better serve the needs of their communities.  Like all of Virginia's public schools, charter schools should meet the following criteria:
Be tuition-free, not-for-profit, and open to all students.
Transparent and subject to full disclosure of finances, curriculum, student demographics and academic performance.
Meet the same standards that are required of other pubic schools.
Work in cooperation with local school districts and their stakeholders.
Competitive Curriculum
The top priority for our schools is to prepare each student to compete for jobs by providing a well rounded and challenging education.  This is only possible through a rich curriculum that takes students beyond basic skills and provides enrichment critical to the development of an entrepreneurial and knowledge based workforce.  We are often led to believe that only certain schools are able to provide students with this critical component of success.  However, every school should aspire and have the ability to provide every child with equal access to a competitive curriculum.  This includes:
Making sure children are exposed to the rich content that will propel them past the notorious fourth-grade reading slump.
Providing hands on experiences for our students beyond the classroom.
Renewing our commitment to technical education.
Environment