Summary
Current Position: State Senator for District 29 since 2016
Affiliation: Democrat
"Jeremy McPike is a public servant who has dedicated his life to serving our community. As a volunteer firefighter and EMT, Jeremy understands the urgency of identifying and solving challenges, and that's the approach he will take to Richmond."
About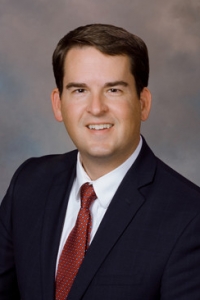 Source: Campaign page
Jeremy Scott McPike (born September 19, 1975) is an American politician from Virginia. A member of the Democratic Party, McPike is the member of the Virginia Senate, who has represented the 29th district since the 2015 election.
Jeremy McPike has spent his life in Prince William County, attending Elizabeth Vaughan Elementary, Fred Lynn Middle and graduating from Gar-Field High School.
Paying for school expenses by working as a construction laborer and eventually as a construction superintendent, Jeremy attended George Mason University for his Bachelor's and Master's of Public Administration degrees.
For the last 16 years, Jeremy has served as a volunteer firefighter and EMT with the Dale City Volunteer Fire Department, where he is a Captain and has been honored with Life Membership. He helped found and serves as president of the Dale City Volunteer Fire Department Foundation, well known in the community for its Santa visits to kids fighting cancer and its support of public safety initiatives.
Jeremy has also worked for the City of Alexandria for the last 15 years, currently serving as the Director of General Services. In this role, he works to make sure public building projects come in on time and on budget, and has established gleaning programs and SNAP/EBT at local Farmers' Markets so healthy foods can reach the most vulnerable, and has led animal shelter operations, new public-private partnerships for the city, and sustainable green building policies.
Experience
Work Experience
Director of General Services
City of Alexandria
2004 to present
Volunteer Experience
volunteer firefighter and EMT
Dale City Volunteer Fire Department
2003 to present
Education
Master's of Public Administration
George Mason University
2019 to present
Bachelor's of Public Administration
George Mason University
2019 to present
Contact
Legislative Assistants: Jim Rogers, Denia Rauls
Email:
Offices
Capitol Office
Pocahontas Building
Room No: E511
Senate of Virginia
P. O. Box 396
Richmond, VA 23218
Phone: (804) 698-7529
District Office
P. O. Box 2819
Woodbridge, VA 22195
Phone: (571) 316-0581
Web
Government Page, Campaign Site, Twitter, Facebook
Politics
Recent Elections
2019 State Senator
| | | |
| --- | --- | --- |
| Jeremy S. McPike (D) | 35,148 | 91.10% |
| Write-In (Write-in) | 3,435 | 8.90% |
| TOTAL | 38,583 | |
2016 State Senator
| | | |
| --- | --- | --- |
| Jeremy McPike (D) | 16,489 | 53.7% |
| Harry Jacob Parrish, II (R) | 14,131 | 46.1% |
| Write In (Write-in) | 60 | 0.2% |
| TOTAL | 30,680 | |
Source: Department of Elections
Finances
MCPIKE, JEREMY  has run in 2 races for public office, winning 1 of them. The candidate has raised a total of $3,900,476.
Source: Follow the Money
Committees
Committees
General Laws and Technology
Local Government
Rehabilitation and Social Services
Voting Record
See: Vote Smart
New Legislation
Source: Virginia Legislative Information System
Issues
Governance
Promoting government accountability
Democracy
Promoting transparency
Voters throughout Virginia have lost much of their confidence in the electoral process, due in no small part to gerrymandering in districts across the commonwealth. Politicians have picked their own voters before voters have picked them. As the former Northern Virginia Chair for OneVirginia2021, a bipartisan organization advocating independent and impartial drawing of districts, Jeremy considers fair redistricting one of his fundamental policy goals, even if it means being drawn out of his district in the future.
Economy
Creating good jobs closer to home
Jeremy believes that anyone who is willing to work hard should be able to earn enough to support their family, which is why he supports raising the minimum wage in Virginia. Small businesses are the backbone of our local economy because they help create jobs close to home and improve our local infrastructure. As state senator, Jeremy will promote a small business agenda that includes tax incentives for local business, giving Virginia businesses the first crack at state contracts, and supporting efforts to make it easier for employees to telecommute.
Education
Reforming SOL testing and investing in our schools
Jeremy grew up going to our local public schools, the schools that his three daughters go to. He knows firsthand that Virginia's standardized testing system is broken – it doesn't work for parents, it doesn't work for teachers, and it definitely doesn't work for our students. Jeremy will fight to reform SOL testing so teachers can treat students like individuals, instead of teaching to a test, and emphasize the skills needed to succeed in today's economy. And by raising teachers' pay and reducing class sizes, Jeremy knows we can provide our children with the opportunities they deserve.
Health Care
Expanding access to quality health care
Jeremy will be a champion for affordable, quality health care in Prince William, Manassas, Manassas Park, and across Virginia. As a firefighter and an EMT, he has seen firsthand where access to preventive care could have helped those in need.  He will fight to expand Medicaid so that more uninsured Virginians, including children, can have access to the health care they need and deserve.
Infrastructure
Taking action on our traffic crisis L
Like many of us, Jeremy spends two hours every day just getting to and from work. As a father, he knows that time stuck in traffic means time away from our families. Jeremy will fight to get our fair share of transportation funding from Richmond, prioritize Route 28 and Route 1, oppose tolls on I-66, and work to finally extend the Metro and expand VRE services.
Safety
Reducing gun violence
As a first responder, Jeremy has seen the devastation of gun violence up close. That's why he's committed to advancing commonsense gun safety measures, like universal background checks to keep guns out of the hands of criminals and blocking domestic abusers' access to firearms