Summary
Current Position: State Delegate for District 50 since 2018
Affiliation: Democrat
Candidate: 2022 Governor
Overview: N/A
Twitter
About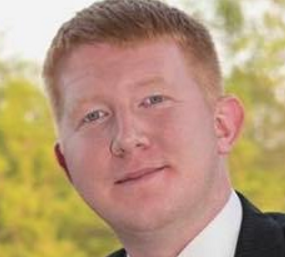 Source: Campaign page
Lee joined the Marine Corps during the beginning of the 'Global War on Terror', and worked in technological repair in a Special Operations-capable support unit, completing tours in the Middle East and the Mediterranean. His unit was also one of the first to respond to Haiti, following the devastating earthquake in 2010.
Throughout Lee's career and civic engagement his focus has been on helping others — whether that was in his service in the Marine Corps, helping provide cancer patients with consistent care by maintaining biomedical radiation therapy equipment, or assisting small local businesses with IT support.
Experience
Work Experience
IT Specialist
USMC
2006 to 2011
Education
USMC
Staff Noncommissioned Officer Academy
2019 to present
Personal
Birth Year: 1987
Place of Birth: Elizabeth City, NC
Gender: Male
Race(s): Caucasian
Religion: Unitarian Universalist
Spouse: Stephanie Elizabeth Tipple Carter
Children: Rowan
Membership & Affiliation:
Bull Run Unitarian Universalists
Sorensen Institute for Political Leadership
Contact
Legislative Assistant: Thomas McIntire
Administrative Assistant During Session: Jane Hornbeck
Email:
Offices
Capitol Office
Pocahontas Building
900 E. Main St,
Richmond, Virginia 23219
Phone: (804) 698-1050
District Office
P.O. Box 243
Manassas, VA 20108
Phone: (571) 261-8546
Web
Government Page, Campaign Site, Twitter, Facebook
Politics
Source: Wikipedia
Virginia House of Delegates campaign
Carter was inspired to run after receiving a shock while repairing a lighting system in the summer of 2015 and subsequently struggling to receive worker's compensation from Virginia while unable to work. Before choosing to run, Carter had long identified as "…to the left of where the Democratic party [is]…" but was further inspired by Bernie Sanders to explore democratic socialism. Carter's campaign mostly focused on issues such as single-payer healthcare and financial contributions to politicians. Jackson Miller, the incumbent Republican, distributed a mailer campaign by comparing Carter to Communist rulers Vladimir Lenin, Joseph Stalin and Mao Zedong, an act described as fear-mongering and condemned by the Democratic Party of Virginia. Miller called Carter an "anti-jobs candidate" and said his "ideas are so out of the mainstream, and so incredibly expensive." Carter won the race by nine percentage points, one of 15 DSA members to be elected in 2017.
In office
Carter has been mocked by Republicans as well as centrist Democrats for his democratic socialist ideology, most notably when during Carter's remarks on a tax bill Delegate Mark Keam surreptitiously briefly displayed the hammer and sickle on a laptop behind Carter, an action for which he later apologized; Keam also apologized for violating Rule 57 in regard to the legislative body's decorum ("No member shall in debate use any language or gesture calculated to wound, offend, or insult another member."). Carter dismissed the affair as "clearly […] a joke, but […] in very poor taste and rooted in a lack of knowledge about the history of the political left." In October 2018, Carter admitted to having made "homophobic, trans-phobic, sometimes sexist or racially insensitive" comments online as a teenager in order to get ahead of any potential attempts at "personal smears."
Recent Elections
2019 State Delegate
| | | |
| --- | --- | --- |
| Lee J. Carter (D) | 10,701 | 53.26% |
| Ian T. Lovejoy (R) | 9,336 | 46.47% |
| Write-In (Write-in) | 55 | 0.27% |
| TOTAL | 20,092 | |
2018 State Delegate
| | | |
| --- | --- | --- |
| Lee Carter (D) | 11,366 | 54.3% |
| Jackson Hunter Miller (R) | 9,518 | 45.5% |
| Write In (Write-in) | 41 | 0.2% |
| TOTAL | 20,925 | |
Source: Virginia Legislative Information System
Finances
CARTER, LEE has run in 1 race for public office, winning 1 of them. The candidate has raised a total of$289,421.
Source: Follow the Money
Committees
Committees
Militia, Police and Public Safety
Finance
Subcommittees
Appointments
House Finance
House Militia Police and Public Safety
Voting Record
See: Vote Smart
New Legislation
Source: Virginia Legislative Information System
Issues
Civil Rights
Defending and Demanding Women's Rights
Lee knows that reproductive rights are human rights. He is an unapologetic supporter of a woman's right to choose and will never support legislation that limits women's access to healthcare. He will also continue the fight for pay equity, workplace rights, and increased protection from domestic violence and sexual assault.In 2019, Lee co-sponsored HJ 579 to ratify the ERA, and he won't stop fighting until women have constitutionally protected equality.
LGBTQ Equality
Lee supports immediately passing legislation to prohibit discrimination in employment, public accommodation, public contracting, apprenticeship programs, housing, banking, and insurance on the basis of sexual orientation or gender identity. He also supports repeal of the constitutional amendment banning same-sex marriage, and he'll work to remove provisions in the Code of Virginia that prohibit same-sex marriage.
Democracy
Voting Rights
Voting is foundational to democracy, and Lee supports efforts to make it easier for people to vote. Lee supports repealing Virginia's voter ID law and instituting no excuse early voting and same-day voter registration. He also supports ranked-choice voting.
Economy
EconomicsLimiting Corporate Influence in Virginia Politics
Lee refuses to accept campaign contributions from all for-profit entities, including all corporate donors. He supports banning corporate contributions and establishing a system of publicly financed elections.
Consumer Protection
Lee believes elected officials should protect consumers from predatory behavior. In Virginia, loan sharks have been able to prey on vulnerable people in their times of need, and that's why Lee was a co-patron on HB 47, the Payday Lending Prohibition Act. Lee also introduced HB 1755 to establish net neutrality in Virginia.
Education
Lee supports raising teacher pay, and in 2019 he introduced HB 1764 which would allow teachers to stand up and demand better working conditions without fear of reprisal. Lee supports massive investment in school capital improvements, the elimination of as many SOLs as possible, and he opposes all attempts to privatize education (e.g. charter schools).
Environment
Lee refuses contributions from the fossil-fuel industry and opposes the Atlantic Coast Pipeline, the Mountain Valley Pipeline, and fracking. In 2019, he co-sponsored HB 1635 to stop new fossil-fuel infrastructure construction. Lee supports massive investments in green energy and believes consumers should be able to purchase or produce their own renewable energy.
Health Care
Lee's vote to expand Medicaid was one of the proudest moments of his life, and people are signing up faster than expected for the program. But there are still over half a million Virginians with no health insurance whatsoever, and over a million more who have insurance but can't afford to use it. Lee won't stop fighting until we achieve universal coverage in Virginia.
Infrastructure
Transportation
Lee believes we need to build a world-class mass transit system capable of providing for Northern Virginia's ever-growing population and reducing commuting times. Lee supports increased funding for public transportation and has consistently opposed new tolls. He supports upgrading existing intersections to alleviate bottlenecks and safety issues and will push for night and weekend service for the VRE.
Criminal Justice Reform
Lee believes we need to stop criminalizing poverty, end cash bail, abolish private prisons, and end the application of the death penalty. In 2019, Lee introduced HB 2373 to legalize cannabis in Virginia. He also introduced HB 1761prohibiting government purchase of goods and services produced by prison labor.
Affordable Housing
We have a crisis of housing affordability – housing costs are the single largest squeeze on residents of Manassas and Prince William County. Lee supports a wide variety of policies to lower the cost of housing, including cooperative ownership and a public option for housing.